Beauty out of chaos
PARIS, January 1, 2015 -To send off a year marked by wars, massacres, epidemics and countless tragedies, every day from Christmas Eve to New Year's Eve, AFP's photographers told the story behind eight images of beauty or hope, taken in times of war, crisis or upheaval. Here is the complete photo series:
Thank you for following us, Happy New year to all, and hope to see you again soon!
A smile in a cemetery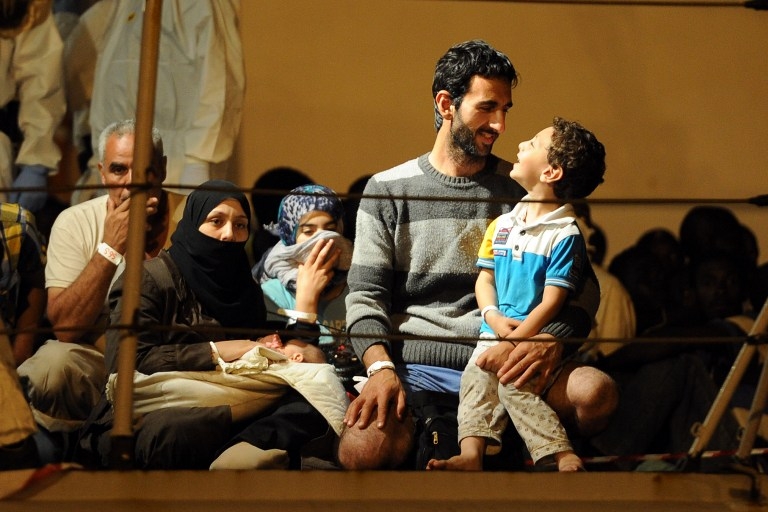 (AFP Photo / Giovanni Isolino)
The family in this picture survived a tragedy. They are migrants rescued off the Italian coast on board a fishing boat where 45 people died of suffocation as they tried to reach Europe. "Sometimes you see young children arriving alone, without their parents," writes the freelance photographer Giovanni Isolino. "They are usually upset, and frightened. Seeing a child smile like this is something very rare, and special."
Daring democracy
(AFP Photo / Alex Ogle)
At the pro-democracy protest camp in early October in Hong Kong's Admiralty district, Alex Ogle walked past a young woman with the word 'democracy' written on her leg. "I walked past not particularly interested in joining the pack of photographers to get a shot, only to double back to get a picture," he writes. "A young woman sitting there with a political statement on her body seemed pretty bold for such a demure crowd."
Joy amid the bloodshed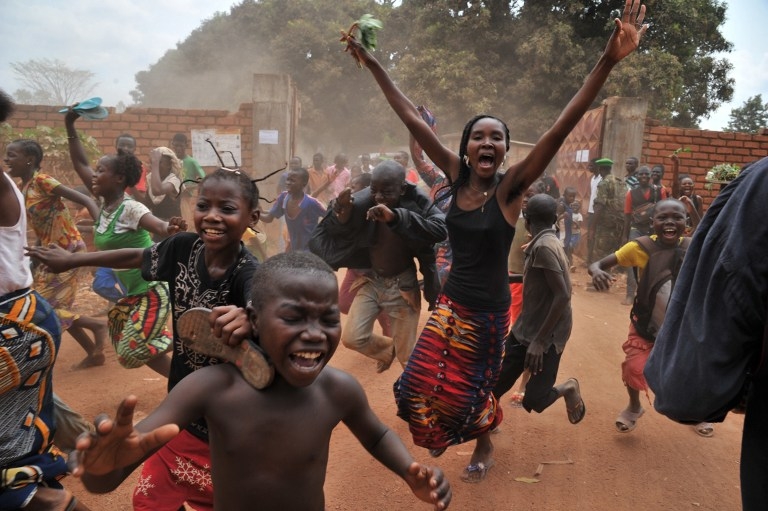 (AFP Photo / Issouf Sanogo)
When he travelled to the strife-torn Central African Republic in February, Issouf Sanogo witnessed an extraordinary scene after a visit by President Samba Panza. "As her car revs up to leave, dozens of women and children start running behind it, jumping with joy, laughing and yelling," he writes. "That brief explosion of joy, captured on camera, is such a relief, so different from the atrocities I have been photographing."
Happy homecoming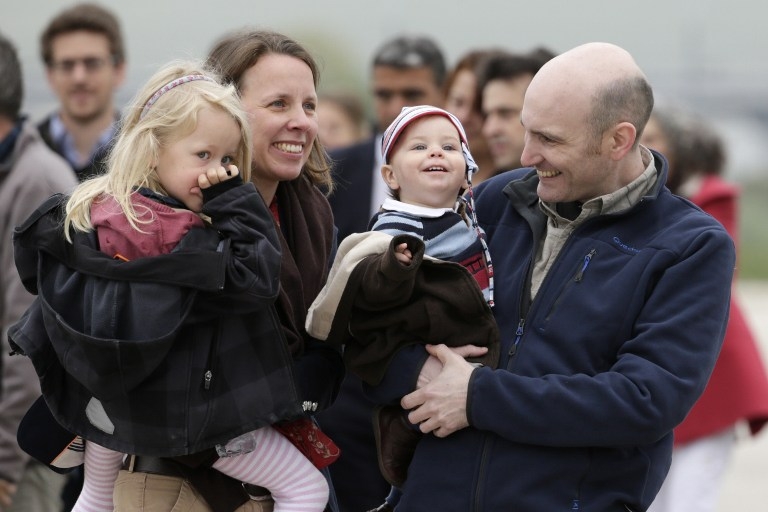 (AFP Photo / Kenzo Tribouillard)
"This has been a tragic year for journalists," writes Kenzo Tribouillard. "But there were also moments of great joy and relief for the profession, and I was lucky enough to witness one of them. On April 20 at dawn, I headed to the Villacoublay military airport outside Paris to cover the homecoming of four French journalists, held captive in Syria for months."
Stroll through the ruins
(AFP Photo / Abd Doumany)
"This was a crowded market before the Syria uprising. It's one of the worst-damaged streets in Douma, the rebel bastion in the suburbs of Damascus that has been under government siege for more than a year now," writes Iranian photographer Abd Doumany. "People are certainly not safe to venture outside, but they have to."
Read the post
At the beach in Gaza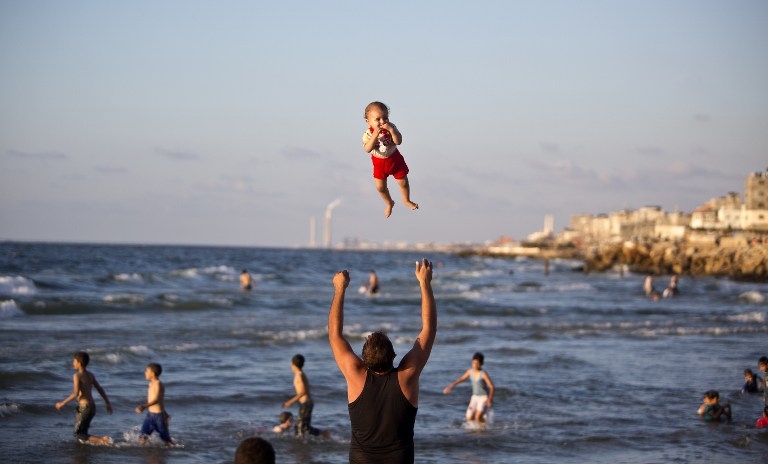 A man and his baby on a beach in Gaza City on September 7, 2014 (AFP Photo / Mahmud Hams)
(AFP Photo / Mahmud Hams)
Mahmud Hams spent the summer photographing the last war in Gaza. "Fifty days of shots of children crushed in the rubble. Parents weeping beside lifeless little bodies," he writes. "And suddenly, on the same beach where an Israeli missile killed four children playing ball, I see an image of pure joy: a happy father throwing his laughing baby up into the air. Ten days after the end of the war, I understand that it is over."
The slap of forgiveness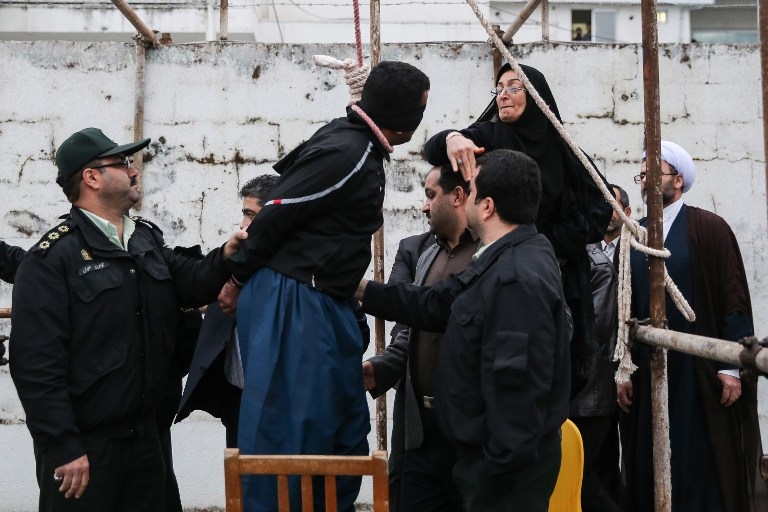 (AFP Photo / Arash Khamooshi / ISNA)
Iranian photographer Arash Khamooshi captured the moment a mother spared the life of her son's killer. "At 6:20 am Balal was led out in handcuffs by prison guards. He was wearing a blindfold and they put the noose around his neck," he writes. "He cried out for forgiveness but the mother, who under 'qisas' -- the sharia law of retribution -- has the right to kick away the chair on which the condemned man stands, said she was not willing to forgive."
Back among the living
A miner caught in the May 13, 2014 blast in Soma, western Turkey, is reunited with his father (AFP Photo / Bulent Kilic)
(AFP Photo / Bulent Kilic)
"These two faces tell the story of Turkey's deadliest ever industrial disaster," writes Bulent Kilic, who captured this scene after a mine blast left hundreds trapped underground. "That of a miner, his stunned eyes shining out from a blackened face, full of terror at the death he just escaped. And that of a father, half-crazed with worry, embracing him and his miraculous return to the world of the living."