Happy homecoming
This is part of a year-end photo series spotlighting images of beauty or hope, taken in times of war, crisis and upheaval.
(AFP Photo / Kenzo Tribouillard)
PARIS, December 28, 2014 – This has been a tragic year for journalists. Here at AFP we lost our Kabul correspondent Sardar Ahmad, murdered with his family by the Taliban in March. Then in August our contributor James Foley was assassinated by the Islamic State somewhere in the Syrian desert. The images of those atrocities will stay with us for a long time.
But there were also moments of great joy and relief for the profession, and I was lucky enough to witness one of them.
On April 20 at dawn, my colleague Thomas Samson and I head to the Villacoublay military airport outside Paris to cover the homecoming of four French journalists, Nicolas Henin, Pierre Torres, Didier Francois and Edouard Elias. We have just learned of their release by the jihadists who had held them hostage in Syria for months.
I had been in Villacoublay before to photograph hostages arriving home. Five months earlier, I was there for the return of Francis Collomp, an engineer who escaped from Boko Haram militants in Nigeria after 11 months in captivity. It's usually a pretty moving experience.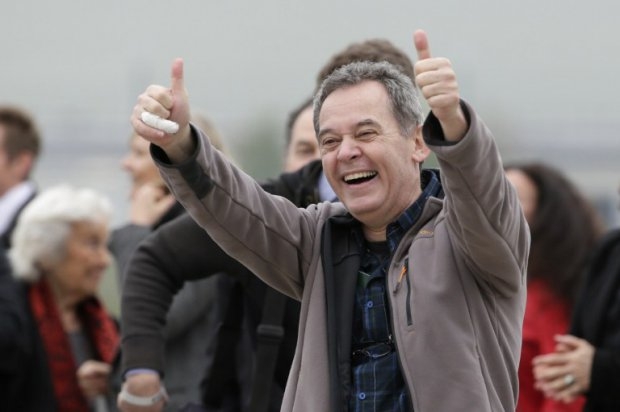 Didier Francois, one of four French journalists taken hostage in Syria, arrives at Villacoublay air base near Paris
(AFP Photo / Kenzo Tribouillard)
Sometimes you'll see pictures of a hostage immediately after their release – haggard and ill-shaven. But the most powerful scenes always happen here in Villacoublay, when they are reunited with their loved ones. I also have to admit, and I think it's true of other reporters covering these events, that it's especially moving to see a fellow journalist safe and sound on the runway after a hostage ordeal.
That morning, the gendarmes usher all of the journalists into the base at once. There are dozens of us. The military has set up stalls for the photographers so we can all get the shots we need. We wait about an hour on the runway. The four ex-hostages are to arrive by helicopter from Evreux, where they flew on a Transall military aircraft from Turkey overnight. President Francois Hollande and Foreign Minister Laurent Fabius are there to greet them, it's a well-rehearsed protocol.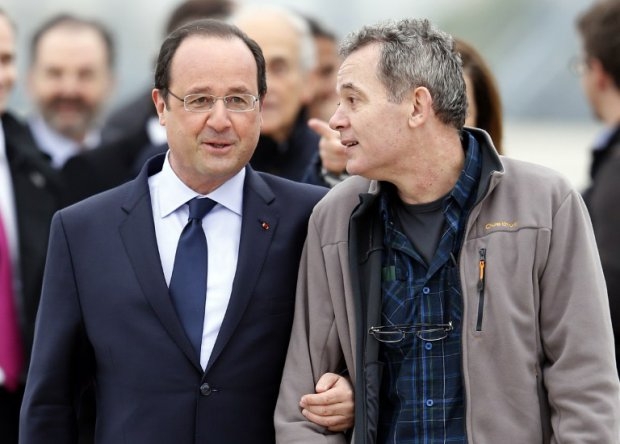 President Francois Hollande welcomes home the freed hostage Didier Francois (AFP Photo / Thomas Samson)
The mood among the press pack is pretty euphoric, as we wait in the cool morning air. Several of us know one or the other of the hostages. A few days earlier, two Spanish journalists, Javier Espinosa and Ricardo Garcia Vilanova, were freed. All of this gives us hope for those journalists still held captive in Syria.
I know some people dislike putting these hostage homecomings under the media spotlight. They think these things should be private affairs, far from the cameras. But I can tell you that to witness something like this in person is pure joy.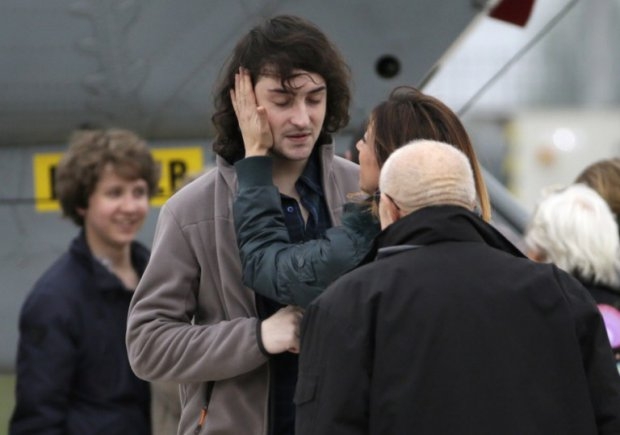 French journalist Edouard Elias is welcomed by relatives after being freed from captivity in Syria (AFP Photo / Kenzo Tribouillard)
The ex-hostages start by shaking the hand of the president and minister. You can tell their family members are positively bursting with excitement, trying their best to stick to protocol…
It all goes very fast. Nicolas Henin embraces his wife and two children – the youngest of whom was a tiny baby when he was kidnapped. Didier Francois is cheered by his colleagues from Europe 1 radio, and replies with a beaming smile and a happy wave in our direction. Everyone is embracing, laughing, glowing. When it's over, we all leave with a spring in our step.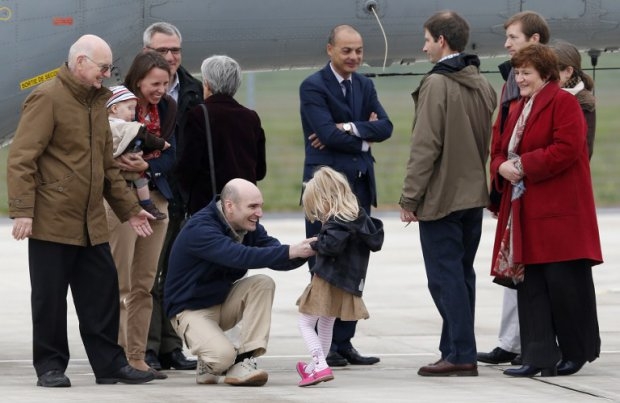 Freed French hostage Nicolas Henin with his family at Villacoublay air base on April 20, 2014. (AFP Photo / Thomas Samson)
Our job is often about photographing things that have gone wrong – or that are downright sad. In the days running up to the hostage release, I covered the arrest of a madman who was threatening to kill everyone within reach, a protest march by angry nurses, a spike in pollution in Paris, a trial for crimes against humanity in Rwanda. It's impossible not to be affected in some way by the things that we cover. We are people with feelings, that's why we do this job. And sadness is often communicative.
That morning in Villacoublay, I experienced something rare and unusual : the simple pleasure of watching happy people.
Kenzo Tribouillard is an AFP photographer based in Paris