Daring democracy
This is part of a year-end photo series spotlighting images of beauty or hope, taken in times of war, crisis and upheaval.
HONG KONG, December 25, 2014 - Among the crowd hanging out around midday at the pro-democracy protest camp in early October in Hong Kong's Admiralty district -- which thousands were occupying in an ultimately unsuccessful bid to push Beijing to grant the city universal suffrage -- was a young woman with the word 'democracy' written on her leg. There were a bunch of (male) photographers around taking her photo and I walked past not particularly interested in joining the pack to get a shot, only to double back a second later to get a picture.
That's what I was there for, and it was an atypical scene for the rather reserved protesters. Any other city in the world with tens of thousands of people, most of them teenagers and young adults, protesting an authoritarian regime and taking over the streets for weeks on end, you might expect to see at least one person drinking a beer, or smoking a joint – not to mention smashing windows, or lighting cars on fire. A young woman sitting there with a political statement on her body seemed pretty bold for such a demure crowd.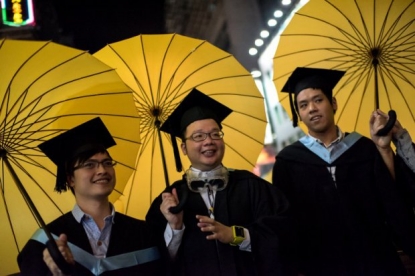 College students carry umbrellas, symbols of Hong Kong's protest movement, on October 19, 2014 (AFP Photo / Alex Ogle)
In taking photos for daily news consumption it pays to summarize a situation with clear iconography, be it the umbrellas the Hong Kong protesters used to protect themselves from police pepper spray that ultimately became a symbol people could easily understand, or in this case simply the word democracy; what the protests were about.
Small paper umbrellas strung up in a display at the site of protests in the Causeway Bay area of Hong Kong
on November 16, 2014 (AFP Photo / Alex Ogle)
I took a few shots at the time and kept walking to take more photos of the protest. I filed the picture later that day. As a photojournalist there are basic rules you can never cross about asking people to pose for you, intervening in a scene, or setting anything up (unless of course it's an established situation where someone is being photographed for a portrait), so with a pack of photographers around her I wasn't going to jump in to ask her to pose in a certain way. I just took a few shots and moved on.  I only filed one picture and picked what I thought was the strongest frame: one that showed the word clearest, had the cleanest background, with the two yellow banners moving in the wind like legs, and her position making for a composition that got a very basic story across that anybody could understand before they blinked: the word democracy on a woman's leg.
I think the strongest composition I had was with the frame cut off at her shoulder and below the knee, and didn't show her face. It got quite a reaction with a few hundred retweets on Twitter, with the majority of responses positive -- i.e. " Democracy never looked so sexy!" -- but also some angry replies telling me I was objectifying women, reminding me there were many women involved with and leading the protests, and that I was dehumanizing women by cutting off her head. It was mostly fair criticism and definitely made me feel bad about choices I had made. It pushed me to consider more clearly why that was the frame I had picked to file. Photographer Lam Yik Fei took a great picture of the protester Maggie Chan in full, in his excellent series of portraits on the Hong Kong protesters.
Alex Ogle is an AFP photographer based in Hong Kong. Follow him on Instagram and read his previous Correspondent posts, Pepper-sprayed in Hong Kong, Finding the right angles to photograph Hong Kong and Hong Kong Squared: Instagramming a Region
A woman inside a blockaded tunnel in the Central district of Hong Kong, hours before police moved in to clear pro-democracy 
protesters on December 11, 2014 (AFP Photo / Alex Ogle)