The slap of forgiveness
This is part of a year-end photo series spotlighting images of beauty or hope, taken in times of war, crisis and upheaval.
in the northern Iranian city of Noor on April 15, 2014 (AFP/ Arash Khamooshi / ISNA)
TEHRAN, December 30, 2014 - I first become aware of Balal, the man facing death, when the Iranian film director Mostafa Kiaei invited me to a special screening organized to raise the "diyeh" -- blood money that can be paid to a victim's family to avoid a death sentence.
My wife and I are volunteers for an association that was campaigning for Balal, who stabbed a young man to death in a street brawl in 2007. Two days before the expected execution I got a call urging us to travel from Tehran to Noor, a northern city where he was in jail. I wasn't going there as a photographer primarily, more as a human being.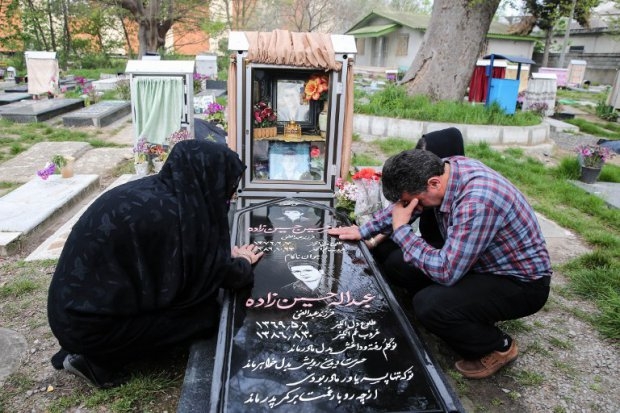 Samereh Alinejad and Abdolghani Hosseinzadeh mourn at the grave of their son (AFP/ Arash Khamooshi / ISNA)
It appeared that although some members of the victim's family were willing to take the blood money the dead man's mother, Samerah Alinejad, was not. We expected him to be hanged.
There was a push to try and persuade her to accept the blood money but she had felt under siege and had retreated to her house and was no longer answering the phone.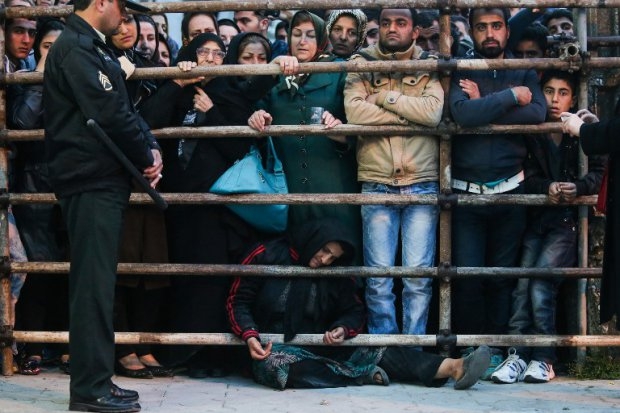 The mother of convicted murderer Balal as her son is brought to the gallows (AFP/ Arash Khamooshi / ISNA)
A popular Iranian football show – 90 – had even mentioned Balal's case with its famous anchor urging that he be pardoned. The execution was set for sunrise on April 15 and the gallows had been prepared the night before.
In the morning there were around 1,000 people there, some of whom had placed a Quran over their head calling for forgiveness. His sisters were there, crying and asking that he be spared. There were no other media outlets present.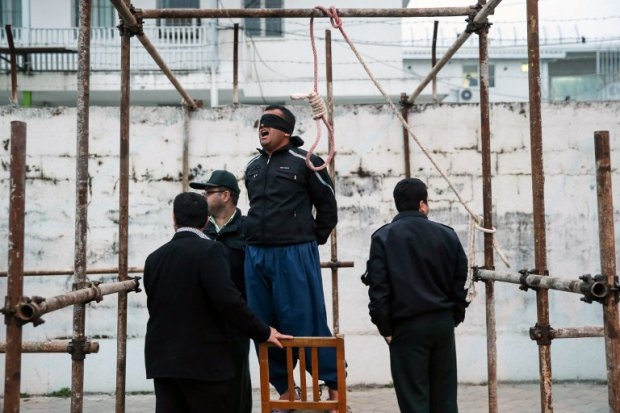 Convicted Iranian murderer Balal stands in the gallows (AFP/ Arash Khamooshi / ISNA)
At 6:20 am Balal was led out in handcuffs by prison guards. He was wearing a blindfold and they put the noose around his neck. He cried out for forgiveness but the mother, who under 'qisas' -- the sharia law of retribution -- has the right to kick away the chair on which the condemned man stands, said she was not willing to forgive.
A few minutes later the victim's mother approached Balal but instead of kicking away the chair, as we expected, she slapped him on the face and said she forgave him. It was unbelievable. A real surprise. The noose was removed. People cheered with joy.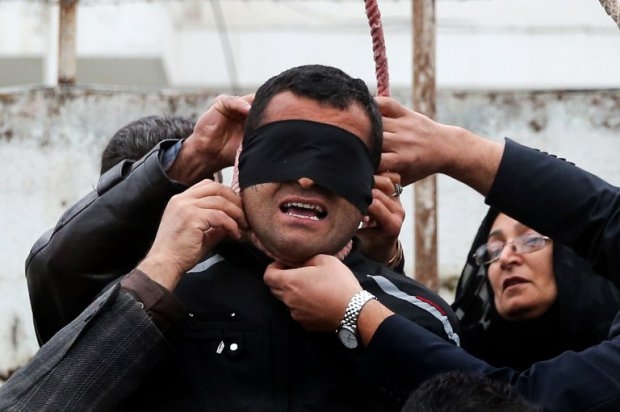 The mother of Abdolah Hosseinzadeh removes the noose from the neck of her son's killer (AFP/ Arash Khamooshi / ISNA)
Really, I was not there to take pictures but now that I did I think I managed to achieve what journalism should be aiming for -- to try and understand things better. I managed to use my position as a photographer to help and show the impact of something like this on society. I have been to other executions which were carried out in Tehran where some people even bring their kids along to watch and hundreds of people are filming it on their phones. I don't understand this at all. I went back to Tehran and filed the pictures.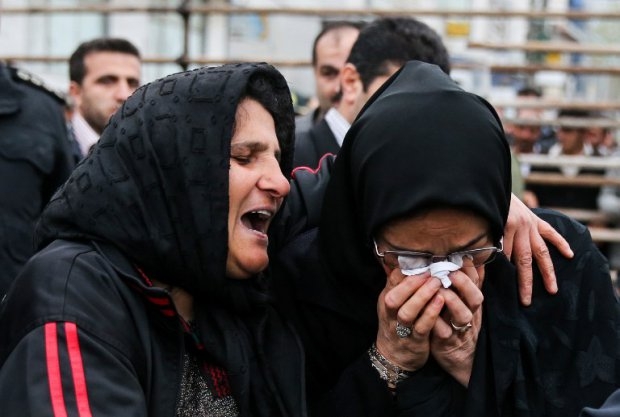 The mothers of Abdolah Hosseinzadeh and his killer, Balal, weep together after he is pardoned (AFP/ Arash Khamooshi / ISNA)
The Guardian picked up on it first and then AFP syndicated the pictures. I hope one day there will be no public executions. I don't know how people can be hanged at a crossroads where a few hours later parents will be walking past taking their children to school.
Arash Khamooshi is an Iranian photographer with the ISNA agency