A smile in a cemetery
This is the first in a year-end photo series spotlighting eight images of beauty or hope, taken in times of war, crisis and upheaval.
where 45 migrants suffocated to death in the hull (AFP Photo / Giovanni Isolino)
POZZALLO, Italy - I took this picture on July 2, 2014, in the port of Pozzallo at the southern tip of Sicily. It shows migrant families waiting to disembark from an Italian navy ship after being rescued in the Strait of Sicily.
They were discovered two days earlier on board a fishing boat where 45 migrants suffocated after being locked in the hull by traffickers. It was after dark, around 9 pm, and I took the picture from the quayside as the ship was mooring.
I don't know the story of the man and boy in the picture, whether they are father and son. But it's likely they were Syrians fleeing civil war, trying to get to northern Europe. The people on the boat were from Syria, Eritrea, Somalia and Cameroon. Among them were many families with very young children.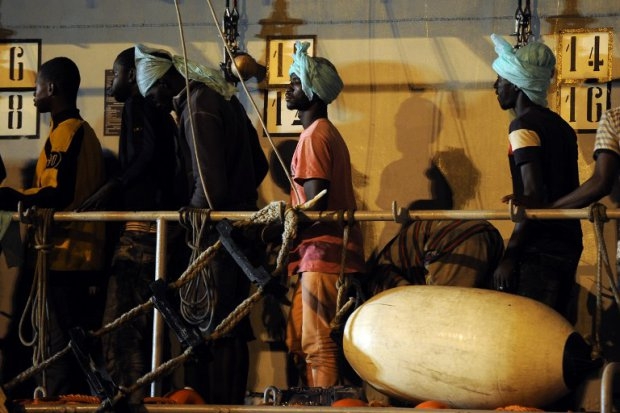 Migrants disembark from the Italian military ship 'Grecale' in the port of Pozzallo, Sicily, on July 2, 2014 two days after a rescue
 operation at sea (AFP Photo / Giovanni Isolino)
Rescuers found men's bodies piled on top of each other inside the fishing vessel -- like a mass grave, in the words of the police.
The victims had tried to escape the hold as it started to fill with engine fumes, but were locked inside by people-smugglers who feared they would capsize the boat. There were 600 men, women and children crammed onto a vessel 20 metres long.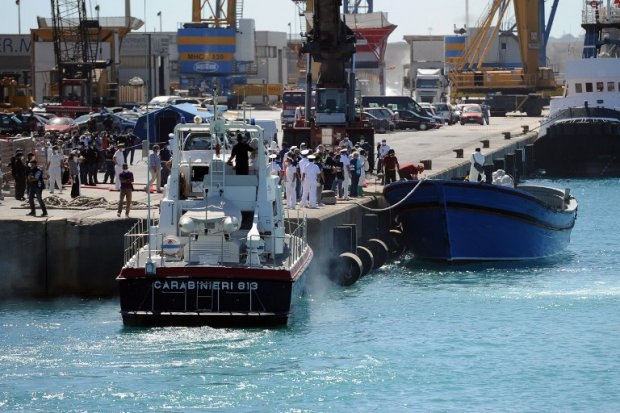 A fishing boat on which dozens of immigrants died, is towed by coast guards in the port of Pozzallo (AFP Photo / Giovanni Isolino)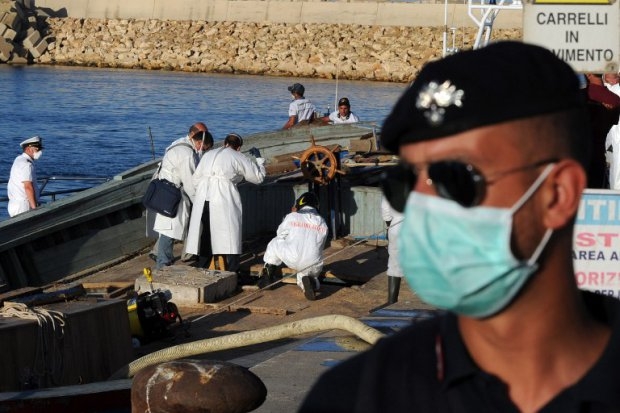 Firemen and police evacuate bodies from a boat in the port of Pozzallo, Sicily on July 1, 2014 (AFP Photo / Giovanni Isolino)
Last summer I photographed migrant landings all over Sicily, in Pozzallo, Catania, Messina, and on the Italian mainland in Reggio, Calabria. There have never been as been as many migrants arriving here as over those few months.
Sometimes you see young children arriving alone, without their parents. And even when they have their families, they are usually upset, and frightened. Seeing a child smile like this is something very rare, and special.
Giovanni Isolino is a freelance photographer and AFP contributor based in Sicily.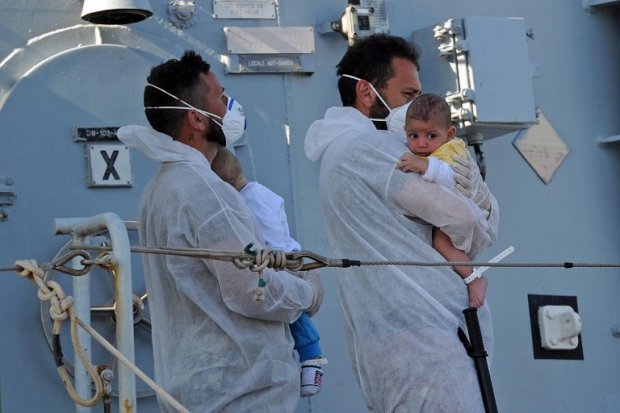 Rescuers hold babies as the navy ship 'Chimera' arrives in the port of Pozzallo, on June 30. 2014, with 350 migrants on board
(AFP Photo / Giovanni Isolino)