A glimpse into Tibet
Lhasa -- When the Chinese government said it was organizing a media tour to Tibet, I jumped at the chance to go. A similar trip was supposed to take place last year, but was called off at the last minute, so I was very happy that I was going to finally get there.
It was my first time in Tibet and probably the last as a journalist, since it's such a rare opportunity to go. There were 17 journalists on the trip and in all we spent six days in the region, including three days in the capital Lhasa and the rest travelling and in Nyingchi, in the southeast.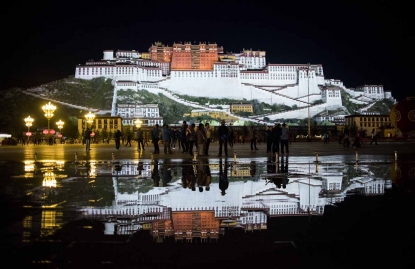 (AFP / Johannes Eisele)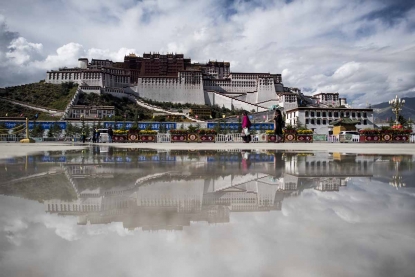 (AFP / Johannes Eisele)
We had three minders from Beijing with us and around five to six from the Tibetan government. I was surprised how relaxed they were in Lhasa, the first part of our journey. I wanted to go photograph a temple in the morning hours before our program started, so I told them where I was going before breakfast. I didn't expect them to be okay with it, but they just said to make sure to be back in time for the official program.
Those two hours at sunrise were the most exciting part of the trip for me.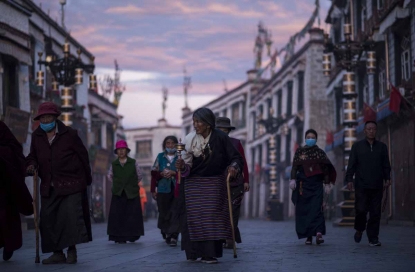 (AFP / Johannes Eisele)
There were about 300 people just in front of the Jokhang temple and about 2,000 walking around the temple complex, praying and prostrating.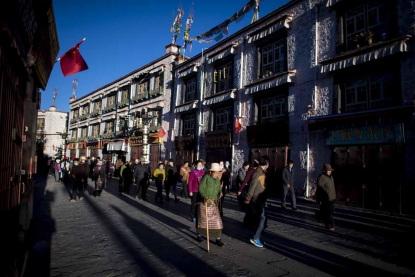 (AFP / Johannes Eisele)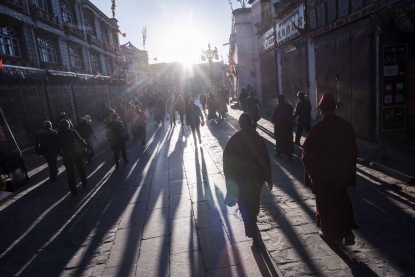 (AFP / Johannes Eisele)
Others were burning incense in a white oven. They didn't pay much attention to us, some were smiling some would let me know that they didn't want to be photographed. The smell of the burning incense followed me for the entire day.
What was funny was it reminded me of something else. In China, lots of people do exercises in the mornings. They walk around stadiums or in parks, doing their morning routine. Well, this looked a bit the same -- they were walking around doing their early morning exercises, except that they were also praying.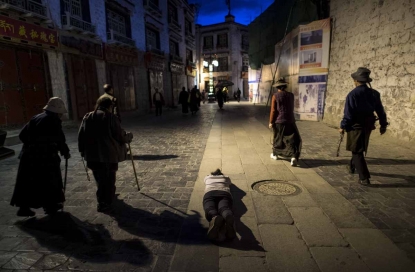 (AFP / Johannes Eisele)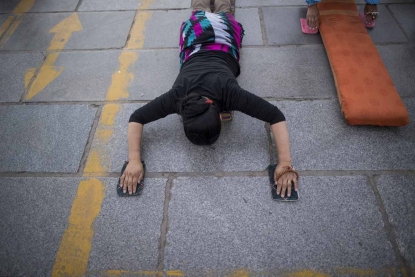 (AFP / Johannes Eisele)
As part of the official program, we visited the same temple in the afternoon. But the atmosphere had changed completely.  There were now crowds of Chinese tourists, taking pictures and posing and the peaceful atmosphere of the morning had changed to that of a bustling tourist spot.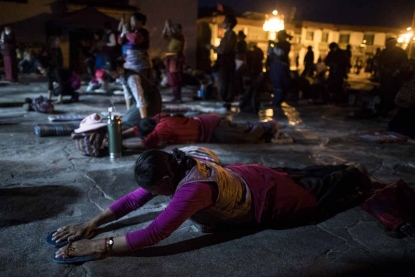 (AFP / Johannes Eisele)
In all, I was able to visit two different temples in the three days in Lhasa. There was an enormous amount of people at both temples, all praying.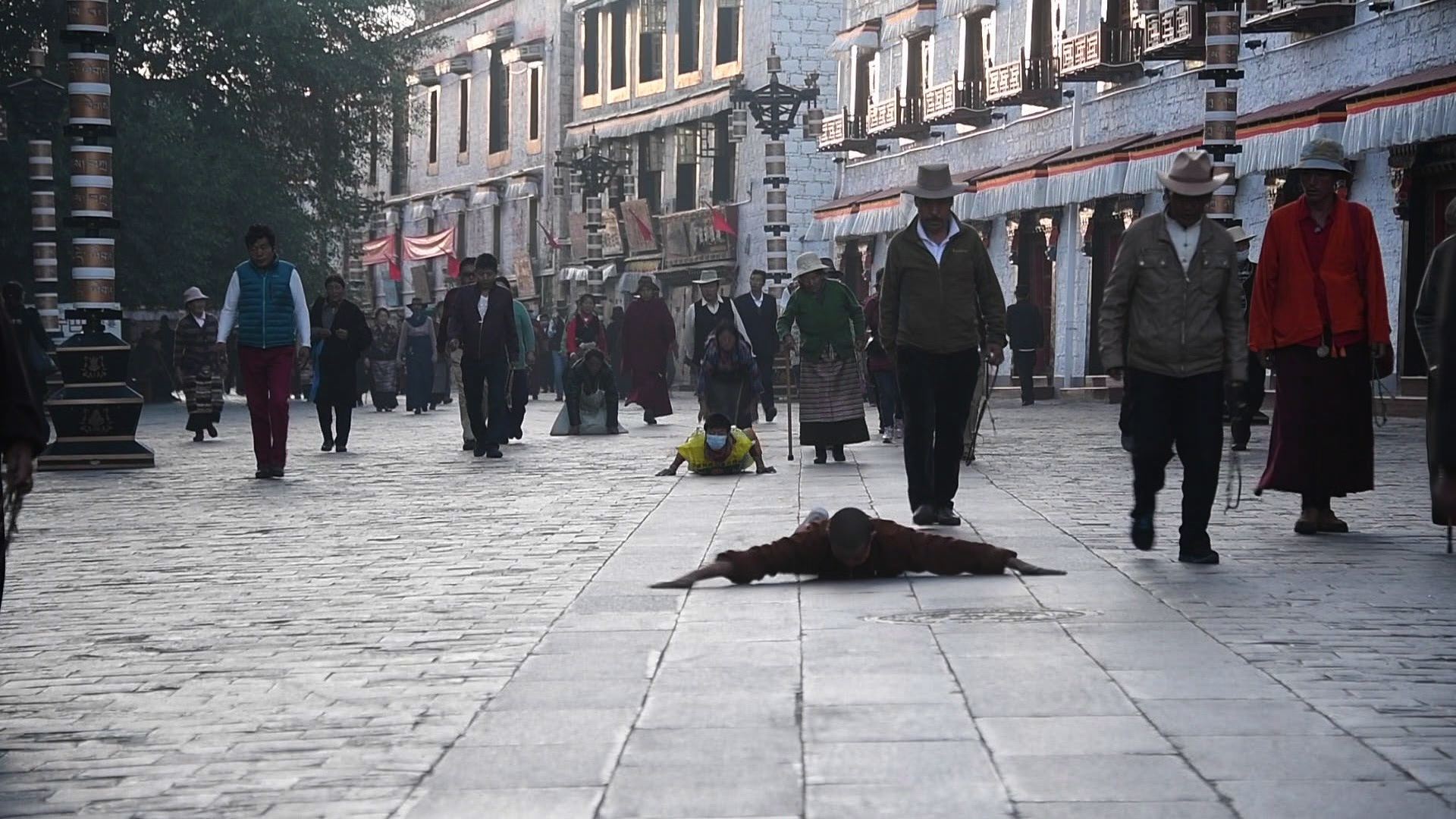 The bus ride from Lhasa to Nyingchi took a whole day -- more than 11 hours inside a bus, most of it on bumpy roads next to the endless construction side of the China National Highway 318,  which sometimes blocked the view to breathtaking scenery of snow-capped mountains.  At one of the passes, we were some 5030 meters above sea level.
The Nyingchi part was less impressive than Lhasa. We were taken to spots that were going to be developed as tourist attractions and from a photography point of view, it wasn't that interesting.   Among our stops was a pig farm. It felt a little awkward to be on a bus the whole day to see some Tibetan pigs in the mud.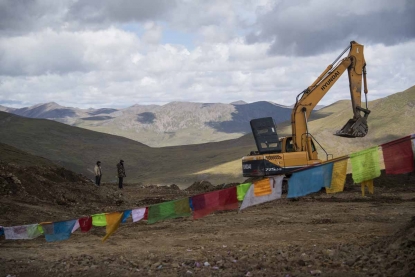 Buldozers work on a future highway in Nyingchi. (AFP / Johannes Eisele)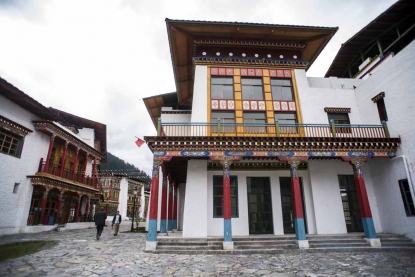 Empty buildings in what Chinese officials hope will be a tourist attraction near Nyingchi. (AFP / Johannes Eisele)
The organizers were also very worried about us getting altitude sickness. They reminded us often not to walk around too much.  And frankly, we all were a bit afraid of that too, and took precautions. But in the end, it wasn't so bad. One of our colleagues got sick, but that's it. The first day I got a bit of a headache and you get very short of breath, but overall it wasn't too bad.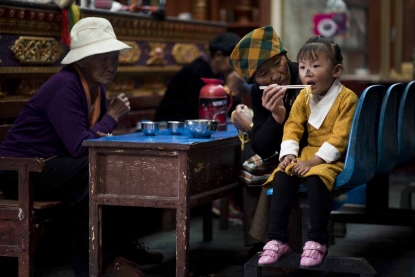 (AFP / Johannes Eisele)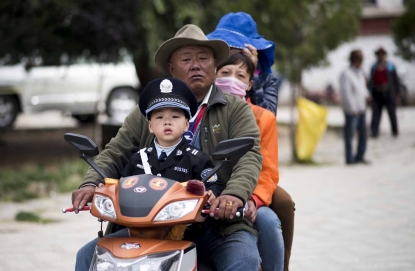 A family outing. (AFP / Johannes Eisele)
For me the best part of the trip was knowing that this was most likely 'a once in a lifetime chance'  to see, smell and feel this place --  just a handful of foreign journalists have been able to visit Tibet in the last decade, and I guess that will not change anytime soon.
This blog was written with Yana Dlugy in Paris.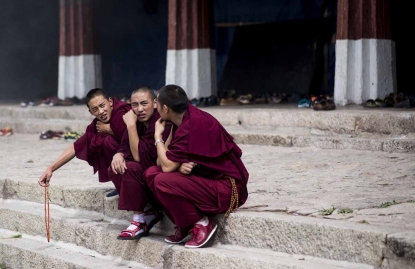 (AFP / Johannes Eisele)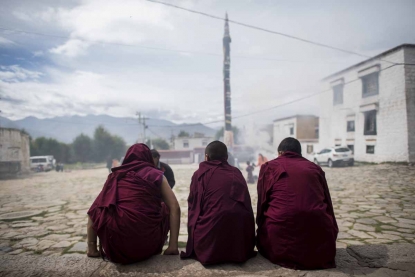 (AFP / Johannes Eisele)