Melting in Harbin ice
Harbin, China, January 14, 2016 -- The thing that struck me about the Harbin Ice and Snow Festival was just how relaxed everyone was. It struck me because noone paid any attention to me taking pictures of them with my camera. In Beijing, when you take pictures of people on the street, they often shy away, can get unhappy or even angry. But here, noone cared. It's like the usual reserve melted away.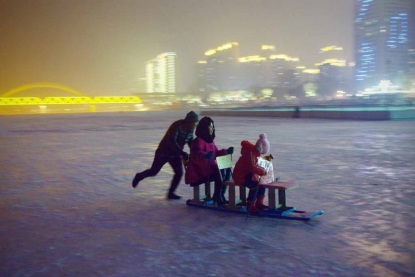 (AFP / Wang Zhao)
This was my first time covering the Harbin ice festival and I have to say it was impressive in many ways.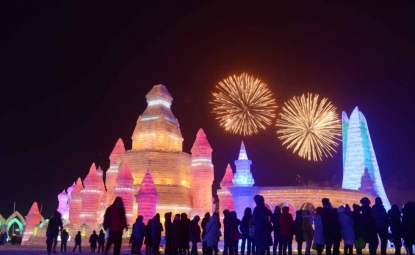 (AFP / Wang Zhao)
The festival takes place every year around on an island of the Songhua River in Harbin, in China's chilly northeastern province of Heilongjiang. When I arrived, the first thing I did was to head to the river to have a look. There were a ton of people on the ice and, since this was my first time, my first reflex was to worry that the ice would give way. And then I saw a car drive across. So I relaxed and went on the river.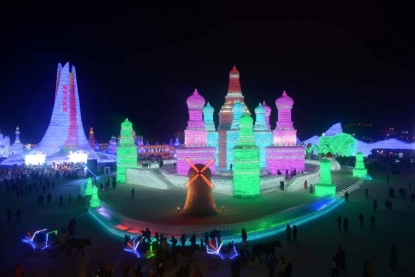 (AFP / Wang Zhao)
Harbin really has a festive atmosphere about it. Of course you have the beautiful ice and snow sculptures -- huge ice replicas of Chinese palaces, Russian churches and French cathedrals. But it's more than that. Despite the freezing temperatures -- this year the mercury got as low as -20 Celsius -- people are here to have fun.
The event regularly attracts more than 800,000 people during its run and many of them make the most of the surroundings, skating on the river or sledding down huge hills. When I was there, I saw people standing in line for two hours -- two hours! -- just to slide down a hill of about 50 meters. They didn't seem miserable.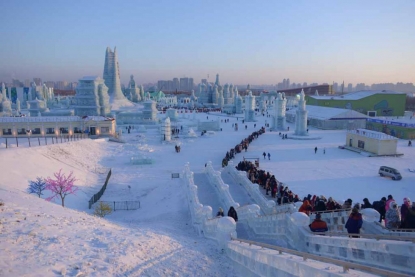 (AFP / Wang Zhao)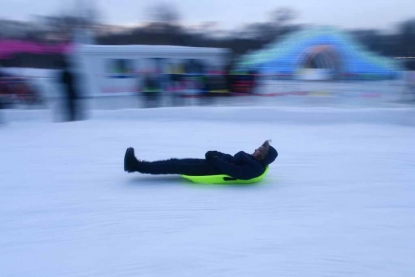 (AFP / Wang Zhao)
Another impressive thing is at night. It gets dark earlier in Harbin than in Beijing. My first day, I was out on the river at 4:30 pm and it was nearly completely dark. There was noone on the river at that point, and then all of the sudden, you had these laser lights shoot up into the sky from the island. That was really impressive.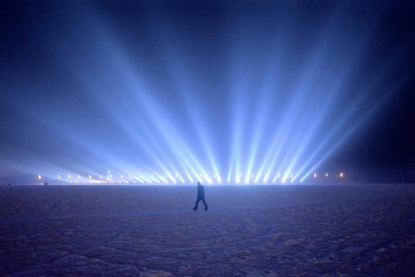 (AFP / Wang Zhao)
And of course, you have the sculptures themselves.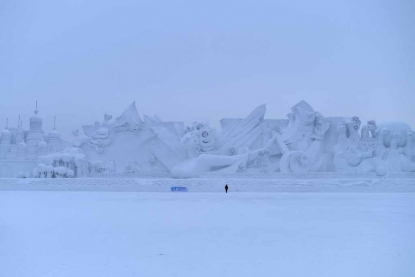 (AFP / Wang Zhao)
They take about a month to make. The artists who design them make the drawings and the diagrams and the workers execute them. The ice comes from the surrounding river. Some of the sculptures were being finished just a few days before opening, so I got to see how they do it. The workers cut the ice blocks from the river and transport them to the island and stack them on the sculpture. Like Legos. And the result is something really impressive to behold.. Imagine a lifesize castle made of ice. Like in that Disney movie Frozen. But it's real.
Wang Zhao is an AFP photographer based in Beijing. This blog was written with Yana Dlugy in Paris.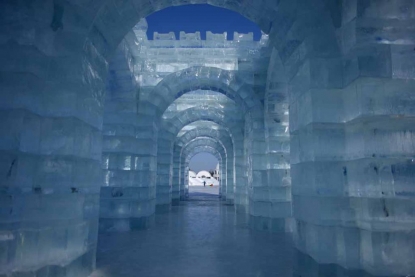 (AFP / Wang Zhao)