At the Red Army School
BEICHUAN, China, February 2, 2015 – In this primary school in Beichuan, in Sichuan province, the students wear the uniform of the Chinese Workers' and Peasants' Red Army, as the armed wing of the Communist Party was known during China's two civil wars, the Long March and the second Sino-Japanese war. The children look like a little regiment of the revolutionary force.
The military-style uniform is an exception in 21st-century China. And for a photographer, it's a goldmine.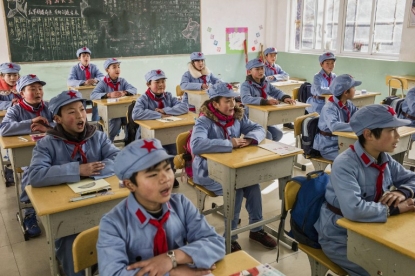 In class at the Beichuan Red Army primary school on January 21, 2015 (AFP Photo / Fred Dufour)
I spend several hours in the school, along with my colleague from AFP Beijing, Tom Hancock. Nestled in a valley deep in the mountains, it was founded after the terrible Sichuan earthquake of 2008. The uniform is supposed to encourage patriotism and discipline. There are almost 150 schools like this one in China, mostly funded by private donations from members of the "Red Nobility", the name given to people who fought in the Red Army before 1949 and their descendants.
Photographing this place is a sheer delight. Surrounded by kids dressed like 1930s communist revolutionaries, I feel like I have travelled back in time – even though the classrooms are also equipped with overhead projectors and other modern technology.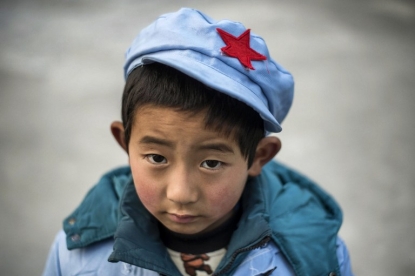 A pupil at the Beichuan Red Army school on January 21, 2015 (AFP Photo / Fred Dufour)
Paradoxically I feel much freer to work, here in a Chinese Red Army school, than I did just a few months back, when called upon to photograph a French classroom. Here no one worries about image rights. No one looks at me suspiciously. I don't need to mask or blur out the faces of children whose parents or teachers don't want them recognised. I imagine Robert Doisneau must have felt a similar freedom and joy photographing French schoolchildren in the countryside, in their identical grey overalls.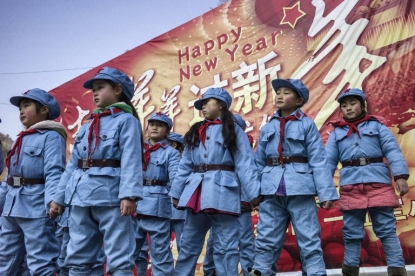 Children singing at the Beichuan Red Army school on January 21, 2015 (AFP Photo / Fred Dufour)
These days in France, there's no way you can photograph so freely. It's a real shame. In China, you need all sorts of permits for most kinds of reporting. But once you have jumped through the hoops, you can do pretty much whatever you like in image terms. Likewise for photographing people on the street, or in shopping centres. In France that's become very tricky. But here everyone is fine with being photographed. People have a totally different attitude towards their image.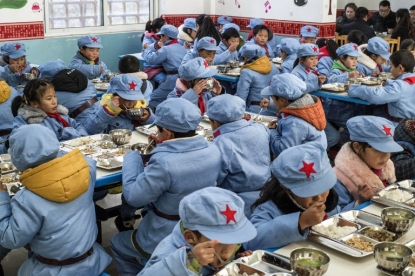 Lunchtime at the Beichuan Red Army school on January 21, 2015 (AFP Photo / Fred Dufour)
The other difference that strikes me, is between the behavior of the Chinese and French kids. In France, if you photograph a group of children, there will always be a few giggling, acting up or striking a pose. Here in this school in deepest China, I sometimes have to wait quite a while for a child to even look in my direction! The discipline is absolute. There is no fooling around, whether the pupils are in class, chanting patriotic hymns in the playground or eating their canteen lunch.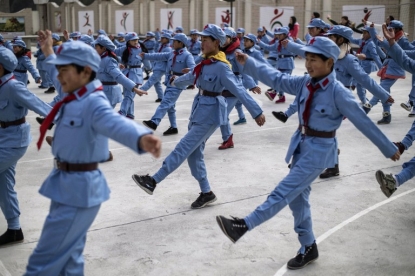 Children march after raising the national flag at the Beichuan Red Army school on January 21, 2015 (AFP Photo / Fred Dufour)
These are serious, hyper-concentrated children, in their Red Army garb. Like all Chinese kids, you can tell they are all pretty indoctrinated, but the atmosphere at the school doesn't seem in any way sinister. When the bell rings and they run out into the yard, or play ping pong among themselves, you can see them laughing and smiling, behaving once more like children anywhere in the world.
Fred Dufour is an AFP photographer based in Beijing.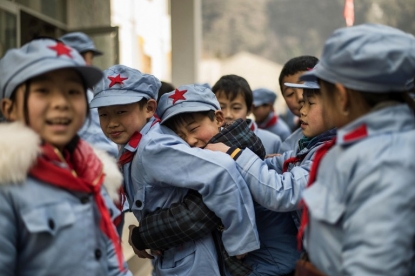 Children wait to enter their classroom at the Beichuan Red Army school on January 21, 2015 (AFP Photo / Fred Dufour)