The UN, Brangelina and me
United Nations -- US ambassador Samantha Power calls it "diplomatic speed dating" but for journalists covering world leaders at the UN General Assembly meeting, the description is probably less poetic.
The madness begins in the weeks leading up to the UNGA when my email inbox is suddenly disgorging invitations to cover "high-level events"  on everything from anti-microbial resistance to climate change.  NGOs are offering up  experts to discuss the refugee crisis and a PR firm asks  if we would like to interview the foreign minister of Kazakhstan.  Recep Tayyip Erdogan's wife is inviting reporters to talk about "the advancement of the Turkish economy and democracy."  Everyone is in town for the UNGA.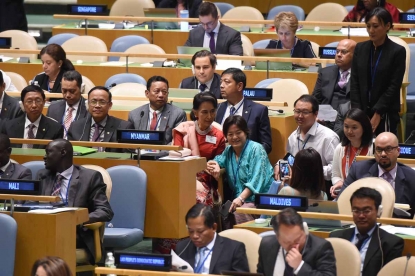 Delegates have their pictures taken with Aung San Suu Kyi, State Counsellor and Minister for Foreign Affairs of Myanmar. (AFP / Don Emmert)
With more than 130 leaders to cover,  it's time to be selective. There are also invitations to receptions -- I plan to attend one for a candidate to be secretary-general because the Russians are likely to be there and it's always informative to talk to the Russians.  
As the week kicks off, the brisk 5 minute-walk from the metro stop to my office at the UN turns into a 20-minute obstacle course.  Streets are blocked off and  NYPD officers deliver one line:  "You have to go around." This is my third UNGA but  the novelty of watching Hassan Rouhani brush by has not worn off.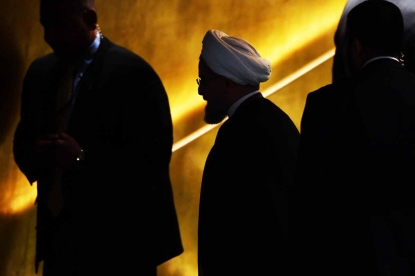 Iran's President Hassan Rouhani (C) leaves after addressing the 71st session of the United Nations General Assembly at the UN headquarters in New York on September 22, 2016. (AFP / Jewel Samad)
Leaders from all  193 countries of the United Nations get their turn at the podium in the General Assembly hall to deliver their message to the world.  That makes for six days of speeches, but this year, there was also a summit on the refugee crisis.
There was talk that Angelina Jolie, who is an UNHCR special envoy, was going to speak at that summit -- the UN always draws in a celebrity to generate a social media buzz  -- but the refugee summit came and went without Angelina. The following day, during Barack Obama's speech at the GA, the news broke and her absence was understood: Angelina Jolie had filed for divorce from Brad Pitt.
Many of us took a moment to absorb the news.  A colleague broke away from Obama's final speech of his presidency to the United Nations to text a friend: "Did you hear ?  Angelina Jolie is divorcing Brad Pitt".   The friend replied : "Did she announce it at the UN?"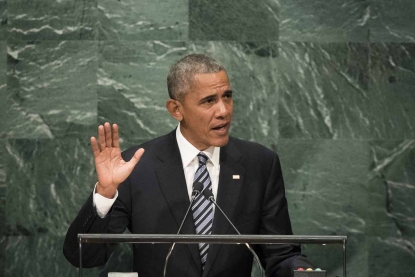 US President Barack Obama addresses the UN General Assembly on September 20, 2016. (AFP / Drew Angerer)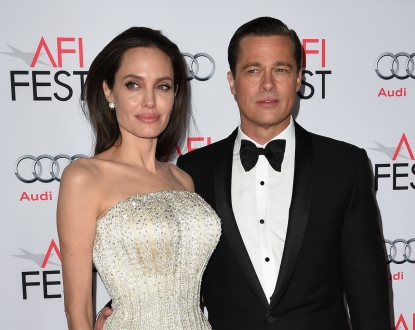 Angelina Jolie Pitt and Brad Pitt in Hollywood, California, November 5, 2015. (AFP / Mark Ralston)
Despite Angelina's absence, other celebs turned up at UNGA.  Amal Clooney joined Boris Johnson to talk about prosecuting the crimes of Islamic State.  Forest Whitaker was there to promote  the UN's sustainable development goals (There are 17 in all and they were adopted at last year's UNGA) .  Stevie Wonder called Ban Ki-moon a "rock star" for promoting peace.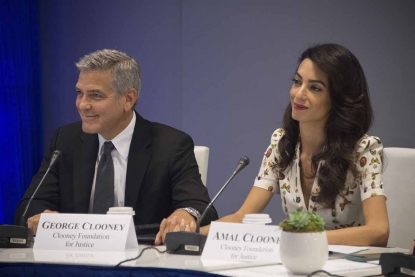 Actor George Clooney (L) and his wife Amal Alamuddin Clooney attend the CEO Roundtable on the sidelines of the 71st session of the United Nations General Assembly in New York on September 20, 2016 in New York. (AFP / Jim Watson)
One of the unsung heroes of UNGA is Peter Thomson, the ambassador from far-flung Fiji who is now president of the General Assembly.   He opened the debate by demanding that everyone be quiet during the speeches.  At one point, he ordered UN security guards to escort a group of chattering diplomats out of the GA hall.   That man is winning hearts.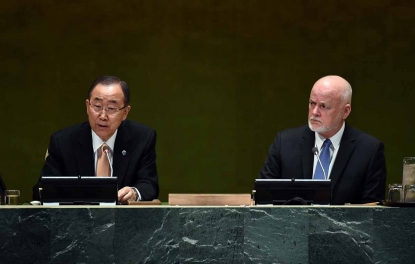 United Nations Secretary General Ban Ki-moon (L) speaks as Peter Thomson of Fiji, president of the 71st session of UN General Assembly, looks on September 20, 2016. (AFP / Jewel Samad)
So as fewer motorcades rumble through the streets of New York as the week draws to a close, what is there to take away from this year's UNGA ?
Well to get back to Samantha Power's point, leaders are holding plenty of face-to-face meetings behind closed doors to discuss easing some of the pain in the world.  These are crucial conversations.  And so I do hope that at this year's UNGA,  there will have been many crucial conversations. First and foremost about Syria. But also about Yemen, South Sudan, Iraq, Libya, Ukraine, North Korea…
Yet, as  UNGA comes to a close, familiar news pours out of Syria -- Aleppo ablaze -- UN  pleads with Assad over food aid stuck at Syria border.
The wheels of diplomacy are turning, but probably not quickly enough.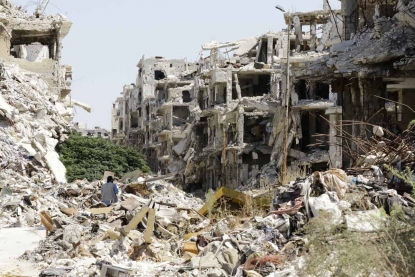 The Syrian city of Homs on September 19, 2016. (AFP / Louai Beshara)