Givin' 'em hell in the Med
ABOARD THE USS HARRY S. TRUMAN -- It's only when you get up at 2:00 am to answer the call of nature that you can fully appreciate how a US aircraft carrier operates around the clock.
It's our first and only night on board the USS Harry S. Truman, one of the most prestigious ships in the American navy, and I'm cursing a nearby door that won't stop slamming.
Groggily descending from the bunk bed, I realise that the adjacent corridor is as busy with sailors as during daytime.
We are here at the invitation of the US Sixth Fleet public affairs office. There are three of us from the Athens bureau -- daredevil photographer Aris Messinis, globe-trotting video jockey Will Vassilopoulos, and yours truly.
The medical screening form we are asked to fill out before gaining approval to board was thorough to say the least -- it included our blood type and sickle cell status, our last tetanus vaccine, injuries, allergies, surgeries and our daily alcohol and tobacco intake.
A few days later, we fly out of the Souda Bay base on Crete on a Greyhound navy transport plane, along with the ship's mail, to reach the carrier at an undisclosed location in the eastern Mediterranean.
We now know more or less where we were. We just can't tell anyone.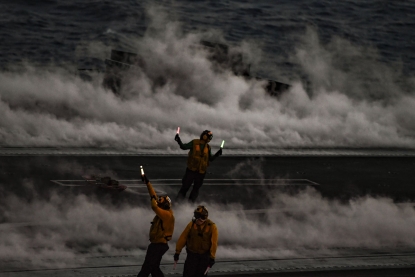 (AFP / Aris Messinis)
The Greyhound pilot gives us a hardcore introduction to navy aviation, with two misses and three more overhead passes before finally latching onto the carrier's 330-metre-long deck. By that point, our insides are well and truly scrambled.
Landing on an aircraft carrier -- whilst facing backwards -- takes you from 150 miles per hour to zero in three seconds. That makes us Honorary Tailhookers of the USS Harry S. Truman, and we get certificates to that effect signed by the carrier's captain.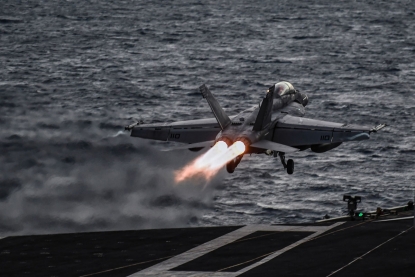 (AFP / Aris Messinis)
For those of us living in Greece, US military stores are the stuff of legend, filled with out-of-this-world food items and gadgets.
So naturally, when we get to the ship's mess hall, Will zeroes onto a radioactive blue beverage at the drinks dispenser, which seems quite popular around the hall. It tastes like concentrated blue sugar. But at least he's not left looking like Dr Manhattan. We stay clear of the stuff for the remainder of our stay.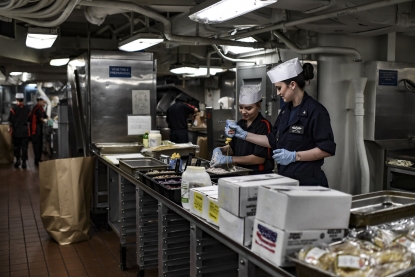 (AFP / Aris Messinis)
The ship is a small floating city of 5,500 people serving around 17,000 meals and making some 400,000 gallons of its own water each day.
We expect to find every burger imaginable on the menu. But the food is actually pretty diverse. In addition to chicken, beef, pasta and potatoes, there is a well-stocked salad bar that includes fresh fruit and vegetables. As a local delicacy, Greek feta cheese will soon be arriving in bulk too, we are told.
Our hosts, including the Harry S. Truman's public affairs officer and her deputy, are polite, professional and even crack the occasional joke. But they never really let their guard down, even after I offer to do a couple of pull-ups with the crew. Well, two and a half.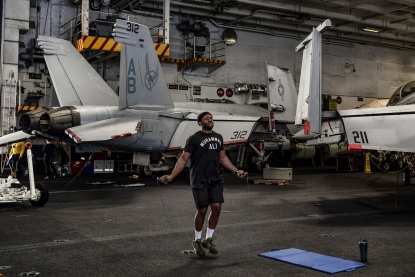 (AFP / Aris Messinis)
(AFP / Aris Messinis)
Pre-arranged interviews with crew members are staged and stiff -- one of the interviewees seems downright terrified -- with most people repeating the same mantra of being excited to be here and keeping America safe.
We must also constantly remind ourselves that these softly-spoken, impossibly young-looking women and men have been trained to kill.
"When you walk around, you'll be amazed at how hard we're asking these young men and women to work. And yet most of them have a smile on their face, they love what they do," says Rear Admiral Gene Black, commander of the carrier strike group.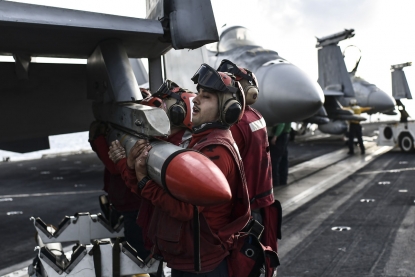 (AFP / Aris Messinis)
But they do allow themselves some small luxuries.
Walking around the narrow, maze-like corridors of the ship, it quickly becomes apparent that there is a serious moustache trend going on among the men. "Moustaches are not really in fashion in the US. So while the men are away from their families for long periods of time, they experiment a little bit with their facial hair," an officer explains.
The Harry S. Truman, leading a strike group of destroyers and a cruiser, moved into the eastern Mediterranean in April.
Officially, its aircraft are taking part in Operation Inherent Resolve -- pounding Islamic State targets within Syria. On the flight deck, there are seven different specialised crew teams -- ranging from refuelling and ordnance-loading to safety observation -- and they don't put a foot wrong.
This crew is trained to fire off two planes every 40 seconds in daylight, or every 60 seconds at night. Commanding officers call it a 'ballet'. Those on the receiving end of the payload probably find it less artistic.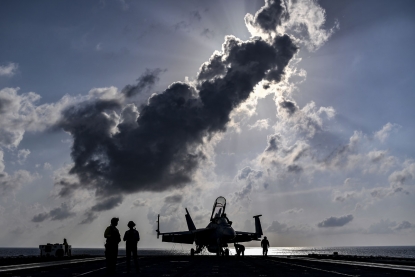 (AFP / Aris Messinis)
Getting close to an F/A-18 Super Hornet's jet exhaust, even while on standby, is ill-advised. No one is allowed on deck without a protective helmet, jacket and goggles, but the crews who get close to the aircraft at that level also shield their lower faces with scarves.
"One time I did not fully take cover. The blast threw me down, and the man behind me too," a crew member confides.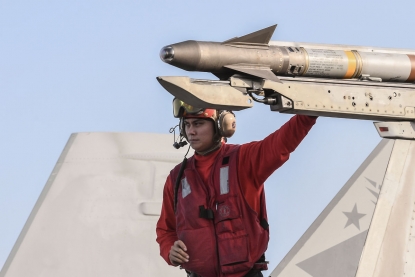 (AFP / Aris Messinis)
Truman, a World War I artillery captain, is perhaps best remembered for the phrase "'the buck stops here," which he kept as a sign on his White House desk.
That's now on the ship's seal and you can be sure to find it pretty much everywhere, down to the bunk covers and room towels.
Homage to the 33rd president, a down-to-earth country man who probably would have abhorred this sort of adulation, is ever present. In the hangar, crew members ride exercise bicycles under his profile on the wall. Guest rooms have pictures of Truman as a boy, riding a horse as a young officer, fishing and celebrating a birthday.
And a phrase a supporter once told him at a rally ahead of the 1948 election "Give 'em hell" adorns the carrier's battle flag.
But the centrepiece of the collection is the Truman Room -- a small museum designed as a miniature of the Oval Office, chronicling the president's life and showcasing period copies of personal items.
Perhaps the most significant exhibit is a small pinkish slip of paper tucked in a far corner display.
"Suggestions approved. Release when ready." That's the copy of the order to drop the atomic bombs on Japan.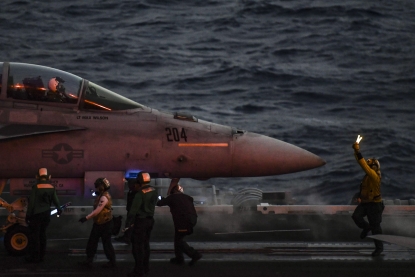 (AFP / Aris Messinis)
No visit to a US carrier is complete without a viewing of Top Gun, the 1986 aviation classic. As luck would have it, the Harry S. Truman's commanding officer, Captain Nicholas Dienna, was himself a Topgun instructor. So naturally, we ask him what Hollywood gets wrong in these films.
"Generally speaking, life as an instructor or naval aviator is not as dramatic as filmmakers would compress into an hour and a half," says Dienna, who has accumulated nearly 3,000 flight hours and has landed on carriers some 800 times.
Sailors are also amused by the size of ship interiors in Hollywood films, which must generally be filmed in studio lots. On a real warship, there would barely be enough space to set up the cameras.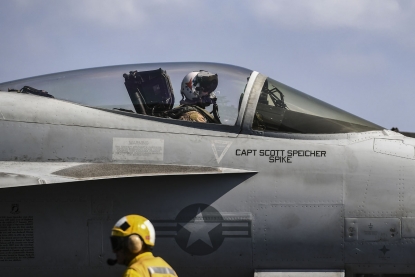 (AFP / Aris Messinis)
After just over 24 hours on board, it's time to leave..
Our Greyhound is positioned above the carrier's catapult -- a large steam piston beneath the flight deck. You get a jolt -- and in the next split second you are flung into the air with much higher acceleration than an aircraft can muster on its own. It's designed to make sure that the plane clears the deck -- and I now know what a slingshot feels like. Wow.
The helmet is crushing my ears. There's an hour more of that.
The pilot callsigns range from mundane to downright mystifying. Peeper. Dad Jeans. Squeezer. Mr Hands. Wiggler. McSalty. Shady. Shag. Sadly, we don't get a chance to find out some more about these back stories.
As the Greyhound shoots into the sky, I'm getting that nauseous feeling again. A week after our visit, my hearing is still impaired.
But after walking the equivalent of 40 floors on the carrier, I did lose a kilo in the bargain.
How soon can we do this again?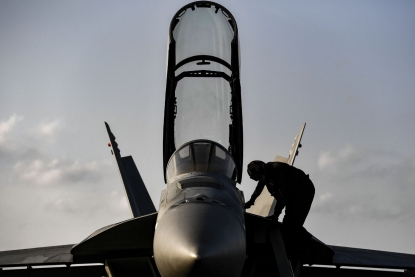 (AFP / Aris Messinis)