Hipstamatic in the high seas
ABOARD THE CHARLES DE GAULLE, March 6, 2015 - We board at the dock in Bahrain in late February: five days at sea to witness the deployment of the French aircraft carrier Charles de Gaulle in the fight against the Islamic State group – a floating town carrying 2,000 people on an eight-week mission in the Persian Gulf.
Aircraft carriers are a pretty familiar environment for me by now, having spent time on both French and US vessels during the Gulf Wars, the Afghan conflict – you name it. This time though, I got a chance to do something different.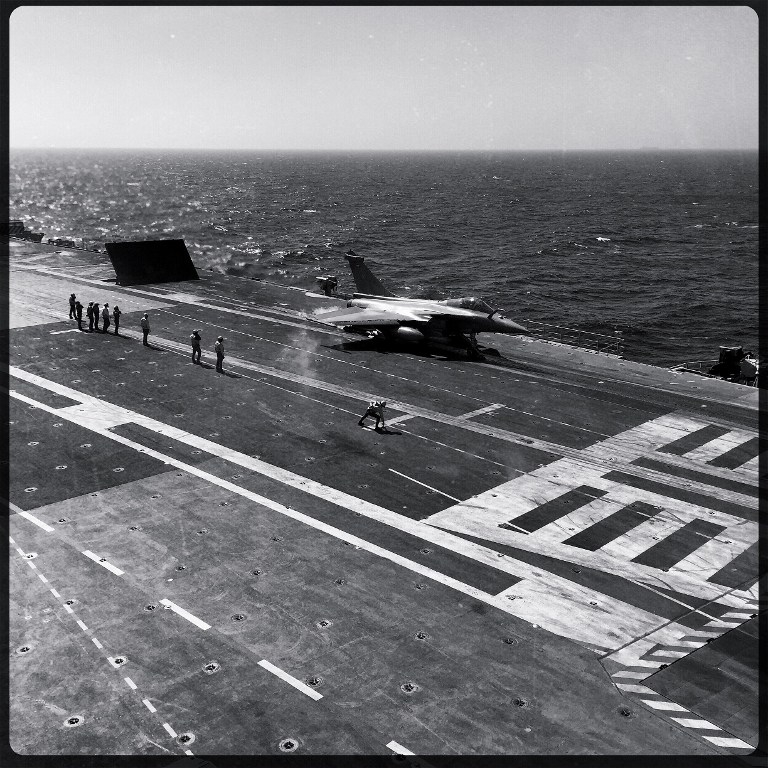 A Rafale fighter jet prepares to take off for a mission over Iraq from the Charles de Gaulle on February 27, 2015 (AFP Photo / Patrick Baz)
I shot this series with the iPhone photo app Hipstamatic. Sometimes it works to take a novel approach. How many traditional shots of planes landing and taking off is anyone going to publish?
On a breaking story this sort of thing is impossible, of course. But on assignments like this one, the deal is I do my job as a photojournalist - cover the story as required for AFP's clients - and then I get to do my own thing.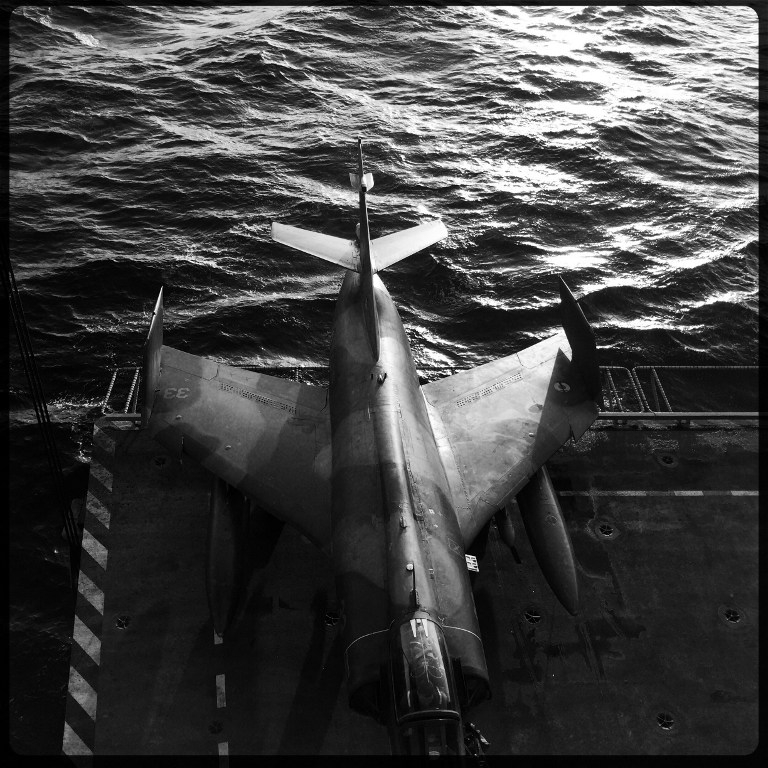 A Super Etendard fighter jet is lifted from the hangar of the Charles de Gaulle on February 26, 2015 (AFP Photo / Patrick Baz)
Hipstamatic shots are distinctive for their square format and retro look, but you can choose from loads of filters designed to imitate vintage camera lenses and types of film. 
This time I took the images with my iPhone 6 and used the Lowy Lens - named after the photojournalist Ben Lowy, who took Time magazine's first Hipstamatic front cover five years ago with an image of Hurricane Sandy - and the Rock BW-11 black-and-white "film".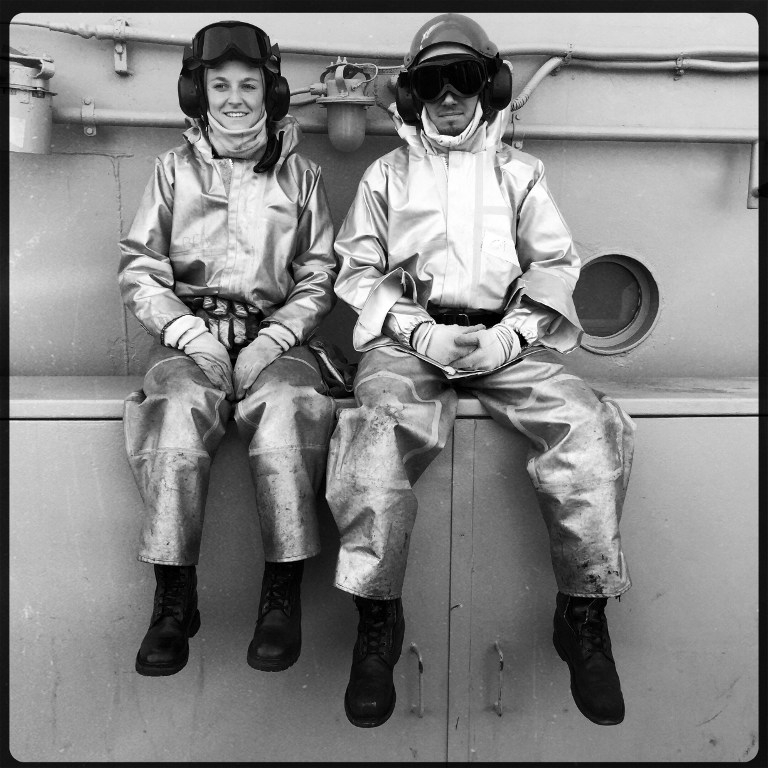 Security team members on the Charles de Gaulle aircraft carrier take a break, February 25, 2015 (AFP Photo / Patrick Baz)
We were able to move all over the ship - though for obvious safety reasons, you always have someone with you out on deck.The deck technicians are known in French as 'Yellow Dogs', like shepherd dogs who guide aircraft through the take-off and landing process, and generally run the show.
French warplanes have formed part of the US-led coalition carrying out raids against IS jihadists in Iraq for months now. The warship's deployment halves the time it takes to deploy the jets from their base in the United Arab Emirates. Each day the Rafale and Super Etendard attack planes fly northwest from the Charles de Gaulle, making sorties over jihadist strongholds including Tikrit and Mosul.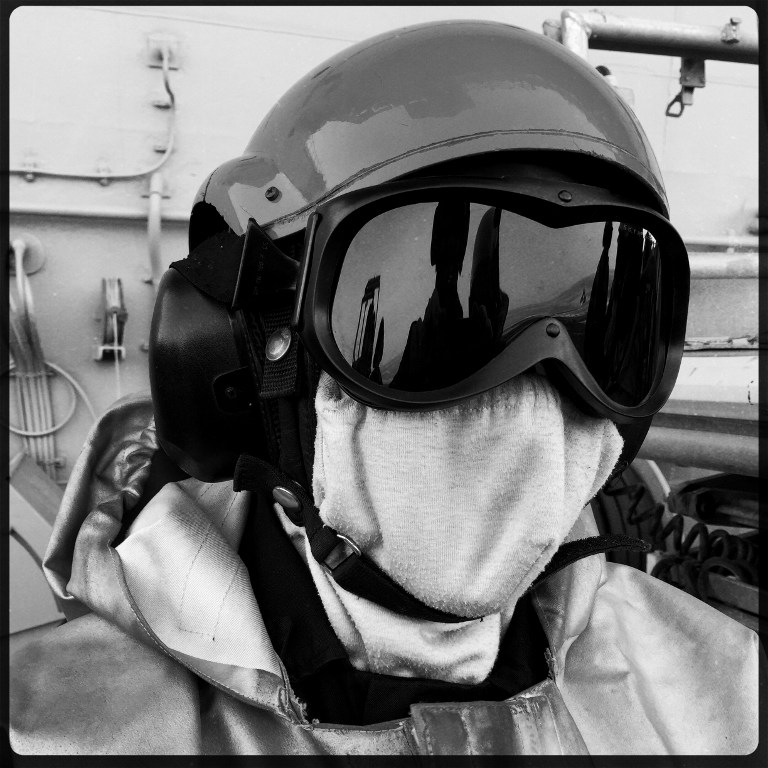 A security team member on the deck of the Charles de Gaulle on February 25, 2015 (AFP Photo / Patrick Baz)
Deck life is organised around the daily fighter jet take-off and landing sequences. But below deck you also have the whole ship machinery, nuclear reactors, aircraft to maintain, and the stuff of everyday life: restaurants, laundry. You spend your time climbing up and down five or six flights of stairs - on foot because it's frowned on to take the elevators. It's quite something to see these kids in their twenties, jogging up and down - you can be sure no one on board is overweight!
The rhythm is 24/7, the crew work through the night. Take these shots of jet technicians napping – these are real power naps. I spent a week on board and that was exhausting in itself.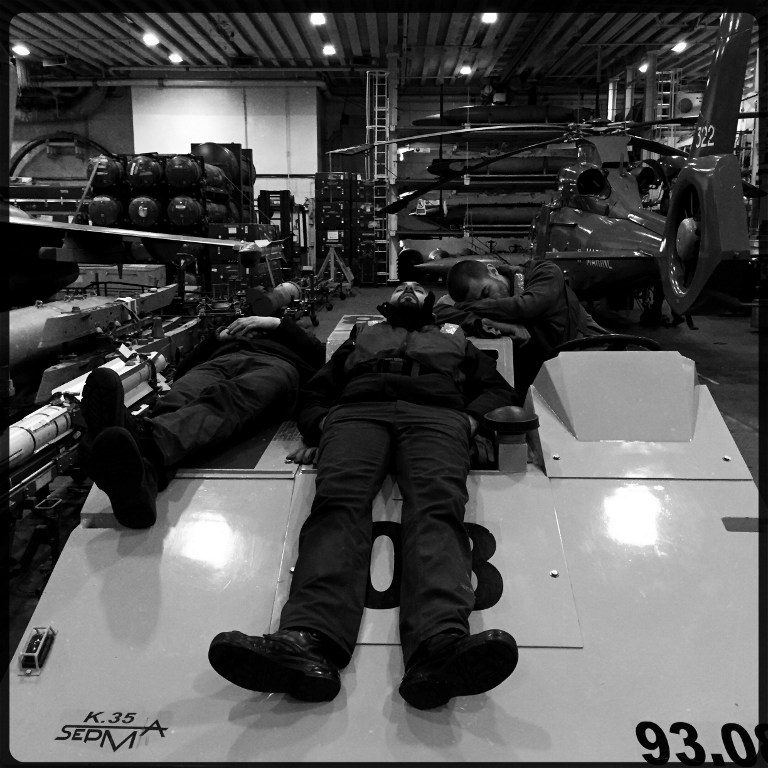 Rafale fighter jet technicians take a nap in the hangar of the Charles de Gaulle on February 25, 2015 (AFP Photo / Patrick Baz)
For the flight back to Bahrain we are "catapulted" off the carrier on board a US Greyhound transport plane. The assisted lift-off means that for three or four seconds you are plastered to your seat by the acceleration.
There's no way you can carry a regular camera during the "catapult", it would be far too dangerous. But you are allowed to slip a phone in your pocket - so that's how I took I took the final shot in my series, of the Charles de Gaulle in the high seas, seen out of the plane window.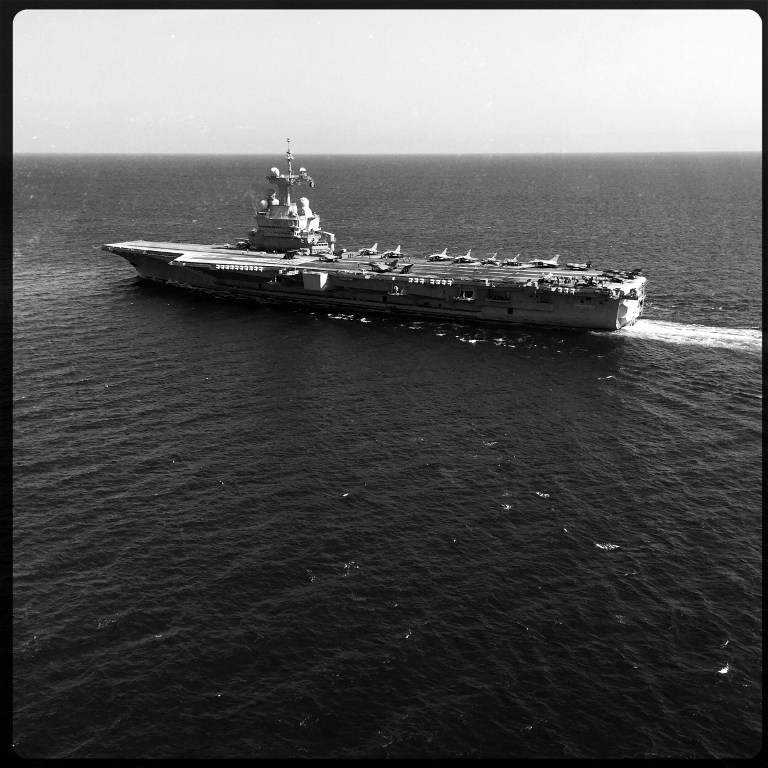 The Charles de Gaulle operating in the Persian Gulf on February 26, 2015 (AFP Photo / Patrick Baz)
Shooting with Hipstamatic is something I first did in Baghdad back in 2013. I had travelled there to mark 10 years since the US invasion. It was difficult to work - you couldn't pull out a camera in the street. But no one bothered me for taking pictures with my telephone, I just played the tourist.
I tried using the photo app to give the images a different, personal twist. The pictures honestly weren't that great - I shot them using the most basic part of the application, which produced saturated colours and a rough, white border. But they still had a lot of success.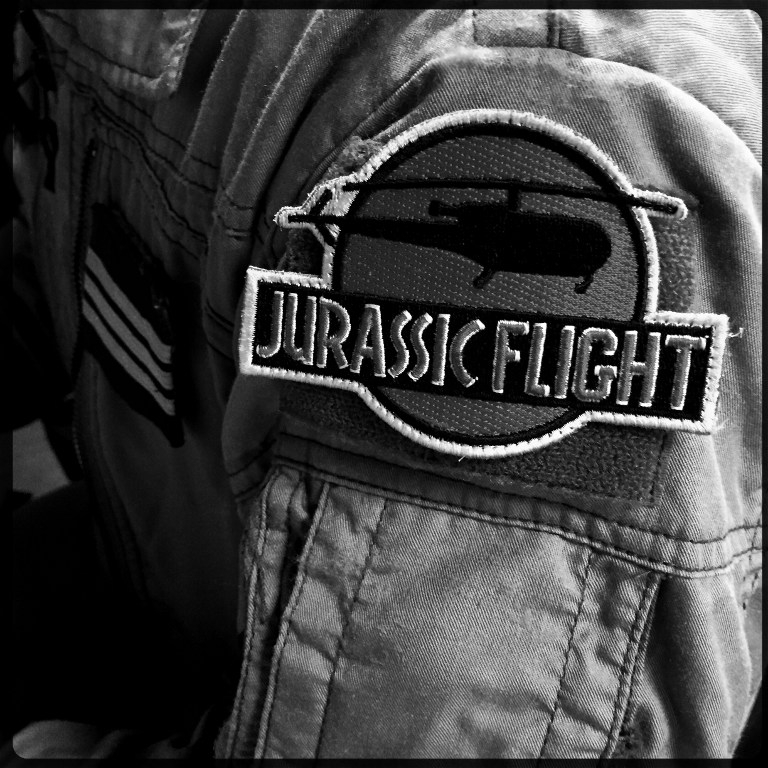 A French navy helicopter pilot flashes an arm patch onboard the Charles de Gaulle on February 26, 2015 (AFP Photo / Patrick Baz)
Since Lowy's front cover on Time - which kicked off a bit of a fad on social media and elsewhere - Hipstamatic has become part of the photo landscape, though I still wouldn't say it's wholly accepted. For my part it's something I have been doing more and more.
AFP's photo editor Eric Baradat explained his thinking on the subject two years ago, when we ran a blog based on my Iraq pictures. The official position hasn't changed since then. In essence the argument is that the filters on smartphone apps are too distorting to be compatible with our standards of photojournalism.
That means such images are kept clearly separate from our regular photo production. But they are made available in a dedicated part of the AFP database - to serve media clients who are keen for this kind of alternative coverage, usually as one-off photo series on big events like the Tour de France.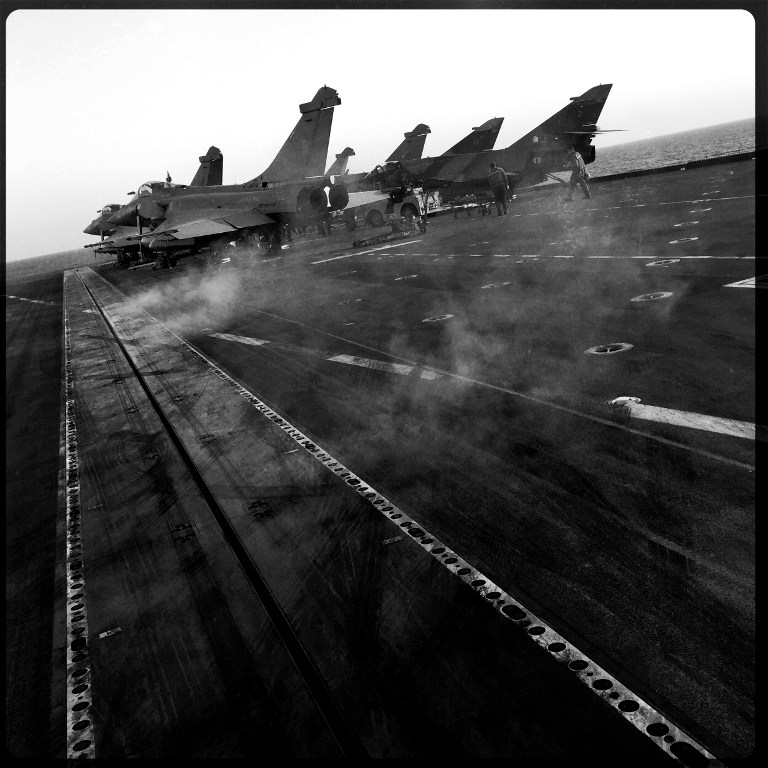 Rafale fighter on the deck of the Charles de Gaulle on February 26, 2015 (AFP Photo / Patrick Baz)
Even though I used a far more neutral "lens" on the Charles de Gaulle than I had in Iraq, and though all photography is subjective to a degree, it's true these are highly subjective shots. Simply for their use of black and white, if nothing else.
But it's a truly offbeat format, and I find it gives you an eye for spotting the offbeat all around you.
Patrick Baz is AFP's Middle East and Africa photo editor, based in Nicosia. He spent five days in the Persian Gulf on board the Charles de Gaulle aircraft carrier, from February 22 to 27, as part of an AFP multimedia team.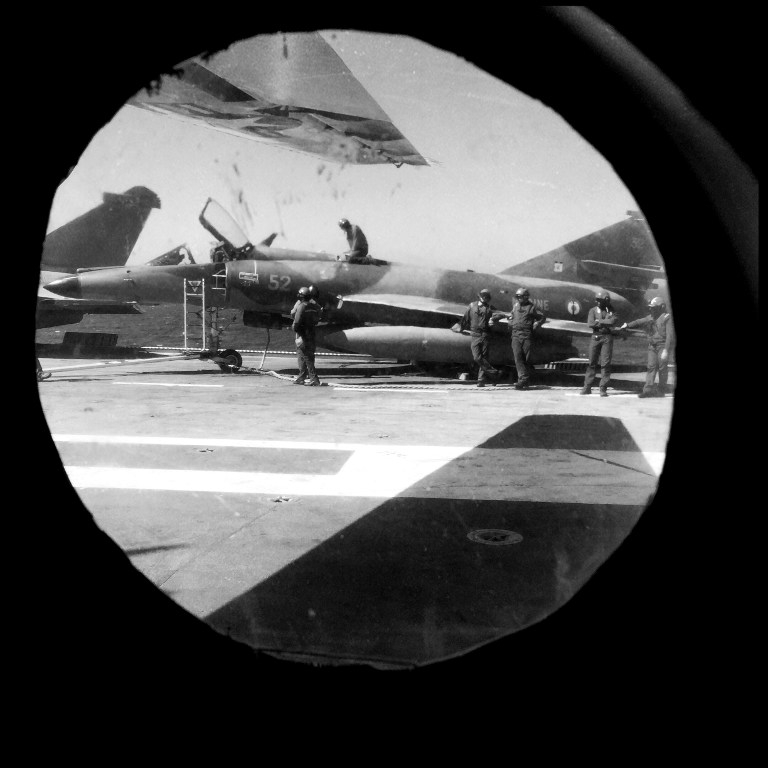 Technicians working on a Super Etendard jet on board the Charles de Gaulle, seen through the window of a 
US navy Greyhound plane on February 27, 2015 (AFP Photo / Patrick Baz)