From the heart of the planet
ON THE SLOPES OF MOUNT KILAUEA -- I was OK with the idea of getting "board to death" in my new beach life in Miami, Florida, like most of my colleagues had advised me. After seven years of covering war, Islamist insurgencies and natural disasters, no more life-threatening adventures, they all told me.
So how did it happen that barely month after my arrival, here I was again, chasing lava spewing out of yet another angry volcano?
It all started on a Monday morning when my boss sent me an email with "Hawaii" written in the subject.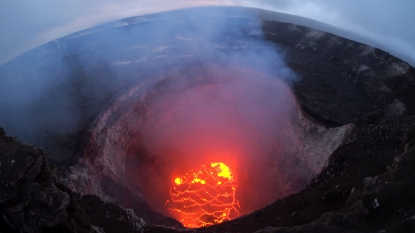 The Kilauea summit lava lake on the evening of May 6, 2018. (AFP / HO/USGS)
"Can you go as soon as possible?" she asked. Without thinking twice I flipped open my laptop, booked a ticket, packed my bags and in the middle of that same night, I was headed to the airport for my 15-hour trip.
Just a few months ago, my last "big" assignment in my previous posting -- seven years in Indonesia -- had been covering Bali's Mount Agung eruption. The volcano had erupted several times in one of the world's most touristy islands, forcing 100,000 people to flee. The first three nights into that coverage I didn't sleep a wink. The ground kept shaking, jolting my bed up and down every half-an-hour or so. It was not an easy feeling to get used to, especially as I was staying in a hotel from which all tourists had fled, since it sat right on the border of the "red zone."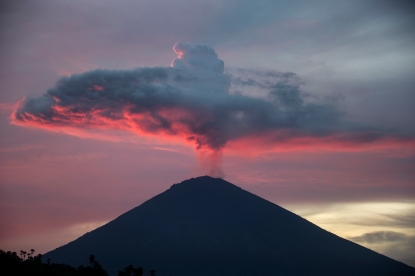 Mount Agung on November 30, 2017. (AFP / Juni Kriswanto)
Prior to that I had covered the spectacular, yet incredibly violent eruption of mount Sinabung, in North Sumatra IN 2013.
That one, I remember, was my baptism to pyroclastic flows. They came speeding straight towards me just as I had my videocamera pointed at them. Luckily they stopped somewhere not too far in the distance.
With those eruptions under my belt, I felt that I was well prepared for what was waiting for me in Hawaii. "You're our volcano expert now" my bosses kept joking in our email exchanges.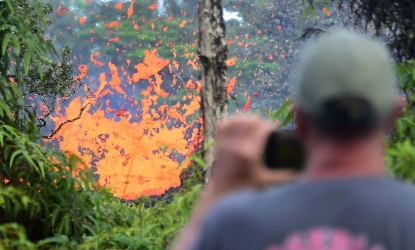 A man watches as lava spews from a fissure in the Leilani Estates subdivision on May 4, 2018. (AFP / Frederic J. Brown)
As I landed on the Big Island -- Hawaii's largest island on top of which stands Mount Kilauea, the archipelago's most active volcano -- my priority was to find "human stories".
AFP had already obtained a lot of spectacular images of the eruption by the USGS and other governmental and local media agencies -- but we were lacking stories of those directly affected: the locals.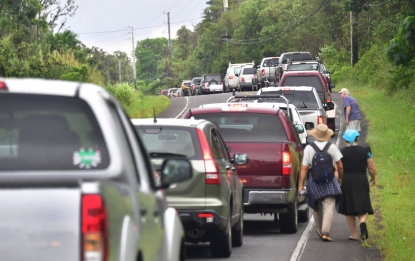 A convoy of vehicles of Leilani Estates residents waits to be let back into their homes to gather belongings on May 7, 2018. The residents were forced to evacuate a few days earlier because of Kilauea fissures. (AFP / Frederic J. Brown)
I jumped in my rental car and drove straight towards the volcano. Just after a 30-minute drive, directly south of Hilo's airport, the first evacuation centers were placed adjacent to police and military roadblocks.
It is always so delicate to work in these conditions. Basically, as journalists, we have to go up to people who've just lost everything and ask them how they feel about it. "How the hell do you think I feel, you idiot?!" Is the reply I always expect.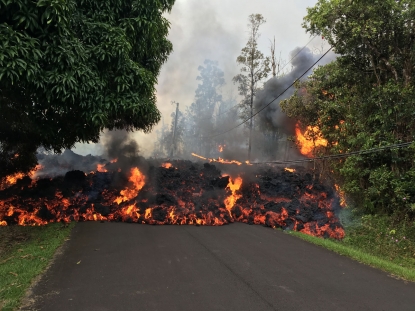 A lava flow moved on Makamae Street in the Leilani estates subdivision in the morning of May 6, 2018. (AFP / HO/USGS)
But in all these years, I have yet to get such a response. Instead, people the world over somehow become warmer and welcoming in such situations. They come closer to one another and often the media become a chance to talk and to bring out emotions, from sadness to frustration, that they had kept locked inside up till then. I like to think that we journalists become something like a psychologist in those instances, someone for people to talk to.
I interviewed a fully grown man with a gray beard. He seemed like a tough character, till he broke down in tears as he told me about his cats that he had left behind during the sudden evacuation.
It wasn't until the last day of my six-day mission, a few hours before catching my return flight to "safe and peaceful" Miami, that I'd experience one of the biggest adrenaline rushes in my life.
With a small group of other video and photo reporters whom I had met that same morning in a church parking lot during a meeting between the press and the US National Guard, we heard rumors of a new lava fissure opening up overnight: the so called "Fissure 16". A local cameraman had the GPS coordinates of the spot and here we were trekking a mile or two into a remote, residential area searching for something that I had never seen before.
I had no idea what we would find once we got there. I was sweating gallons as I dragged my gear over barbed wire fences and private properties.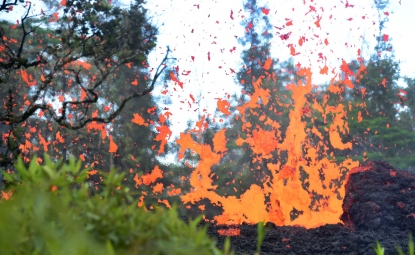 Lava spews from a fissure on May 4, 2018. (AFP / Frederic J. Brown)
The first thing that struck us was the sound. Hard to properly convey in words, it was a low pitched intense vibration.  I felt like I was in front of a construction site, where people and machines were busy moving around big blocks of earth while the engines roared. You could almost feel the sound waves hitting you. A constant bubbling noise, it kept getting louder and louder. And then finally, in the distance through the trees, I saw tall red bubbles and flames reaching high into the air, up to 20 or 30 meters.
This was our spot. Right there, the ground had opened up, spitting out lava. "Fissure" is the proper name for such phenomenon and this one was the 16th to open up since Mount Kilauea, which has been continuously erupting since 1983, broke open several lava vents downrift from the summit in early May.
When we finally reached the spot, an inferno had opened before us. The spectacle was so mesmerizing that it was hard to pull out my camera and start recording. All I wanted to do was stand there and stare at it.
It seemed alive. A force of energy so strong, that it came straight from the planet's heart. Flames, bubbles, flows and incandescent rocks were launching high into the air with such unbelievable force. The heat, the sounds and the vibrations were overwhelming, they hit you like a bus. I just wanted to stand there, and absorb all of it.
But no! I had to get images of it and get the hell out of there, fast, as nothing about that mesmerizing spectacle looked safe. I did my job, played with the zoom, the focus and the 'rec' button and rushed out. The whole experience lasted around 15 minutes, but once I downloaded my footage onto my laptop all I could think was "wow, these are among the most incredible images I've ever shot."
I was born in the Italian city of Catania, at the foot of Europe's biggest active volcano, Mount Etna. Although I didn't live there much longer after birth, I  remember seeing the spectacle of the red glowing tip from a distance every time I went to go visit my father. I too am the son a volcano, I like to think, and perhaps this is why I am now AFP's "volcano expert"!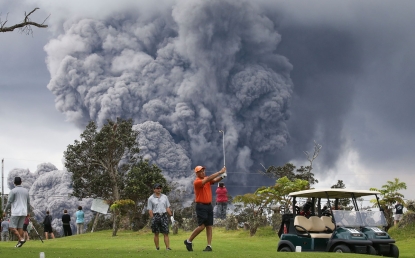 People play golf as ash rises in the distance from the Kilauea volcano, May 15, 2018. The U.S. Geological Survey said a recent lowering of the lava lake at the volcano's Halemaumau crater 'has raised the potential for explosive eruptions' at the volcano. (AFP / Getty Images/Mario Tama)