New start or deja-vu in Korea?

SEOUL -- From the handshake that touched many to their core, to seeing the leader of North Korea on live television for the first time, palling around with his South Korean counterpart -- the historic summit between the two in April produced surreal images.
When the North's Kim Jong Un and South's Moon Jae-in met, it marked the first time since the end of the Korean War in 1953 that a leader of the North entered the South's territory and the first inter-Korean summit in 11 years.
But for AFP journalists covering the summit, the history and emotion were tempered by caution. The two Koreas had held two previous summits since the end of hostilities, in 2000 and 2007. Hopes were high after each, but they never materialized into a lasting accord.
The key to any agreement between the Koreas, our journalists agree, will be the summit between US President Donald Trump and Kim, due to take place in June.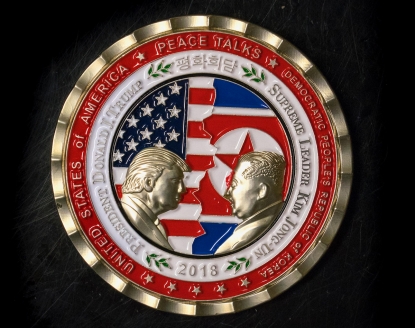 A commemorative coin for the upcoming US-North Korea summit, featuring US President Donald Trump and North Korea's Kim Jong Un, has been struck by the White House Communications Agency ahead of their scheduled June summit meeting. (AFP / Str)
Sebastian Berger, Seoul bureau chief
Overall, the visuals and symbolism were incredible and it turned into something quite personal. For me, there were three highlights -- the moment at the start, when Kim invited Moon to step into the North before they both walked hand-in-hand back into the South, what we dubbed "the frontier foxtrot." Unplanned, unscripted and utterly unexpected.
Then there was the "woodland talk," when Moon and Kim chatted at an outdoor table. That featured astonishing body language, with Kim appearing to be respectful, perhaps even bordering on deferential. And then the farewell ceremony, when the two men held hands for several minutes while watching images from earlier in the day, projected onto a building. Bromantic.
It's easy to get caught up in the optics of the moment, but the substance was mostly lacking. The declaration at the end of the summit largely repeated what has been said before and in places it didn't go as far as previous statements.
It's important to remember the history involved -- there was a lot of optimism in 2000 and in 2007, but aside from the 1953 ceasefire, no deal with North Korea has ever lasted.  This was a necessary step in terms of the current diplomatic moves, but it was nothing more than that. What matters will be the Trump-Kim summit and this was but a prelude.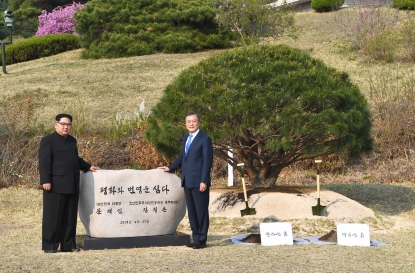 North Korea's leader Kim Jong Un (L) and South Korea's President Moon Jae-in (R) pose in front of a stone inscribed Peace and Prosperity Are Planted as they participate in a tree-planting ceremony next to the Military Demarcation Line that forms the border between the two Koreas at the truce village of Panmunjom on April 27, 2018. (AFP / Korea Summit Press Pool)
Sunghee Hwang, journalist
Given that the past two summits didn't result in anything substantial, my bar for this meeting was set very low, so I was neither disappointed nor blown away by the outcome. I thought the final joint statement was quite fluffy. The clauses on inter-Korean ties were strikingly similar to previous agreements once hailed as historic, but later forgotten.
The summit marked the first time that Kim Jong Un was seen on live television. Before that, we had only seen him on the North's state media. It was cool to see him crack jokes.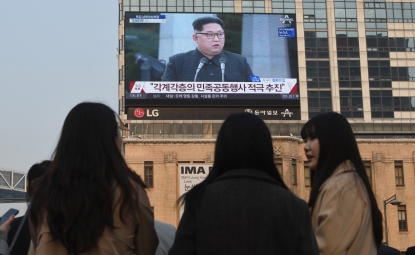 Pedestrians walk cross the road as a big screen shows live footage of a joint press conference between South Korean President Moon Jae-in and North Korean leader Kim Jong Un during the inter-Korean summit, in downtown Seoul on April 27, 2018. (AFP / Jung Yeon-je)
But what I hadn't expected was that Kim would succeed in portraying himself as a down-to-earth guy and charm the South Korean public. This was a guy who is alleged to have poisoned his brother and had his uncle executed. This was the guy who until recently was threatening nuclear war.
But by the evening, many South Koreans viewed Kim as "cute" and said he seemed like a "nice person." The spectacular scenes produced at the summit, coupled with Kim's successful image-making, had won over a chunk of South Koreans. I hadn't expected that -- that the meeting would lead to a sudden spike in public support for North Korea.
Seeing the handshake was touching. But that sentiment quickly fizzled because the rest of the meeting seemed like entertainment. I cringed when Moon and Kim sat outside, watching a slideshow of their moments during the day as they wrapped up their meeting.
I am sure that we will ultimately find lasting peace on the peninsula. I just don't know if the current diplomatic activity will lead to that, because everything seems so rushed. Given past experiences, I think the process needs to slow down for anything substantial and concrete to come out of it.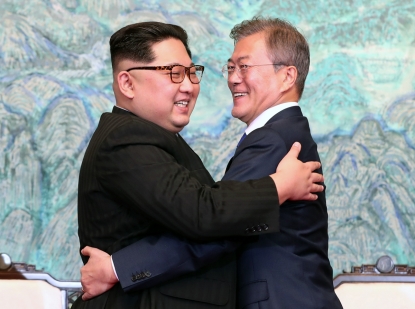 North Korea's leader Kim Jong Un (L) and South Korea's President Moon Jae-in (R) hug during a signing ceremony near the end of their historic summit at the truce village of Panmunjom on April 27, 2018. (AFP / Korea Summit Press Pool)
Park Chan-kyong, journalist
When Moon was elected a year ago, I thought that Moon and Kim would eventually have a summit, but I never thought it would come so fast. The meeting was significant because it reversed the mood from confrontation to reconciliation. Like the senior North official King Yong Chol told South Korean delegates: "things under heaven were overturned in the blink of an eye, like the turning of a hand."
For most Koreans, including me, the highlight was when Kim, holding Moon's hand, hopped over the cement block dividing the two Koreas, into the North and then back again. This to me was an indelible image, the symbol of a beginning of a new chapter in history.
But any rapprochement between the two Koreas relies on what will happen at the Trump-Kim meeting. I am rather optimistic, as Kim Jong Un seems to be sincere in efforts to deliver on his promise not to let his people starve again; he has a strong backer in the South in his efforts to reach a deal with the US; and the US cannot afford another security crisis, with all the problems in the Middle East.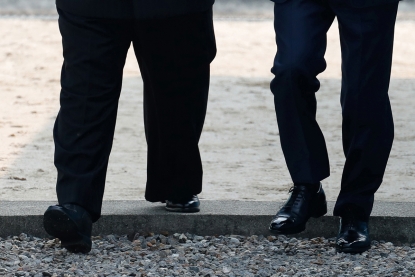 North Korea's leader Kim Jong Un (L) steps into the South Korean side over the Military Demarcation Line that divides the two Koreas with South Korea's President Moon Jae-in (R) ahead of their summit at Panmunjom on April 27, 2018. (AFP / Korea Summit Press Pool)
Yelim Lee, video journalist
Many of my friends were overwhelmed with emotion as the summit day progressed; some told me they teared up watching it.
Just being able to see Kim live on TV hand-in-hand with Moon was a historic moment. It was amusing and a bit awkward to see them holding hands as they looked at a slideshow of themselves -- it seemed like a cheesy scene from someone's wedding.
I dearly hope the Koreas will reunite one day, but I still remain sceptical that this summit was the final start of the endgame. It's far too early to say how this will play out.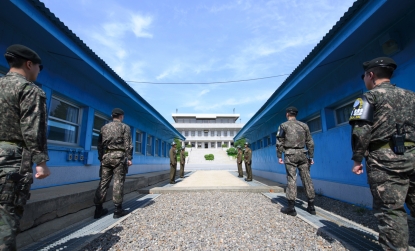 South Korean soldiers (front) and North Korean soldiers (rear) stand guard before the military demarcation line on the each side of the truce village of Panmunjom in the Demilitarized zone (DMZ) dividing the two Koreas on April 26, 2018 ahead of the inter-Korea summit. (AFP / Korea Summit Press Pool )