Lost in a metal shell
ABOARD THE CHARLES DE GAULLE, March 12, 2015 – How do I feel about spending a week on an aircraft carrier in the Persian Gulf? To be honest, as the prospect takes shape, I can feel myself tensing up. A week in a metal shell, nine storeys high, trekking up and down mile-long gangways and teetering ladders, to the non-stop soundtrack of Rafale fighters roaring into the air on the deck above? Oh, and you're pretty much cut off from the world with a single phone and Internet connection to share between all the journalists on board.
But to hell with claustrophobia, never mind deafening decibels, I decide to go all in and board a plane for Bahrain. I won't regret it.
When I reach Manama the Charles de Gaulle has already set sail for the north of the Gulf. The only way for me to reach it is on board a US Navy Greyhound, a transport aircraft that runs a twice-weekly link to the floating French air base.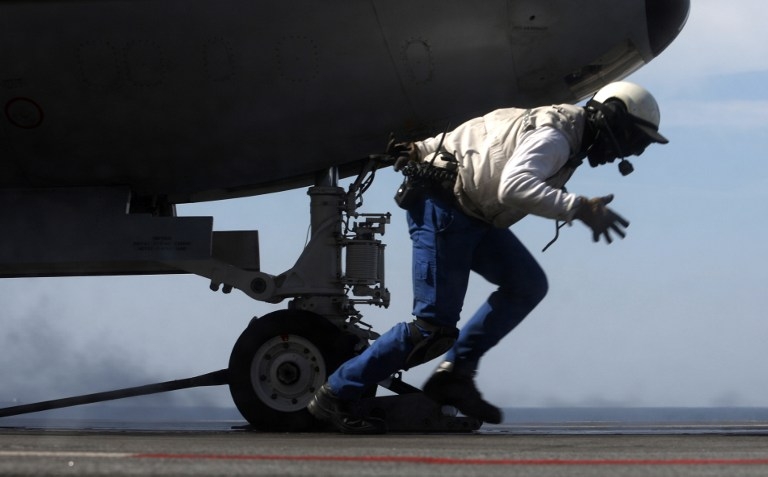 A flight deck engineer runs for cover as a Hawkeye prepares to take off from the Charles de Gaulle on February 24, 2015 
(AFP Photo / Patrick Baz)
Landing on an aircraft carrier? Should be pretty straightforward, no? Not without surprises, it turns out. All in the space of a few seconds the on-board officer dishes out soundproof helmets, protective eyewear, lifejackets and a reel of barely-audible - and vaguely alarming - instructions on what to do "in case of" (insert disaster situation here).
Inside the plane the seats face backwards, away from the cockpit. As we draw near the Charles de Gaulle, after an hour or so, the pilot veers sharply to the left. "Yeah readyyyyy!" yells the crew.
Most dangerous place
Suddenly the water seems within touching distance, and so does the runway. In the blink of an eye, the Greyhound is brought to a halt by a giant metal cable strung across the deck. The passengers are plastered to their seats, and shaken to the core. Journey over. The plane's wings fold in (to save space, which I'll soon learn is an obsession on an aircraft carrier) and the engines shut down.
Once on deck, there's not a moment to lose. It's one of the most dangerous places you could imagine, with waves of fighter jets taking off and landing. We need quickly to get down into the belly of the aircraft carrier. For the next five days, I will emerge only occasionally, to witness the show - always impressive - of Rafale warplanes being catapulted off the deck, or coming in to land.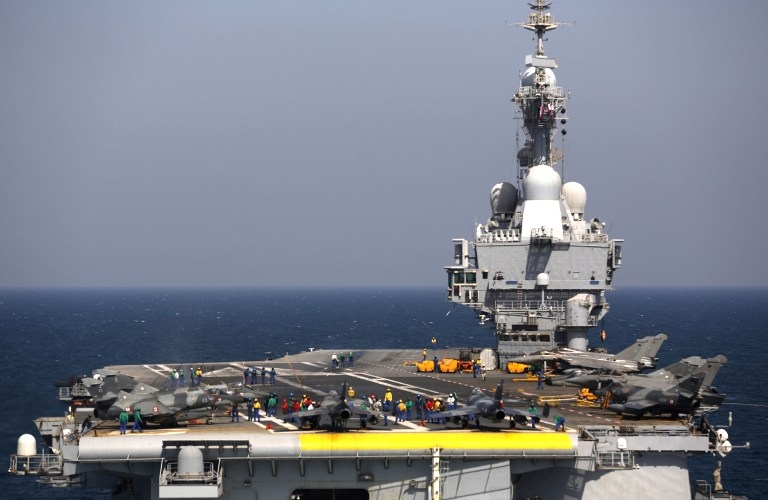 French navy Super Etendard fighter jets on the deck of the Charles de Gaulle on February 26, 2015 (AFP Photo / Patrick Baz)
As a welcome gesture, I am handed a blue boiler suit with the world "Marine Nationale" writ large in white letters. Please put this on, right away. Do I have to? Yes, I am told, rather firmly. Firstly, it's fire-retardant - the fear of fire is one of the worst nightmares on board. Secondly, "It's more polite with regard to the crew," who all have to stick to the same rule. It turns out it's also more practical and makes you less likely to stick out like a sore thumb. All in the same boat as it were.
Operations in Iraq
From then on, my time on board revolves around interviews - with pilots, mechanics, catapult operators, deck technicians. On day one, the aircraft carrier launches operations in Iraq.
The crew are focused. You could say stressed. No one is the mood for chatting, and it's hard to guess what's going on inside their heads. What will I write about, I wonder? But as the days go by, I strike up something of a rapport with the crew, who talk to me more freely, and the story ideas start flowing.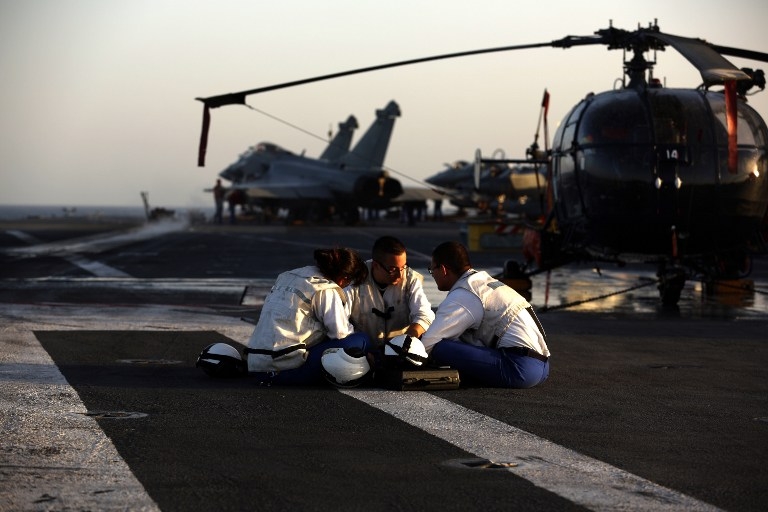 Catapult operators take a rest on the deck of Charles de Gaulle on February 26, 2015 (AFP Photo / Patrick Baz)
Have I become one of them? Not quite - at least as far as my sense of direction is concerned. The mini press room is on the seventh deck. But how to get from there to my allotted cabin, N038? "Oh, that's down the other end of the ship," I am told. Which means climbing down six decks and taking the "110 metres hurdles" (nickname of the longest gangway). Er, sorry – you said 110 metres? I have no idea what they mean, but that's OK, I'll get there. I can do it! It's 1 am as I feel my way along stairs and gangways in search of number 038 (deck O, cabin 38), the ship bathed in a low red light (on-board lights are dimmed at sundown, to rest the eyes).
Hopelessly lost
Predictably, I get hopelessly lost. Who can I ask for help? The last Rafale returned just after midnight and it feels as if the 2,000 men and women on board are slumbering at last. But fear not: the Charles de Gaulle is like one big family. Even in the middle of the night you always run into someone fresh back from a mission or heading to their quarters.
In spite of my "uniform", soon enough I am spotted and identified as a newbie - who clearly has no idea where she is going. A kindly pilot sets me back on the right track, pointing me towards a sort of tube that leads down to level zero. At last, I am there, door 038, right next to a set of turbines making rather too much noise for this time of night. Now I just have to get used to the confined atmosphere of my "room", without porthole or - it would seem - ventilation. Claustrophobes had better abstain. But sleep eventually gets the better of me, and I drift off. Every ship has its secret havens, peaceful corners that afford some privacy.
A fire drill on the aircraft carrier Charles de Gaulle on February 24, 2015 (AFP Photo / Patrick Baz)
At 8 am, the officers' mess is buzzing with activity. "Pancakes are for the officers" says a sign at the entrance. Whatever: I'm quite happy with the fresh bread, jam and yoghurt, all sourced from France and a welcome taste of home. The same goes for every meal I take on board, all of them balanced, varied and delicious. On the Charles de Gaulle, they don't mess around when it comes to food! It's even a favourite talking point among the crew - short of TV shows or fickle weather to debate. Some days, there are even hot croissants. The fruit and vegetables are all incredibly fresh, as if plucked that morning from a Middle Eastern garden.
Ask the US marines in the region what stands out about the "French" aircraft carrier. The answer is unanimous: the food – soooo much better than on the American vessel operating nearby, the USS Carl Vinson. An American admiral, after dining on board, is said to have exclaimed: "French cuisine is a weapon!"
"Even though it's all very regulated you can drink two beers a day at the bar, whereas for us it's more like one every two months," jokes Tiphany, a 29-year-old American detached to the crew of a French Hawkeye surveillance plane.
Strictly anonymous
On day two, a Rafale pilot is finally ready to tell us about his first mission to Iraq. He would only reveal his nom de guerre, Charpy, in line with strict rules on anonymity for operations like this one. Yes, this is a new and challenging environment, after Libya and Afghanistan. Yes, the images of the Jordanian pilot burned alive by the Islamic State group have left scars among the air corps. But they also toughened his resolve.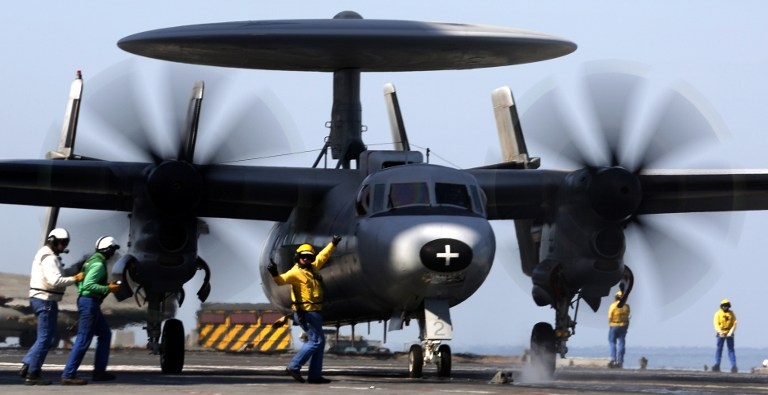 A French Navy Hawkeye prepares to take off from Charles de Gaulle on February 25, 2015 (AFP Photo / Patrick Baz)
In their distinctive khaki suits, the pilots are instantly recognisable. They could almost seem like a separate caste on board the carrier, a distant look on their faces. But for the most part they are deeply concentrated, focused. And they know how to come back down to earth once their mission ends, over drinks or in front of the television.
Region in perpetual turmoil
The senior officers have their own, more exclusive, mess. But it's not uncommon to see the commanding officer, Captain Pierre Vandier also known as the "Pacha", chewing the fat with regular sailors in the gangways or plane hangars. Aged 47, his resume already includes piloting Rafale jets, commanding operations in Libya and Mali, and now the Charles de Gaulle.
By the end of my five-day stay, the details of life on board have taken on a familiar flavour, from the rolling to the hum of machinery. When time comes to return to shore, I could almost feel a pang of nostalgia. I am leaving the Gulf, one of the world's most fascinating regions, which seems in perpetual turmoil with Iraq to the north, Saudi Arabia on our port side, Iran on starboard…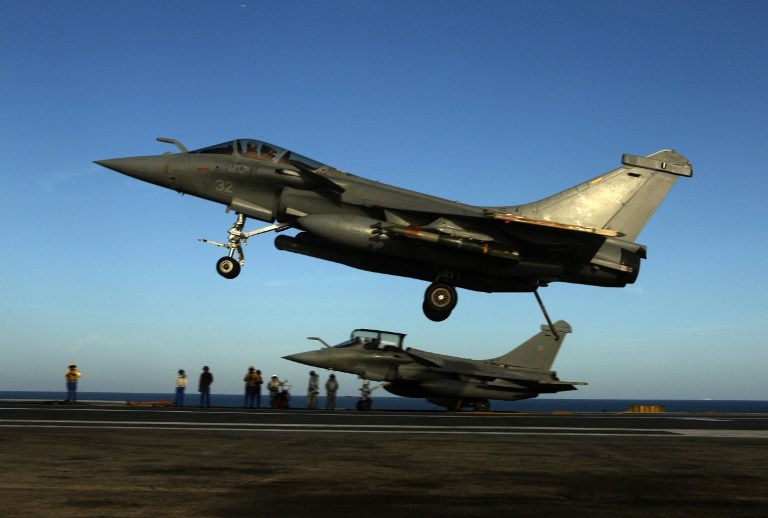 A Rafale fighter jet lands on the Charles de Gaulle on February 24, 2015 (AFP Photo / Patrick Baz)
A few moments from now, I will be catapulted off the aircraft carrier, bound for Bahrain. "How lucky you are!" marvel the deck hands. For the crew of the Charles de Gaulle may spend their days sending planes into the sky, they themselves never get the chance to leave by air.
The Greyhound taxis to the middle of the runway, in a roar of engines. The deck technicians wave their arms as if to say "Bye Bye". It's the signal for take-off. In a snap second the plane is propelled off the runway by a gigantic piston and climbs - brutally - into the air. We passengers are stuck helplessly to our seats. But an American officer is already pulling out a stick of French bread cooked on board. "French baguette: try it, it's very tasty!" he quips to a colleague, delighted to whisk his trophy back to shore. 
Valerie Leroux is an AFP defence correspondent based in Paris. She was part of an AFP multimedia team sent on board the Charles de Gaulle aircraft carrier in late February, 2015. 
::video YouTube id='KxVil3wr3ok' width='620'::