Trekking to a new life
Bardonecchia, Italy -- I saw a lot of solidarity and humanity when I took pictures of migrants trying to reach France through snowy trails in the Alps. And a lot of disappointment.
I've been hearing about the story for months -- migrants from Africa who had managed to make it to Italy but who hadn't managed to start a new life here decide to go to France. Most of them come from former French colonies and speak the language; many have relatives already in the country. They can't get to the country via train or bus because the police catch them and send them back to Italy. So they try the roundabout route. Via the Alps.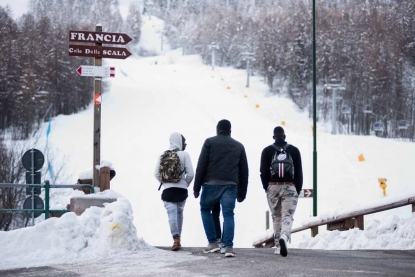 (AFP / Piero Cruciatti)
Until December that route was fairly easy -- you just follow well-marked trails in the mountains and once on French soil, try to evade the gendarmes. But with the onset of winter and snow, it has become much more dangerous. I decided to take a look.
Their point of departure is Bardonecchia. It's a typical Italian ski village. I took a train there from Turin, hoping to meet some migrants on the way. But there were none. Once in the village, I tried to search for some, but again, no luck.
They arrived in the evening. The come in small groups, 10 to 20, spend the night at the station and leave in the morning.
Since this has been going on for a while, an association has set up at the train station to help. There are doctors on hand and members of the Alpine search and rescue team; they also provide food, legal advice and, so important at the moment, equipment. I also met lots of ordinary people who had come by to donate this or that.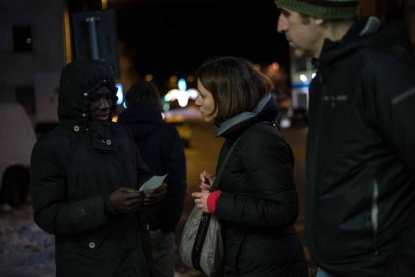 A migrant receives legal advice by a volunteer lawyer in Bardonecchia on January 13, 2018. (AFP / Piero Cruciatti)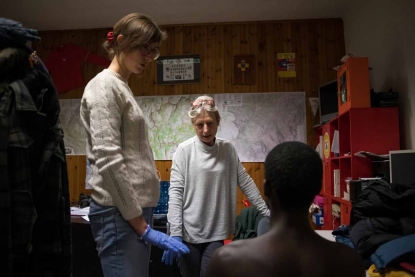 A 26-year-old migrant from Guinea is treated for suspected tuberculosis by two doctors of NGO 'Rainbow for Africa' as he arrives in Bardonecchia on January 12, 2018. (AFP / Piero Cruciatti)
They usually leave in the morning, walking through the village and heading up into the mountains. It makes for some odd contrasts -- these young men, wearing sneakers and jeans, walking past Goretex-clad skiers.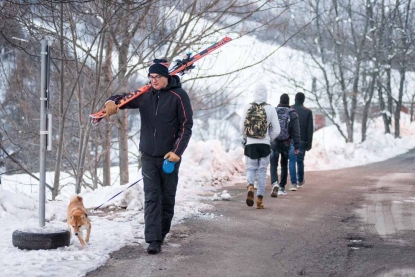 (AFP / Piero Cruciatti)
To get to France, they have to climb about six kilometers until they reach a fork in the road. The shortest way to France is the Col de L'Echelle (the Pass of the Echelle). But at this time of year, it's completely snowed under. So the men decide to take another route, a skiing/snowshoe trail that's much longer.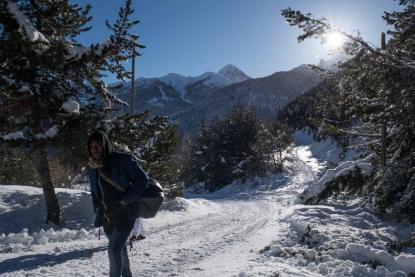 The trail to the right leads to the Colle della scala (Col de l'Echelle) a snow-covered pass on the border between Italy and France. The path taken by the man is a much longer ski/snowshoe trail into France. (AFP / Piero Cruciatti)
Neither of the two groups that I followed managed to make it through. The first turned back at the fork and the second followed a skiing/snowshoe trail, leading to Mont Thabor, which is much longer. But they also turned back once they reached a point where the trail was buried by an avalanche.
It was quite heartbreaking to see them walking. They are clearly not equipped for the conditions.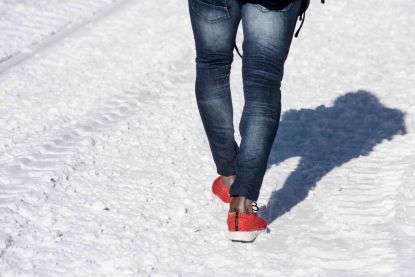 (AFP / Piero Cruciatti)
They don't know the way.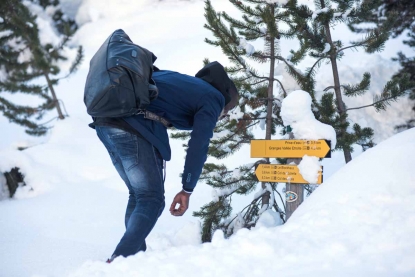 (AFP / Piero Cruciatti)
One group ran into some snowshoers from Grenoble, who were very nice. They shared food and drinks with them and told them that it was very dangerous. But it's hard to dissuade people who are looking to have a better life.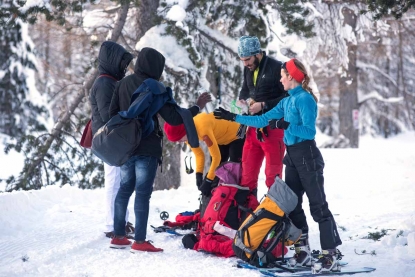 (AFP / Piero Cruciatti)
One guy whom I photographed didn't have any gloves. When he came back to the village, he ended up having second degree frostbite on his hands.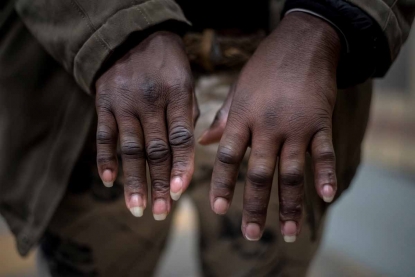 (AFP / Piero Cruciatti)
From what I understand, most of them don't get through at this time of year. There is a lot of disappointment.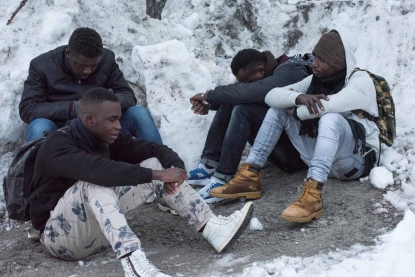 (AFP / Piero Cruciatti)
They've travelled such a long way -- from their countries, to Libya and the horrid conditions there, then across the Mediterranean with all the dangers of drowning that that brings, then to Italy. Most whom I met tried to make a go of it in Italy, but just couldn't find jobs, so decided to go on to France. Obviously they are very disappointed when they don't make it through. Most will keep trying. They live day to day, hoping that the next time they try they'll make it and will evade the French police as well.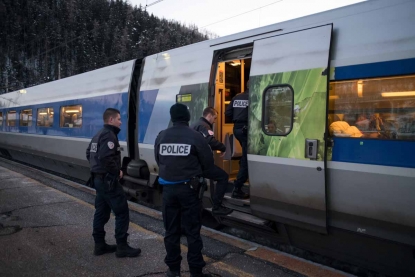 French police officers board a high speed train from Milan to Paris at the Bardonecchia train station on January 12, 2018. (AFP / Piero Cruciatti)
A migrant boards a train back to Turin in Bardonecchia, after giving up the attempt to cross the border between Italy and France. (AFP / Piero Cruciatti)
The one thing that I regret is that I didn't really get to bond with the people I was photographing. It was so short -- they arrived at night and they began to walk the next day. They were nice enough, and I could speak to them because I speak French, but there wasn't enough time to develop a bond. Plus, they haven't reached their destination, so they're afraid. Many of them have relatives in France. There were lots of cases where the parents have stayed behind in the country of origin -- Ivory Coast, Mali, Burkina Faso -- and there are sibling scattered all over Europe. One guy had a sister in Spain and a brother in France. They expect that France will be better for them because they already speak the language.
I did manage to strike up a connection with one guy. He was listening to rap by 21 Savage, which I happen to like, so we struck up a conversation. Initially he didn't want his picture taken, but then he agreed. He was with the first group that I shot, so I lost track of him very quickly, since I went back up with another group. That's the part of the story that I regret -- you meet these people very quickly, and then you lose them. Part of the attraction of photojournalism for me are the relationships that I develop with the subjects. And it didn't really happen that way in this case.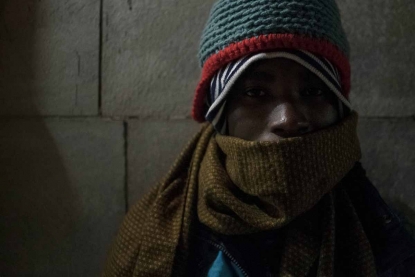 A migrant from Guinea, a 21 Savage fan, wears warm clothes donated by a charity in Bardonecchia on January 12, 2018. (AFP / Piero Cruciatti)
During the time that I was there, I didn't see any backlash from the locals. Perhaps because the numbers are so small. Perhaps because there is very little interaction -- the migrants spend most of their time at the train station. But what I did see was a lot of compassion and humanity.
One guy whom I met was the owner of a refuge in the mountains not far from the pass. Skiers and hikers pay to spend the night with him. To evade the police, the migrants sometimes hike up at night. "Sometimes I hear screaming in the middle of the night and I find these guys in the middle of the mountain, at 1,800 meters and minus 10 outside. How can I leave them dying in the snow? So I bring them in, of course," he told me. "But to tell you the truth, it's not the greatest thing for my business and I can't go on like this forever."
This blog was written with Yana Dlugy in Paris.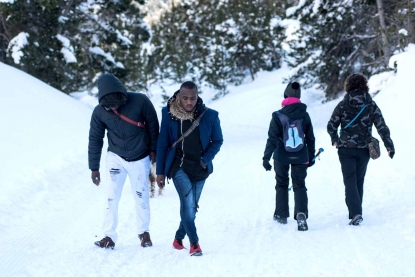 (AFP / Piero Cruciatti)