The cursed truck
In August, 2015, Austrian police unlocked a refrigerated poultry lorry abandoned on the side of the road. Inside were the mangled, decomposing bodies of 71 refugees -- all from Syria, Iraq, and Afghanistan -- who had suffocated to death in the truck soon after being smuggled into neighboring Hungary. Eleven members of the human trafficking ring responsible for transporting the migrants across borders went on trial in June for human trafficking and torture.
Nearly 5,000 kilometres (3,000 miles) away in the northeastern Syrian city of Qamishli, AFP video journalist Gihad Darwish watched the story unfold in denial, disbelief, then unshakeable horror. Among those mangled decomposing bodies in the truck were his two brothers-in-law and friends.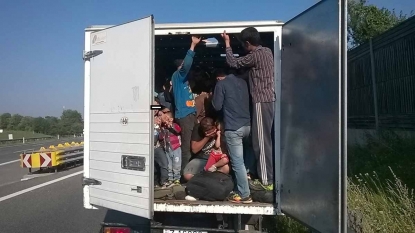 A handout photo released by Austrian police on August 9, 2015 shows a truck packed with some 86 illegal refugees that was intercepted by the police on a highway in Austria. (AFP / Austrian Police/Ho)
Qamishli, Syria -- We Syrians talk about European asylum daily. All you have to do is go to any internet cafe and you'll hear conversations taking place between two worlds, the homeland and its exiles trying to make it to or in the promised land. Two years ago, I was having such conversations all the time with my two good friends, Hussein and Raman, as they went through the ordeal.
Hussein, 36, and Raman, 23, were my brothers-in-law, but a long time before that they were my friends -- especially Hussein, whom I met in Damascus during university 15 years ago. When he became my brother-in-law, the friendship got stronger and stronger. Hussein, Raman, and another friend Massoud left Qamishli in 2015. Their goal, like thousands of Syrians who were taking the dangerous, exhausting journey that year, was to reach Germany. Hussein was dreaming of getting a doctorate in archeology and Raman wanted to pursue his computer studies. Their father, Mr. Khalil, tried to find a legal way to get them there, but there was no way in without a sponsor. They decided to use smugglers.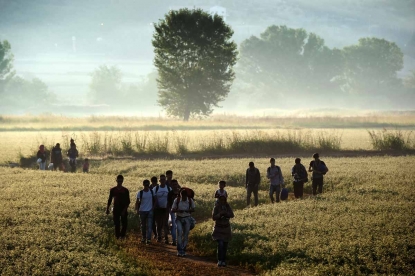 Migrants walk through a field to cross the border from Greece to Macedonia near the Greek village of Idomeni on August 29, 2015. (AFP / Aris Messinis)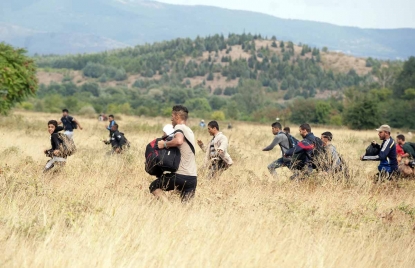 Migrants run through a field after they jumped a fence at the border line at between Greece and Macedonia near the town of Gevgelija on August 22, 2015. (AFP / Robert Atanasovski)
As the trio made their way across Europe -- Turkey, Greece, and Serbia's Belgrade, where we last heard from them -- we kept in touch constantly via phone and the internet. My heart felt like it would explode as I followed their progress, waiting for them to reach Germany safely. On August 23, I was talking to Hussein when the call suddenly cut out. He called me back a few minutes later, out of breath and laughing. "The police kicked us out of Belgrade because they are arresting refugees!" he told me. We spoke again two days later on August 25. That was the last time I heard from them.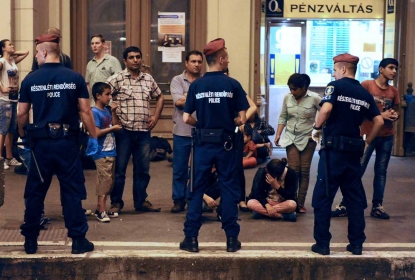 Migrants wait on a platform of the Eastern (Keleti) railway station of Budapest behind of a line of the local police on August 31, 2015, as the last train left in direction of Austria and Germany. (AFP / Attila Kisbenedek)
On August 27, I woke up to check the news as usual and saw a breaking news segment on television about a truck that was discovered in Austria with bodies of dozens of refugees inside. We dubbed it "the cursed truck." I immediately tried to call Hussein but his phone was off. So was Raman's. So was Massoud's.
As I scoured the images of the lorry circulating online, I recognised both Hussein and Massoud. My heart sank.
I called Massoud's brother. He told me he had recognised him as well.
"I saw his long hair and I knew it was my brother," he told me. "I told my friends -- that hair is my brother's."
The bitter truth tore through my throat, but I could not speak my fears out loud to anyone. I kept hoping. We all were. We kept trying to create a false sense of hope -- "Maybe they've been arrested. Maybe that's why they haven't been in touch. Maybe they're doing this, maybe they're doing that."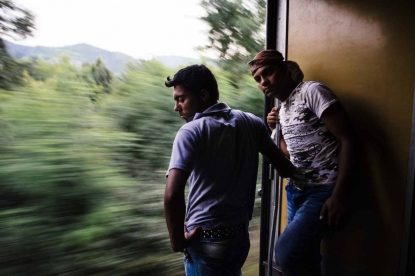 Migrants look out the open door of a train carriage heading north from Gevgelija to Tabanovce, at the border with Serbia on July 27, 2015. (AFP / Dimitar Dilkoff)
The hope died on September 15, when Raman and Massoud's father got in touch with an uncle of one of the other people killed in the truck, who was living in Austria. He told Mr. Khalil that Raman and Hussein were in the truck -- the Austrian police had found their IDs and cell phones.
When Hussein and Raman's bodies arrived in northeast Syria through the Fishkhabur-Simalka crossing, I was waiting with my camera. When I saw the coffins, my eyes exploded in tears. The shock was enormous and the pain was even greater. I think it was the hardest that I've ever cried.
But I kept filming.
I filmed Mr. Khalil as he flipped through his sons' degrees, framed and hung on the walls of their home. I captured their mother Umm Hussein -- my mother-in-law -- sobbing with the deepest grief.
I filmed her distributing candy to children at the funeral, a tradition we have here. She was handing out sweets but keeping her own bitter, burning anguish inside. It was the same for me: I didn't put my camera down, but I was crying the whole time. As if it was the moment of loss all over again.
I was using my lens as a journalist. But my eyes were those of a friend -- a friend to Hussein, Raman, and Massoud. That's why they were welling up as I was filming. The difficult moments I captured will never leave me.
A year ago, my wife gave birth to our second son and we decided to name him Hussein, after the uncle he will never meet. I recently filmed my father-in-law playing with him and discussing the tragedy of the Austrian truck.
"Whenever I see my grandson, I feel as though I'm playing with my son Hussein, as if he is him," he said.
"The last words that Hussein told me before he left were a promise that 'In a few years' time I'll bring my doctorate and place it in my mother's hands.' Getting the news of my sons' deaths was indescribably painful. It was an enormous, horrendous catastrophe."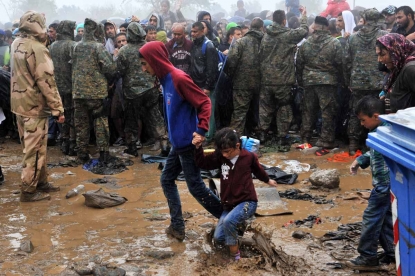 Migrants and refugees wait in the mud and under the rain to cross the Greek-Macedonian border near the village of Idomeni, in northern Greece on September 10, 2015. (AFP / Sakis Mitrolidis)
Mr. Khalil is tracking the court process, which is being held in Hungary because authorities determined the deaths occurred there. No relatives of the victims attended the opening of the trial in June.
Mr. Khalil doesn't know what evidence there is against the human traffickers, but he hopes that the trial can bring justice for his family.
I've been filming since the beginning of the popular movement in Syria in 2011, even after it turned into a war. We in Syria are not in a normal situation. "Cold zones" where there's stability are very different than areas suffering war, displacement, fighting, destruction, and all forms of human depravity. A journalist in a war zone cannot separate himself from these things. Every tragedy is linked to his city or his country, to his friends, relatives, or contacts.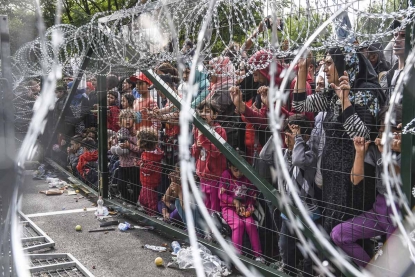 Refugees stand behind a fence at the Hungarian border with Serbia near the town of Horgos on September 16, 2015. (AFP / Armend Nimani)
In Syria, journalists are documenting the story but they're living it, too. We have to cover the tragedy that we're suffering. I have dozens of friends, acquaintances, and relatives who have died in this war -- whether in explosions or battles or by trying to flee. Everyone I know has been through similar circumstances.
I'm committed to relaying what I see and documenting it, whether it's related to me or not. But when you cover something that affects you directly, it hurts. And the pain stays with you -- a chronic burning in your throat that doesn't seem to fade away.
This blog was written with Maya Gebeily in Beirut.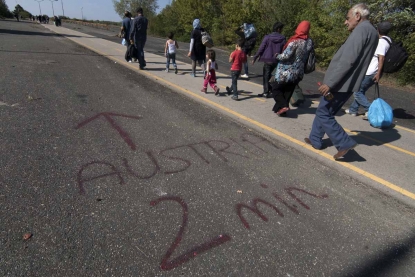 'Austria 2 min' ('Austria two minutes') is written on the ground near a temporary bus station as migrants arrive at the Hungarian-Austrian border on September 12, 2015, near Nickelsdorf, eastern Austria. (AFP / Joe Klamar)