A surfing legend swoops above the Arctic Circle
Unstad, Norway -- Among the surfing greats, there are a few who really embody the surf's spirit. Tom Carroll, the Australian legend of the sport from the 1980s is one of them. Both on and off the waves.
It shows well before he gets into the water. He stands on the beach for a few minutes, looking out onto the ocean. Any beach with waves has currents everywhere. Where we were, on Unstad Beach in Norway's northern Lofoten Islands, they were as much as 500 meters each, with a corridor as narrow as two meters in between.
Carroll had come here at the invitation of Tommy Olsen of the Unstad Arctic Surf school, to try Arctic surfing for the first time at the tender age of 55. See how the waves feel on the other side of the globe, with water temperatures at around 5 degrees Celsius. And to try and catch the Northern Lights.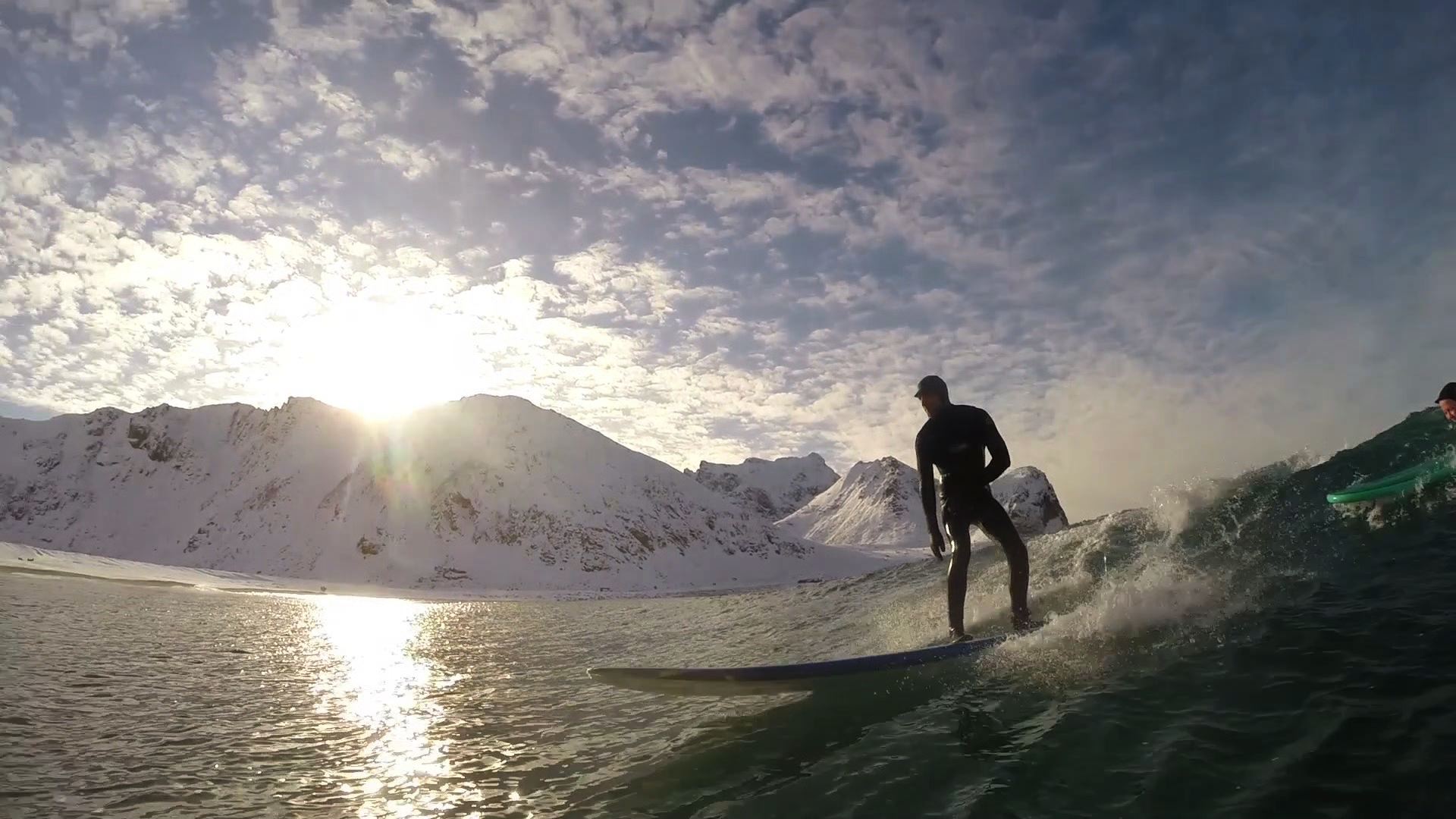 Cold-weather surfing has been around in Norway since the 1960s and over the past few years, the area around Unstad has been becoming more and more popular. This is my third year coming to shoot here. There is something addictive about surfing in cold water. Yes, it can be harsh, but as soon as you walk out, all  you can think about is getting back in again. And it's not as cold as you might think outside -- the temperature hovers around -1 or -2 Celsius. Plus, of course, there are saunas everywhere to warm the body and the spirit. That's part of the Scandinavian spirit.
Teaching surfing to beginners, the Norwegian way.... (AFP / Olivier Morin)
After my trip last year, I asked Tommy to let me know if any big surfers come up. So when Tom accepted his invitation this year, he gave me a ring. I joined a group of about six surfers, which also included a photographer from a Swedish magazine, the Nordic Surfers Mag.
I wanted someone big because shooting a pro takes the photos to a whole other level. Not only do you get the amazing scenery and the juxtaposition of people surfing against the background of snow-covered mountains, but you also get the quality moves and manoeuvres of a world-class surfer.
Carroll is one of the top three surfing legends in the world. By the time he retired in 1993, he had won two world titles, three Pipe Masters and 26 world tour wins. It still shows.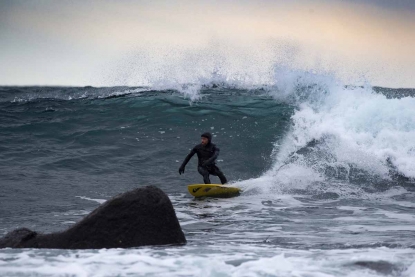 Tom Carroll rides an Arctic wave. (AFP / Olivier Morin)
Before getting into the water, Carroll would just stand on the beach for two to three minutes, taking in the scene in front of him, sizing up the currents and their patterns. And then he would just glide in with his board and paddle out. Effortlessly. Without struggling. He'd just find that tiny corridor between the currents and within minutes, he would be out there among the waves.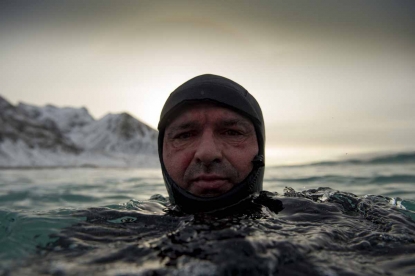 The author bobbing up and down in the water. (Photo courtesy of Olivier Morin.)
I've been surfing since my teens and love shooting the sport. At Unstad, I usually shoot both from the beach and from the water, bobbing up and down in the waves in my wetsuit.
Shooting Carroll was so easy. When you know a little bit about surfing, you get to know the waves and you know at what point a surfer will do a certain manoeuvre. Before we got into the water, I and the other photographer would tell him what we wanted. And he would do exactly that. So it was just easy -- I would see a wave and know exactly at what point he would execute a move that we'd asked for. And he would do exactly that.
He was also just such a pleasure to watch. Whenever he was riding a swell, there was a moment when you just felt that he was part of wave. He has a style that's so radical. Some surfers caress the wave. But Tom just rips it in a way that's really fantastic to watch. He looks like he's going 100 kilometers an hour. As soon as the waves allowed it, he was surfing like it was 30 years ago. And that despite a destroyed knee.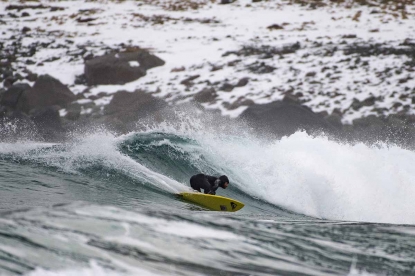 Tom Carroll, 55, rides a radical frontside cut-back wave. (AFP / Olivier Morin)
Surfers who come here tend to fall in love with the place. Unstad is surrounded by mountains. You can ski in the morning and then surf in the afternoon. That's actually what we did one day. We hiked up and skied and snowboarded in the morning. Then we warmed up and went into the water.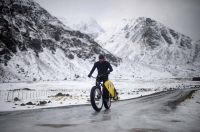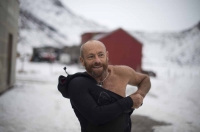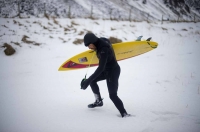 I was so focused on taking pictures that I didn't surf myself. It was torture. But I didn't have too much time -- we were there for six days. So I figured that if I'm surfing, even for a half hour, he'll end up doing something really good. With my luck it'll end up being the best wave of the week, and I wouldn't be able to forgive myself. So that was a bit frustrating.
At night we would hunt the Aurora Borealis. Last year I was lucky enough to see it several times. It was like someone flipped on a switch at just about 10 pm every night. So every night we would hop into a car and go hunting for it. We'd go to a beach or a mountain, set up our tripods and just wait. In the end, we weren't very lucky and we just saw a small one. But even small, the Northern Lights are magical.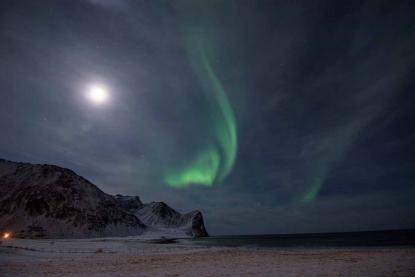 (AFP / Olivier Morin)
Away from the waves, Carroll turned out to be a really very nice guy. A great soul. A kind of surfing wise man. He was very available for everyone around. There were a bunch of people there whose level of surfing was much lower than his. But there was no condescension on his part, he would talk with them for the same length of time and with the same sincerity as with an equal in the sport. He was quite humble. He just breathes surf.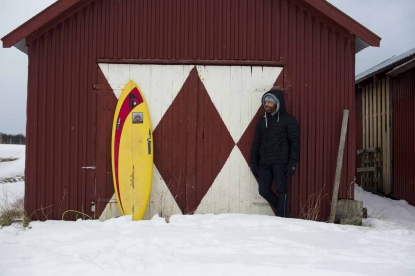 Cool as ever. Tom Carroll, March 2017. (AFP / Olivier Morin)
You get a feeling that he's spent more time in the waves than walking on land. Of course, surfing in Unstad required a bit of an adjustment. For one, he had to wear booties eight millimeters thick. That's quite a lot of material between you and the board and it affects your balance. Later he said that the first time was a bit difficult for him. Of course, noone actually noticed, except him. That's what makes a pro, I guess. The accuracy. They are just so accurate and they look so natural, in every move.
This blog was written with Yana Dlugy in Paris.