Thrills, chills and penguin poo on Antarctica mission
Petermann Island, Antarctica -- Some say we journalists are full of it, so perhaps it was poetic justice that I ended my first day in Antarctica covered in excrement.
It was all around as I tottered out of the dinghy onto the wet black rocks of Petermann Island. There was nowhere to put your bag down. The best spots were taken by penguins. Every other patch of level ground they had basted in their white and red "guano". Penguin poo, in layman's terms. And I was a layman for sure.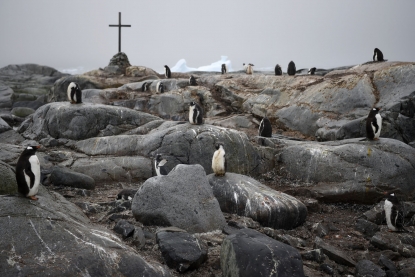 Guano galore. (AFP / Eitan Abramovich)
I had to get a move on. Besides filming the wildlife I had to shoot interviews with scientists and penguin-spotters. They were more elusive than the birds. You had to chase them over rocks and up snowy mountains and fix the microphone on them before they waddled off.
I laid the tripod bag down on the clearest spot I could find. I laid down my rucksack. I kneeled on the slimy ground in my windproof trousers. I fumbled the video camera out of its waterproof bag and went to work.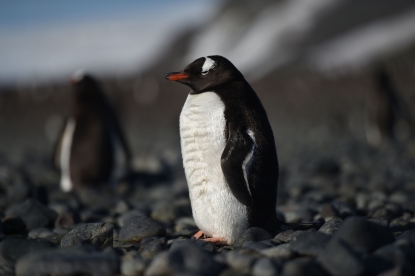 South Shetland Islands. (AFP / Eitan Abramovich)
That evening, I put the bags wearily down on the floor of my cabin. A rotten smell filled up the warm, pokey space. I had scrubbed my baggage and outer clothes with disinfectant on returning to the ship, as required by Antarctic tourism regulations. But I had not scrubbed enough to cut through the guano.
My cabin mate, AFP photographer Eitan Abramovich, was most understanding. Good. We would be sharing that small space for some time. He'd braved the guano himself, though being a photog he was naturally more careful and nimble on his feet.
The brass in Paris had jokingly called it a "hardship mission": 10 days on a cruise in the Antarctic, enjoying the view, at the invitation of environmental campaigners. Anyone free? Reading the email in my shorts in sunny Montevideo, I was the first to hit "reply". What could go wrong? Film penguins, talk to boffins, write it up. Back in Montevideo before winter.
A few weeks later there I was, tripod in hand, slithering over the  rocks. The camera hung around my neck like an albatross.
I felt like an intruder on a strange planet.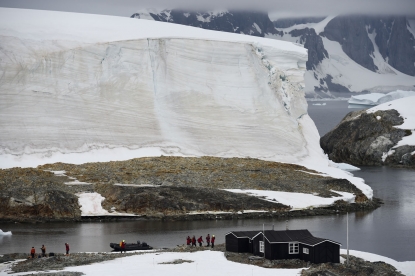 Winter Island. (AFP / Eitan Abramovich)
It's not just the eerie blue of the ancient icebergs and the inhuman scale of the mountains that make Antarctica feel like an alien land. It's the feeling that you are outnumbered by other creatures that you don't fully understand. They run on their own time. If they know you're there, they don't seem to care.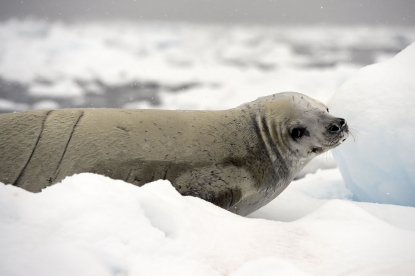 Friendly locals. (AFP / Eitan Abramovich)
At sea one day, our guides summoned us to deck when a humpback whale was spotted to port. I clambered up to the bridge and squeezed in among my shipmates as they pointed their cameras and binoculars over the misty water.
There it was, heaving its white belly out of the depths and crashing back under in a shower of foam. I hit record. The grey surface of the water stayed flat. I stopped recording to save space on the memory card. There it was again, the white belly, the foam. I hit record, zoomed, swivelled the tripod. Too late.
After half an hour, I had a few precious seconds of whale footage.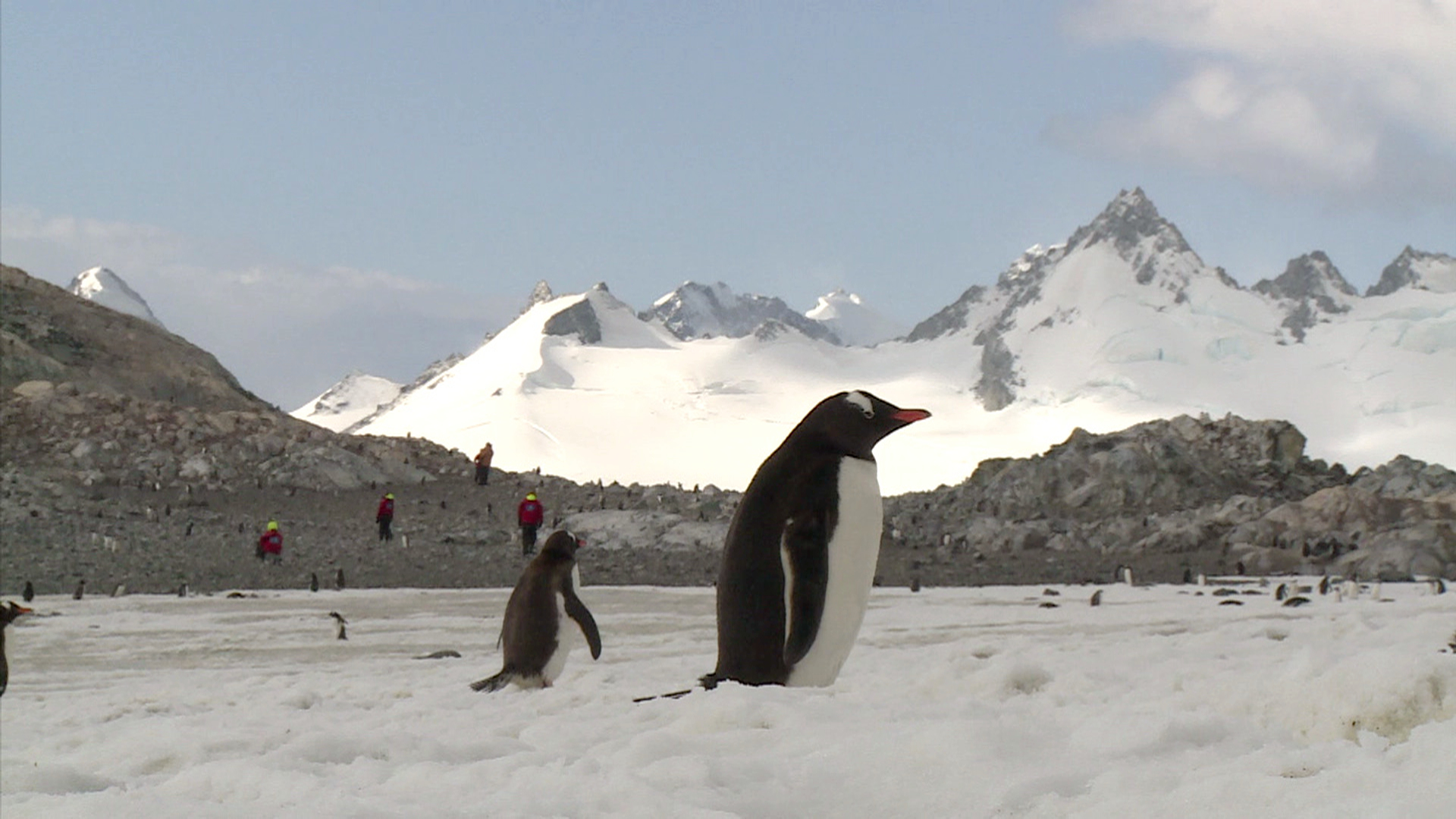 Most of the other passengers of the cruise were there on holiday. While I lay exhausted in my bunk one night, they camped out under the stars on the frozen continent, returning at breakfast to tell how awesome it was. At an abandoned whaling station on a volcanic island, they stripped off and dashed into the sea to splash around in the steaming sulphurous water. Eitan was right behind them with his camera.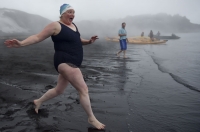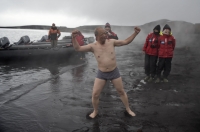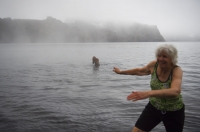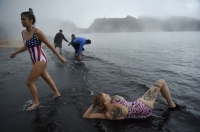 Meanwhile, I was sitting on the sand further along the bay, filming a pair of seals play-fighting on the shore.
They turned and started lunging towards me, barking and thwacking themselves over the  sand with their flippers. I scrambled to my feet and ran. We'd been warned those seals were grumpy. I hadn't realised they could move so fast.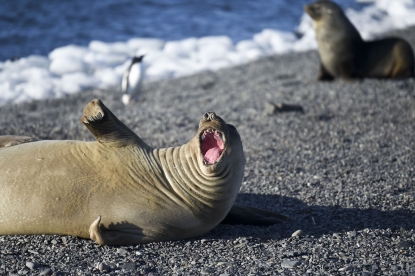 Smile! I move fast! An Elephant seal at the Yankee Harbor in the South Shetland Islands. (AFP / Eitan Abramovich)
"It's hard for people to understand, before they have experienced the Antarctic, what it is like to get so close to wildlife," Kim Crosbie, head of the International Association of Antarctica Tour Operators, told me. "Everywhere else in the world, the animals have learned to be afraid of humans. It is important that they get an introduction to understanding animal behaviour."
I had shots of seals, whales and countless Gentoo penguins in the bag, when one day our guides pointed out another species, rarer in those parts. You know a Chinstrap penguin by the black stripe at his throat. Getting footage of one, I decided, would help illustrate my story about environmental threats and shifting penguin populations.
Leaving the heavy tripod behind, I hiked uphill through the snow to an outcrop where three Chinstraps were sheltering behind some rocks. Antarctic tour regulations oblige you to keep five metres' distance from the wildlife. I stooped, steadied the camera on my knees and zoomed through the fog.
The penguins had their beaks close to their chest feathers in the cold. "Chin up!" I said. "Let's see your chinstraps!" I hit record. There was mist and snow over the black rocks. The penguins blended in. They sat still, looking to my untrained eye just like any penguins. I struggled to make out their chins.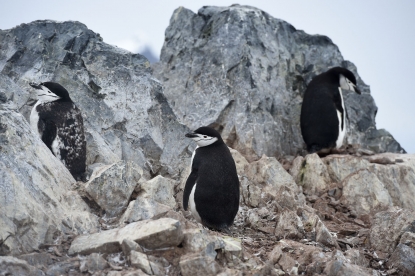 Chin up! Chinstrap penguins in Orne Harbor in the western Antarctic peninsula. (AFP / Eitan Abramovich)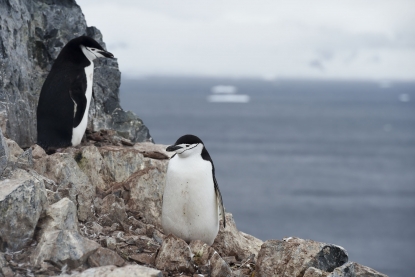 Chin up! Chinstrap penguins in Orne Harbor. (AFP / Eitan Abramovich)
A guide told me off. I was far enough away from penguins, but I was crouched with my boots on a patch of Antarctic moss. Mustn't be trudging that back onto the boat.
I let the penguins go. I walked away and sat on a rock and for once, without a lens or a notebook, just enjoyed the view. The mountains were stupendous.
Deception Island. (AFP / Eitan Abramovich)
The species most crucial to my story was the most elusive of all. An inch-long crustacean, the krill, lives in the sea and is food for penguins, whales and seals. But unless you're a fisherman with a trawling net it's hard to get hold of any. The story was about how the penguins on the Antarctic peninsula were struggling to find enough krill to eat. We wondered how to get images of the wee chap.
On the last day of the cruise, a specialist on board gave a slideshow about Antarctic fishing. A close-up of a translucent grey krill appeared on the screen.
I ran to fetch Eitan from the cabin and grabbed the video camera. Just in time, we shot the still of the krill.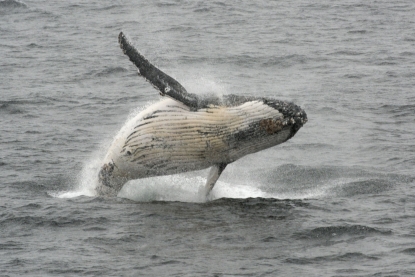 A humpback whale jumps out of the water in the western Antarctic peninsula. (AFP / Eitan Abramovich)
At last I relaxed. I had all the images I needed on film, along with interviews explaining what krill are for, and the difference between a Gentoo and a Chinstrap.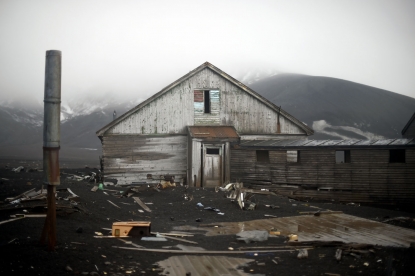 An old building of a British shipping base, which was consumed by a mudslide sparked by a volcano, crumbles at Whaler's Bay in Deception Island, in the western Antarctica peninsula. (AFP / Eitan Abramovich)
It was a rough voyage back to Argentina through the giant waves of the Drake Passage. The ship was heaving. I took my hand off the camera and turned away from it as I took a deep breath. The boat rocked, the tripod tipped. The camera crashed to the floor.
Rolling around in my bunk at night, flat on my back to tame the seasickness, I read the British explorer Ernest Shackleton's book about his doomed voyage to Antarctica in 1914. In the days before Gore-Tex, he and his men survived for months camping on the ice after it swallowed their ship. They shot penguins and seals and ate them to survive.
You can't do that any more. Shackleton's was a different world from ours, but I was sure he had a lesson for me. We're not great adventurers, we journalists, though we act like it. We pretend we know what we're doing, even when we're blinded by fog, tossed by waves, knee-deep in poo. Staring into the dark water for a glimpse of a whale.