Goodness, gracious, great balls of fire
Melbourne -- I have to say it was a strange feeling to shoot the Australian airshow a few weeks back. A week before it started, we had a small plane crash near the Melbourne airport, killing five people just after takeoff and I photographed the consequences. And now, just days later, I would be photographing people doing crazy stunts with planes. On purpose.
A Royal Australian Air Force F/A-18 Hornet aircraft launches flares in flight during the Australian International Airshow in Melbourne on March 5, 2017. (AFP / Mal Fairclough)
I'm not an airshow expert. This was my second time shooting the event. One of the things that struck me the first time around was just how many people come to watch. I think it was something like 180,000 people over three days.
The people out there viewing it, usually with their kids. They make a family day out of it. And they're usually very laid back. When a plane does a stunt they 'oooh' and 'ahhh.'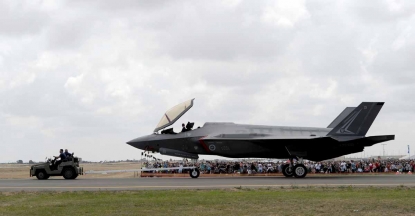 Crowds line up as a Royal Australian Air Force F-35A Lightning II multirole fighter is towed during the show. (AFP / Mal Fairclough)
And then there are the 'groupies.' These are enthusiasts who go from airshow to airshow, all over the world. It's a small group of men and they all seem to know every aircraft, what motor it's got, how powerful it is, what manoeuvre it's going to perform. This group is not really surprised by anything. Among this group are photographers who basically specialize in shooting airshows.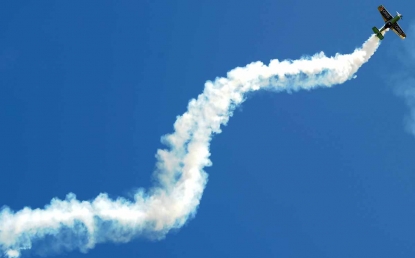 (AFP / Mal Fairclough)
These guys can be very useful for someone like me to get friendly with. They know all the manoeuvres before they happen, so they can suggest an angle or a lens that would be best to capture the moment. They tend to be a very friendly and open group and offer advice freely.
From a practical point of view, the day was quite a workout for me. To get the best shots, I used a 400 mm lens. But because of the angle -- straight up -- you can't really use a monopod with it like you usually would. With the camera body, the thing weighs around 14 kilos. So my arms basically turned to jelly by the end of the day. You have very little strength left.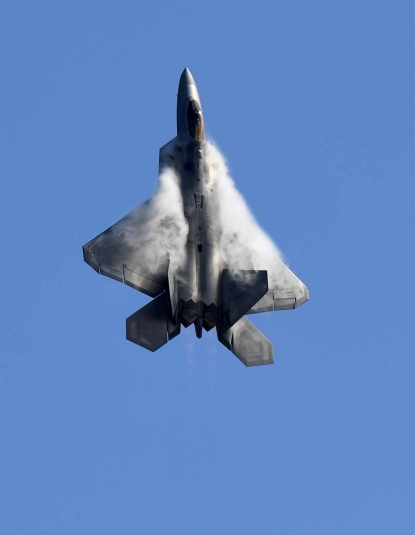 (AFP / Mal Fairclough)
I suppose there is a bit of a "Top Gun" atmosphere to the whole thing. How can there not be? The pilots are mostly ex-military and they're doing these incredible stunts with the planes. For some of them, this is their pastime on their days off. How they relax outside of work.
It really is something awesome to behold. And it does make for some spectacular pictures.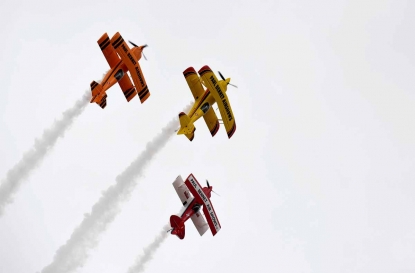 (AFP / Mal Fairclough)
One of the more awesome ones was the pyrotechnic display that they did toward the end of the day. You had two planes and near the end of their display they're chasing each other. And then there is this huge explosion that goes off with these very impressive flames and they fly in front of it. It's mostly known ahead of time (their name kind of gives it away as well -- Tinstix of Dynamite), so people don't get scared, but even if you know it's coming it's still very impressive.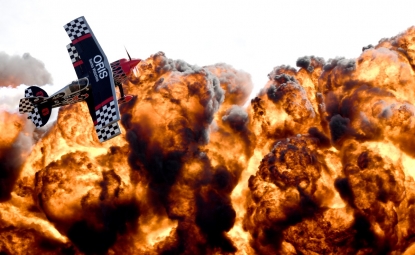 A member of the Tinstix of Dynamite aerobatics team flies in front of a wall of fire during the Australian International Airshow in Melbourne on March 5, 2017. (AFP / Mal Fairclough)
Though I have to say, it felt a bit strange to photograph it just days after the air accident that I shot. Then, I didn't even get a shot of the plane, because it went down in a "massive fireball," crashing into a shopping center. The clearest thing of the destroyed plane that I could photograph was one of its wheels on the highway.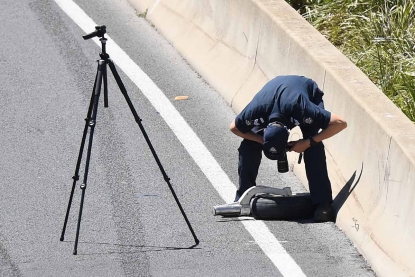 A policeman photographs a plane wheel on the freeway of a Beechcraft plane after it crashed into a shopping centre just after take-off from the Essendon airport in Melbourne on February 21, 2017. (AFP / Mal Fairclough)
And now, a week later, I am shooting guys flying on purpose in front of massive fireballs as thousands of people watch them from below. It was somewhat of an unsettling feeling.
This blog was written with Yana Dlugy in Paris.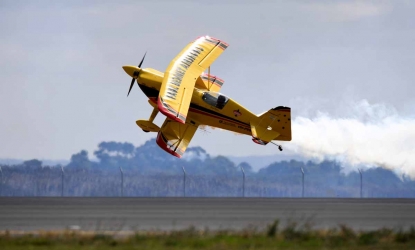 The old.... (AFP / Mal Fairclough)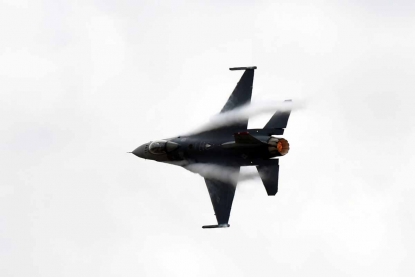 ... and the new. (AFP / Mal Fairclough)