Syria's 'hospital' of horrors
DOUMA, Syria, November 12, 2014 - Douma, where I live, is a Syrian rebel bastion. A city of 200,000 just northeast of Damascus, it has been under siege for more than a year by forces loyal to President Bashar al-Assad. We are hit practically every day by artillery fire and air and ground raids. It is also located in the Gouta area, which is held by the Free Syrian Army and which was attacked with chemical weapons by the regime in August 2013.
Click here to read the Arabic version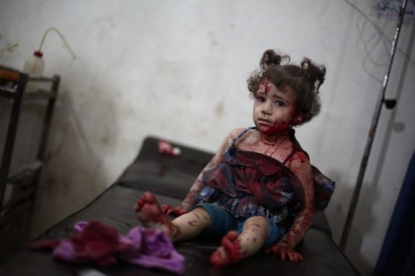 September 24, 2014 (AFP Photo / Abd Doumany)
The "hospital" where I took these pictures is a makeshift clinic set up in the basement of a building, managed by the Unified Medical Office of Douma, which was created in 2013 to coordinate private medical care in the area. The hospital treats the war wounded from throughout Gouta and serves as something of a triage unit, with mild to serious cases handled on site and the worst injuries, including those requiring surgery, sent elsewhere.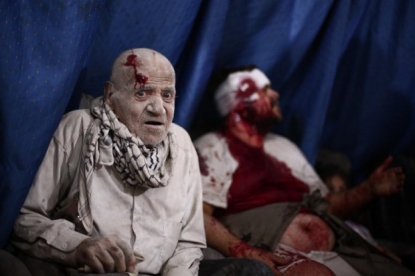 September 24, 2014 (AFP Photo / Abd Doumany)
I head to the hospital each time an intense bombing or air raid hits Douma to document the attacks. At times when I arrive, it is as if I've entered a nightmare, with 50 or more injured crammed into the small clinic in an atmosphere of anger and fear. It is very difficult to take pictures at those times. Sometimes I stop. The scene before me is simply too awful.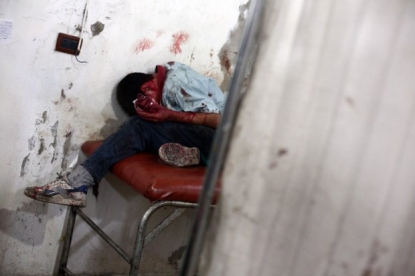 October 3, 2014 (AFP Photo / Abd Doumany)
The hospital badly lacks medicine and equipment. Doctors and nurses push on against the odds, struggling to maintain a minimum standard of hygiene. They are constantly exhausted since the wounded never seem to stop arriving. During the bloodiest attacks, they can work 48 hours straight without sleeping.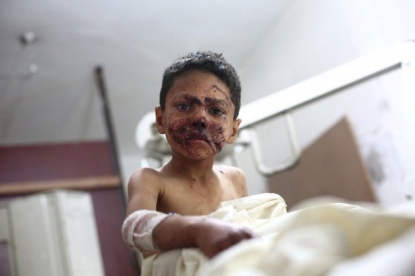 November 11, 2014 (AFP Photo / Abd Doumany)
Among all the victims I've photographed in recent months, the one who most stands out to me is Ahmad. He was 17 years old and arrived with a badly wounded hand. Doctors thought there was no option but to amputate his fingers, but he refused. He said he still had hope that his hand would heal and he would be able to use it again -- that he would again be able to write. His hand has since been hit by gangrene, and amputation may indeed be inevitable.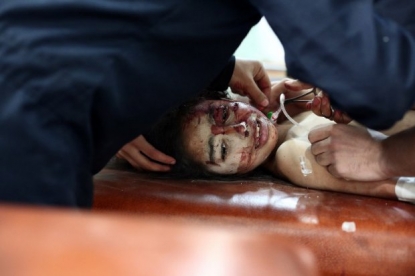 November 7, 2014 (AFP Photo / Abd Doumany)
Each time I return to the hospital, I come away with different feelings. Sometimes fear predominates; sometimes it's sadness. It is impossible to get used to seeing such scenes. The injured are brought in and they are often similar, but the shock of seeing them is always disturbing. There are times when I spend hours in silence after returning home, unable to speak to anyone. It depresses me, and the horrible images remain stuck in my head for hours.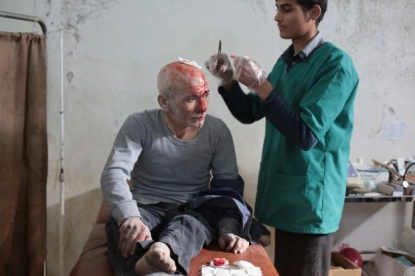 November 11, 2014 (AFP Photo / Abd Doumany)
What hits me hardest is seeing the pain of those who have lost loved ones. Usually I avoid photographing those scenes out of respect for them. I know exactly how they feel: I've lost one of my brothers in this war.
Abd Doumany is a freelance photographer and an occasional AFP contributor based in Douma, Syria.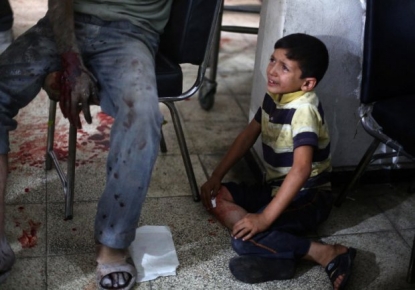 A Syrian boy cries as he looks at his wounded father on September 9, 2014 (AFP Photo / Abd Doumany)