The Ebola dance
KENEMA, Sierra Leone, November 18, 2014 – The town of Kenema, near the borders with Liberia and Guinea, was right in the heart of Sierra Leone's Ebola outbreak up until September. A 60-bed field hospital was set up by the Red Cross in the middle of nowhere to care for the region's sick. Since then the epicentre of the epidemic has moved west but the Kenema centre is still standing, caring for Ebola patients from across the west African country.
The hospital is run by a German paediatrician named Joachim Gardemann. Entirely made of tents it is the only Ebola treatment centre in the country to have a ' kindergarten' — which enables it to isolate from their sick parents children who have not tested positive for the disease — to give them a chance of surviving. As well as a dozen foreign staff, it counts 148 Sierra Leonean workers including 80 from the Infection Prevention and Control Team, which is charged with preventing the spread of the disease — notably by collecting linen soiled by patients' bodily fluids.
::video YouTube id='xA_c2wy9OzA' width='620'::
Whenever they are inside the hospital's 'red zone', these workers must wear a PPE, or Personal Protective Equipment suit — the ones that make them look like cosmonauts. It is truly tough for them - temperatures in Kenema soar well above 30 degrees Celsius, and they pour with sweat inside the thick layer of rubber and airtight goggles. That is why the IPC teams — like the medical staff — cannot work longer than a hour at a stretch in their suits.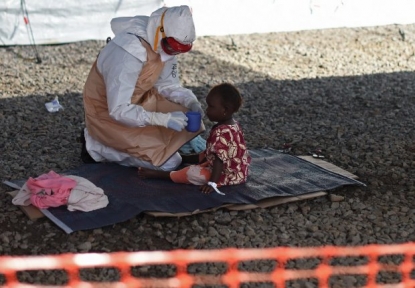 A health worker gives to drink to a young patient at the Kenema treatment center (AFP Photo / Francisco Leong)
When we reached Kenema, late in the afternoon on November 15, two nurses - Liz, from New Zealand, and Margie from Scotland — were working through their heavy suits to fit a drip to a little girl who appeared in a very poor state. A man brought to the same part of the facility had an exhausted, absent air to him. But you never know say the nurses, how things will turn out with Ebola. A patient who looks terrible can stand up and walk the next day. Another can collapse in the space of hours.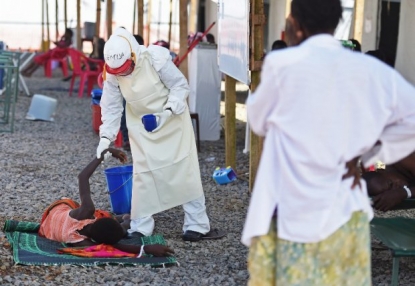 A health worker assists an Ebola patient at the Kenema treatment center (AFP Photo / Francisco Leong)
Shortly after the nurses left, the IPC team arrived: four Sierra Leone workers covered from head to toe — their suits turning them into faceless, lumbering figures that could easily seem threatening. But all of a sudden, despite the crushing heat, the four of them broke into a little dance.
The scene lasted two minutes — AFP Video was there to time it. A way to distract the patients — and try to bring some relief to their sorrow and fear.  The little girl and the man were unresponsive. We don't know if either was conscious. But the other patients present, those well enough to sit, or stand, clapped — and some even stood to shuffle a few dance steps of their own, clicking their fingers. Everyone was overjoyed, adults and children alike. A moment of grace in a world hungry for it, in these dark days of Ebola. And we, too, were grateful for it.
Respect.
Anne Chaon, an AFP reporter based in Paris and Celine Clery, video reporter based in London, travelled to Sierra Leone for two weeks along with Lisbon photographer Francisco Leong as part of an AFP multimedia team.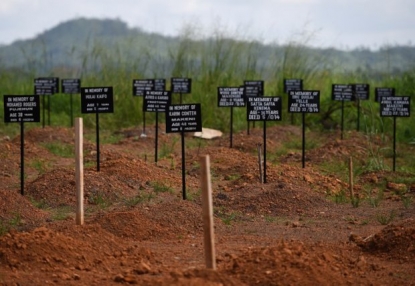 The cementery at the Kenema ebola treatment center (AFP Photo / Francisco Leong)