Standard bearers
Oroville, California, US -- I've covered a lot of wildfires, but it was the first time that I saw something like that. I was thinking as it was happening, 'This is something different." And I guess it was, judging by the feedback that it's received.
I happened upon the scene in the early evening. In the daytime it had been relatively calm and I had been shooting for a good four hours or so. Wildfires are a regular thing in California, and I really enjoy shooting them.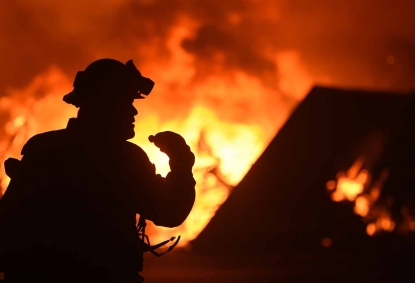 A wildfire near Oroville, California, July, 2017. (AFP / Josh Edelson)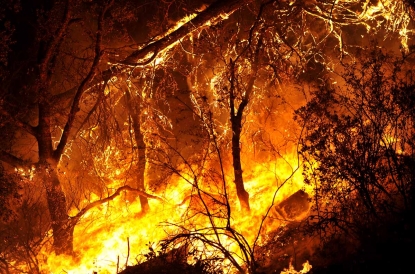 A wildfire near Clear Lake, California, August, 2015. (AFP / Josh Edelson)
What made this fire stand out was the weather patterns. They were continuously changing. So in the late afternoon and at night, you got these sundowner winds. These types of winds constantly shift direction and make the fire really unpredictable, because you can have a 15-mile-per-hour (24-km-per-hour) wind that just comes out of nowhere and stokes the flames.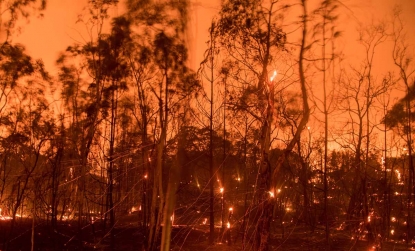 Wildfire near Oroville, July, 2017. (AFP / Josh Edelson)
When I came across this particular house, I had been shooting for a good four hours already. Flames were starting to pop up all over the place. I had been driving around, looking for a burning structure and I saw that the flames were creeping toward this house. So I stopped to take a look. There was a wall of smoke around the house. I headed in.
In the state of California, the media are allowed to go anywhere where firefighters go. Which makes it very easy to work. We can go right up to and into the flames if we want to. We are required to wear full safety gear, so we wear the same things that firefighters do -- yellow fire retardant suits, headlamps, the works.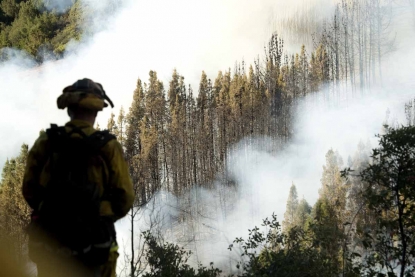 Looking out onto a wildfire in the Santa Cruz Mountains near Morgan Hill, California, September, 2016. (AFP / Josh Edelson)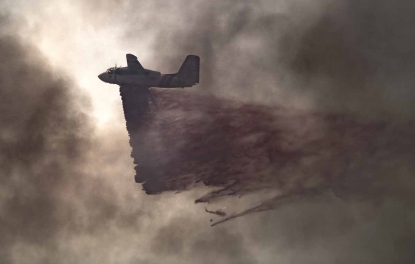 A plane drops fire retardant on a fire in Butte County, California, July, 2017. (AFP / Josh Edelson)
I love photographing fires. I think wildfires are awesome and spectacular and visual and powerful and scary. They are these naturally occurring events that help you feel humble as a human and remind you just how powerful and beautiful nature can be. I love shooting natural disasters of all sorts, it's my thing.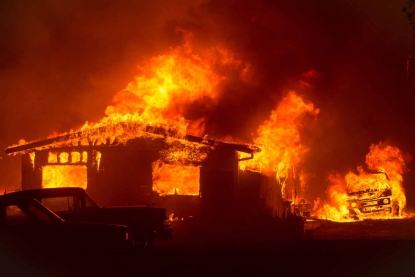 Oroville, California, July, 2017. (AFP / Josh Edelson)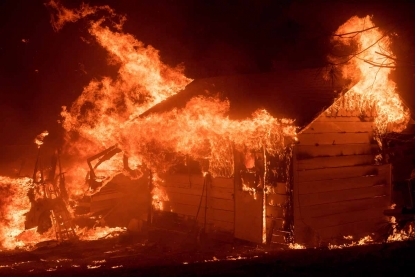 Oroville, California, July, 2017. (AFP / Josh Edelson)
Mostly I go alone, but sometimes I'll go with a colleague. I'd say there is only a handful of photographers in the area who really know how to cover a wildfire well, while remaining safe. It's important that we find the right balance between staying safe, telling the story, and staying out of the firefighters' way.
When I shoot wildfires, I go all out. I go into the fire zone for two or three days in a row. I just sleep in my car. In fact, I specifically chose a Toyota 4Runner because it has both 4-wheel-drive and the back seats fold down perfectly flat, so I can sleep when I need to take a break from shooting. Sometimes I'll work for 24 hours straight, I'll be up at 6 in the morning, or until the flames are dying down.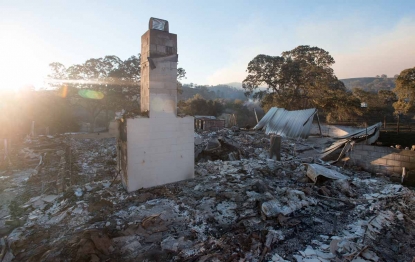 A chimney is all that remains of a burnt-out property near Mariposa, California, July 2017. (AFP / Josh Edelson)
I've had lots of close calls. Lots of scary moments over the years, when you see huge walls of flames approaching the road you're on. Once, it looked almost tornado-like. You could hear the roar and it was approaching faster and faster. I ended up having to run back to my truck, dropping and breaking my headlamp along the way. It was pretty scary because I felt the wind shifting and sucking hot air into the flames. It was like the fire was creating its own weather. That's when you get embers flying every which way, spreading it.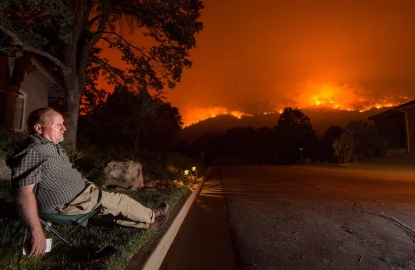 Watching the flames approach the town of Mariposa, California, July, 2017. (AFP / Josh Edelson)
Given the incredible access that we the media have in California, we have to be as inconspicuous as possible. It's important that we try to stay out of the way, so we don't hamper the firefighting efforts. So when I stepped through the wall of smoke toward that house, the firefighters on the scene didn't really notice me, they just went about their business.
They were doing what they usually do, which is building a containment line to try to protect the property. They do that by spraying water around the house, setting up a perimeter in an effort to stop the flames from reaching it, and clearing any debris between the flames and the structure that could catch fire.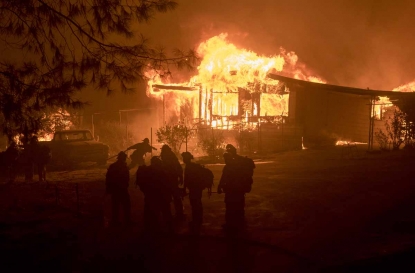 Firefighters at work in Oroville, California, July, 2017. (AFP / Josh Edelson)
Usually what happens is that firefighters will do what they can at one property and move on to others. So these guys seemed to be done, when one of them turned around and saw the flag. They discussed something for a brief moment -- I couldn't hear what because I was too far away -- and they seemed to agree to take the flag down.
So they headed to the balcony where it was hanging from and tried to reach it, but it was too high, so they ended up lifting one of the firefighters to get the flag.
As it was happening, I remember thinking how it was something different, it just wasn't something that I usually see during wildfires.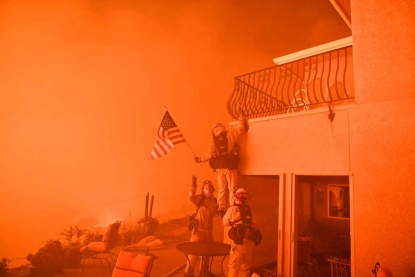 (AFP / Josh Edelson)
It was a jubilant moment. They were laughing. Then they rolled it up, put it away on the property and moved on. The whole thing didn't last for more than a few minutes.
The photo got a lot of play and as it did, two theories developed as to why they stopped in the middle of a fire to take down a flag.
One was that they did it as a symbolic, patriotic gesture. As in, we don't know if we can save the house, but at least we can save the American flag. Maybe that's why the photo got so much attention, as it's such a strange political time in America right now.
The other theory is that by removing the flag, they were just doing their job, ie removing any debris that could help the fire spread. This also makes sense -- a flag is made out of fabric and could potentially catch a flying spark and set the house on fire. If there had been a blanket hanging from that balcony, they would have removed it too.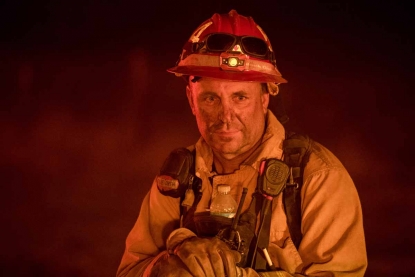 A firefighter near the town of Mariposa, California, July, 2017. (AFP / Josh Edelson)
I don't think we'll ever know what their motivations were. I've connected with them since and they've just told me that they were doing their job. They don't want to dwell on the point and I can understand them. Once they pulled the flag down, they moved on to protect other properties and I moved on to take other shots..
In the end, the house was saved, and the flag put back in its place. Whatever the reason those firefighters took it down, the bottom line is that they saved the house and moved on to protect other structures. Because that is what they do.
This blog was written with Yana Dlugy in Paris.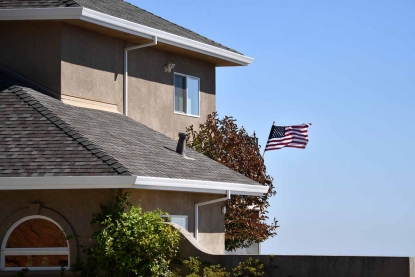 The flag flying again at the house where firefighters saved it a few days earlier in Oroville, California, July, 2017. (AFP / Josh Edelson)