Revving it up on the dunes
Weston-super-Mare -- It took me days to get the sand out of my cameras and lenses after I re-visited one of my favourite photo assignments, The Weston Beach Race. The three-hour endurance contest is predominantly for moto-cross bikes, plus a few gluttons for punishment piloting Paris Dakar-style enduro bikes, quads and even sidecars.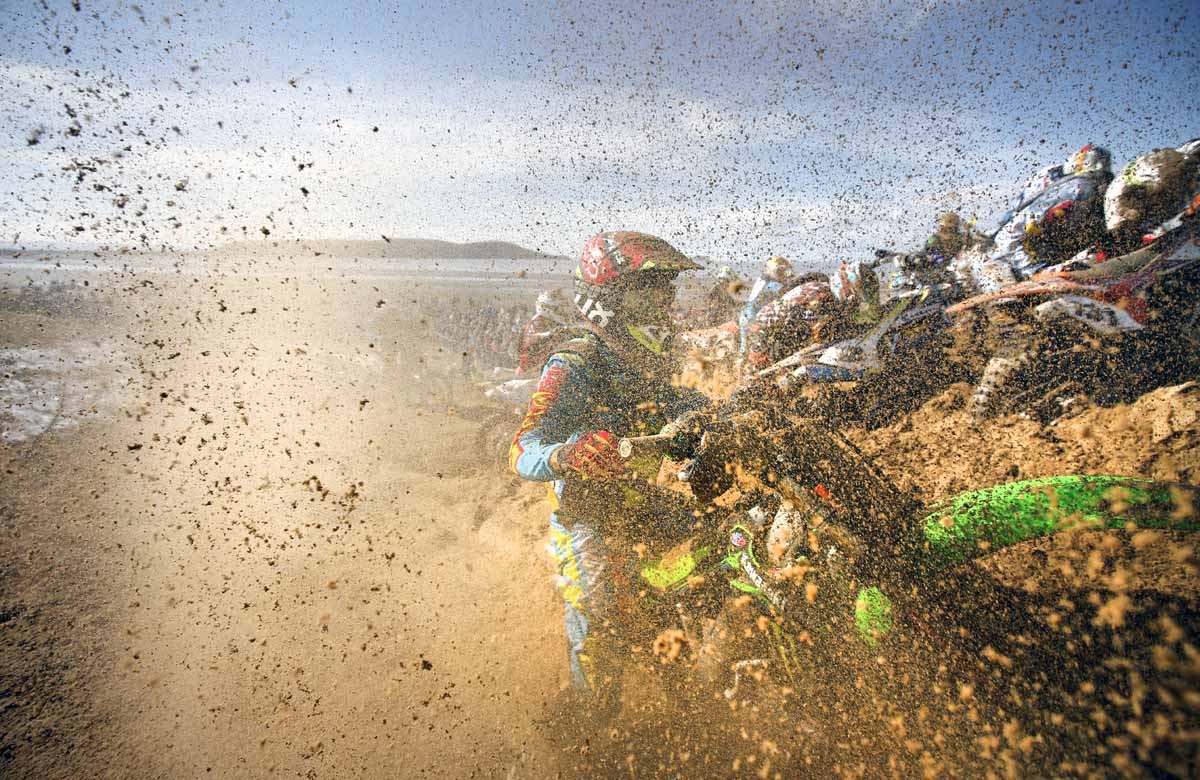 (AFP / Adrian Dennis)
The track takes 10 days to mould and construct on the beach courtesy of massive earth-moving bulldozers and diggers. It consists of a long straight smoothed by the previous night's high tide followed by a series of jumps, bumps and house-sized dunes. Once the riders "scream" their machines off the start line and along the flat part of the track, they turn away from the Bristol Channel and plough their way up and over the man-made dunes. Thirty-seven dunes to be precise, which makes for a lap. Whoever completes the most laps during three hours wins the race.
In the run-up to the race this year, I'd regularly checked the weather forecast. I've covered it three times before, once in sunshine and twice in the rain. It's much more of a pleasure with a little bit of nice light. This time the sun was going to be in attendance -- roll out the flags!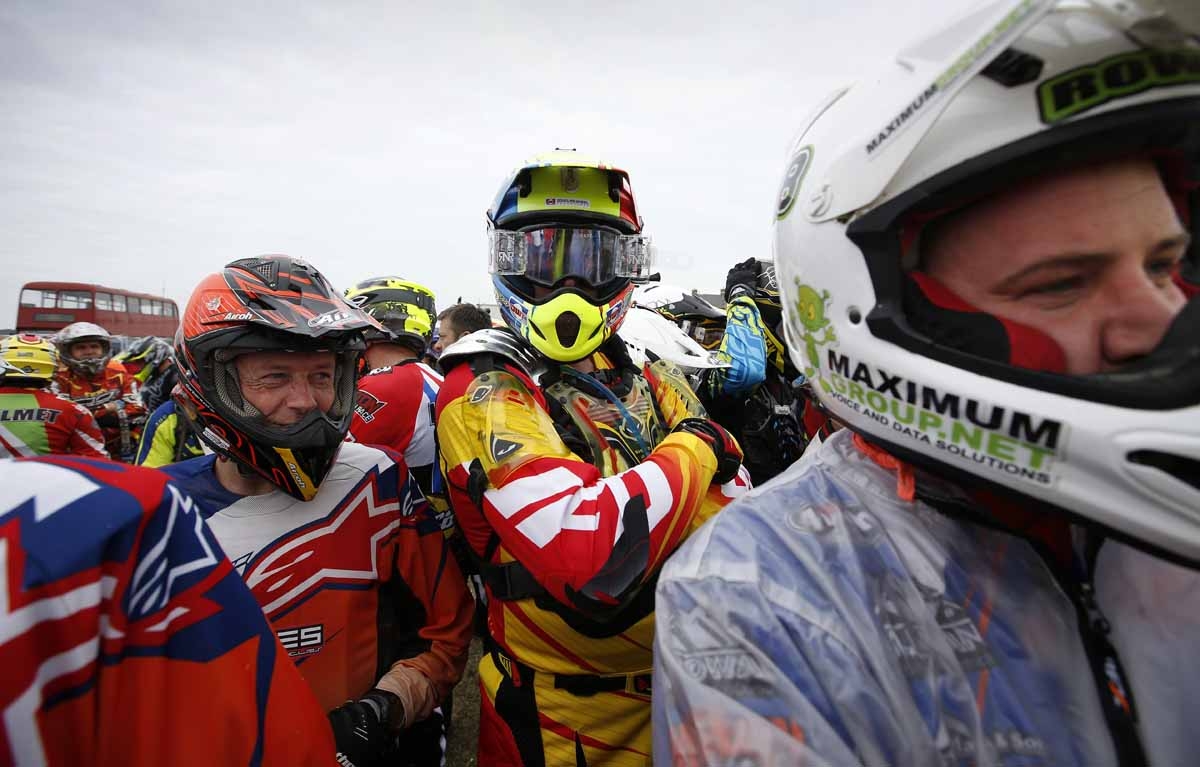 (AFP / Adrian Dennis)
To work the race, I cover and tightly wrap my cameras to protect them as much as possible from the flying sand. Working with covered gear is much more difficult. It's hard to adjust exposure settings, to review the picture you've just shot or nigh on impossible to change a lens. With this in mind, I equip myself with three Canon EOS 1 D-X cameras each with a different focal length lens. In this case a 16-35mm wide-angle, a medium telephoto 70-200mm and a 300mm long lens.
From the outset all my toys are hanging from my neck and either shoulder. Put anything down during the race at your peril. Drop anything and it'll be swallowed in the sand. That's just what happened to a friend of mine, a fellow photographer whose MiFi dropped out of his pocket while we were clambering around one of the biggest dunes during the first lap mayhem. Perhaps it'll be discovered by a Time Team enthusiast in years to come.
I arrived a day early, to give myself plenty of time to pick up my credentials, learn where everything is and walk the course. Unlike previous years, the opening sequence of dunes appeared smaller, only a mere 3 metres high. This time, the dunes got bigger and bigger as the course went on. Probably not so good for pictures, but better for the riders to naturally spread out on the opening lap according to their ability, rather than getting caught in a mass traffic jam at the foot of a monster dune.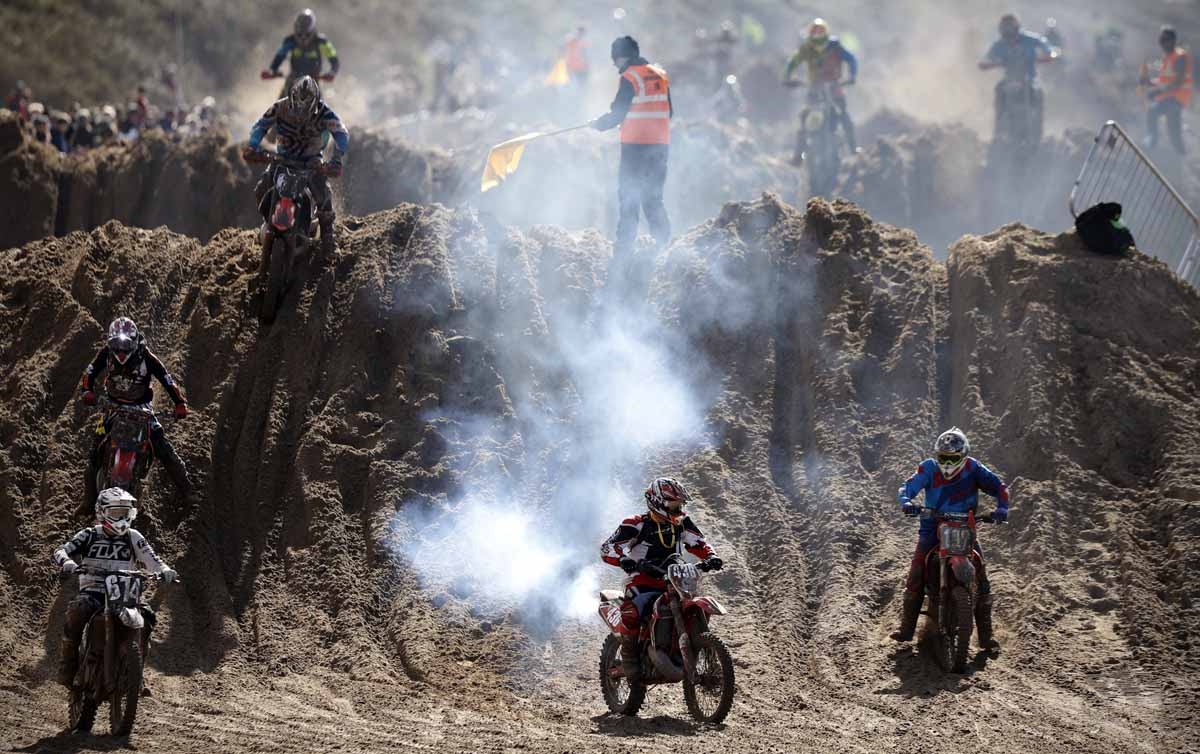 (AFP / Adrian Dennis)
With this in mind,  I decided to concentrate shooting the riders "tear" down the beach at the start. Some of them perched on the rear mudguards of their bikes letting their front wheels skip over the bumps, other waving and attempting wheelies as they pass thousands of spectators.
The races start at Weston by corralling hundreds of riders behind fences. They can only stare through the fence trying to spot their machine parked in rows handlebar to handlebar in the paddock.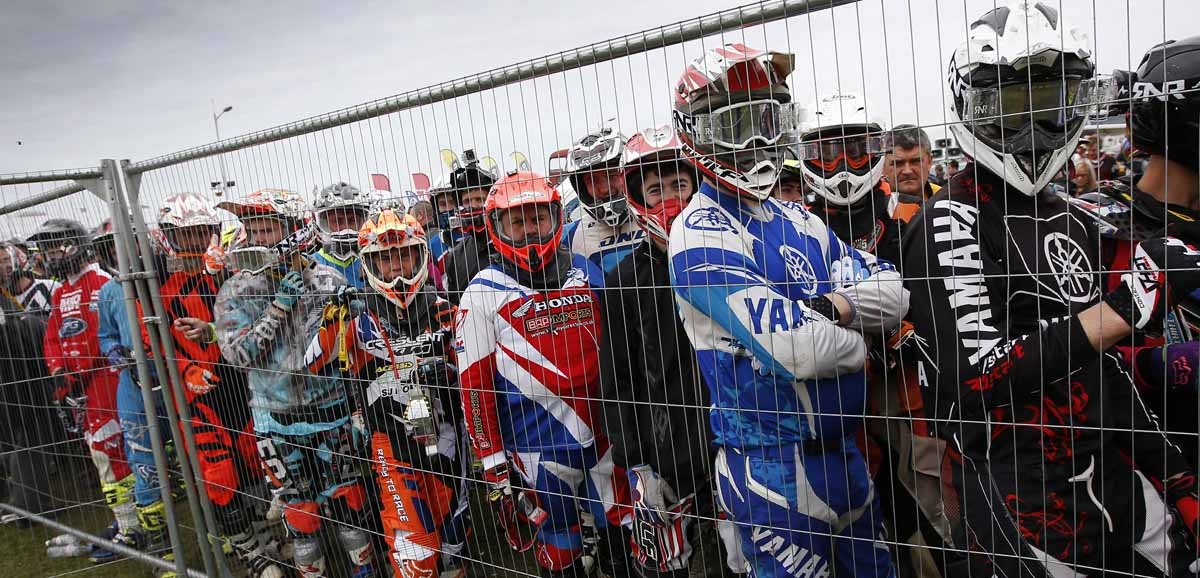 (AFP / Adrian Dennis)
Once the starter is ready, the gates are unlocked and competitors run to their bikes. During the next few minutes of pandemonium the fastest runners/riders start their bikes and jostle their way through the paddock to a quad-riding marshal. They follow him and ease their way through to the official start line on the beach. Minutes later a cumulative roar of motorbikes is heard as they blast down the seashore in a cacophony of sound. Racers spinning their back wheels in the soft sand trying for the whole shot for the lead. It's pretty incredible!
This time I took a carefully considered position on the beach shooting as "head-on" as possible as hundreds of bikes streamed past flat out, with the pier and town making up a nice backdrop.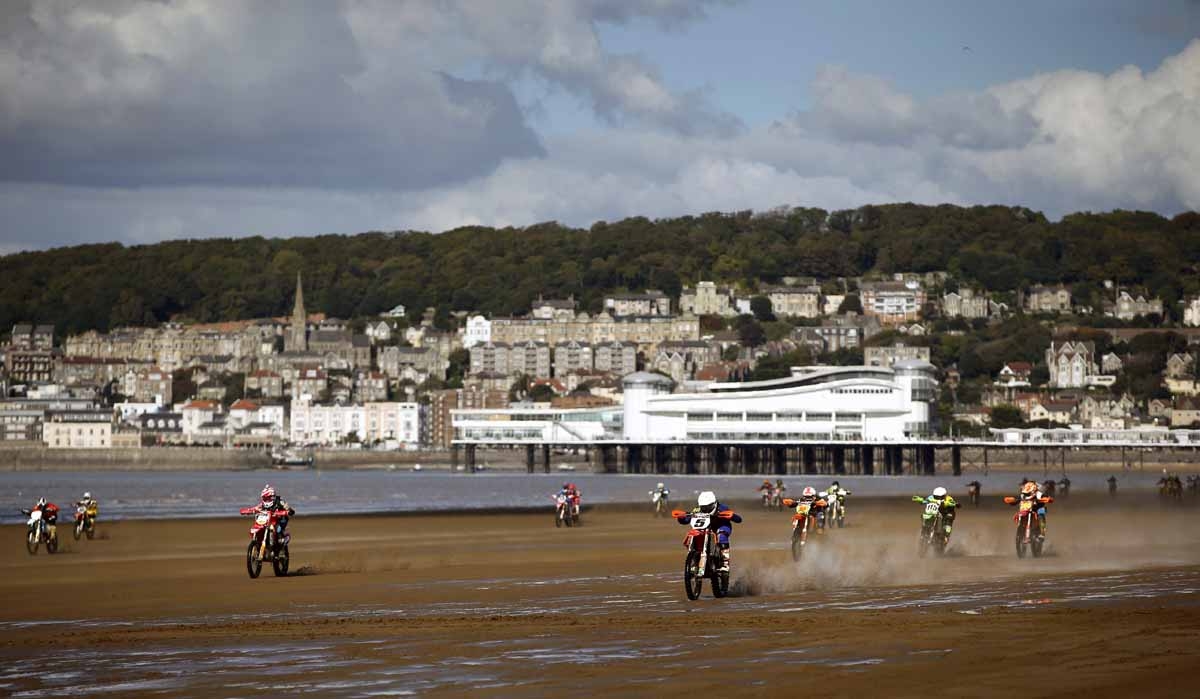 (AFP / Adrian Dennis)
Once the bulk of the riders passed, I hurdled a barrier or two, clambering my way to the top of a big dune. I sunk as I took each step and two or three steps only got you a couple of feet up the house-sized dune. I eventually made to the top, alongside a couple of hardy marshals, luckily before the first bikes arrived.
Looking back along the first section of dunes, I saw some riders perched and stuck at the top, while others were hidden in the dips, sending rooster-tails of sand flying into the air. Within a minute or two, the leading riders were climbing my dune, then headed down the steep side.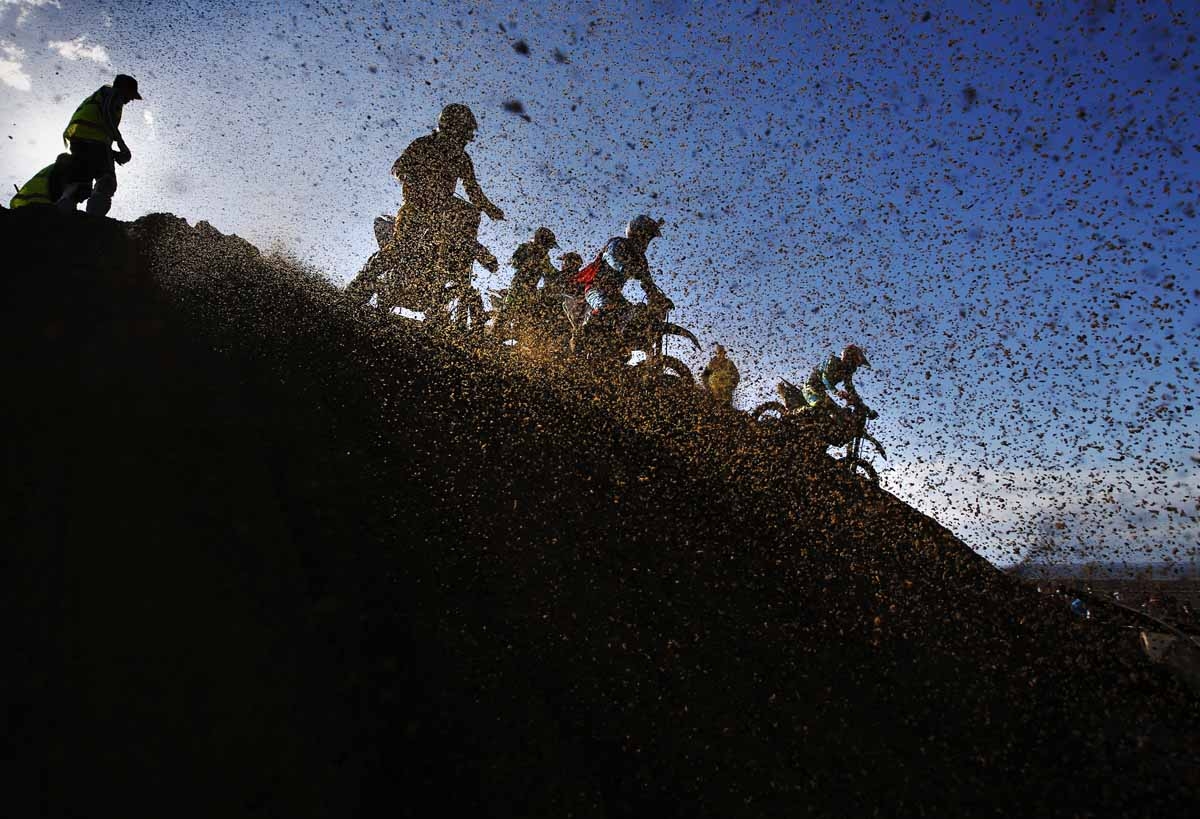 (AFP / Adrian Dennis)
As the pack approached, one rider got bogged down, his wheel swallowed by the soft rutted sand. Another rider fell, and then another toppled over. Revving engines, the air took on a tint of blue from the oil, sand flying past your face at a serious rate of knots. A slightly perilous place to be, but as famous conflict photographer Robert Capa once said, "If your pictures aren't good enough, you're not close enough." Anyway, mayhem ensued in a good way. But it didn't last too long – the spectators parted a few fences and the riders skirted around the side of the dune and onto the next one.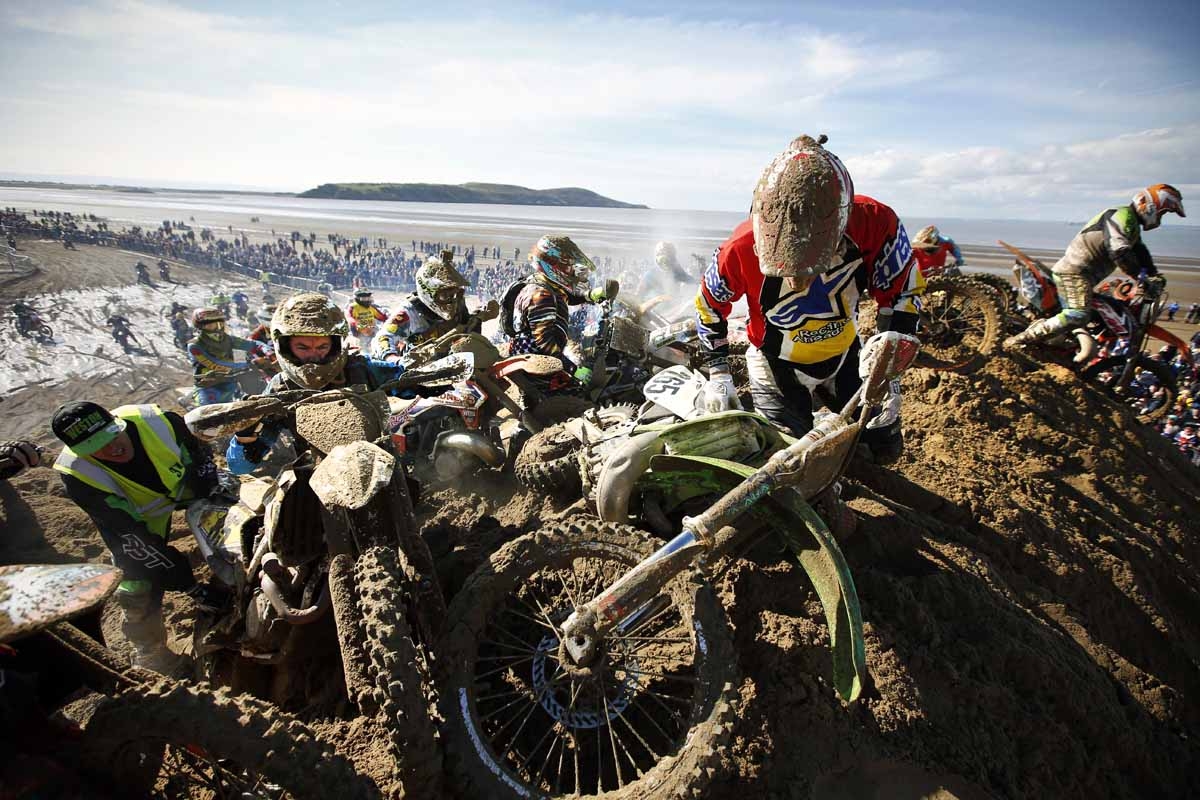 (AFP / Adrian Dennis)
Despite this being my fourth visit to the race I was shouldered with a couple of new experiences. On this occasion, I decided to bring my son, 11-year-old Finn to the race. Now, I recognize I'm lucky to enjoy my job that takes me to a variety of places and events. However, it can sometimes be a lonely existence. There's only so many times you can tell your mates down the pub about what a great time you had, "Oh yeah, I was at a fantastic event this weekend," blah blah blah before they slowly glaze over. It's nice to be able to share the experience.
So this time around, it'll be Finn boring his teacher or his mates in the playground about how he went to this amazing motorbike race, stayed in a 3-star hotel and got given free cans of WD40 oil every time he sauntered past a couple of young girls dishing them out to the racers in the pits. Plus I earned points in the "cool Dad" department. I'll take them while I can.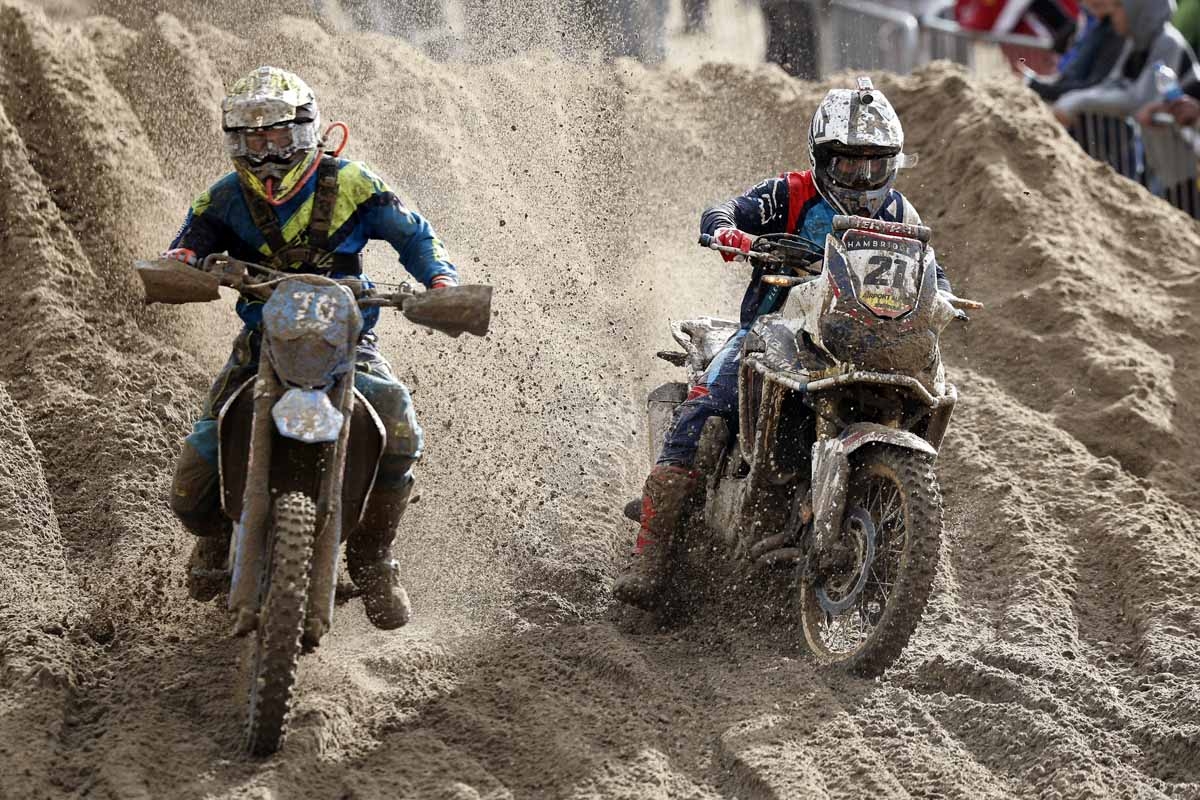 (AFP / Adrian Dennis)
Another new experience -- I was also tasked to shoot a video web clip for AFP. Now for those that don't know me, it's not really my normal cup of Earl Grey – however I'm actually beginning to like the taste! And as our business model changes in journalism I'm happy to go with the flow.
Although shooting video on long lenses without a tripod can be very tricky, I made do by wedging my camera through gaps in the metal fences lining the course and using the image stabiliser on the lens. But it sure is difficult trying to follow-focus motorcycles as they speed toward you!
Admittedly I was slightly anxious about making the video and in the end I made a decision to shoot only video on the adult quad race. Trying to mix your mediums with stills and video at the same time is a very difficult recipe to follow.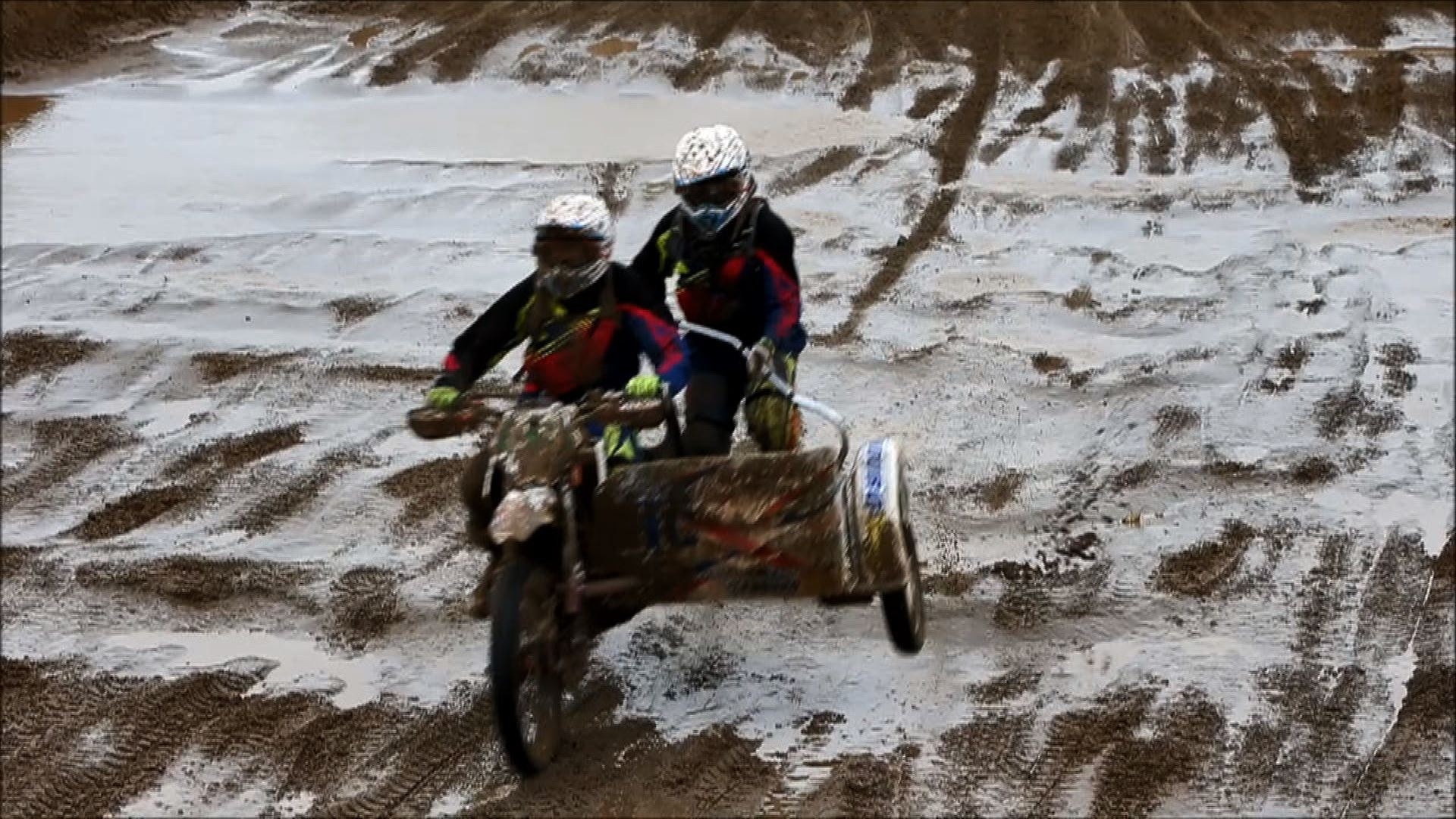 After the racing it was a brisk walk back to the hotel for a mammoth edit. An hour and a half later I had edited and transmitted my still pictures from the junior races earlier in the day and sent my "rough cut" video to an editor in London for final approval.
Upon closing the laptop lid, Finn and I were off for a long overdue evening meal, a "bargain bucket' while his mother wasn't there to sensibly suggest a healthier alternative. We needed to eat fast and back to bed for an early morning start covering the main race on Sunday.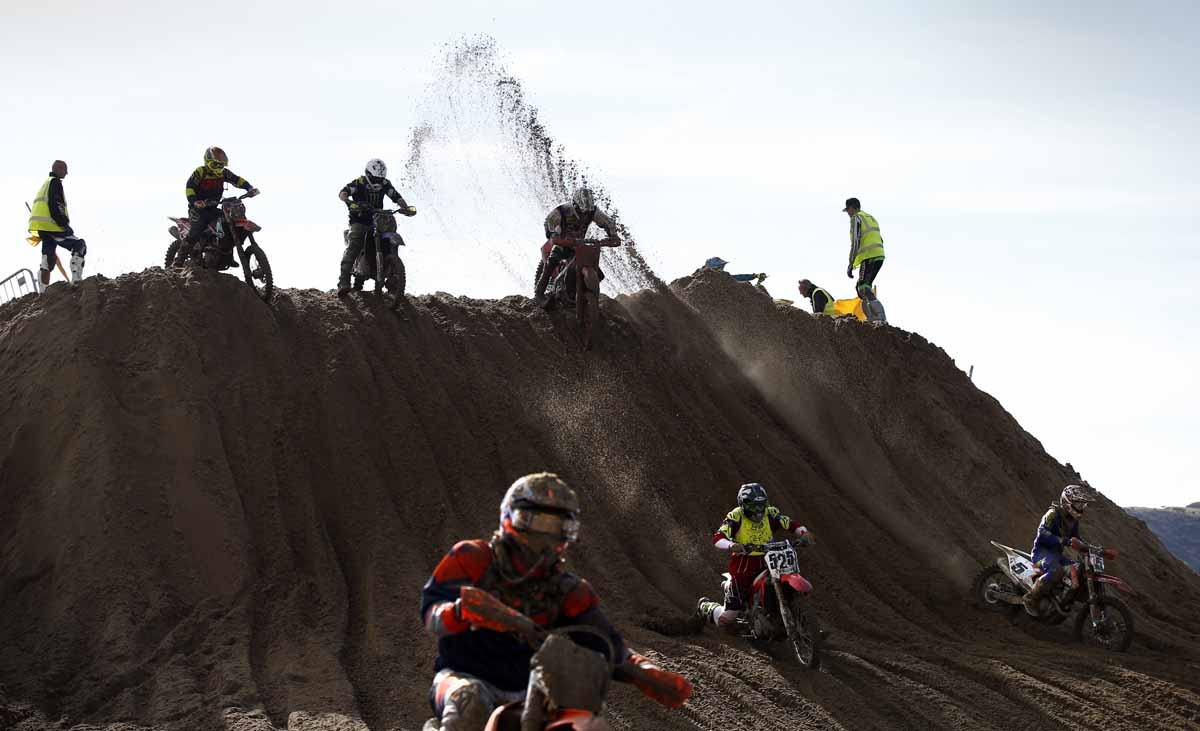 (AFP / Adrian Dennis)