The All Blacks blues
CARDIFF, United Kingdom, October 16, 2015 – For a rugby enthusiast like me, covering the World cup should be a dream come true and covering the best team in the world, the New Zealand All Blacks, should be a dream come true thrice over. 
Spending two months in England with the team should be the kind of assignment that makes your friends jealous, the type of assignment that I would fight to get again.
And yet, after a month of competition, to say that I'm hungering for more would be an overstatement.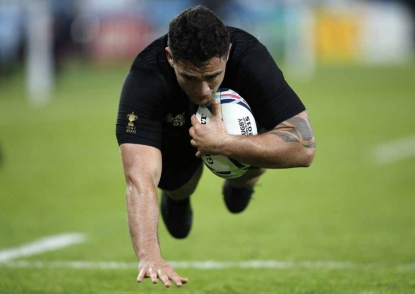 All Blacks hooker Codie Taylor scores. (AFP / Adrian Dennis)
I have been covering rugby as a journalist for some twenty years. In 1999, I covered the French team as they toured New Zealand, four years after rugby had become a professional sport. Back then, rugby still retained the warm side of an amateur sport that had been one of its defining features for some 150 years.
When there was no match the following day, we drank beer with the players  and often the revelry ended late in the night in our smoke-filled hotel rooms.
When I worked, it was not unusual for a top player to come up and look over my shoulder to see how I edited and sent my photos. We were part of the same world – we were all about the same age and had roughly the same salaries. France's 'Les Bleus' ended up being demolished by their hosts, but I still have warm memories of that tourney down under.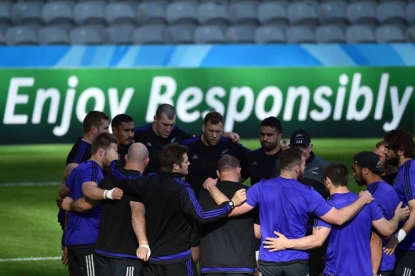 All Blacks huddle at the end of a training session. (AFP / Gabriel Bouys)
Fast forward to 2015.
To drink a beer with a player from a major team like the All Blacks, or to invite him to your hotel room to hang out is something completely inconceivable. Their hotel is guarded by an army of security guards and if we approach without authorization we are ejected immediately. When the players leave their guarded fortress, they do so staring at the ground, with earphones in their ears, without a glance, a wave or any sign of acknowledgement in our direction.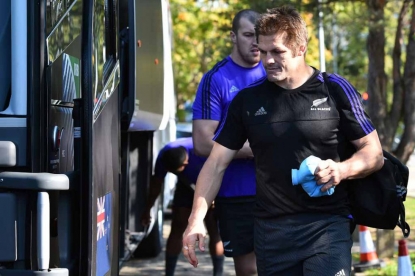 All Blacks captain Richie McCaw heads for a bus after training. (AFP / Gabriel Bouys)
Rugby World Cup rules state that all teams must allow the media in to their training for at least 15 minutes. That is the minimum. With the All Blacks, that is also the maximum. And not one second more.
A typical training session: The photographers line up with their equipment on the sidelines of the field, opposite where the players enter. The players come in and put on their cleats. Captain Richie McCaw starts the training by running a few 100 meter sprints, then takes a ball and throws it around with a few of his teammates, as cameras click away. The rest of the team arrives, one of the coaches gathers them for warm up exercises, and then…
"Thanks gentlemen, that's it!" booms the voice of the team's press service chief. The 15 required minutes have passed. We are chased off the pitch, frustrated and resigned. Only the official team photographer remains behind.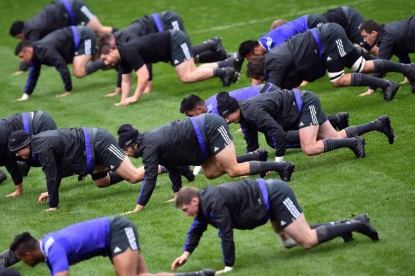 All Blacks at a training session. (AFP / Gabriel Bouys)
Everything is controlled, studied and analyzed with the current world champions, both on the field and off. All of the All Blacks communication is planned, orchestrated and disseminated by an intractable press officer. Same for their press conferences and for the rare outings into town, which are prepared well ahead of time. With the All Blacks, the head coach Steve Hansen or captain Richie McCaw rarely answer journalists' questions, delegating this task to assistant coaches or substitute players.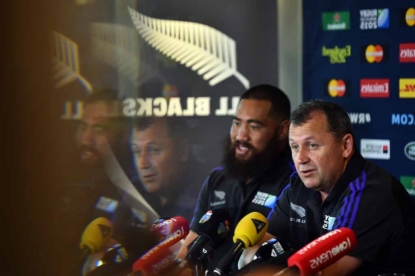 All Blacks assistant coach Ian Foster and prop Charlie Faumuina at a press conference. (AFP / Gabriel Bouys)
I am talking about the All Blacks because that's the team that I am covering during this World Cup. But the situation is basically the same with all the other teams as well. Their communication with the outside world is controlled with an iron fist by public relations people, who consider it a waste of time any contact with someone who hasn't signed a lucrative "exclusive" contract. The time allowed us during training sessions is so short that it's a challenge just to get a ball into a picture.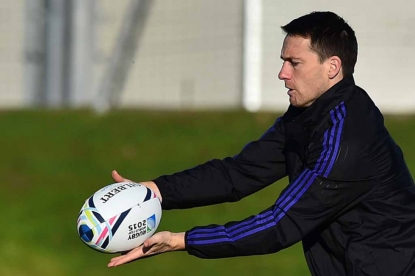 All Blacks fullback Ben Smith passes a ball during training. (AFP / Gabriel Bouys)
It's even more absurd since players are no longer allowed to wear sponsor material on their shirts during matches, so the training sessions are a time for them to display their sponsors' logos.
I have also covered several football World Cups, a universe governed by money, where, as everyone knows, draconian restrictions are imposed on media who don't pay for exclusive rights. There is nothing much that can be done about it in a sport that's followed by billions around the world and where enormous financial sums are at stake.
But rugby? A sport that interests fans in barely a dozen countries? I have an impression that national rugby federations don't realize the harm they are doing to a sport that has limited international reach by behaving with the arrogance of overpaid football stars. The next rugby World Cup will be in Japan in 2019 -- will it really be worth it for European media to invest a fortune to send teams of journalists so that they can find themselves in front of closed doors for two months?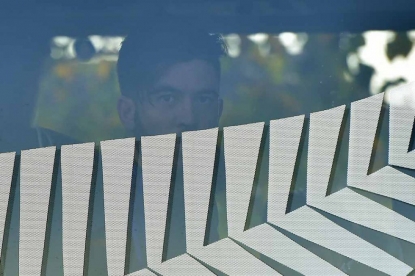 All Blacks wing Nehe Milner-Skudder leaves after training. (AFP / Gabriel Bouys)
Luckily there are still the matches, during which we are still able to work more or less in a way that we see fit. And there are also "small" amateur teams like the Romanians, Georgians and Uruguayans, in which there is less media interest and with whom relations are more sane and the atmosphere still warm.
As for me, after two months of covering the All Blacks, I won't be able to say whether Dan Carter is as well brought up as he seems, whether Richie McCaw is as charismatic as they say, or whether Sonny Bill Williams is as likeable as his reputation claims. And I imagine that most of the players on the big teams get bored in their fortress hotels and during their carefully-orchestrated promotional events. Which is a shame.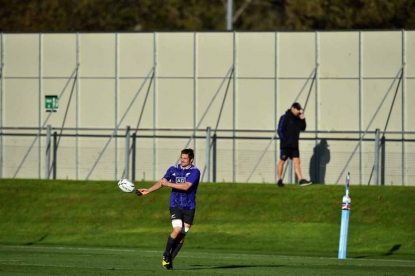 All Blacks captain Richie McCaw in training. (AFP / Gabriel Bouys)
During those rare times when I could witness some relatively unguarded moments with the All Blacks, I haven't been disappointed. Like when they visited a children's cancer hospital in Cardiff, putting a smile on the kids' faces. Or during rugby workshops organized by team sponsors, where the world's best players took real pleasure in being ambassadors of their sport to young rugbymen and women of London and Darlington.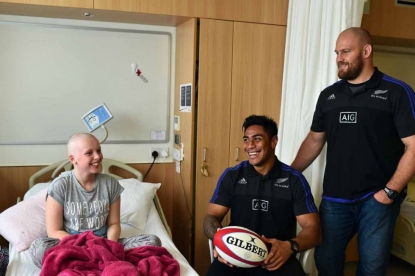 All Blacks players visit a children's cancer unit at a Cardiff hospital. (AFP / Gabriel Bouys)
It was during those moments that I told myself what a shame it was to see these giants of rugby behave like football divas, in order to satisfy a communication plan conceived by a public relations specialist….
Gabriel Bouys is an AFP photographer based in Rome. Follow him on Twitter @GABRIELBOUYS and on Instagram.
This blog was translated by Yana Dlugy in Paris.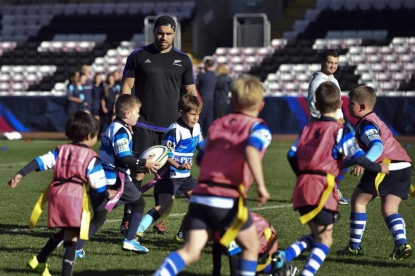 All Blacks coach young players in Darlington. (AFP / Gabriel Bouys)