Raining fire in Donetsk
DONETSK, Ukraine, February 3, 2015 – In Donetsk the sound of explosions is always there, in the background. Heavy artillery, mortar fire, rockets: after nine months of fighting, residents of the town held by pro-Russian rebels can tell most types of blast apart…. But without knowing, most of the time, who is bombing whom. Civilians try their best to go about their daily lives in spite of these shells that can fall from anywhere, at any time, striking people dead on the sidewalk.
For the past two weeks, AFP has had two teams of reporters in this part of eastern Ukraine: one alongside the Ukrainian government forces, the other on the separatist side. I am part of the second team, along with the photographer Dominique Faget, a local video freelancer, a fixer and a driver. Both Dominique and I have come from Paris, for an assignment to last a few weeks. We meet first thing each morning to go over the events of the night before, and plan the coming day. We travel in the same car, and we're together virtually all day, every day.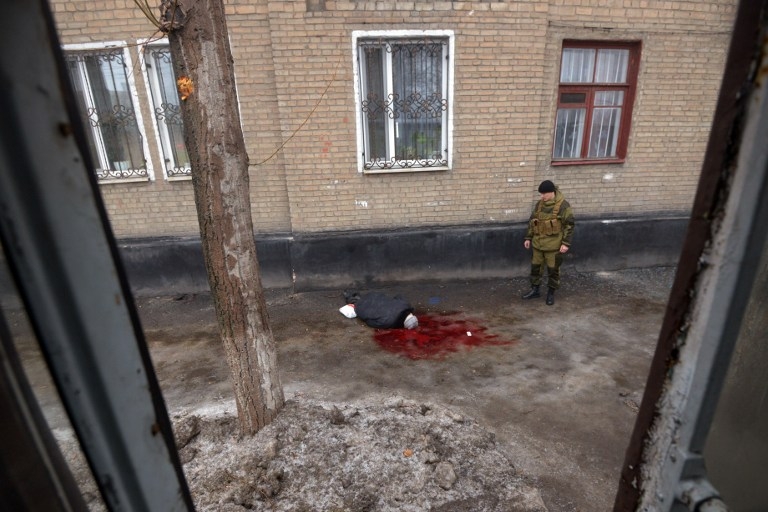 The body of a man killed by shelling in Donetsk's Kyibishevsky district, on January 30, 2015 (AFP Photo / Dominique Faget)
On January 30, we hear that mortar shells have hit the Kyibishev Palace of Culture, which is being used as an aid distribution centre. We put on our flak jackets and set off right away. But on the way, we come across a trolleybus at a standstill in the middle of the road and the bodies of two elderly people lying there, face down, in pools of blood. OSCE investigators are at the scene, taking pictures and measurements.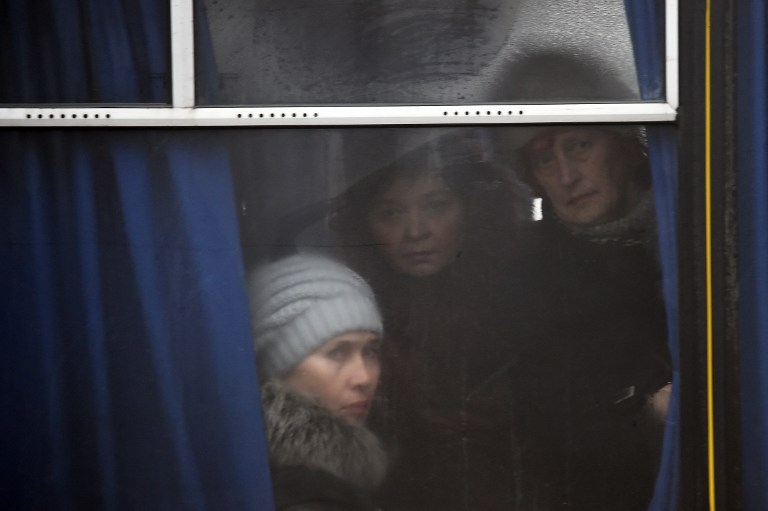 People look from a bus window at the body of a man killed by a shell in Donetsk on January 30, 2015 
(AFP Photo / Dominique Faget)
We stop. The situation is tense, we know we won't be able to stay here long. I head to find local people to interview while Dominique and the video reporter take pictures of the bodies in the street and the damaged trolleybus. The strike, I am told, took place half an hour earlier. At the gate to a nearby building, I approach a group of locals - who accuse the media of concealing the truth, a charge often heard here. I tell one of them I am here to describe what I see. "Come inside then," he says, inviting me up into his family apartment.
His wife shows me a bed surrounded by teddy bears – beneath a window that was taken out by a blast. The four-year-old boy was not hurt, but since then he has been sleeping in a bomb shelter. "For a week now, it's been getting worse. It's every day. It starts in the morning and continues until dark," explains the child's grandmother. "We tell the little one it's fireworks."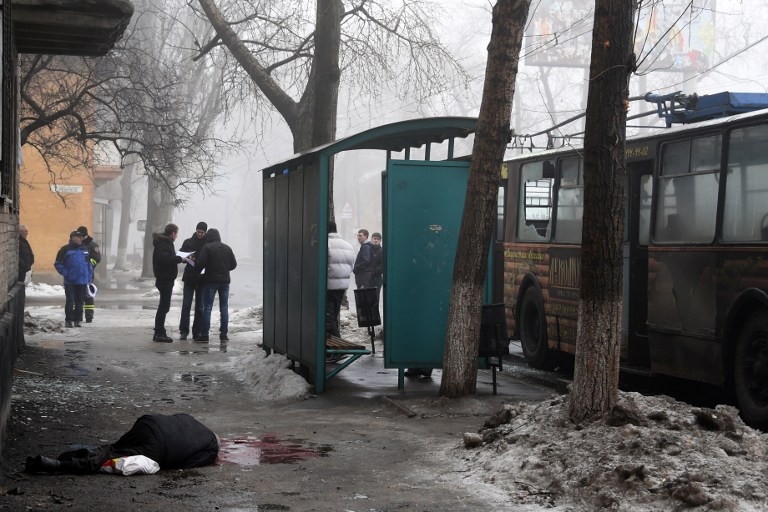 A man killed by shelling in Donetsk's Kyibishevsky district, on January 30, 2015 (AFP Photo / Dominique Faget)
Suddenly we hear the sound of loud explosions outside. My phone rings. It's Dominique. I pick up but can't hear him. I know Dominique - he's been covering conflict for more than 30 years, and he doesn't call for no reason. It's time for us to head to a quieter part of town.
The woman is still talking to me. "What are we going to do?" she says over and over. Unlike us, leaving is not an option. Out of respect I listen to what she has to say, taking down quotes carefully - especially since I know these will be the last I gather here. The phone vibrates again in my pocket. Time to go. I write down the woman's name, thank her, and head back out into the street. "Come on, let's get out of here," says Dominique.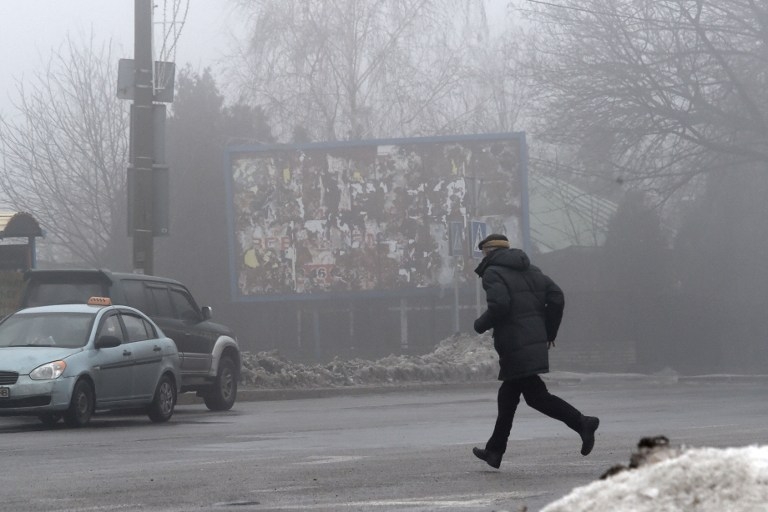 A man runs for cover in Donetsk's Kyibishevsky district, on January 30, 2015 (AFP Photo / Dominique Faget)
"When I heard the first whistle above my head, I did like everyone around me – I lay flat on the ground," said Dominique, afterwards. "I didn't even think to take a picture. When the second shell flew over us, I sat up a little so I could photograph the passersby who were sheltering behind a wall, with their hands over their ears."
"It goes without saying that in a situation like that, you are afraid."
I discovered on the way back his powerful images of panicked residents running in all directions, trying to find shelter however they could from the latest volley of mortar shells.
People take cover during shelling in a residential area in Donetsk's Kyibishevsky district, on January 30, 2015 
(AFP Photo / Dominique Faget)
The bombing is totally unpredictable. Sometimes we hear mortar shells being fired from very close by, while travelling through a residential neighbourhood. Like in many conflicts, weapons are positioned in inhabited areas. And when the enemy responds, there are inevitably civilian casualties.
It's impossible to know where the incessant bombing is coming from. The separatist fighters patrolling the streets with their Kalashnikov rifles accuse the Ukrainian army, which is shelling the airport a few kilometres away, or Ukrainian "saboteurs" who they accuse of seeking to terrorise the civilian population.
But it's easy to imagine some of the deadly fire coming from the separatists themselves, since they too are using Grad rocket launchers with a particularly poor aim. Each camp invariably blames the other.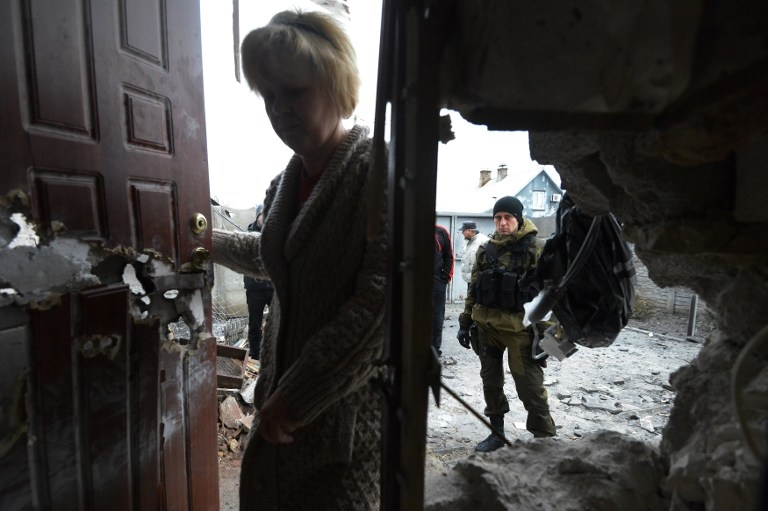 A woman enters her house on February 1, 2015, after it was hit by shelling in the Donetsk suburb of Makiivka 
(AFP Photo / Dominique Faget)
The continuous shelling, late into the night, is very impressive at first. Then you get used to it. You need to be aware of the danger, without being obsessed by it. Sometimes you also have to count on your lucky star. The other day we were close to the front line, near Debaltseve. After meeting with separatist fighters in a residential area, we went to spend some time with local people sheltering in a basement.
As we came out, we discovered the place we were at 20 minutes earlier had just come under heavy bombardment. We were lucky. But better not to dwell for too long on such things, or you'll be paralysed by fear.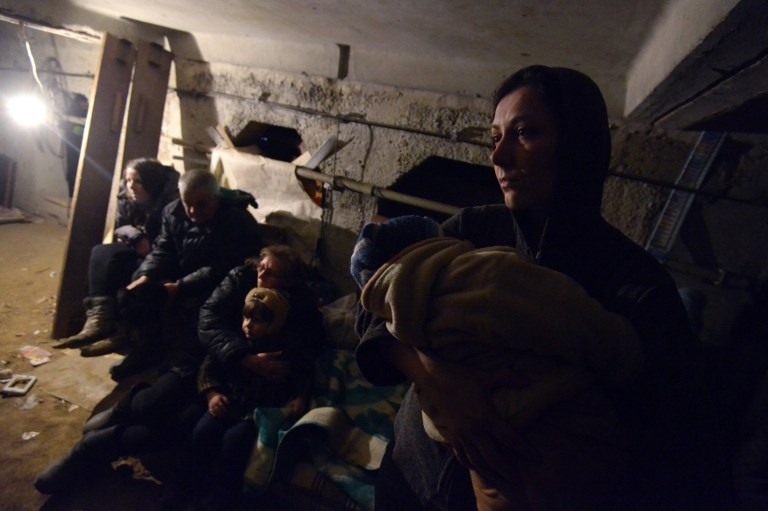 People wait in a shelter during shelling in Enakieve, Southwestern Debaltseve on January 29, 2015 
(AFP Photo / Dominique Faget)
We also tell ourselves that with our flak jackets and helmets, and the prospect of returning home soon, we are infinitely better off than the civilians we see all around us. The risk we run is real, but temporary. Long after we leave, they will still be forced to go about their lives, venture out onto the streets, all the while hoping they do not end up face-down, killed by a shell fired blindly out of nowhere.
Simon Valmary is an AFP reporter based in Paris