A rail ticket to Europe
SOFIA, July 22, 2015 – Early this month my work took me from Sofia to the far east of Bosnia for the anniversary of the 1995 Srebrenica massacre. Before heading home I took the chance to stop in Serbia and see for myself the migration of hundreds of people heading north towards the European Union.
I had heard of - and my AFP colleagues had reported on - the many migrants crossing into Serbia from Macedonia, bound for the Hungarian border. For much of their arduous journey from the Middle East and further afield, these families travel on foot.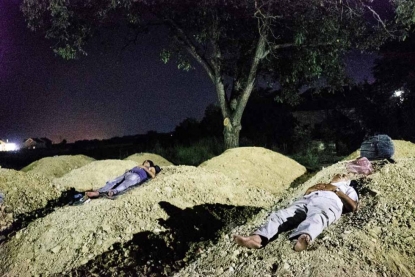 Migrants sleep in the southern Serbian town of Presevo, near the border with Macedonia on July 16, 2015 (AFP Photo / Dimitar Dilkoff)
In Macedonia for example they were banned from taking public transport, until the authorities recently changed the rules. In Serbia, they can take a train or bus to get to the Hungarian border – but to do so they must obtain a 72-hour transit pass from the authorities. In the town of Presevo, the first they reach after crossing from Macedonia, the authorities have set up a huge camp – housing maybe 1,000 people, maybe more – to accommodate the waiting crowd.
Migrants are pictured through a window as they wait for papers at a centre in Presevo on July 15, 2015 (AFP Photo / Dimitar Dilkoff)
Many were exhausted after a two- or three-day wait to get permission to travel – some staying inside the migrant centre and others sleeping rough. Without the permit the police would arrest them, and send them back to Presevo. This was also in the middle of a heatwave – with temperatures of 35 degrees. It's very tough on them.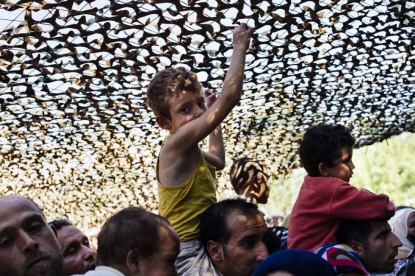 Families wait to apply for asylum and legalise their stay in Serbia for 72 hours, at a migrant centre in Presevo on July 16, 2015 (AFP Photo / Dimitar Dilkoff)
I heard there was a train soon to leave for Subotica in the far north of Serbia, so after two days in Presevo I made plans to catch it to document the migrants' onward journey. In the end it turned out there were only six people on board, so I changed plans and took a train linking Thessaloniki to Belgrade – which was full of migrant families.
There were perhaps 70 to 100 migrants who boarded in Presevo for the 10-hour journey, some travelling in groups, some alone – many were families, with young children and even babies. I also photographed a group who boarded a train from Nis to Belgrade.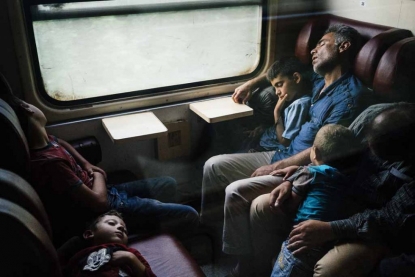 Migrants sleep on a train heading north from Nis to Belgrade, early on July 18, 2015 (AFP Photo / Dimitar Dilkoff)
We spoke a little as I asked permission to photograph them – enough to hear that they were from Syria, Afghanistan and Pakistan. They didn't say exactly where. Many were trying to get to Germany and Sweden, and some of the Pakistanis to Italy.
It was worth spending time documenting this phenomenon – these migrations towards the European Union are quite simply the biggest news story in the Balkans right now. The number of people stopped crossing the Serbia-Hungary border alone has jumped by more than 2,500 percent in five years, from 2,370 to more than 60,000, according to Amnesty International
A young migrant from Syria sleeps on a train from Nis to Belgrade, early on July 18, 2015 (AFP Photo / Dimitar Dilkoff)
My feeling is that many people here in the Balkans have forgotten that their own grandparents were migrants in the 20th century. They have forgotten the lives of their forebears.
I have seen people with very good intentions, helping migrants by giving them food and water in Presevo and elsewhere. But there are also many people in the Balkans who view them as enemies – not just Serbians or Macedonians or Bulgarians but people all across the region.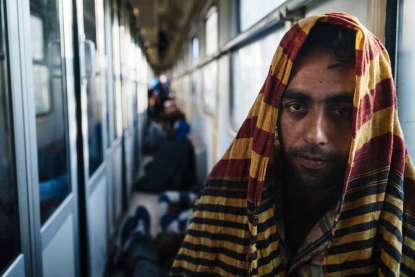 A Pakistani migrant travels on a train bound for Belgrade, early on July 18, 2015 (AFP Photo / Dimitar Dilkoff)
That partly reflects anti-Muslim prejudice in parts of the Balkans. Most of these migrants come from Muslim countries and people say they are terrorists, members of the Islamic State group.
That, in any event, is the fantasy, what people imagine from afar. Because when you see these people it is plain – to me anyway – that they are just ordinary families making a long and difficult journey.
Dimitar Dilkoff is an AFP photographer based in Sofia. This post was written jointly with Emma Charlton.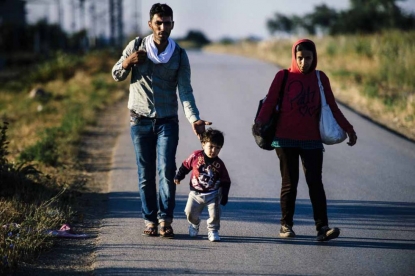 A migrant family walks on a road near Presevo on July 15, 2015 (AFP Photo / Dimitar Dilkoff)