Myanmar's elusive gift from god
Mogok, Myanmar -- Ever since I was a little girl I had dreamed of going to Myanmar's famed ruby mines of Mogok. My father was a gems dealer and I would spend hours watching him cut and polish the raw stones until they sparkled. Yet however much I nagged, he always refused to teach me the trade.
"Gems are a dangerous business," he would warn. "Once you know their secrets you will never escape them."
So when I -- all grown up and a journalist -- got a chance to visit the secretive mines hidden in the valley north of Mandalay,  I jumped at it. But getting to know the secrets of the mines that produce more than 80 percent of the world's rubies proved challenging at best.
"No strangers allowed," warned the red signs beside the narrow door. Barring our way, a guard stared at us with narrowed eyes, deaf to our pleas to enter.
This was third time that day we had been turned away from the mines. Our team -- I, a photographer and video journalist -- had already spent hours driving down winding roads and traipsing around the valley, trying to interview actual miners about what they do, to no avail.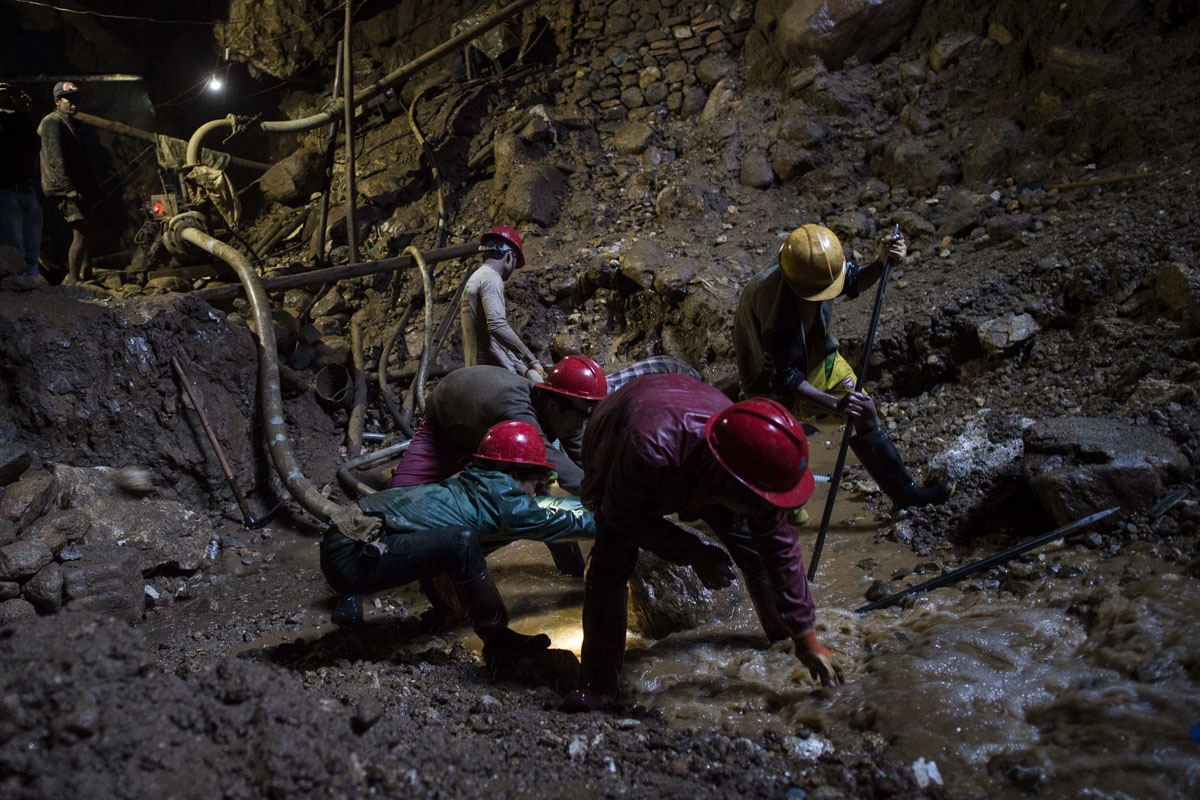 (AFP / Ye Aung Thu)
Myanmar's rubies are famous for their unique 'pigeon-blood' colour and can fetch millions at auction. Burmese believe they can protect you from misfortune and ill health.
But for decades this mist-shrouded valley had been closed off by Myanmar's military government, which exploited its huge treasure trove of gems to keep the generals in power and enrich their friends. The ruby industry was deemed so corrupt that the US barred imports in a bid to starve the junta of funds.
That has been slowly changing since democracy icon Aung San Suu Kyi's party won power last year. Washington lifted the sanctions in October and US buyers are now hungry for Burmese rubies. Foreigners can visit the town of Mogok -- with official permission -- and the government has restricted mining permits in a bid to enforce higher environmental standards.
I first visited Mogok in 2010 to report on a faction of Suu Kyi's National Democratic Party that had broken with the rest of the group to stand in that year's elections. The poll, the first in 20 years, was widely seen as a sham designed to cement the military government's power.
Back then the town was a very different place. Visitors rarely ventured into the valley and the small market in the centre was practically empty. The few sellers on the street watched me so suspiciously I didn't dare take out my camera.
But returning late last year I found a new spark of optimism in the air. Crowds thronged the dusty streets, a handful of Western tourists mingling with Burmese, Thai and Chinese shoppers as they examined the gems being sold carefully arranged on small, cloth-covered tables.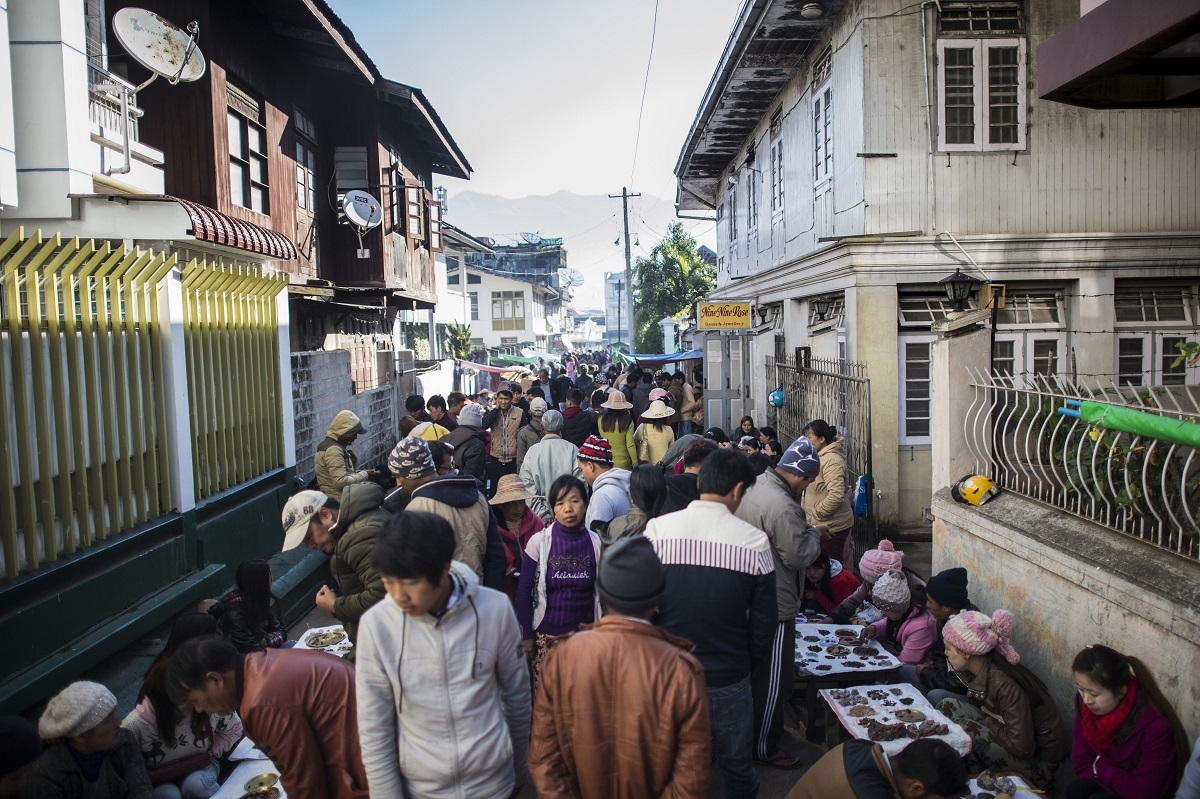 (AFP / Ye Aung Thu)
Behind the tables laden with the treasures sat women wrapped up in thick jackets and wooly hats against the cold, each one eagerly bartering over piles of uncut rubies, sapphires and amber. Many expressed hope that the end of US sanctions would mean a new influx of rich Americans who would change their fortunes forever.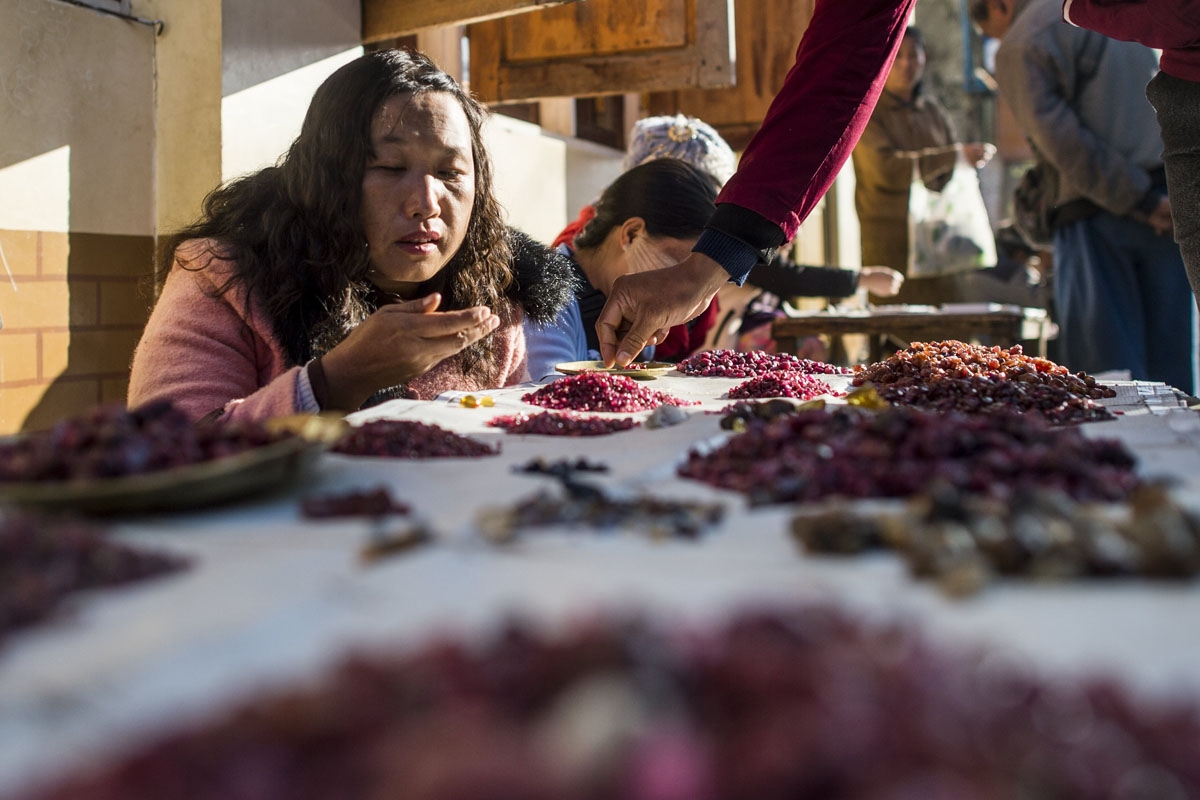 Trading in gems, November, 2016. (AFP / Ye Aung Thu)
The stones on offer were found by locals who work in the smaller mines, or spend their days sifting through waste dumps by hand. For generations this was the only type of mining in Mogok, until the junta allowed in private companies in the 90s. Today many use heavy machines and even dynamite to search for ever deeper veins of gems.
For the locals, all their hopes and dreams can rest on a single stone. Most miners spend their whole lives digging, hauling rocks and sifting through the mud for a few dollars a day in the hope they will find the gem that changes their life. In the end, though, it ultimately comes down to luck.
Locals believe the myriad jewels hidden in Mogok's gem-rich soils -- among them sapphire, spinel, topaz and many others -- are a gift from god. Your fortune in the mines is governed by your karma, so you will only find a valuable stone if you pray to the spirits and live a good and holy life. If not, you will never find one no matter how hard you look.
(AFP / Ye Aung Thu)
During our trip, I began to understand how important luck could be in this valley. I had arranged with a contact to visit one of his mines before we left Yangon, a rare opportunity to get a first-hand insight into an industry long controlled by the military.
I, photographer Ye Aung Thu and video journalist Phyo Hein Kyaw set off early from Mandalay for the seven-hour drive. We had originally hoped for a comfortable ride along the 'new' road, built just a few years ago to link Mogok with the tourist hotspot of Pyin Oo Lwin. But that plan was abandoned after a new outbreak of fighting between an ethnic armed group called the TNLA and Myanmar's army not far from our route.
Instead we ended up taking the old road -- a narrow, winding thoroughfare that snakes through forested hills and into the clouds. Cresting the final peak we were met with a stunning sight: golden pagodas peppered the hills, which were carpeted with wild sunflowers, while on the valley floor a lake offered a gentle mirror to the deep-blue sky.
But at the time my mind was on other things. Despite the assurances of my contact that we could film inside his mine, the manager was acting cagey and refusing to let us visit.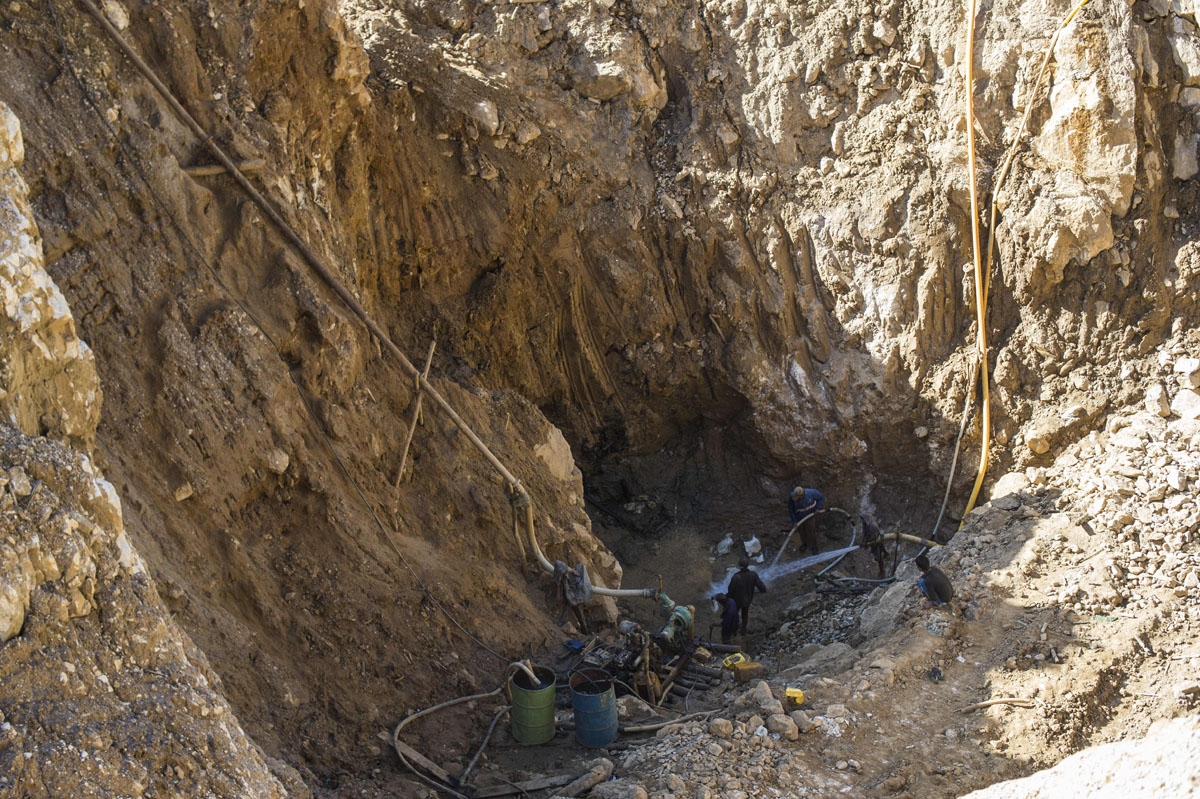 (AFP / Ye Aung Thu)
 Our target was a joint-venture between a private company and the Myanmar Gems Enterprise -- a state-owned enterprise run by former military men. It, along with the army's sprawling holding companies, are thought to control how gems are sold and who gets mining permits.
Little surprise then that the manager was not keen to let journalists unearth his secrets. Only after three hours trying to convince them we wanted to do a portrait of miners' lifestyles did he finally give away enough information for us to locate the mine.
Once there, it took more hours of tea drinking and chatting before he let us leave the small shed that functioned as his office. The light was already fading as Ye Aung Thu and Phyo Hein Kyaw began their climb down a steep rocky slope into the darkness, sliding over loose rocks, their equipment in hand.
Inside workers toiled in the semi-dark, digging up rocks with metal poles and sifting through earth dislodged by a high-pressure hose with their bare hands. Steam from their breath condensed in the freezing air. Despite the sub-zero temperatures, many of them wore only shorts and galoshes in the icy water.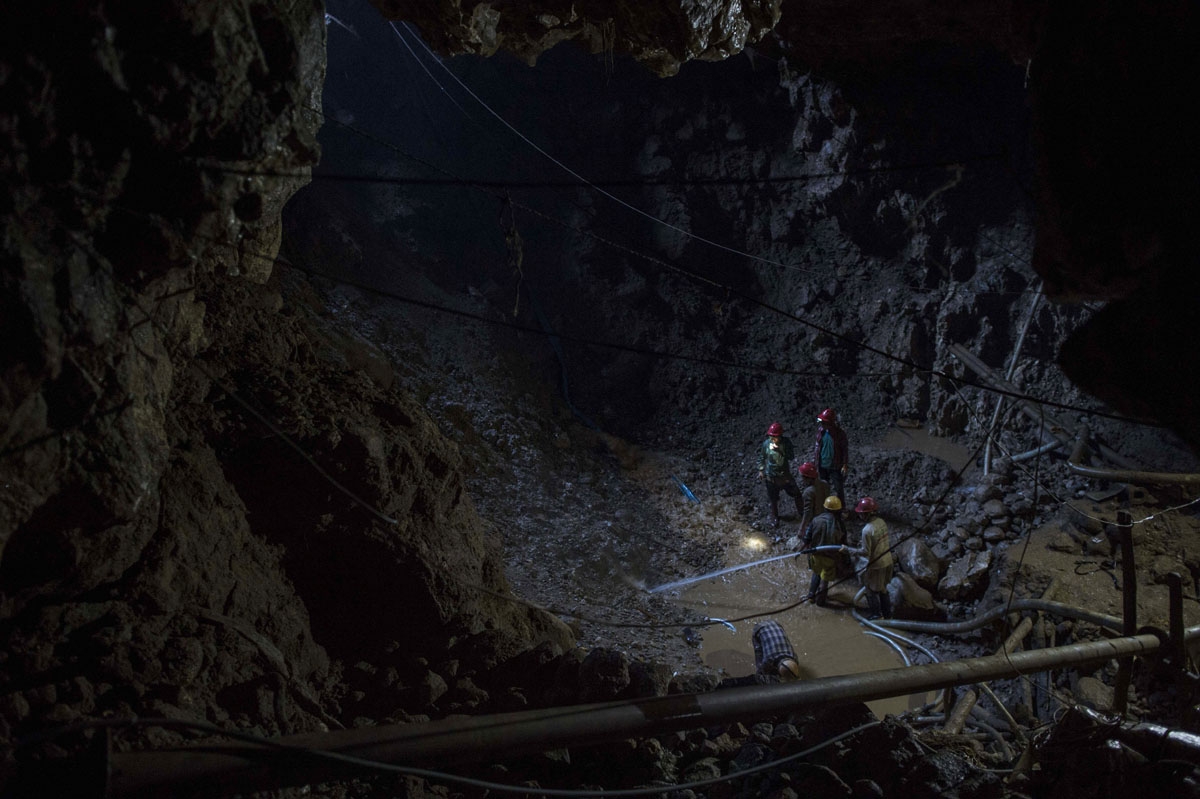 (AFP / Ye Aung Thu)
But still we had no interviews with miners. So, the next morning we joined a local official and tried to visit the other mines. But as soon as they saw our cameras they immediately clammed up -- secrets are power in this business after all.
It was only on our last afternoon that we had a stroke of luck: the owner of the open-cast pit next to where we first visited agreed to let us film. We rushed back to take our chance. The main managers still watched us with suspicion, but finally we managed to convince one fidgety teenage miner to go on camera.
As I listened to him describe how he prays each week for luck to find a big stone, I breathed an inward sigh of relief: finally we had unearthed our own gem. But now that I've discovered some of Mogok's secrets at last, I just hope my father's warning won't come true and I'll be able to escape them.
This blog was written with Caroline Henshaw in Yangon and Yana Dlugy in Paris.