The micro houses of Ho Chi Minh City
HO CHI MINH CITY -- Many people say that I'm very good at talking to ordinary people; poor people, like the ones I grew up with in my village. I get along well with ordinary people, with people in the streets. It's easy for me to get to know them and I can persuade them to open up to me.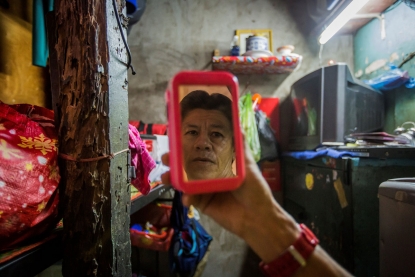 Pham Quoc Cong poses inside his two-square-metre home in Ho Chi Minh City on May 2, 2018. (AFP / Thanh Nguyen)
I enjoy taking photos of ordinary people and labourers more than of officials, because I want to know more about their lives. That's what interests me.
I come from a poor village myself, in the suburbs of Hanoi. The soil there is not that fertile, so it's poor. It's poor, but very peaceful. I like the peaceful atmosphere there… it's an ancient village and even today it's not that urbanised.
When I first came to Ho Chi Minh City, I wanted to learn more about regular people who lived in the city, in order to learn and experience new things. For example, I used to complain about the difficulties in my life all the time, but after photographing Ho Chi Minh City's microhouses, my views have changed a bit.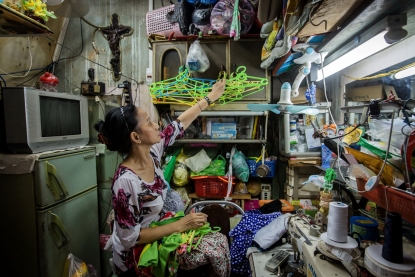 Nguyen Thi Kim Ngoc arranges clothes hangers in her 6.7-square-metre home in Ho Chi Minh City on May 3, 2018. (AFP / Thanh Nguyen)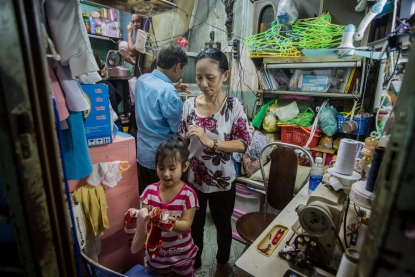 Nguyen Thi Kim Ngoc and her husband Nguyen Van Truong with their granddaughter in their 6.7-square-metre home in Ho Chi Minh City on May 3, 2018. (AFP / Thanh Nguyen)
I grew up in a family with four siblings. My mother is a farmer and my father used to be driver of a cyclo, a three-wheel bicycle taxi that used to be ubiquitous in Hanoi. When my father was younger, he earned quite a lot from cyclo driving, enough to support the entire family. We even had enough to move to central Hanoi. But then city authorities banned the cyclos and my father returned to our village to work as a farmer. I was a student then and a text stringer for a local newspaper; I stayed in the city to continue my studies and to work.
I've been in Ho Chi Minh City for around a year and a half now. A few months back, a friend and I visited the slum areas, known as Districts 1 and 4. That's when we saw the microhouses. I thought they would make a good story, so I proposed the topic to the AFP bureau chief in Hanoi.
The project took about two weeks to complete. At first I just came to talk to the people living in the houses, explaining my idea for the project and getting to know them. They weren't convinced at first, it took several visits over a week.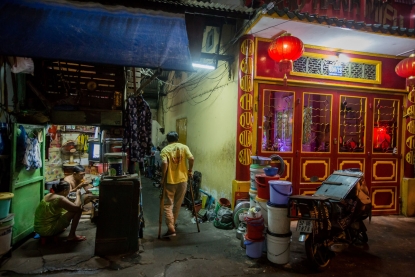 Kha Tu Ngoc and her husband Pham Huy Duc in their two-square-meter house in Ho Chi Minh City on May 2, 2018. (AFP / Thanh Nguyen)
My first day of shooting was a bit awkward because the people didn't really trust me and weren't comfortable with me around. But when I came back a second time, I made sure to bring some of the pictures that I took on my first visit and to hand them out. It was my way of winning them over. And it worked -- they seemed to like the photos and seemed to loosen up a bit. I made another handful of trips, always making sure to chat to the people before entering their houses to take pictures.
Taking pictures inside presented its own challenges. I don't have a 16-35 mm lens, so I had to borrow one from a friend. I thought it would be easy to take photos inside, especially from above. But when I was actually inside the houses trying to do it, I realised that it wasn't as simple as I thought.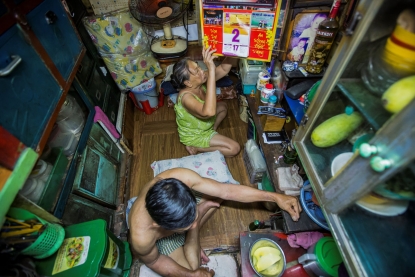 Kha Tu Ngoc and her husband Pham Huy Duc prepare for dinner in their two-square-meter house in Ho Chi Minh City on May 2, 2018. (AFP / Thanh Nguyen)
The houses were so small, it was hard to get a good position. I tried to take photos from all possible angles -- from outside in, from inside out, from the floor. Luckily, I had a Ricoh camera that was small enough to fit in the very small gap between the wooden planks. It was a good thing that I had that Ricoh because I couldn't really do anything with a big camera.
Taking pictures also involved some odd positions. At one point, I borrowed a wooden ladder, climbed up on the outside of the house, and stuck the camera inside the gaps to take pictures. It was a very weird position, to say the least.
The most common question that I got was -- will your pictures lead to any changes? I tried to explain that my job as a journalist is to cover the news and daily life.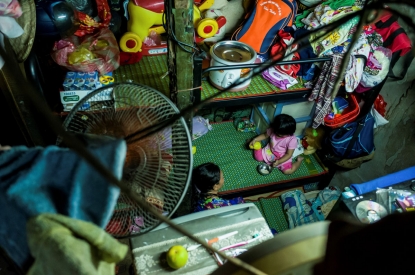 A woman and her child inside a relative's two-square-metre house, May 2, 2018. (AFP / Thanh Nguyen)
When I started taking the pictures, I couldn't imagine why anyone would want to live in such a tiny house, so small and stuffy, a house that can only fit two people. But gradually, I understood.
There were people who said they were living here because the area was so familiar to them -- here they had jobs, neighbours, everything necessary for daily life like a market and health clinics. They couldn't imagine moving to the countryside and having space but being in the middle of nowhere. Here, they had a community inside of an active, vibrant city.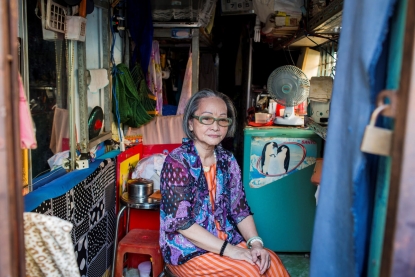 Nguyen Thi Tanh, 75, inside her her 6.7-square-meter home in Ho Chi Minh City on April 24, 2018. (AFP / Thanh Nguyen)
I think some of the areas will be demolished sooner or later and will be turned into a trading centre. But it takes time because it involves compensating residents, because the people here really need money. But I believe that in the future, several areas will be demolished and people must change to other areas, larger areas.
I think that eventually at least some of these areas will be demolished and turned into shopping malls. And to tell you the truth, I won't be sorry to see this happen because then the people living here will have a better life and will get compensation to move to a better place. I would hate to have a situation where they stay here and photographers like me keep taking pictures of their living conditions.
This blog was written with Yana Dlugy in Paris.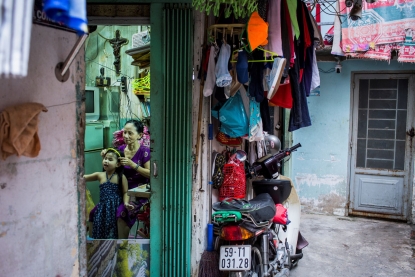 (AFP / Thanh Nguyen)