Falling for a lie
KIEV -- I am about to put my toddler boys to bed when I get the phone message that makes my heart sink and throws me into deja-vu. "Please let him live, please let him live," flashes through my mind.
The message is from the Moscow bureau and it says that a Russian journalist, Arkady Babchenko, who had fled to Kiev after getting death threats for his anti-Kremlin views, had been attacked. The source is Russian media quoting a local journalist.
My hands shake as I open up Facebook on my phone and laptop. The journalist's page says that his friend Arkady was wounded after being shot in the back, and was being taken to hospital. "If he is being taken to a hospital, that means he is alive and there is a chance that he will live. Please let him live," I think.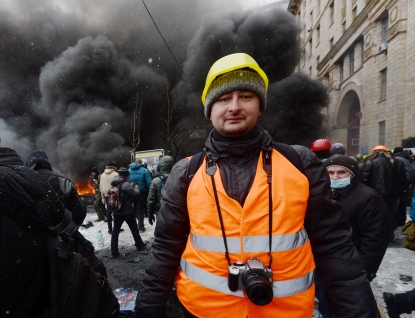 Russian journalist Arkady Babchenko on the Maidan in Kiev, January, 2014. (AFP / Vasily Maximov)
But hardly do I think the thought that I see media reports saying the Ukrainian police have announced that Arkady is dead. "I can't believe this is happening again," I think. I call the police spokesman, who confirms the news. Then I call the Moscow bureau so that it can give the first alert of the death. I can't stop my hands from shaking as I start to type the story into my computer. I can't believe this is happening again.
Less than two years ago, another prominent Russian journalist and Kremlin critic living in Kiev, Pavel Sheremet, a guy full of life and a friend's boyfriend, was killed when a bomb exploded in his car in the morning 500 meters from my house. And now this.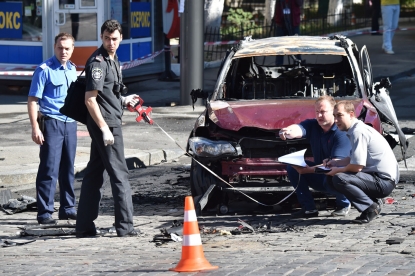 Ukrainian law enforcement officials examine the charred car of journalist Pavel Sheremet after he was killed in a car bomb in Kiev, July 20, 2016. (AFP / Sergei Supinsky)
Pavel Sheremet's funeral in Kiev, July 22, 2016. (AFP / Sergei Supinsky)
"Babchenko has been killed," I say to my husband, a former war reporter in Russia. He turns pale and takes the boys into the bedroom to put them to bed and let me work. And I get to the familiar work of reporting and writing about the death of another journalist in Kiev -- calling police, government officials, monitoring other media, keeping an eye on my Facebook feed, writing copy.
As I work, a thought passes -- odd that Babchenko's wife hasn't appeared on any of the countless photos or videos from the crime scene. Nor has she made a statement. Police say that she was inside the apartment when her husband was shot at the front door. But she hasn't said anything to anyone. Not even ATR television, where Babchenko worked. The Kiev police chief says that she is too much in shock to say anything to anyone. That makes sense, I say to myself, push the thought away, and continue working.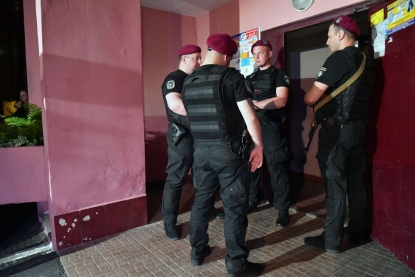 Policemen stand guard at the entrance of the building where Babchenko lived and was alleged to have been killed, May 29, 2018. (AFP / Sergei Supinsky)
An hour after police announced Babchenko's death, a former Ukrainian reporter with good connections within the police posts on Facebook a photo of what appears to be Babchenko's body. It's a photo of a bald man lying in a pool of blood. He doesn't say where he got the photo from, but it is quickly picked up on social networks and by some media outlets.
There is something about the image that bothers me. It seems to have been taken from inside the apartment. Why would you take a photo of a guy who has just been shot, instead of offering first aid? And who gave the photo to this guy? Most likely, the police, maybe one of them took it with a mobile phone. But why give it to this guy? Odd, I think to myself, but quickly push the thought aside as there is a lot of work to do.
I finish around midnight, but can't get to sleep. I never met Babchenko, but his murder is personal for me. Kiev's journalist community is fairly small, so an assassination of a colleague hits you hard. Especially when it's another journalist critical of the Kremlin who had come to Kiev to seek safety.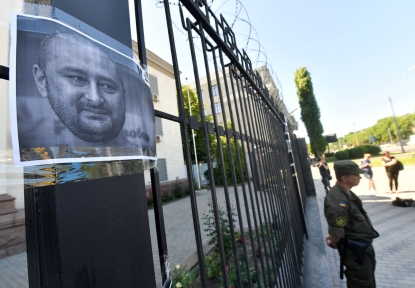 Ukrainian National guard servicemen stand in front of the Russian embassy in Kiev, where portraits of Arkady Babchenko were put up following his "murder," May 30, 2018. (AFP / Sergei Supinsky)
The next day, everyone at the office is in a bad mood. The consensus is that the murder will never be solved, just like Pavel Sheremet's was never solved. I don't know it at the time, but a group of local journalists have already decided to investigate the killing themselves, not trusting the authorities, and have formed a closed Facebook group for that purpose.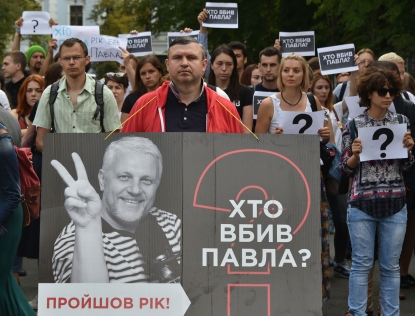 A man carries a sign reading "Who killed Pavel?" on July 20, 2017, during a commemoration a year after Pavel Sheremet's murder in Kiev. a year has passed, who killed Pavla? (AFP / Genya Savilov)
The prime minister issued a statement on the murder shortly before midnight, but the president's office is still silent and I nearly get into a huge fight with the spokesman -- "what is taking you so long to have a reaction to this?!" I demand.
Local journalists put out a call on Facebook for a meeting later that evening at the Maidan Square in central Kiev to commemorate Babchenko.
At 5:00 pm the SBU security service holds a press conference on the murder. It's televised live, so I follow it along with my colleague Sasha Savochenko, a soul so gentle and calm that I've never heard him swear -- not a common characteristic among Kiev's press corps.
When the SBU official lays the blame for the murder on Russia, I send an alert and Sasha, who is recording the press conference, rewinds to get me the exact quote.
As he listens again to the recording, I get a message on my computer from the Moscow bureau. "He is alive?" an editor asks me. I don't really know what he is talking about -- does he mean the murderer? Is the murderer still alive? I glance at the screen of the Ukrainian press agency and rub my eyes, to make sure that I'm seeing straight. "Babchenko is alive" they write.
"Sasha!" I scream. "Apparently Babchenko is alive!"
He looks at me like I've gone mad, then looks at the computer screen with the live presser, and yells: "He is there! He is there! Babchenko is at the presser!"
And with that phrase, he unleashes total chaos in our little office. I send a new alert. We scream, we swear. Even Sasha is swearing. We are incredulous, stunned, flabbergasted. And so relieved. He is alive! We are drowning in work and can't type our stories fast enough -- the death was a set-up by the Ukrainian security services; they say they received information of a Russian plot to murder Babchenko and the only way to foil it was to stage his murder. Babchenko says he went along.
Babchenko's "commemoration" on the Maidan quickly turns into a celebration of his "return." Dozens of journalists gather there in the evening. I come to write a story about the celebration. Everyone has a huge smile on their face. People hug, clink plastic cups raising toasts to Babchenko's health, take selfies.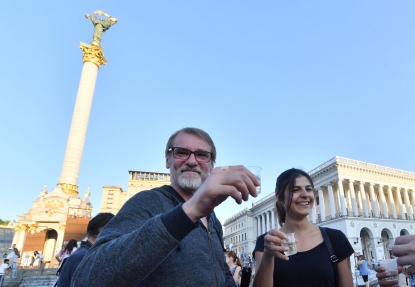 Celebrating Babchenko's 'return from the dead' on the Maidan in Kiev, May 30, 2018. (AFP / Sergei Supinsky)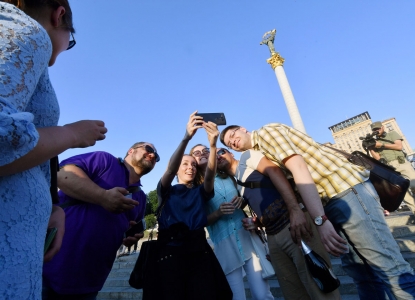 Celebrating Babchenko's 'return from the dead' on the Maidan in Kiev, May 30, 2018. (AFP / Sergei Supinsky)
But amid the euphoria, questions and doubts begin to creep in. Journalistic instincts kick in.
If Kiev invented Babchenko's death to, as they say, protect him from a murder attempt, how do we know that they didn't invent the murder attempt itself to make Moscow look bad? How can we trust Ukrainian authorities after such an elaborate hoax? Or authorities in any other country for that matter? And how is anyone going to trust what we write again?
"For 24 hours, we all aired fake news," one editor tells me as she leaves the celebration.
The media weren't the only ones fooled. Ukraine's prime minister and foreign minister both issued reactions to the "murder." No-one told them it was a set-up.
One government spokesman kept trying to get his boss to issue a statement as well, but his drafts kept getting rejected. Exasperated, he wrote yet another version, insisting that it be issued, "otherwise it's inhuman." He was taken aside and told that there was no need for a statement because there was no-one actually killed. His job became to stonewall reporters.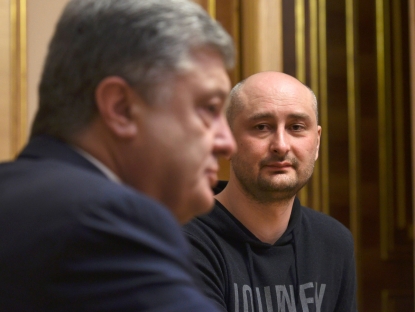 Babchenko with Ukrainian President Petro Poroshenko, May 30, 2018. Unlike the country's prime minister and foreign minister, Poroshenko knew Babchenko's "murder" was an operation by Ukrainian security services. (AFP /Ukrainian Presidential press service/ Mykola Lazarenko)
The next day, the implications of the hoax and Babchenko going along with it, dominate discussion within the media community the world over, with the general consensus that it has harmed the profession.
For me, I keep returning to what we could have done differently not to have fallen for the ruse. We had a police statement that someone had been killed and in my 19 years as a reporter in Kiev, I've never had an experience when police lied about something like that.
Nor did the local media just take police's word for it. At least two outlets sent journalists to the morgue to get details of the death and they were shown an official document that said Babchenko had died from bullet wounds -- what were they supposed to do, ask for another death certificate? One of the journalists was even allowed inside, where he saw his colleague's body, covered in a sheet -- what should he have done, make sure that the body had no pulse?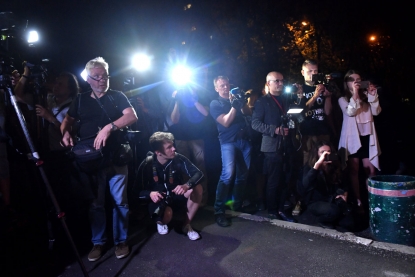 Members of Kiev's press corps gather outside of Babchenko's apartment on the night of his "murder," May 29, 2018. (AFP / Sergei Supinsky)
Suddenly the little things that I found odd take on a new meaning. But again, what could I have done differently? Yes, Babchenko's wife was absent from the airwaves, but it's not implausible that had he really been killed on the doorstep of their home, that she would not want to face the cameras. Yes, that photo published by that guy on Facebook was odd, but it could have been taken by a policeman with a mobile phone and sent to him by a friend within the force, and though it was odd, it wasn't enough to put the whole story into doubt.
The group of journalists who had decided to investigate the murder by themselves did have something solid -- they managed to obtain CCT footage from outside of Babchenko's building on the night of the murder and Babchenko did not appear on it around the time of his "assassination" (the authorities said he had been shot after returning from a store). They had planned to investigate further, but then Babchenko "came back to life."
I am uncomfortable (to say the least) with the fact that we were all fooled for an entire day. Granted, I didn't know it was false, but still. I would never want to be in a situation where I know about such a situation ahead of time and where I would have to choose -- do my job properly and report on the operation being planned, or not do my job and go along, not telling the world that the person who everyone thinks is dead is actually alive.
It's undeniable that the whole affair has made my job harder. If Kiev police announce that there is another journalist or politician killed in the city, what will we do? The nature of the 24-hour news cycle is such that you can't withhold such a piece of information until you have verified that it's 100 percent true. But I know that I will be much more sceptical of anything told to me by the authorities, as will the rest of the Kiev press corps. Will that be enough to prevent another hoax like this being pulled off? I honestly don't know. I do know that we'll try.
This blog was written with Yana Dlugy in Paris.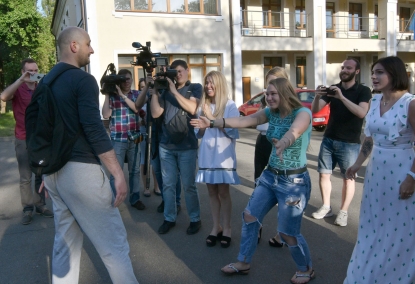 Babchenko is welcomed by colleagues at ATR TV channel in Kiev on May 31, 2018. (AFP / Genya Savilov)