The last days in Aleppo
In September, we brought you a blog, Covering Syria through hunger and fear, in which AFP's Aleppo's correspondent, Karam al-Masri, gave an idea of what it was like in the besieged city and Rana Moussaoui, AFP's deputy bureau chief in Beirut, shared what it was like to hear from Karam each day.
Below they tell of the Karam's harrowing last days in Aleppo, the final chapter of his years of reporting from the ravaged city.
 
The last days in Aleppo
By Karam al-Masri
Aleppo -- Sometimes, I want to close my eyes and imagine that everything that happened was just a bad dream. I want to wake up in Aleppo, six years earlier.
Usually, photographers and war reporters are dispatched to the front lines to cover a conflict, then return home once their mission is completed.
Not me. I lived through hell, but I have not yet known respite. I live in the present but I am hurtling towards the unknown.
I can no longer bear to see the pictures and videos that I shot in Aleppo for AFP. My chest tightens, and I'm flooded with memories both beautiful and painful.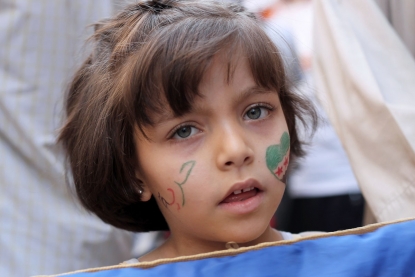 2013. (AFP / Karam Al-masri)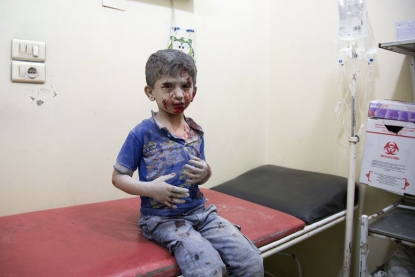 2016. (AFP / Karam Al-masri)
In my head, I see the last five years of my life in flashes: a revolution, a rebellion, a war, and my whole world turned upside down.
I barely sleep. The nightmares and the beautiful dreams come one right after the other: I dream of Aleppo before the war, then of images of bombing and blood.
At night in Istanbul -- where I live now -- I am a prisoner of my thoughts. I cannot seem to forget. Every drop of blood will forever stain my memory.
I can't bring myself to imagine that I'll never come back to Syria. I left everything back there: my house, my neighbourhood, my photo albums. I couldn't bring a single memento with me. Most of all, I wasn't able to say goodbye to my mother's grave. I feel an indescribable nostalgia.
I wish I could see the tired faces of my neighbours in Aleppo again. I remember Abu Omar, who collected vintage cars in Aleppo and whom I interviewed for my first AFP video feature in February 2016. He refused to leave the house where he was raised. I didn't want to leave either.
In Aleppo, taking pictures and covering the suffering of the residents helped me survive. Now, it's like my life no longer makes sense.
Aleppo province. Gaziantep. Istanbul. The farther I get from Aleppo city, the deeper my sadness. I'm afraid I won't be able to bear it -- I'm afraid I'll feel like an outsider forever.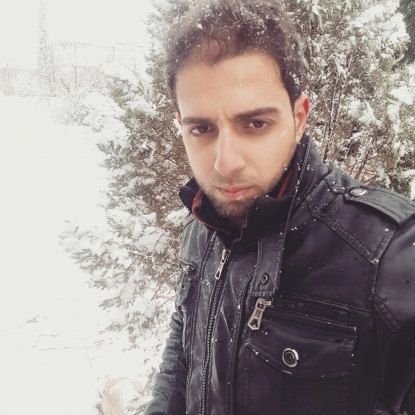 (AFP / Karam al-Masri)
The last week in Aleppo, I was spent. I was forced to flee, non-stop, from one place to another. Despite the bombing, I would have preferred to stay under the same roof.
Sometimes, I didn't have a mattress to sleep on. In other places, no blanket. I slept in the cold. I wouldn't eat except for a handful of bad dates. I began dreaming of green buses (used by the Syrian government in evacuation deals) to leave that hell.
The last week in Aleppo was the worst period I lived through since the beginning of the war. It was worse than when I was held by the Islamic State group.
I was dominated by fear. I wouldn't dare venture into the street to take pictures. There were massacres. I was haunted by a single idea: that I would die in my house or on my street.
My fears were justified when my home was bombed. The army was getting closer and I kept hearing that there were summary executions. I fled -- but not without filming a final video of my neighbourhood being bombed. I left everything and I'm wracked with guilt.
I took refuge in another neighbourhood but the bombardments followed me. I only took my two cameras, my laptop, my passport and some money.
But I lost all of that in the final days. It was my fatal blow.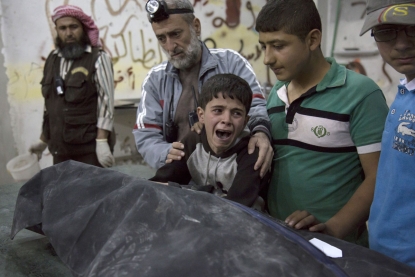 April 2016. (AFP / Karam Al-masri)
The biggest shock was losing my camera. It was a Canon 5DMark III that I bought myself. It was my companion, my friend.
When I would head into the street to get some images, it would come with me everywhere.
On one of the last few days, I left my things at a friend's house while I found internet to send AFP some video footage. It took just one stupid incident -- diesel leaking out of a gas-powered heater -- for a fire to devour the whole house, including my belongings.
I never imagined that in just 15 minutes, I would lose my precious camera.
I was desperate. I didn't want to live anymore. The last thing that I had attached myself to, I lost. I didn't expect to lose what I loved the most in the world in a single flash.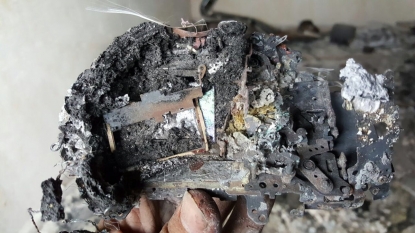 Remnants of a precious camera. (AFP / Karam al-Masri)
What had I done to deserve this? Why was bad luck following me like this? This question haunted me. I had not stopped suffering loss after loss.
I started having insane ideas -- I hoped a rocket would hit me and I would die.
With the support of AFP journalists in Beirut, as well as Nicosia and Paris, I started to feel better. Little by little, my depression disappeared. I began to talk about the future -- I wanted to live.
Leaving Aleppo was like the day I was hit in the leg by sniper fire in 2014. For the first ten seconds, I didn't feel a thing. I kept walking on my wounded leg because I had to flee the sniper, and I hid in a nearby building.
But then, the bleeding began -- and the pain, too.
It's the same with Aleppo. When I left, it was like I was drugged. I felt nothing. But the next day, I was struck by the pain of exile.
How would I live without Aleppo?
Everything is gone. The life I had will never come back. I feel like only my body left Aleppo. My soul, it's still there.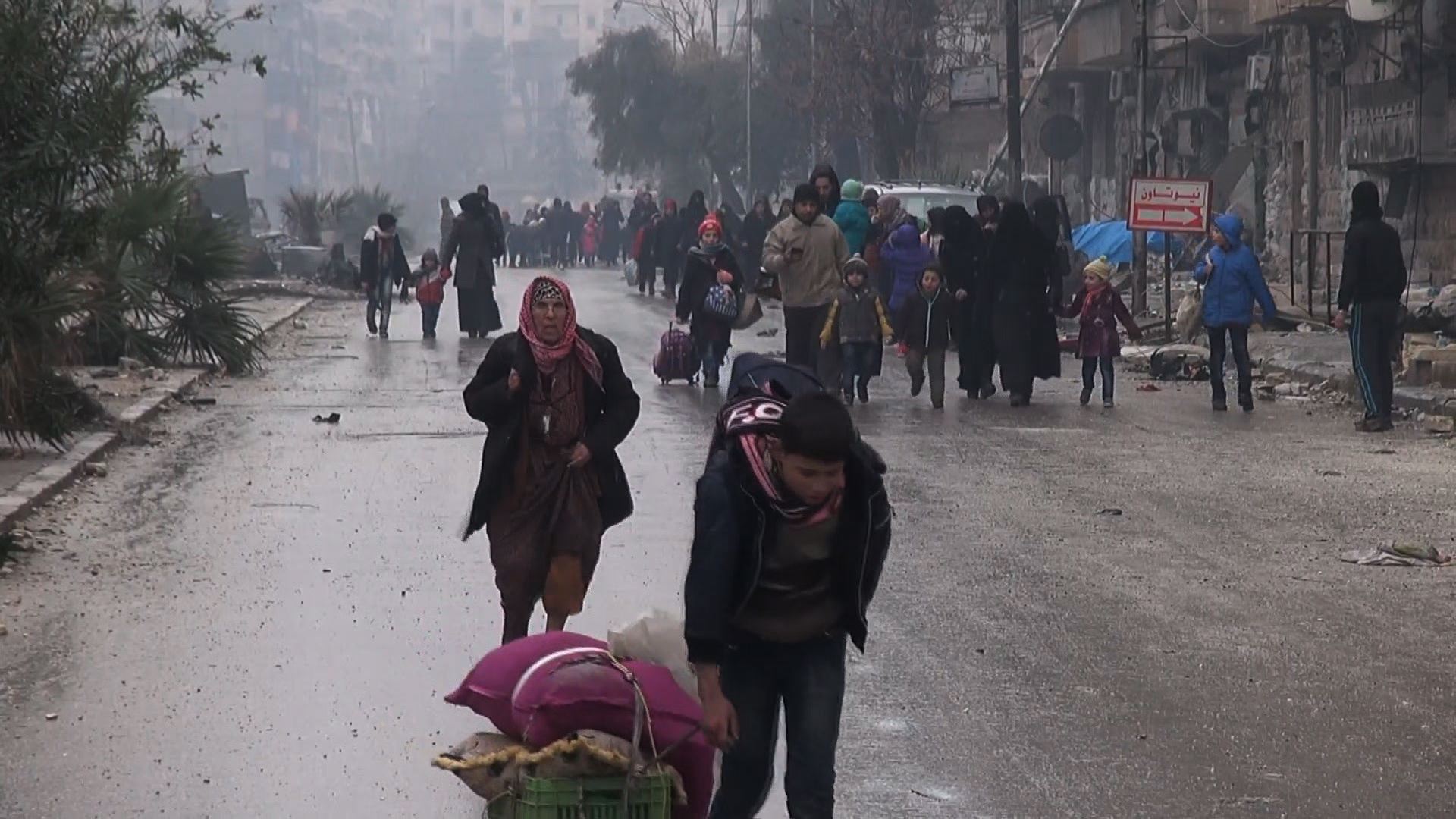 ---

Horror from afar
By Rana Moussaoui
Beirut -- What could you possibly say to a young journalist in a besieged city, ravaged by hunger, sometimes risking death but sometimes hoping for it?
Nothing but a string of encouraging words, praise for his work, all topped with an immeasurable sense of powerlessness.
"Stay strong. We need you. Keep fighting. Don't let go."
How many times had I and my colleagues in Beirut sent these words to Karam in our daily correspondence?
We admire Karam, not just because he survived hunger, fear, and bombardment. It's that through all this, he kept sending us stories, eyewitness details, pictures and video footage. We were constantly telling him that all we wanted was to know that he was safe and sound, that he was taking care of himself and that he could leave this hell.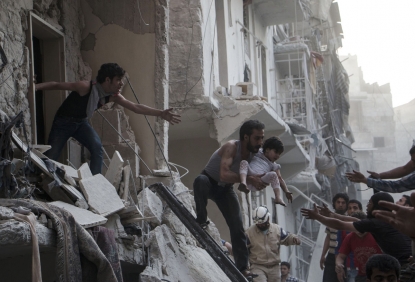 May, 2015. (AFP / Karam Al-masri)
In one year, we got to know a young man who has journalism in his blood, without ever having been trained in the field.
After taking pictures, he would come back home and confide in us his obsession with being killed or wounded in the street without anyone helping.
What could we do for him? Every option turned out to be unrealistic.
Helplessness. Horror from afar. His voice seemed so close and calm that we could hardly imagine his suffering.
I was in Syria's third city Homs in 2014, a week after a landmark deal that saw the former "heart of the revolution" fall to government forces.
There, I saw human misery incarnated: an old couple who had stayed at home throughout two years of hunger and devastating siege.
But my correspondence with Karam, despite the distance, took me into the depths of human despair.
Karam kept repeating that his situation was nothing compared to the mothers who had no food to give their babies.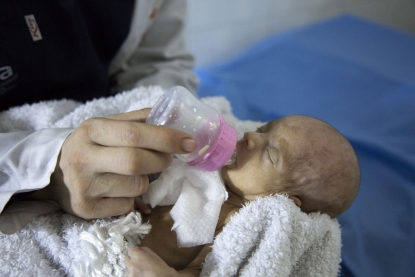 June, 2016. (AFP / Karam Al-masri)
For us, we saw the suffering of Aleppo's people through the eyes of Karam. Our bureau was tormented. Even our relatives were worried about him. Our mothers asked if there was any news of Karam and assured us that they were praying for him.
As the army edged closer and closer to his neighbourhood, we decided to stop putting his byline on the text, video, and photo stories he would produce.
But he went crazy with rage. "I WANT to put my name on the stories. It's MY responsibility," he insisted. We of course put his byline back on.
In particular, he wanted his byline on a story about body parts splayed across the streets of Aleppo. He had seen a young girl's legs torn off just a few meters away from him. The destruction was unimaginable.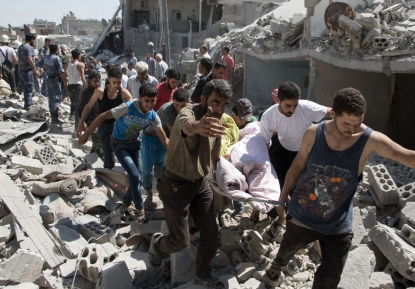 July, 2015. (AFP / Karam Al-masri)
We only understood how proud he was to have his byline on these stories on that disastrous evening, when he lost his camera in the fire. We finally understood that it was almost his only reason to live. Almost.
That night, I was so overwhelmed with emotion that I vomited. He would send me messages of tearful emojis. I, too, thought I was living a nightmare.
It was too much. After losing his parents, after being held by both the regime and the Islamic State group, after knowing the pangs of hunger. Now, this.
But I knew we had to catch Karam before he sank even deeper into this dark abyss.
I spoke to him for more than two hours that night to make him understand that what he lost was just material -- that he must get back up. That we would give him a new camera.
My colleagues in Beirut, Nicosia, and even AFP's director general -- who called Karam -- were cheering for him. He absolutely must survive. And he did. We are unspeakably proud.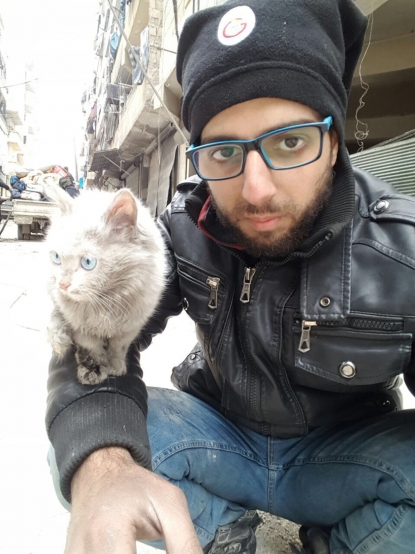 During the final days in Aleppo. (AFP / Karam al-Masri)
Below are several Whatsapp exchanges with Karam, during the anxious lead-up to his evacuation. Because of the cellular network, he had unreliable access to the internet until his final moments in his city.
Monday, December 12
(Audio recording. Karam is panting.)
My house was bombed. I'm leaving right now. I don't know if I'll come out alive. Pray for me.
____
I forgot my passport. I went back to get it. It was a miracle. I saw the army from afar.
I'm in the street. I'm really tired -- there are so many families like me.
(He sends a cellphone picture of an old man.)
This poor man, he's so disoriented. His relatives abandoned him and fled. He's very sick. He's hungry and cold. I found him a blanket and wrapped him up in it, but I can't do anything more for him. I have nothing to eat.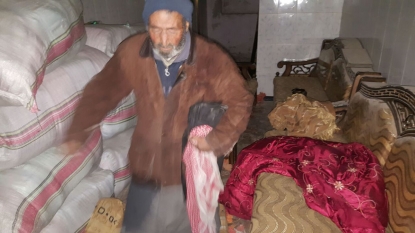 (AFP / Karam al-Masri)
______
There are corpses in the streets. I just saw five bodies. The cats are coming to eat their limbs. It's horrible.
______
Tuesday, December 13
I heard that there's an evacuation deal. Is it true?
People are glad they're going to leave and escape death.
____
I'll never come back to Aleppo. My neighbourhood, my house -- I'll only see them in my dreams. Everything will disappear. My family's photo albums, the toys I played with when I was young, my school diplomas. I'll never see Aleppo again.
Where will I go?
_____
Wednesday, December 14
(Karam is writing to us at night. Massive crowds are waiting for evacuation buses).
I'm crying, and everyone around me is crying. People are burning their cars and motorcycles. Rebels are burning their weapons.
Leaving Aleppo. (AFP / Karam Al-masri)
_____
I heard everything was postponed.
I'm so hungry my stomach is stuck to my spine.
I saw wounded people sleeping on the floor of the hospital in Zabdiyeh. There are corpses in front of the hospital. No one is coming to bury them.
_____
I saw a woman carrying her newborn and a box of powdered milk. She tripped and the box's contents spilled into the dirt. She started picking up what fell. It was heartbreaking.  
———
I'm stuck in Zabdiyeh, I can't find a way out.
I see the tank. It's firing in our direction.
My God, it's shelling so much. There are wounded people all around me.
My God, they're advancing towards us and we can't leave because of how hard they're bombing.
————————-
I was able to flee. A rocket fell right next to me, but God protected me.
(He sends a picture of his blood-stained hand.)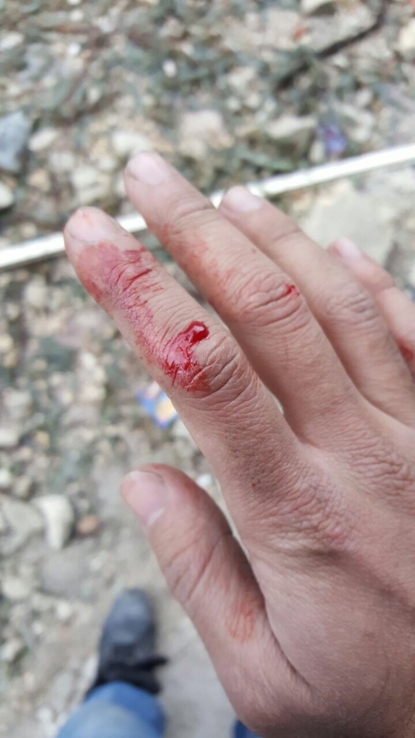 (AFP / Karam al-Masri)
—————
I'm in Saif al-Dawlah, displaced again and in the streets again. I was able to film while fleeing.
(Karam sends a photo taken of him from behind, bent over a laptop in an abandoned garage).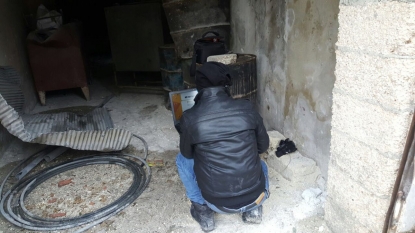 (Photo courtesy of Karam al-Masri)
I'm very hungry. I'll die of hunger. My stomach can't even handle dates. There's no bread -- I looked everywhere and there's none.
(After consulting with AFP's doctor, we advised him to drink a lot of water).
I'm drinking but water from the wells is polluted. I'll try to boil it.
There's a lot of shelling. The airplane isn't leaving the sky.
(I send him a link to the announcement that he won the Varennes prize. He thanks me and sends a smiling emoji. Later that night, he writes me again.)
I'm in the street. I'm cold. I'm hungry. I'm looking for an abandoned building to sleep in.
_________
Thursday, December 15
Rana, anything new? My battery is dying.  
——————-
I might die today. The sniper shot near me. I was stuck for an hour in a building in Amiriyah.
(He sends a picture of a man with a bloodied face in an ambulance.)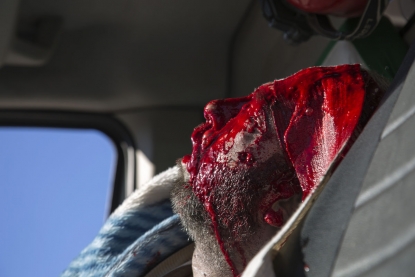 (AFP / Karam Al-masri)
I filmed this, how the people are fleeing.
(Hours go by. Karam is unreachable.)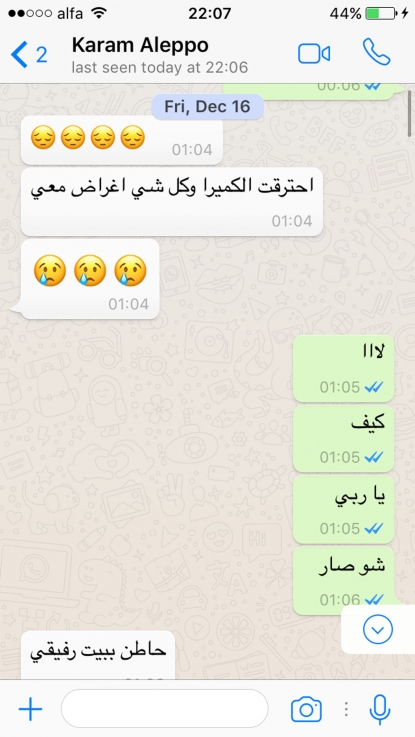 Karam: My camera and all of my belongings have been destroyed in a fire. Rana: No! How? My God. What happened? Karam: I left them at a friend's.
Friday, December 16
(At midnight, I send him a message to see if he found a place to stay. An hour later, the devastating message comes through.)
My camera and all my things have been burned.
(He tells me what happened.)
Everything is gone. Everything. I have nothing left. No passport, no money.
(I try to encourage him. Silence. Then, just a single sad emoji. "You will be stronger than this tragedy, Karam, I tell him. "The whole world is talking about you, you've won international prizes. Don't give up.")
I give up. It's over.
(I panic. "You're one of the bravest people I know, Karam -- your courage will win out," I repeat.)
Everything has been turned to ashes. I can't believe it. Maybe it's a dream and I'll wake up. I give up. In a flash, everything is gone. The last thing that I was holding on to is gone.
(I send more encouraging words. Nothing. Minutes of silence feel like an eternity. "Talk to me, Karam," I write.)
Tears are running down my face. I wasn't ready to lose this much.
I don't want to leave. I want to be buried here with everything beautiful that I lost, with my parents and my memories.
(Panic again. "Your parents would be so proud of you if you manage to leave," I tell him as a last resort. I'm exhausted. I wake up at dawn and send him the link to the front page of Liberation: "Aleppo, why did we abandon you?")
(For hours, Karam doesn't answer. Everyone is worried. In the afternoon, he sends a sad emoji.)
I am so tired, I feel like i'm going to die. I'm thinking of death. I am broken.
(Everyone calls him and sends him messages. We try to encourage him so he can stay strong.)
Thanks for the encouragement. The guys from Al-Nusra Front (former al-Qaeda affiliate) are leaving but not us. They left this morning, and we've been here since 6:00 am waiting like dogs, and then they tell us there are no more buses.
What humiliation. I can't stand up anymore.
—————————-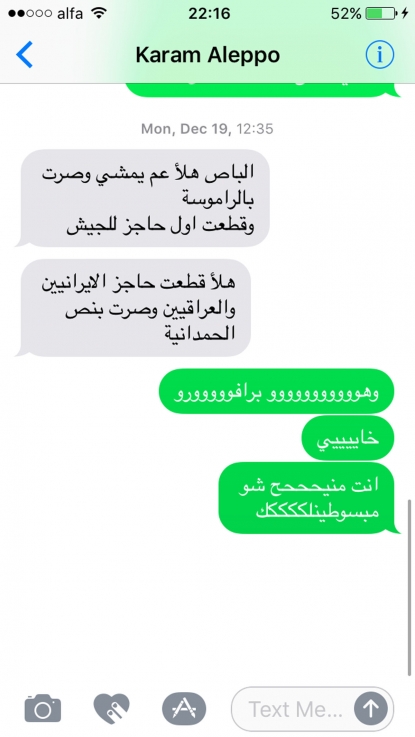 The message the bureau had been waiting for. Karam (in gray): The bus has started moving. I crossed the first army checkpoint.
For the next two days, Karam is smiling again. He borrowed a camera from a friend to file some photos and is sending us descriptions of the miserable situation in the last remaining hospital in opposition territory. It's -6 degrees Celsius.
Finally, on December 19, the entire Beirut bureau bursts into tears -- including Information Director Michele Leridon, who came to Lebanon to support the bureau.
I had just received the message below.
"The bus has started moving. I crossed the first army checkpoint."
Karam then proceeded to file his last story from Aleppo: the journey into exile for fellow Syrians on his bus.
When he arrived in rebel territory further west in Aleppo province, aid workers handed out bananas to the recent evacuees.
Karam told me he took one, but hid it until he got to a nearby market that sold fruits and vegetables.
"It was only until I made sure that there were more that I could eat it."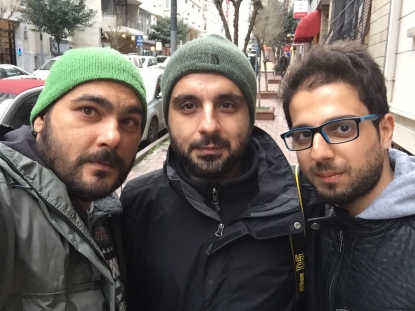 Happier days at last. Karam (in glasses) with fellow AFP photographers in Istanbul, Ozan Kose (l) and Bulent Kilic (c). (AFP / Ozan Kose)