A journey to the center of the Earth
El Callao - A seemingly endless black hole is at our feet. We have made the decision to descend into the darkness, but the tension is palpable. One by one, we enter the abyss -- me, video journalist Jesus Olarte and photographer Juan Barreto. This is what we have spent days waiting for. We go down slowly, without looking down, only the light from the headlamp of our guide illuminating the foreboding darkness. We are finally inside one of Venezuela's myriad of illegal gold mines, a world where violence, impunity and fear reign.
We have come to this corner of the country during the carnival season, when Venezuela's intense news cycle takes a bit of a breather, to cover a story that we had long wanted to do. We chose Bolivar, the largest and most mineral-rich area in the country, where a bloody mafia war rages for control of the unlicensed, artisanal gold mines. Miners regularly turn up dead, their bodies riddled with bullets. Last year, 28 were massacred not far from here. Ten months ago, a boss at this particular mine was shot; reportedly for refusing to let mobsters take over the business.
We arrived in the town of El Callao after a three-hour drive along a lonely road from the airport of Puerto Ordaz. El Callao is famous for its carnival and was overflowing with people. Outside of our hotel, a never-ending procession of revelers passed by, dancing the calypso. The contagious music, an inheritance from the Antillean ancestors who arrived here during the gold rush of the 19th century, pulsed out of large speakers that were pushed around the streets by a group of men every night until dawn.
We made our way around the region in rickety taxis, whose drivers freely shared tales of terror. Seems there is noone in this region who does not talk about the gangs of criminals who control all aspects of life around here. Everyone must pay "vaccines," as extortion money is called here -- from the miner to the mine owner, with shopkeepers, carriers and others in between. Violence has become a regular occurrence.
We wanted to get to know the underworld of illegal mining. But we couldn't -- and noone should -- enter a mine without the permission of the mafia group that controls it. It took a week of hard work of getting information and making contacts in Caracas to begin to get anywhere. Plus a bit of luck.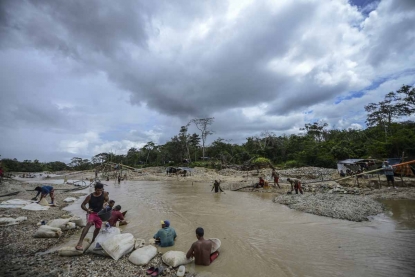 Men work at Nacupay gold mine on the banks of a river in El Callao, Bolivar state, southeastern Venezuela on February 24, 2017. (AFP / Juan Barreto)
The morning after we arrived, we went to a malaria center. The disease has been rampant here for more than a year, so we knew that on any given day there would be long lines of miners waiting to be tested. We interviewed several in line. One of them, Argenis, agreed to try and get permission for us to visit Nacupay, one of the most violent mines in the region.
As soon as he got the all-clear that he was malaria-free, he went back to the mine. He called a few hours later, saying that he managed to get permission for us to come. We didn't know from whom and we didn't ask. We jumped into a taxi and hurried to El Callao, where Argenis picked us up in a van with two other miners, one of them a teenager. Trying to ease the tension -- we didn't know these men after all -- we joked along the way. After a few kilometers, we left the van on the side of the road and continued on foot.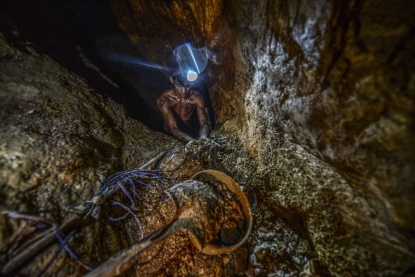 At the La Culebra mine. (AFP / Juan Barreto)
Under a brilliant blue sky, several men and some women were pulling rocks from the riverbed. Some people were resting in improvised shacks -- basically a sheet of black plastic thrown over four sticks. A few hammocks were hung from trees, covered with ragged and dirty mosquito nets.
Walking around, we saw yawning gaps in the earth, the open-pit mines. We looked down into one and a girl lifted her face, smiling into Juan's camera.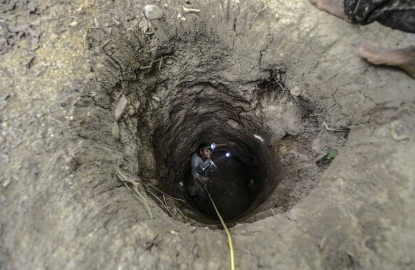 (AFP / Juan Barreto)
We returned to our hotel in the late afternoon, happy but not satisfied. We wanted more, we wanted to get underground.
We spent the following few days covering the carnival and trying to get authorization to visit another mine. Finally one of our contacts referred us to a mining leader who took us to the area of La Ramona, the site of the few artisanal mines not under mafia control.
The entrance of the village is guarded by a military checkpoint, which the government put up almost a year ago, after one of the mining leaders was shot dead, reportedly for refusing to cooperate with the underworld.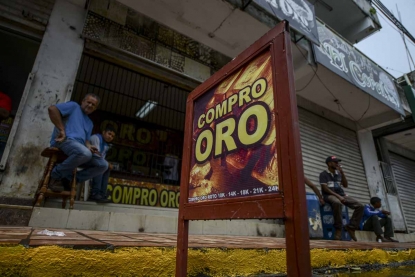 Men sit outside a store reading We buy gold in El Callao, Bolivar state, southeastern Venezuela on February 25, 2017. (AFP / Juan Barreto)
We visit a rustic wooden shed where a group of men works nonstop grinding sacks of material that have been carried by the miners from the mill. It's an arduous process. Each gram of gold will earn these men 90,000 bolivars (33 US dollars). May not sound like much, but in a week, they can earn a lot more than what they would receive for a month's wages elsewhere in this country, in the grip a crushing economic crisis.
After a few hours, under guard from two soldiers on motorcycles, we leave the mill and return to the center of El Callao, where everything is dance, calypso and rum. We still feel we need something more.
After a few days, we got up very early and took our last taxi to El Callao. A white pickup truck was waiting for us. The contact who had taken us to the mill sent us to another man who now drove us, suitcases and all, to the La Culebra (The Snake) mine, named because its veins snake through the rocks. We only had a few hours before we had to start making our way to the Puerto Ordaz airport to take the flight home. And in those final few hours in the region, we were finally able to journey underground.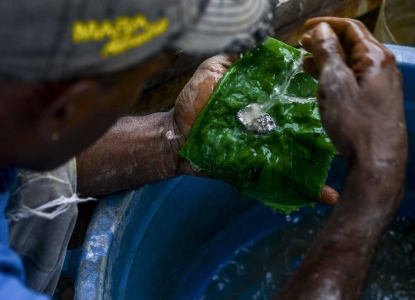 A man holds a gold-mercury amalgam at a gold mine in El Callao, Bolivar state, southeastern Venezuela on February 25, 2017. (AFP / Juan Barreto)
Thirty meters below ground, there is a slight smell of gas. It's hot, but not stuffy. A young miner shows us the gold vein in the rock.
It's a silent world until some rocks fall, kicking up dust. The miner showing us around is 18 years old. He has been at this trade for eight years already. "I'll probably do this till I die," he says.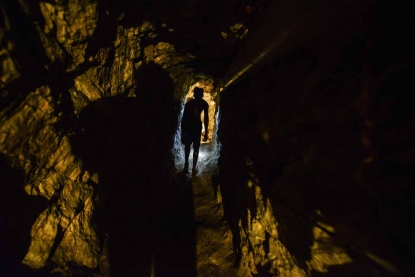 A man walks in a tunnel at a gold mine in El Callao, Bolivar state, southeastern Venezuela on March 1, 2017. (AFP / Juan Barreto)
Sure it's dangerous inside here, there is always a threat of a landslide. But it's no more dangerous than outside. For the miners toiling here, the risks are worth it, though travelling to the center of the earth can bring you face to face with death.
This blog was translated by Yana Dlugy in Paris.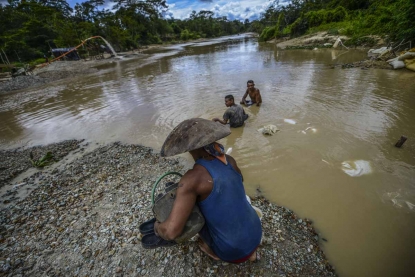 Men work at Nacupay gold mine on the bank of a river in El Callao, Bolivar state, southeastern Venezuela on February 24, 2017. (AFP / Juan Barreto)