How to survive a media scrum
PARIS, July 16, 2014 - In a previous life I was a business journalist. I saw fellow reporters wearing ties and elegant loafers turn into a horde of ferocious beasts, pushing, kicking, nearly biting, to get their hands on a press statement saying that "exchange rates must reflect economic fundamentals". It happened in Tokyo, at the close of a G7 finance ministers meeting. Japanese officials, completely unprepared for such a raging storm in a previously tranquil press room, had, somewhat recklessly, placed the stack of statements on the buffet table. Dozens of cups were smashed, and a pot of steaming coffee spilled.

Everyone has witnessed, if only on TV, a pack of journalists scramble around a personality to take pictures, to film or to record. But 'pack' is probably not the most appropriate term because in a pack you suppose that participants, be it wild dogs or football fans, have a mutual aim and support each other. Not so in a pack of journalists. Anglo-American journalists use the term 'media scrum'. But that expression doesn't really cover it, either. Because unlike its equivalent in rugby, a media scrum knows no rules.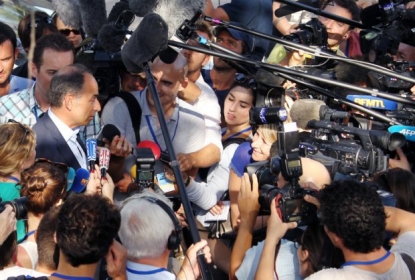 Journalists struggle to get close to Jean-Francois Copé, the then-head of French opposition party UMP. 
Nice, France, August 24, 2012. (AFP Photo/Valery Hache)
Ask Chloé Chauvris, who is a video journalist at AFP's television service, AFPTV. She was assigned to the HQ of former French prime minister Francois Fillon on the night of a leadership contest at France's main opposition party, the centre-right UMP, in November 2012. A nightmare she won't forget in a hurry.
"We were all crammed into a tiny room," she says. "Fillon kept us waiting for hours. When he finally appeared, a human tide engulfed him. I was, quite literally, carried forward by the crowd. Fillon walked towards the exit and everybody followed him. There was a horrible bottleneck at the door. We were trapped. People were pushing, screaming. It was hysteria. Somebody ripped out a handful of my hair. A woman reporter was trampled to the ground."
It gets worse for Chloé. A year and a half later, she again finds herself in a media scrum, in a courtroom in Pau, in southern France, for the big-news trial of a doctor accused of murder for performing mercy killings. The doctor, Nicolas Bonnemaison, is acquitted. Reporters are huddled outside the courtroom, waiting for him to emerge.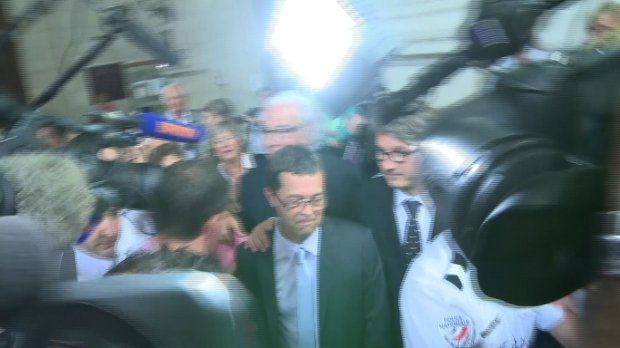 Five vertebrae were displaced in the making of this video! Click here to open in a separate window. 
Displaced vertebrae
"When Bonnemaison finally showed up, surrounded by police, things went crazy," Chloé remembers. "We all filmed walking backwards. It was miracle that nobody fell. At one point I was shoved to the left. To keep my camera steady, I leaned to the right to offset the movement. That's when I heard cracks in my back. "
The outcome: Five displaced vertebrae. The incident gives everyone pause. AFP starts thinking about providing safety training for reporters likely to find themselves in scrums. "Such a programme would be based on the training we provide for reporters who are assigned to riots," says Pierre André-Romagny, AFP's technical chief editor.
The consensus is that things have gotten worse these past few years. The appearance of additional all-news channels, the spreading of blogs and small news sites means that the number of reporters at news events has multiplied. The new entrants don't always grasp the tacit rules of the game, such as not standing in front of a colleague who got there before you or, when you're a text journalist, to crouch low so that video reporters and photographers can take images over your head. This leads to tension, and unpredictable crowd movements. And the more cameras there are, the greater the risks.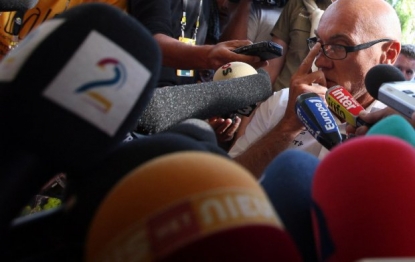 Reporters crowd the sport director of the Astana cycling team, Marc Biver, after Tour de France participant Alexander Vinokourov tested positive for doping. Pau, France, July 24, 2007. (AFP Photo/ Joe Klamar)
"That's why this is no job for older reporters," jokes Henry Bouvier, AFP's chief editor for video. "If you see a video reporter over 50 in a media scrum, keep your distance. He's probably vicious. That's the only possible explanation why he's still doing this at his age."
And here are the necessary ingredients for a good dangerous media scrum: Expectations of a key announcement, perhaps one that will move financial markets, and that therefore must be reported ahead of the competition, preceded by an endless wait that drives everyone crazy. If you want to create even more mayhem, you make sure that the media event is badly organized, as AFP Vienna photographer Joe Klamar found out.
"The UN's headquarters for the International Atomic Energy Agency must be the largest building in Vienna, but they would do press conferences or photo-ops in the smallest possible room, sometimes just two by four metres. We would be stuck in four rows on top of each other and the sweat of my colleagues above would be pouring and dripping over me and then on to someone else below me."
Reporters scramble to get close to Iran's oil minister, Bijen Namdar Zangeneh, during the traditional 'gang bang' of OPEC oil ministers in Vienna, on Sept 15, 2004. (AFP Photo/ Joe Klamar)
OPEC 'gang bang'
But there's nothing like the meetings of OPEC oil ministers, which also take place in Vienna. The traditional final reporters' rush towards the ministers, which goes by the poetic name of 'gang bang', has been brilliantly described by my AFP Vienna colleague Sim Sim Wissgott as "a brief moment of frenzy, every man for himself, oblivious to every rule of civility."
Joe Klamar remembers one day when there were dozens of reporters, photographers and cameramen waiting for OPEC officials next to an entrance by a stairway. 
"The pressure of the guys pushing built up quickly, and when security let us go it was so strong that they could no longer check IDs, and the stream of bodies would carry you upstairs whether you liked it or not. Once the security guy's tie or badge got caught in my cameras or backpack so he was forced to come with us otherwise he would have choked on his own tie. He was screaming at me like I had any control over the situation. I found it so absurd that I laughed hysterically. He then understood the situation and relaxed, too."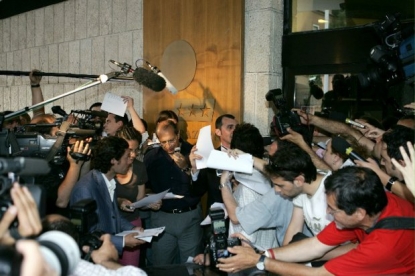 Reporters fight over a statement released by the Italian Football Federation about a match-fixing scandal. Rome, June 22, 2006. (AFP Photo / Andreas Solaro)
After covering OPEC for several years, AFP journalist Myriam Chaplain-Riou dreamed of a quieter job. She was appointed literature correspondent in Paris. You might think that the work of a literature correspondent consists mainly of taking tea in the cafés of Saint-Germain-des-Pres and casually discussing André Gide? Hardly.
Part of her beat is covering the 'Goncourt' is the most prestigious of French literary prizes, awarded every autumn. "There's little difference between the Goncourt award and the OPEC gang bang," Myriam says.
The awards ceremony always takes place at Drouant, a restaurant in the Opera neighbourhood in Paris, just after the jury finish their lunch in a private room on the first floor. "Meanwhile reporters have to wait on the ground floor, packed like a metro train during rush hour. Then a member of the jury appears on the stairs and announces the name of the winner to the tumultuous crowd. Up until last year, they didn't even use a microphone. You couldn't hear a thing. Then things get frantic. Everybody tries to phone their respective newsrooms to transmit the news. But nobody can get a signal, the mobile phone network is always saturated."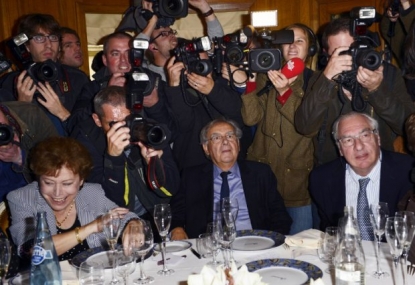 Reporters assail jury members for the Goncourt award in the Drouant restaurant. Paris, Nov 4, 2013. (AFP Photo / Eric Feferberg)
But that's not all. The Goncourt winner, who usually awaits the jury's verdict while lurking somewhere in the neighbourhood, makes a triumphant entry at Drouant's a few minutes after the announcement, and is swallowed up by the pack of journalists.
"He or she will try to get to the first floor, and the reporters will follow up the stairs. We step on each other's feet, receive blows from cameras, trade insults, and mobile phones tumble to the ground without any hope or retrieving them. And everyone is jam-packed into the tiny first-floor room, jury members are squeezed against tables still carrying the leftovers of their meal, and the prize winner is pinned to the wall. Everybody is holding out microphones, looking for a soundbite. The winner is frightened, choking ... When the prize was awarded to Michel Houellebecq in 2010 it was complete madness. There was scaffolding outside the building that started to sway from the pressure of human bodies. We only just avoided a very serious accident. On top of everything, it was pouring with rain."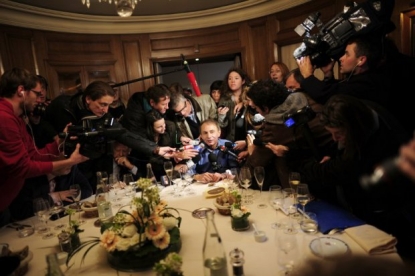 Reporters crowd Goncourt prize winner Michel Houellebecq at the Drouant restaurant, Nov 8, 2010. (AFP Photo / Fred Dufour)
Dante's vision of hell
"And as if that wasn't enough, you then get the food-stealing gawkers," Myriam continues. "Drouant always brings on a small buffet on the ground floor, you wonder why really, because none of the reporters have time to eat. Passers-by who notice the massed reporter presence around the restaurant slip inside, adding to the general confusion. So we have to deal with these people who have no business there, take selfies in the middle of the room, and clutch plates full of hard-boiled eggs and mayonnaise which, of course, they spill on us as soon as the rush starts."
"The Goncourt is Dante's vision of hell, the height of absurdity," Myriam says. "But the jury members don't want any changes in its organisation. In fact, they love it that way. It's their moment of glory."
The truth is that media scrums still have a bright future because the people around whom they form will have done everything to bring about that situation. It makes them feel terrifically important, all those reporters fighting to take their picture or hear them speak.
Which is why scrums around stars or starlets are often the most fearsome. 
In 2007, Vienna photographer Joe Klamar covered the visit by Paris Hilton to the Vienna Opera Ball.
"I got there at the same time as she did," he remembers. "There was a cloud of photographers pushing on one side of her car. The only way to get some pix was to dive into this dark cloud of bodies and fight my way through to her."
Both of Joe's flashes crashed to the ground, and were trampled to pieces by other photographers. But in the end, he got the shots he needed: "I succeeded, at the cost of two flashes."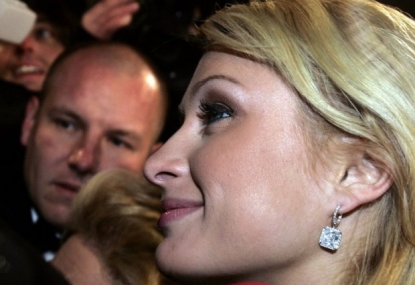 Two smashed flashes for this picture. Vienna, Feb 2007. (AFP Photo / Joe Klamar)
The list of incidents is endless. In every reporter's professional memory is engraved at least one such media scrum story.
AFP's Patrick Rahir, who was correspondent in Beirut in the 1980s, tells me how a group of eager reporters actually pushed the Syrian foreign minister to the ground in his Damascus office during the liberation of a group of French hostages.
I myself remember the day when Hosni Mubarak, who was then Egyptian president, was hustled by a group of reporters on a granite staircase leading up to a luxury hotel in Mallorca. I forget the occasion, but I remember that the Rais started to lose balance, and was saved from falling only by the presence of mind of his bodyguards who propped him up. A Spanish TV crew wasn't so lucky: Their camera ended up smashed to pieces at the bottom of the stairs.
Roland de Courson is the editor of the French-language blog AFP-Making-of. Follow him on Twitter.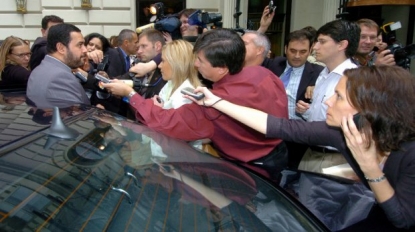 OPEC chairman and minister of energy of Kuwait Sheikh Ahmad Fahad Al-Ahmad Al-Sabah speaks to journalists upon arrival in Vienna, 18 September 2005, to attend 137th meeting of the OPEC conference. (AFP Photo / Joe Klamar)