How AFP caught up with 'The Serpent'
When the serial killer Charles Sobhraj – whose murderous career was dramatised in the Netflix series 'The Serpent' – was unexpectedly released from a Nepalese jail, the authorities used decoys to smuggle him quietly out of the country. But AFP still managed to track him down
It was a quiet day in the Tokyo bureau when AFP video journalist Atish Patel got a call that would end up bringing him face-to-face with one of the world's most notorious serial killers.
A court in Nepal had issued a surprise ruling freeing Charles Sobhraj, the suave gem dealer known as "The Serpent", whose killing spree across Asia's hippie trail in the 1970s inspired the hit Netflix series.  His grisly nickname came from his "snake-like ability" to evade detection by assuming a string of false identities.
But he was particularly infamous for befriending his victims before drugging, robbing and murdering them.  Now, after nearly two decades behind bars for two of the 20 murders to which he had been linked, Sobhraj was due to be deported to France. 
AFP journalist Sagar Ghimire was staking out the prison in Kathmandu where he was being held, with Atish dispatched to Nepal to get on the same Paris flight as "The Serpent"  in the hope of interviewing him. 
Atish flew to Kathmandu and was buying SIM cards in the airport when Sagar texted to tell him he had discovered which flight Sobhraj would be put on.
Not having even set foot in the city, Atish made a beeline for departures, as AFP's Delhi office booked him onto the flight.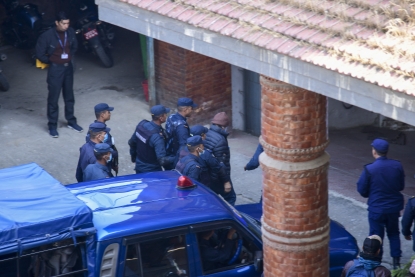 Nepalese police escort Charles Sobhraj to an immigration office in Kathmandu on December 23, 2022 hours before the French serial killer was deported to France (AFP / Chandra Bahadur Ale Gorkha)
Sagar was outside the prison with other reporters when Sobhraj was moved to an immigration centre, shielded from the cameras by police. And when it was time to take him to the airport, they used decoys and three convoys, each with someone dressed like the Frenchman and surrounded by security. No one managed to get a picture of him.
Atish only had images from 2014 to help identify the 78-year-old, who seemed to like wearing a flat cap.  
"As I was checking in, I was quite concerned that I would miss him, that I wouldn't recognise him," he said.
With only minutes to go before departure, Sobhraj finally appeared at the gate surrounded by police, wearing the same kind of flat cap he was sporting in 2014. Atish began filming with his smartphone, but was stopped by security officials who deleted his images.
He had no other option but to board the plane and try his luck there.  Atish lingered near the front where he was able to approach Sobhraj when he eventually boarded alone, asking: "How does it feel to be free?"
"Great," Sobhraj responded, without missing a beat.
"He didn't seem taken aback, he was quite calm," Atish recalled. No one else seemed to recognise Sobhraj, despite the look of apparent horror on the face of the woman next to him as Atish took a picture of him in his seat. 
Atish filed his video, picture and audio files before take-off while he still had internet access, and the exclusive images quickly flashed around the world. 
The seat next to Atish was empty, so he asked Sobhraj if he'd like to join him. "He didn't hesitate," said Atish, who gave him his AFP business card. And once Sobhraj began talking, there was no stopping him.
"He is interesting to talk to, intelligent, and well informed so I can see how people could be attracted to him," said Atish. "We spoke about TikTok, the Ukraine war, the World Cup, even Xi Jinping's recent scolding of Justin Trudeau over alleged leaks."
Sobhraj – whose father was Indian and mother Vietnamese – said his Kathmandu prison cell had a 24-inch television with 285 channels, something others didn't have, as well as an area for cooking. He also had occasional access to a smartphone.
He had less to say, however, about the multiple murders and attempted murders he has been accused of and, in some cases, convicted. 
Sobhraj had previously been jailed in India after being arrested in 1976 for attempting to poison a group of French students.  Having being recaptured after escaping, he was finally freed in 1997 and returned to Paris before resurfacing in Nepal in 2003, where he was jailed for life for the 1975 killing of American tourist Connie Jo Bronzich.
A decade later he was convicted there of killing her Canadian friend, Laurent Carriere.
But on his flight back to France, Atish said that Sobhraj was adamant "that he is innocent. He doesn't like being called a serial killer and said he plans to sue the BBC and Netflix," he added.  "He saw a few parts of 'The Serpent', and he did not like it. His energy is focused on clearing his name."
Atish knew about Sobhraj's history in India and had been to the high-security Tihar Prison in Delhi from which he sensationally escaped in March 1986 after inviting the guards to a party in his cell and drugging them. 
"The one thing he did admit to was that he used tranquilisers on people, to steal their passports," Atish said.
Sobhraj told Atish that he had asked Nepalese police to help him avoid the media after his release, and during a stopover in Doha he complained on the phone about the "bugger" who'd tracked him down on the plane.
Atish filed more images in Doha and the pair took off on the final leg, this time seated separately.
But "about an hour away from Paris" as Atish was yawning as he watched TV, "this hand appeared in front of my mouth. I looked back, and it was him," Atish said.
Sobhraj smiled, and plopped himself down in the empty seat behind Atish, keen to continue their chat. 
His French accent was intact despite his years of incarceration abroad, and Sobhraj displayed the "charm" that was said to have been key to his crimes. "We had a decent conversation," said Atish.
"He has a kind of charisma, a vibrancy about him," said Atish. "He is almost 80 but he has a kind of youthful energy and that struck me. Maybe it was because he has been in jail for nearly 20 years and he was so excited about being out."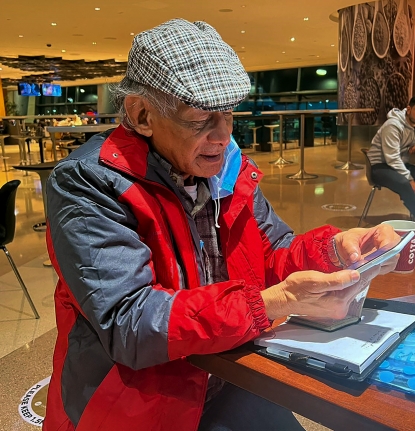 Sobhraj uses his phone on a stopover in Doha as he returns to France on December 23, 2022 (AFP / Atish Patel)
In Paris, Sobhraj was taken away by French authorities on arrival, who also helped him avoid the waiting media. That you would think would have been the last that Atish would have heard from him.
But on Christmas Day, Atish received a message from an unknown number, and then a call. It was him.
Sobhraj wanted to tell Atish how busy he had been on his first day back in France, holding meetings about his upcoming book and a documentary about his life, and fielding interview requests from media outlets.
He messaged Atish again to wish him a Happy New Year.
"Am well and so busy," he wrote. "Feels great to be busy… finally!"
Sara Hussein in Tokyo and Sagar Ghimire in Kathmandu contributed to this blog, which was edited in Paris by Fiachra Gibbons