Turkey quake: a father's pain
AFP photographer Adem Altan was taking pictures of a collapsed apartment building in Kahramanmaras the day after the earthquake hit the Turkish city when he noticed a man sitting alone in the middle of the rubble.
With rescue teams yet to arrive, people who lived in the block were trying to get to loved ones trapped under the piles of concrete and broken bricks. 
But one man was not moving despite the rain and the freezing cold. It was then that Adem noticed that he was holding a hand. He trained his camera on him from about 60 metres (200 feet). It was a delicate moment, but the man in the orange jacket called him in.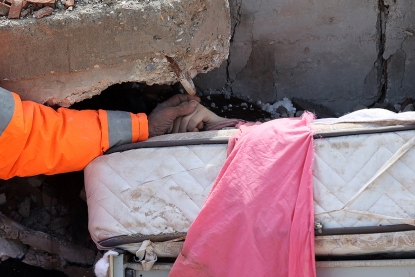 Mesut Hancer did not want to let go of the hand of his dead daughter Irmak (AFP / Adem Altan)
"Take pictures of my child,"  the man called in a low trembling voice. For a brief second Mesut Hancer let go of his daughter's hand to show where she lay. Fifteen-year-old Irmak was crushed in her bed when the first pre-dawn tremor struck. The father wanted the world to see his loss. And it did.
As he took the photo "I had tears in my eyes,"  said Adem, an image that would go around the world and become a symbol of the appalling suffering visited on the people of southern Turkey, but also of their quiet dignity.
Mesut Hancer's refusal to let his daughter go touched millions, crouching amid the shattered remains of his home. "I was so sad,"  said Adem. "I kept saying to myself, 'My God, what immense pain.'" Adem asked the father his name and that of his child.  "My daughter, Irmak," he said.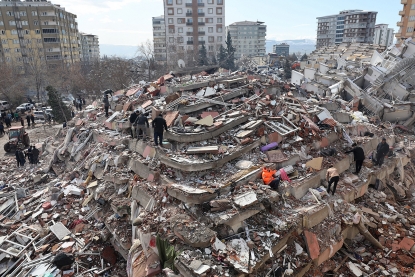 Father Mesut Hancer (in the orange jacket to the right of the picture) spent more than a day holding his dead daughter's hand, perched in the rubble of his mother's apartment building (AFP / Adem Altan)
"He was speaking with difficulty. It was hard to ask him any more because his neighbours were demanding silence so they could hear the voices of survivors under the rubble," Adem added.
As a news photographer for 40 years – 15 of those with AFP – Adem knew he had caught something of the terrible tragedy.  Even so, its global impact surprised him, the image appearing on the front pages of The Guardian, the Wall Street Journal and the Financial Times and shared thousands upon thousands of times on social media. And many people reached out to offer Hancer help.
POSTSCRIPT:  'The pain is indescribable'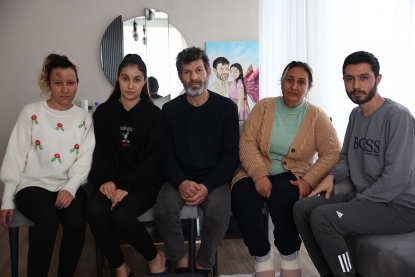 Mesut Hancer (centre) and his family in their new home in Ankara on February 25, 2023 (AFP/ Adem Altan)
A month on, Altan caught up with Mesut Hancer after his son contacted him on social media. With their hometown in ruins, the baker and his family have moved to Ankara. He was just about to start a new job there working for one of those well-wishers, Necat Gulseven, the owner of a television channel. He and his wife, the singer Ebru Yasar, had also given them an apartment.
"I lost my mother, my brothers, my nephews in the quake," Hancer said. "But nothing compares to burying a child. The pain is indescribable." 
Irmak was their youngest child and was staying at her grandmother's so she could see her cousins, who were visiting from Istanbul and Hatay.  Hancer had been at work in his bakery when the quake hit at 4.17 am. He rushed back to the family's single-storey house, and although it was damaged, his wife and three adult children were safe.
But when he got to his mother's building he found that the eight-storey block had collapsed into a heap of rubble. Halfway up the mound of debris he found his daughter.  Unable to get her out himself, he waited beside her holding her hand for more than a day till a rescue team arrived. 
"I held her hand, I stroked her hair, I kissed her cheeks," he said. "I couldn't let go of her hand. My daughter was sleeping like an angel in her bed." A painting of Irmak as an angel alongside her father, donated by an artist, now hangs in the living room of the family's new flat.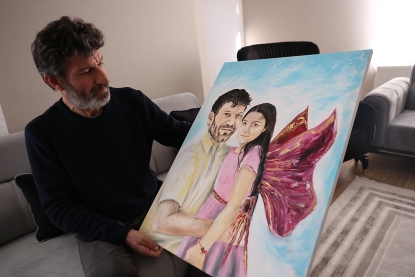 (AFP/ Adem Altan)
Blog written by Burcin Gercek in Gaziantep and Anne Chaon in Istanbul. Edited in Paris by Fiachra Gibbons