The extraordinary life of 'Doña Anna'
PARIS, May 19, 2015 - This is the story of an extraordinary journalist, and her extraordinary life. Anna Kipper was a Polish Jew driven from Europe during World War II who went on to become AFP's first female bureau chief, in Bogota in 1946. A reporter whose career mirrored the upheavals of the 20th century, from Europe to Latin America.
Born in Warsaw in 1908, Anna Kipper took her first steps in journalism in 1931, at the Polish bureau of the Havas news agency, AFP's pre-war ancestor. There she was deputy to the Warsaw bureau chief Maurice Negre, who survived the Buchenwald death camp and went on to head AFP from 1947 to 1954.
Forced to flee the country when war broke out, she headed first to Scandinavia then France where she worked for Havas in Paris, Tours, Bordeaux and Clermont-Ferrand as the agency's staff retreated before the invading German troops.
"The poor Havas agency, one of the world's most powerful, was on its death bed," she would later write. As France headed into five years of occupation by German forces, the Havas newsrooms were gradually purged of dissenting voices. Kipper was sacked in October 1940, for an article in which she praised the courage of Londoners facing aerial bombardment – likening it to the Polish resistance to Nazi invaders in 1939.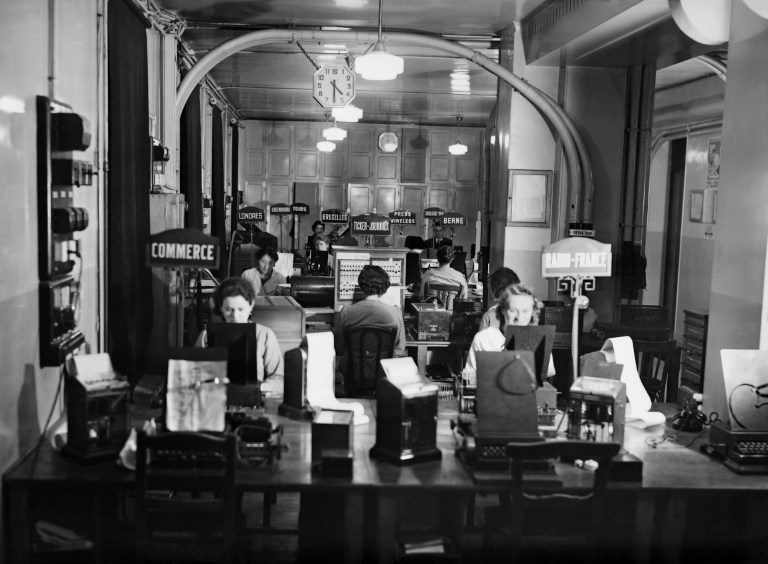 The Havas news agency in Paris in the 1930s (AFP)
She called her dismissal a "supreme journalistic honour", but it left her with no job or prospects as a Jewish journalist living under a pro-Nazi French government. So Anna Kipper left for Latin America, joining the tide of Jewish refugees fleeing Europe for the New World. Her journey would take almost a year.
From Marseille she set sail for Senegal on board an overcrowded passenger ship, the Alsina, which was detained in Dakar. She spent several months in a camp in Morocco, before managing to reach Spain and board another boat, the Cap Horn, which was sailing from Cadiz to South America.
But the Spanish navy ship, carrying around 100 Jewish refugees, most of them from Poland and Czechoslovakia, was to be turned away by ports in Argentina, Uruguay and Brazil. It was twice refused entry to Rio de Janeiro, in October and November 1941. Labelled "impossible to assimilate" by the Brazilian authorities, the Jewish refugees were refused entry visas.
11 months, five days
Their situation seemed utterly hopeless, and they feared being sent back to Europe. But the ship and its exhausted passengers were eventually allowed in by the Dutch Caribbean colony of Curacao, for humanitarian reasons.
The Cap Horn docked at Curacao in mid-November. After a spell in quarantine, Anna secured a visa to enter Colombia on December 20, 1941, exactly 11 months and five days after leaving Marseille. She told of her trying journey in a book published in 1943, entitled "Exotic pause: impressions of war and exile".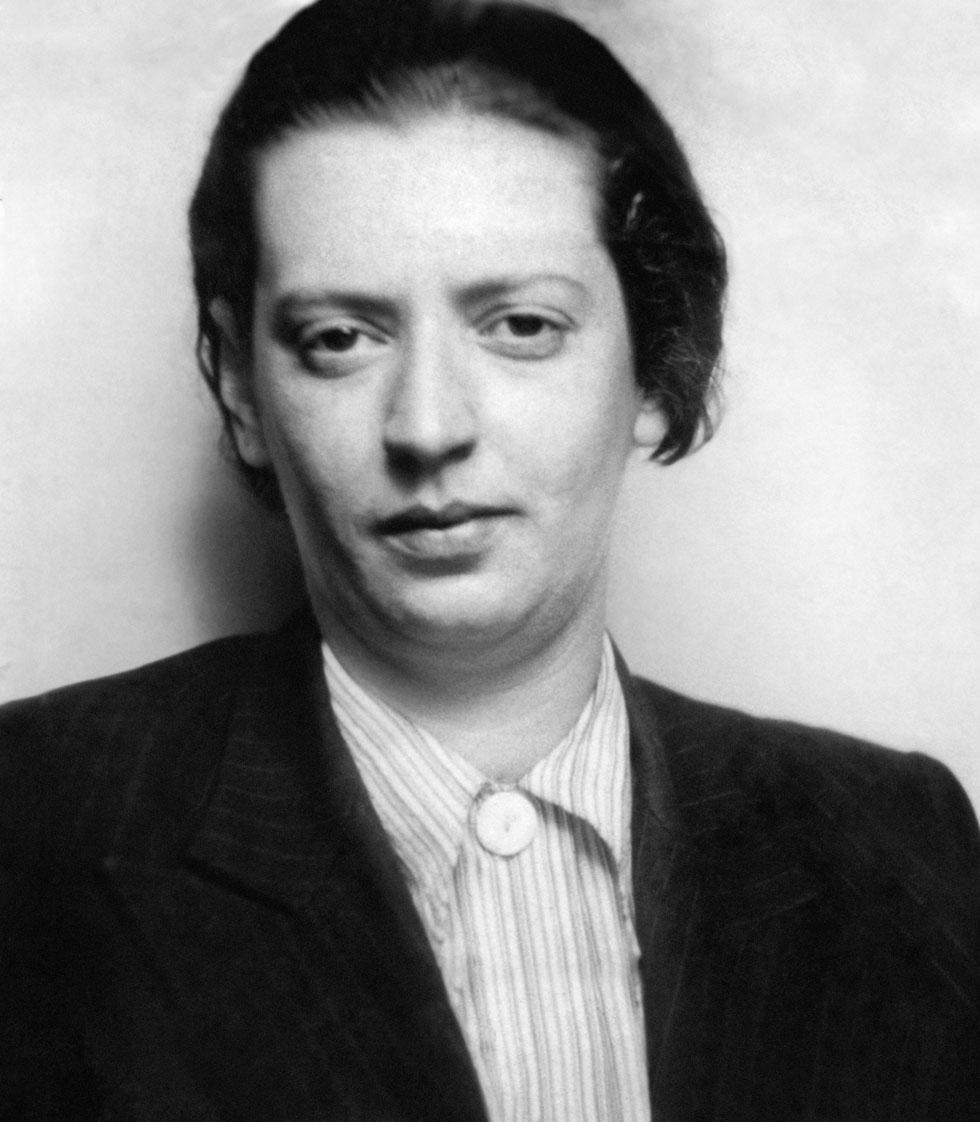 Anna Kipper in 1945 (AFP)
In Bogota she soon found her way back into journalism, working for radio stations and American newspapers, and on the staff of the liberal daily El Tiempo. She ran a press service for local diplomats representing the London-based Polish government-in-exile. She developed a passion for anthropology and sought out contact with the region's indigenous peoples. In the space of a few years, she became known to the journalists, intellectuals and artists of Bogota by the fond nickname of "Doña Anna".
Opened a bureau at her own expense
After France's Liberation from Nazi forces, Anna Kipper returned to France where - as a naturalised French citizen who spoke eight languages - she worked for a year in the monitoring service of Agence France-Presse. In 1945 she joined the Americanists society, a Paris-based body founded to further research on native American societies, alongside such eminent figures as Claude Levi-Strauss. She contributed work on Indian Chibcha tribes, and the legend of El Dorado. But she soon felt the tug back to Latin America.
First she tried to persuade her former Warsaw boss to open a bureau in Bogota. Newly-refounded in 1944, AFP had other fish to fry than covering Colombia, but she would not take no for an answer. So she returned to Bogota and set up a bureau at her own expense, reporting for AFP on a freelance basis for the first two years.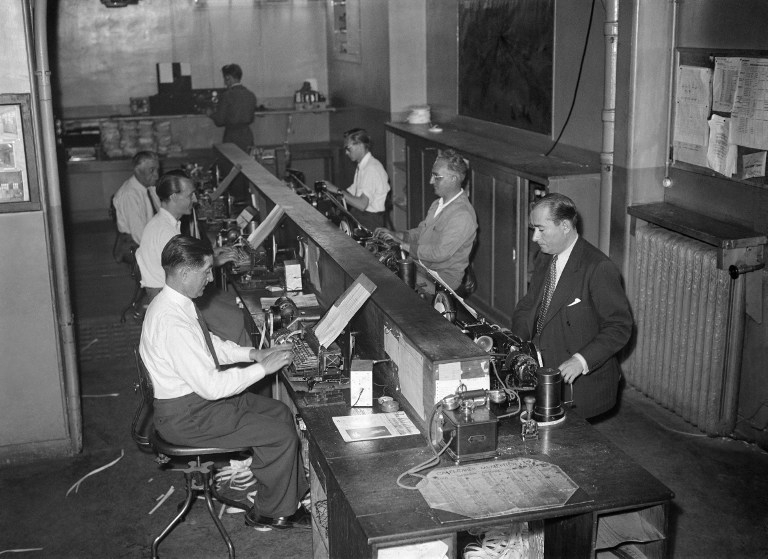 A newsroom at AFP headquarters in Paris 1946 (AFP)
Her Polish roots landed her in trouble on more than one occasion. A Polish ambassador in Latin American accused her of being an agent for the government-in-exile and an attaché at the French embassy sought to denigrate her, tarring her as "more or less Polish, a sort of vague ethnographer… and person of highly questionable morals".
The French embassy investigated, but found her to be a politically neutral observer, including on Polish matters, according to the Colombian journalist Eduardo Mackenzie, who dug up evidence of the episode in the archives of the French foreign ministry.
"She does an excellent job for AFP in Bogota," the report found. The embassy attaché was sacked.
Upheaval in global news market
In the immediate aftermath of the war, AFP had just three bureaus in the whole of Latin America: in Argentina, Brazil and Chile. "Nothing. No one anywhere else, except for Colombia where a former Havas reporter from Warsaw was busy getting the job done," wrote the journalist Basile Tesselin in a book on the period. Tesselin was one of a group of eight journalists who occupied the historic Havas building on Paris' place de la Bourse, weapons in hand, on August 20, 1944.
The post-war period saw a radical upheaval in the global news market, which from the late 19th to early 20th centuries was neatly carved up between three giants: Reuters, Havas and Wolff. The incumbents suddenly faced tough new competition from the US agencies Associated Press and United Press International.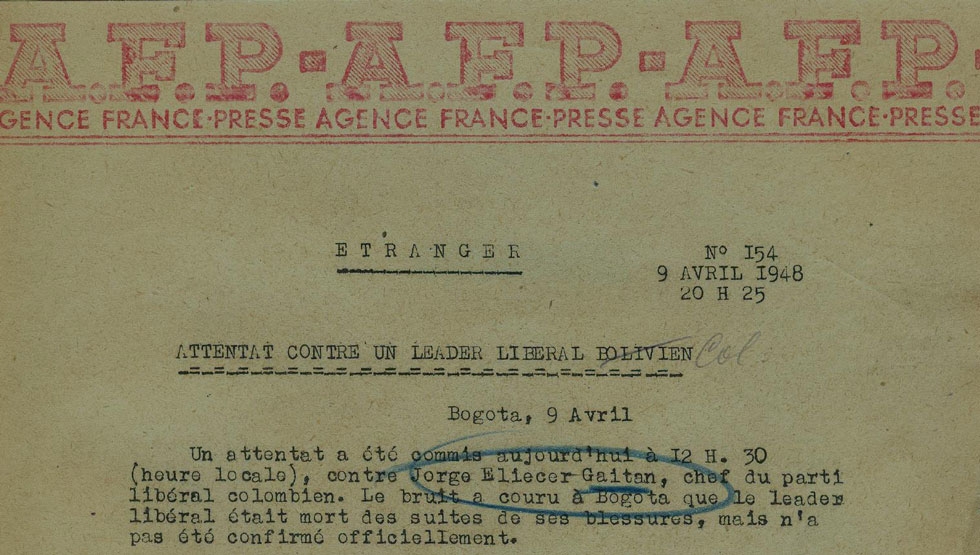 In a newswire story dated April 8, 1948, Anna Kipper reports the attack in Bogota on the Colombian liberal party leader Jorge Eliecer Gaitan (mistakenly described as Bolivian in the title)
But for the new AFP it was also a pioneering time, as it redeployed across the Latin American continent. Anna Kipper was appointed AFP head in Bogota in 1946, becoming the agency's first female bureau chief. She was joined in the region by correspondents Gabriel Lacombe in Rio and Robert Katz in Mexico, and later by Albert Brun in Lima, Jean Maille de Trevanges in Caracas and Michel Iriart in Buenos Aires and Santiago...
Typing in a trance
Anna was a pillar of AFP's Latin American conquest. "For eight, 12, 16 hours, she would hunker down in her office, translating 20,000, 25,000 words of Paris newswire copy. Typing, retyping in a kind of trance, repairing a tropically unreliable telephone, and still finding time in between two jobs to visit the local newspaper chiefs," wrote Basile Tesselin in the AFP bulletin in of January 1947.
She had "for sole support, the nicotine of cigarettes, each lit from the stub of the last one, and the caffeine from her hourly 'tintos'," as the Colombians call their coffee.
Back then AFP's bureau was based in a working class neighbourhood in downtown Bogota. Young journalists – who would go on to become great names in Colombian journalism – would stop by the smoke-filled office to chat about the latest news from Europe as it emerged from the dark days of war.
AFP sought to present itself to clients in the region as both European and Latin, and an alternative to the Anglo-American news media. In those days, news reached the bureau by radio, in Morse code. Each item was translated into Spanish, and delivered by courier to the two main newspapers in the city, El Tiempo and the conservative El Siglo. The papers ran several editions each day, and it was a constant race between agencies to deliver stories before they went to press.
FARC fighters training in the mountains of Colombia in the 1960s (AFP / Alatpress)
Anna Kipper was to witness a key moment in Colombian history. On April 9, 1948, Bogota was hosting the 9th Pan-American conference when the Liberal Party leader and presidential hopeful Jorge Eliecer Gaitan was shot dead in the street.
His alleged murderer, a man named Juan Roa Sierra, was lynched by the mob and his motivations were never known. Pinned on the Communist party by the then conservative president Mariano Ospina Perez, the murder remains a source of historical controversy.
In the hours that followed, the supporters of the charismatic leader rose up in anger, targeting government institutions and torching public buildings. The violence spread, pitting liberals against conservatives, leading to the imposition of a curfew and martial law. Order was restored by the army after several days.
"Bogota is half-destroyed," headlined El Tiempo. According to a toll published by AFP on April 21, the unrest left around 1,500 dead and 3,000 injured.
The trauma of the 'Bogatozo'
On the streets of Bogota, a Cuban student also witnessed the troubles: Fidel Castro, who had travelled to the city with a group of activists to protest against the US-chaired Pan-American conference. Castro would later admit taking part in the unrest, but denied any role in the murder.
The deadly episode known in Colombia as the "Bogotazo" was the trigger for a long period of conflict between liberals and conservatives that lasted until the mid-1950s. The violence spilled out into rural areas, with peasant uprisings that sowed the seeds for the Marxist guerrilla movements of FARC and the ELN.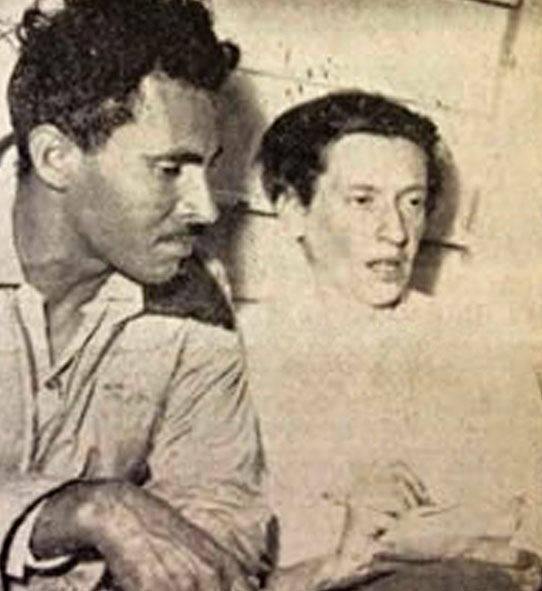 Anna Kipper and the guerrilla leader Guadalupe Salcedo in 1953 (Photo: El Tiempo)
A few years later, Anna was in the plains of eastern Colombia, near the Venezuelan border, to witness the surrender of the guerrilla leader Guadalupe Salcedo. "A scene impossible to forget", was how she described it in a 1953 paper for El Tiempo.
"I saw an army of outlaws, carrying all sorts of rifles, some from the past century, wearing all sorts of clothing, some bare-chested, some barefoot, almost all of them missing teeth, performing a military salute before laying down their arms and receiving an accolade from General Duarte Blum, commander in chief of the Colombian armed forces."
The only international journalist present, she appears on a photograph alongside the revolutionary chief. An elegant woman, with slender face and short hair.
Anna was always a discreet person. I pieced her story together from fragments, from various documents and accounts she gave over the years. When she arrived in Colombia in 1941, she thought it would be an "exotic pause" in her European life. She had sworn to return to Poland. "I had only one goal: to see Warsaw, my birthplace, once again," she wrote in the book on her exile. She would never set foot in Poland again.
I met Anna Kipper in the twilight of her life. She had retired from AFP in 1973 and now lived in an isolated house in Suba, near Bogota, surrounded by her coffee plants and pre-Colombian antiques. She died in Colombia on March 28, 1989, at the age of 81.
Yves Gacon is AFP's director of archives and publishing. He was AFP bureau chief in Bogota from 1980 to 1984.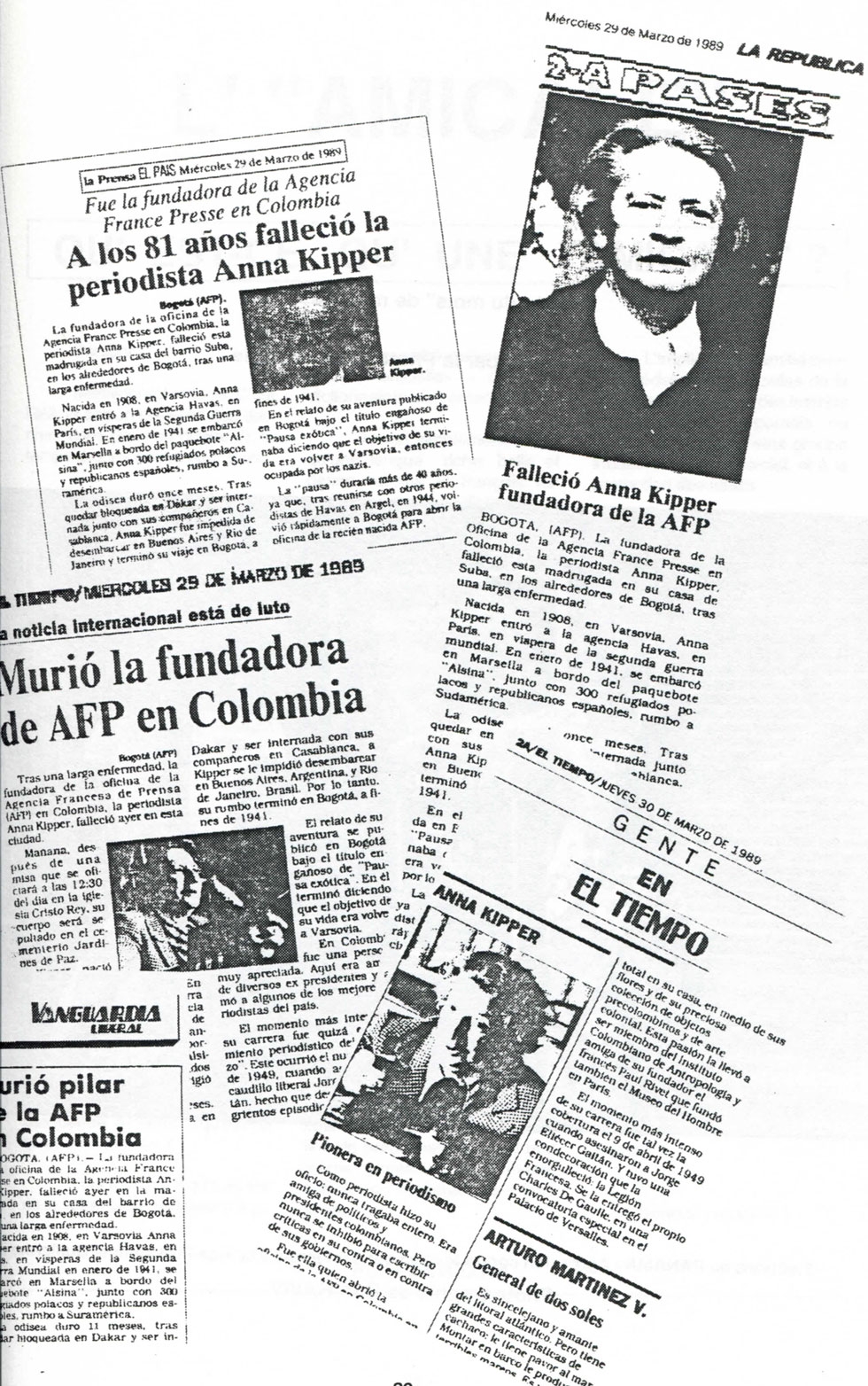 Colombian newspapers report Anna Kipper's death in March 1989 (Photo: El Tiempo)