Bolanita: Indonesia's women footballers
JAKARTA, May 18, 2015 – The girls emerged one by one from the changing room, in red jerseys with numbers on their backs. But instead of jogging out to the football field, they ducked into a small mosque for afternoon prayers.
I love photographing sport, and when AFP asked me to shoot a reportage on female football in Indonesia, I jumped at the chance. But women footballers are no common sight in the world's largest Muslim-majority nation – and I had to wonder how easy this would be.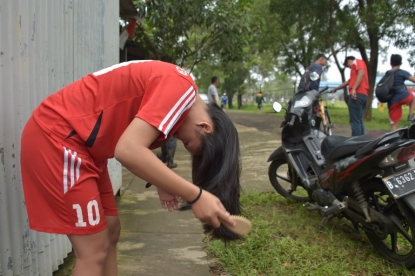 A footballer bombs her hair before a CSC training session in Jakarta on March 26, 2015 (AFP Photo / Adek Berry)
Some would say that even men's football is a hotchpotch affair here. Indonesia ranks 159th in the global league tables. People joke about how hard it can be to train up an 11-man squad, with 250 million people to choose from!
I googled "Indonesian women football", but struggled to find a decent Internet entry on the subject. Nothing. Until I stumbled on the Facebook page of a small club promoting what it called "sepak bola wanita", or women's football.
Most of it looked like small-scale stuff - low-level, local competitions. But the site also mentioned that the Indonesian Football Association was looking to revive female football. There's a photo story in this, I thought.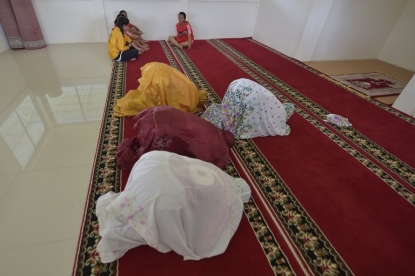 Women footballers pray before a training session in Jakarta on March 26, 2015 (AFP Photo / Adek Berry)
First stop was a training session of the Cibubur Soccer Club Women Football Indonesia. The players were still getting ready inside a makeshift building of brick and iron sheeting when I arrived at the sports field in Jakarta.
Sharing prayer robes
They emerged from the locker room, some still busy fixing their hair. And before hitting the playing field, the girls headed to perform their ablutions ahead of the "Asr" afternoon prayers.
With only four prayer robes available, the girls chatted as they waited their turn. They prayed calmly, their bodies completely covered apart from their faces – but you could still make out the back numbers on their jerseys through the thin robes.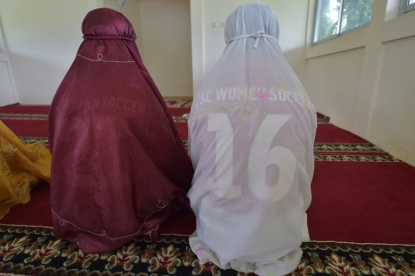 Women footballers pray before a training session in Jakarta on March 26, 2015 (AFP Photo / Adek Berry)
Out on the field afterwards, the players danced samba (footballer-style, for warming up), passing the ball around, heading and shooting. They played one on one, two on two, and then a full match.
Cultural hurdles
Of the two dozen girls at the training session that day, only one was wearing the hijab, a young woman named Vica Anyistiawati. "Come on," cried a fellow player as they headed the ball to and fro. "Wait! I'm getting dizzy!" she yelled back.
The 18-year-old's story illustrates both the cultural hurdles women face in a conservative society like Indonesia – and to what extent young Muslim women who wish to tread a bolder line can find room to manoeuvre.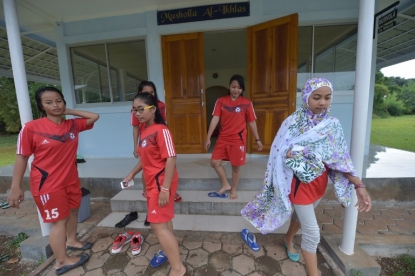 Women footballers leave the mosque before a training session in Jakarta on March 26, 2015 (AFP Photo / Adek Berry)
Vica discovered football as a junior student. But her father, a factory labourer, had trouble picturing his slender daughter girl on the pitch. Her mother was firm: this is not a game for girls. And yet her parents finally relented, and let their daughter chase her goal of one day joining the national team.
A real discipline
For as I soon discovered, women's football is a real discipline here as it is elsewhere, with national teams for youths and adults competing on the international stage.
One of the game's stars, 35-five-year-old Evie Iswandari, says she became goalkeeper for the national team almost by chance. Her footballing career started when she was a sports student at Jakarta National University, and the faculty set up a women's team to compete in a national tournament. She went on to play for Indonesia from the 2001 SEA Games in Malaysia to the AFF Cup in Vietnam.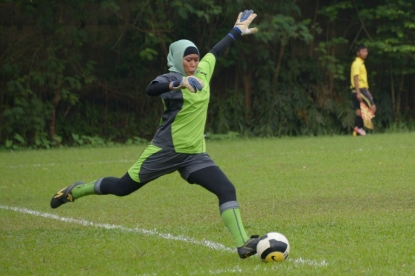 Indonesian goalkeeper Evie Iswandari, during a match in Bogor on April 18, ahead of the AFF Women's Championship in Vietnam
 (AFP Photo / Adek Berry)
Back then Evie did not wear the hijab. But after making a pilgrimage to Mecca, she adopted the headdress, while continuing to play football to keep fit.
Among Vica's teammates, many play with their heads bare – but had to overcome similar cultural hurdles at home. Siti Musamah, nicknamed Cemong, dreams of becoming a professional footballer.
No 'Soccer Mom'
Both her mother and older brother vocally disapprove of her playing "a man's game". Her mother once told her "a girl's duty is to clean the house or cook, not chase a ball." The 18-year-old can expect little sympathy when she gets injured or comes home exhausted, and her mother is certainly no cheering "Soccer Mom". But these days she does turn out to support her daughter during matches.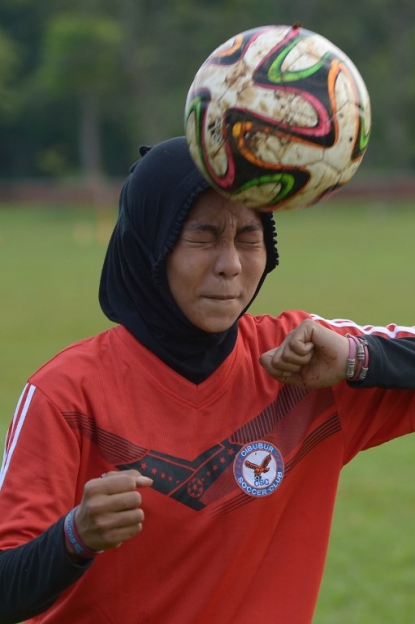 Vica Anyistiawati heads the ball during a training session in Jakarta on March 26, 2015
 (AFP Photo / Adek Berry)
Seventeen-year-old Yulita Cyndi Anggraini was still at elementary school when her father took her along to watch a few games. Far better than Barbie dolls, Cyndi decided. She started playing with boys in the neighbourhood. Her mother was reluctant, but her coach visited their home to talk her family around. Now Cyndi hopes to join the national team and turn professional.
Hopes to wear hijab someday
Both girls are relaxed about playing alongside "hijabers" - as women who wear the garment have come to call themselves in Indonesia, where most people practice a moderate Islam.
Cemong is pleased to see pious girls who cover their bodies in keeping with their faith, but still pursue their hobbies, while Cyndi sees it as "cool" and different. She hopes to wear the hijab someday, including on the pitch.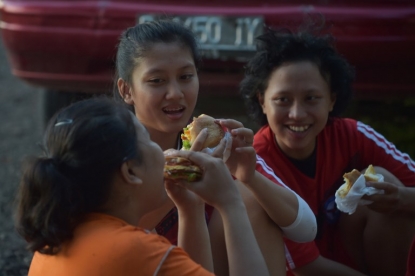 Footballers Nanda (C), Ayu and Tibo (R) after a CSC training session in Jakarta on March 26, 2015 (AFP Photo / Adek Berry)
Earlier this year, the Indonesian National Football Association set up a program to revive women football and there are plans for a female league.
At grassroots level, there is still a long way to go, but after some digging I found dozens of local clubs that are fostering talented young players.
Fearless players
Among them are 15-year-old Dhanielle Daphne and 14-year-old Zahra Muzdalifah. Both from upper middle class families, they were each the only girl in their respective clubs, Zahra with the Asiop Apacinti football school in Jakarta and and Dhanielle with Queen club in Bandung, West Java.
Both learned to play with boys and continue to do so as teammates in the Blue Eagle club in Jakarta, due to a lack of girls. They see this as a firm advantage. "Boys are quick, aggressive and without mercy," said Zahra, who has learned to be fearless in tackling for the ball.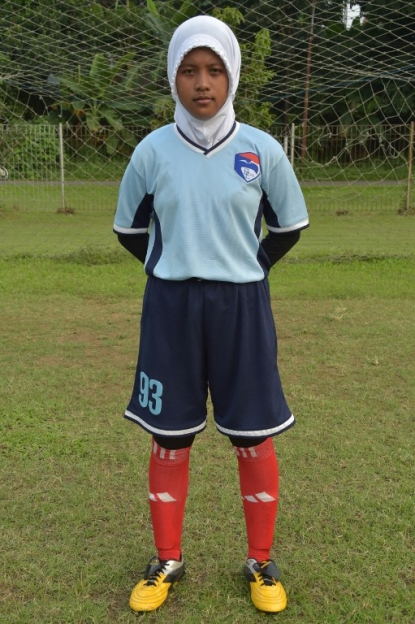 Fatma Nurjanah, 13, during a Blue Eagle club football training session in Jakarta on April 15, 2015
 (AFP Photo / Adek Berry)
A talented student who is racing through the classes at school, Zahra plays on the national girls' team for under-14s. She remembers her childhood as rather dull – until her father started taking her along to futsal sessions, a variant of soccer played on a smaller field and popular in Indonesia.
While he played, she would mess around on the sidelines, kicking and juggling the ball by herself. Her father took notice and registered her at football school, never mind the fact she was the only girl there.
With time passing, Zahra and Dhanielle found their places. Both have played in international competitions such as the U14 JSSL youth league in Singapore, and have trained as far as Japan with the support of their parents.
They may have some way to go rival Brazilian forward Marta da Silva or Germany's midfielder Nadine Kebler, but I am glad to have met these determined young women doing what they love, putting all their talent towards the elusive dream of one day turning pro.
Adek Berry is an photojournalist for AFP based in Jakarta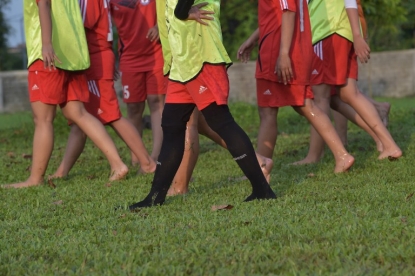 Members of the CSC football club at a training session in Jakarta on March 26, 2015 (AFP Photo / Adek Berry)