Patience and resilience in quake-hit Nepal
KATHMANDU, May 20, 2015 - Two words tweeted by a Nepali journalist friend moments after the second quake last Tuesday summed up the mood in Kathmandu: "Enough already". More than two weeks after the biggest earthquake to hit the country in 80 years, lives in Nepal's battered capital were just beginning to return to some semblance of normality when another one struck, followed quickly by series of strong aftershocks.
Few people slept that night. Like the buildings imperceptibly weakened by the first quake that crumbled in the second, the city's stoicism appeared to falter.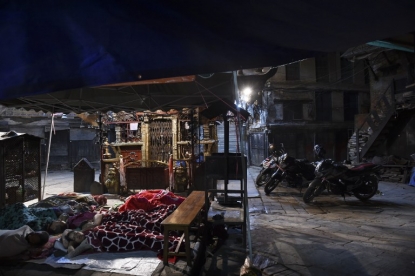 Kathmandu residents sleep out in the open on May 13, 2015 after a second earthquake struck the Himalayan nation
 (AFP Photo / Roberto Schmidt)
And yet just a day later, residents were out helping the army clear rubble from the streets. A 62-year-old man I saw salvaging bricks from a pile talked about rebuilding his house, which had collapsed only the day before.
Seismologists had put the chances of a second quake of such a high magnitude at just one in 200 and the government later admitted it was completely unprepared. Yet as people once again began readying to spend the night outdoors, the mood was one of resignation and cooperation rather than anger. No one expected the government to help, so they were helping themselves – and each other.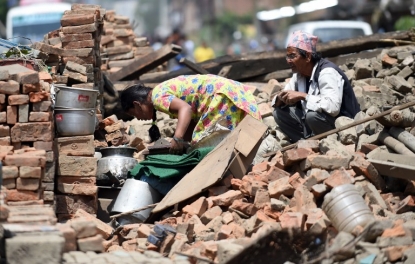 Residents retrieve usable items from the rubble of their house in Bhaktapur on the outskirts of Kathmandu on May 1, 2015
 (AFP Photo / Prakash Singh)
I spent two years working for AFP in Kathmandu from 2009, and was only a few days into my posting when I heard my first stories about the Big One that was coming. Nepal, I was told, suffers a major earthquake roughly every 80 years, and the last one had struck in 1934 - meaning we were due another at any time.
There would be anarchy and looting
An international development agency had just completed a study on the potential impact of a magnitude-eight quake on the Kathmandu Valley, predicting that the airport's single runway would likely be rendered unusable; food and water shortages would quickly set in, and within days there would be looting and anarchy in the streets. When I told my Nepali colleagues, one said I should buy a weapon. "You live on your own, you need something," he told me, suggesting a khukri - the ceremonial knife of the Gurkha soldiers.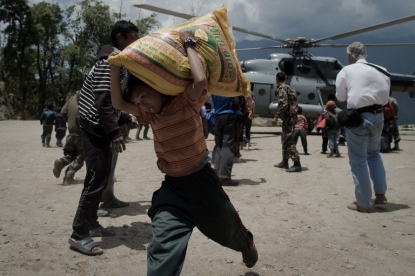 A boy carries a sack of rice from an Indian Air Force Helicopter in the village of Barpak in north-central Nepal on May 4, 2015 (AFP Photo / Nicolas Asfouri)
I never did buy a khukri. But thoughts of the earthquake were a constant backdrop to the two years I spent in Kathmandu, and preparations a frequent topic of conversation among friends and colleagues.
A go-bag and an earthquake kit
One slept with a pick-axe and shovel under the bed in case she had to dig herself out of rubble; another wore a small silver whistle on a chain round her neck at all times. I put together a go-bag and an earthquake kit - a steel box with bottled water, tins of food, first aid kit and sturdy shoes - and thought about the quickest way out of the AFP house. When I arrived in Kathmandu two days after the April 25 disaster, it was a surreal experience to pitch tents with colleagues in the garden of that same house - still standing, if a little cracked in places - and find the earthquake kit still there.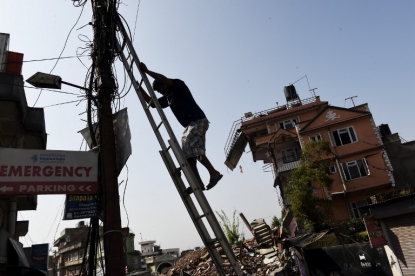 A Nepalese man climbs down a ladder in Kathmandu on May 1, 2015, after fixing some wiring near a house left precariously standing after the April 25 quake (AFP Photo / Roberto Schmidt)
Mercifully, the first quake hit in the middle of a Saturday, when schools and offices were closed. Had it occurred at night, or on a weekday, the death toll could have been much higher. Kathmandu's small airport was quickly overwhelmed, but crucially it remained operational, meaning aid supplies and search and rescue teams could be brought in immediately.
Far from the predicted looting and anarchy, I and the colleagues who had flown in to cover the story - many of them first-time visitors to Nepal - witnessed extraordinary levels of resilience, patience and generosity.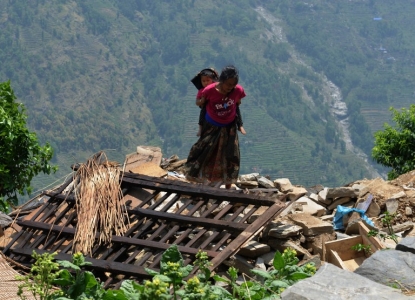 A Nepalese woman carries a child on her back past damaged homes in a village northwest of Kathmandu on May 11, 2015 (AFP Photo / Prakash Mathema)
Journalists are not always welcome visitors after a disaster. We don't bring tents or food or any of the things that people actually need. But time and again, people who had lost homes, loved-ones and livelihoods took the time to talk to us about their experiences and show us the devastation. "They wanted to give us tea," marveled one AFP colleague after a day of interviewing people left homeless after the quake. "They had nothing left, and they wanted to give us tea."
Patient welcome, promises kept
Such stories were legion. A photographer usually based in Afghanistan was amazed at how few people objected to having their picture taken. The head of a city-centre library devastated in the quake patiently took us round the building and explained the cultural significance of the books inside not once but twice, after a technical hitch with the video recording first time round. Our housekeeper and office manager, who had lost his family home in the quake, worked uncomplainingly to cope with the sudden invasion of reinforcements from other bureaus.
Nepalese residents clear the debris of their collapsed house in Bhaktapur outside Kathmandu on May 1, 2015 
(AFP Photo / Prakash Singh)
Some taxi drivers jacked up their prices in response to the influx of foreign journalists and aid workers, but many did not. A few days after the first quake, one drove me to an area of Kathmandu where people had been queueing since dawn for free buses out of the city promised by the government, and were getting angry that they had not materialised. He'd said he would pick me up after half an hour, but when a group of young men started attacking police and forcing cars off the road I assumed he would change his mind. He didn't. When I started walking up the road, I found him there waiting, having positioned his car just far enough from the fracas to be able to drive me away safely.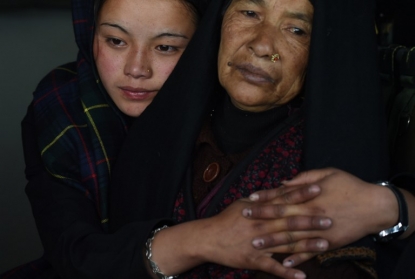 An injured Nepalese mother and daughter sit inside an Indian Army helicopter after being rescued from the north-central Laprak village on April 30, 2015 (AFP Photo / Sajjad Hussain)
Nepal was one of the world's poorest countries even before the earthquake, and its people have had more than their fair share of struggles to contend with. When I arrived in 2009 the country was still reeling from a long civil conflict and since then it has lurched from one political crisis to another.
News good and bad
There were plenty of bad-news stories to be told, but also a surprisingly large number of good-news stories. Most were about communities working together to achieve what governments either couldn't or wouldn't, from preventing the poaching of endangered animals to protecting the country's forests.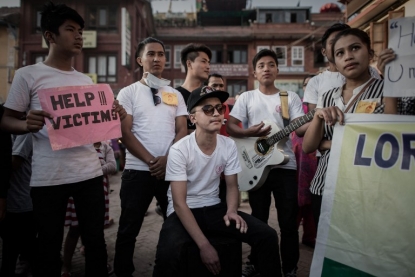 Students play music to raise funds for earthquake victims in Kathmandu on May 4, 2015 (AFP Photo / Philippe Lopez)
That spirit has been very much in evidence over the last difficult few weeks as ordinary Nepalis have sprung into action to help the aid effort. Getting urgently needed shelter to people whose homes have collapsed before the start of the monsoon rains is a monumental challenge. Many of the worst-hit areas were inaccessible by road even before last week's quake, which triggered multiple landslides that have compounded the difficulties.
The response from volunteers has been substantial and organized, from getting much-needed tarpaulins into the country to crowdsourcing information about what is needed where, and how to get it there. Grounds, perhaps, for some optimism as Nepal faces up to an uncertain future.
Claire Cozens is AFP's deputy bureau chief in New Delhi. Based in Kathmandu from June 2009 to June 2011, she returned to the city for three weeks to help cover the aftermath of the April 25 earthquake.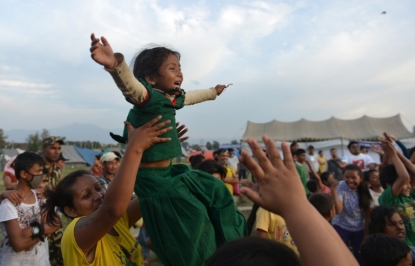 A mother and child take part in a 'laughter yoga' session in Kathmandu on May 15, 2015 to help relieve trauma among earthquake survivors (AFP Photo / Prakash Mathema)