Editing images of 'hell', in close-up
PARIS, October 1, 2014 – As Andrew Caballero was editing the photo of a Syrian man carrying his young son, killed in a bomb blast, his attention was caught by some odd-looking cords strung around the little boy's body. Perhaps a kind of ligature, he thought. Then as he peered closer he realised it was the child's intestines. AFP never released the picture. But the awful image stayed with Andrew, for a long time.
The photo and video editors in Nicosia, AFP's headquarters for the Middle East and North Africa, have to face a daily flood of unbearable images. It is their job to pore over the images from Syria, from Iraq, Gaza, Libya and other regional hotspots, and decide whether or not to publish them. It is their job to take in, for hours at a stretch each day, images of mutilated bodies, of wounded children screaming in pain, and -- more recently -- of hostages being beheaded.
Much of this ultra-violent imagery is unfit for publication under the criteria that AFP sets itself, and will end up in the bin. But not without inflicting a kind of repetitive shock to the journalists who have viewed it.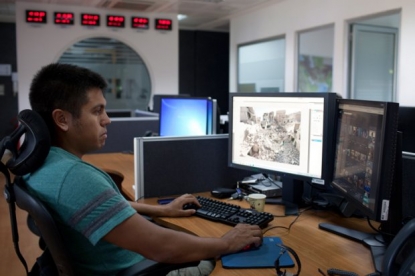 Andrew Caballero Reynolds at work at the AFP photo desk for Middle East and North Africa in Nicosia (AFP Photo / Florian Choblet)
"Horrific images are nothing new in the Middle East," said the photo editor Marina Passos. "Ten years ago in Iraq, they were already decapitating people. Everyone remembers the four Americans whose burnt bodies were mutilated with shovels by a mob, then hung from a bridge in Fallujah in 2004. What has changed is that the horrific images used to come once or twice a month. Now it is every day."
AFP will never release an ultraviolent, or undignified image that brings no value in terms of information. But that does not rule out publishing tough, bloody images that bear witness to a situation on the ground.
"You can't hide hell," said Marina Passos. "Our job is to show the world the way it is. Sometimes a violent image can also carry huge aesthetic power, like this one of a little girl wounded in a field hospital in Douma in Syria."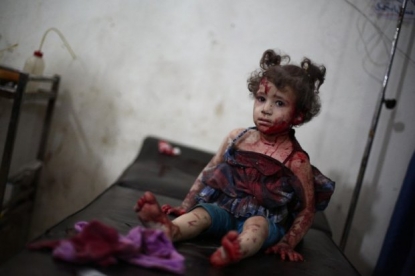 An injured girl looks on as she is being treated at a makeshift hospital in the besieged rebel bastion of Douma, northeast of the Syrian capital Damascus, on September 24, 2014 (AFP Photo / Abd Doumany)
"We are constantly torn," said Hassan Mroue, deputy head of AFP's photo service for the Middle East and North Africa. "On the one hand, you try not to publish the most shocking images. But on the other hand, if you don't, you feel like you are covering up a crime."
When AFP sends out distressing images to its clients, it includes a content warning. It is then up to each client to decide whether to publish them. "Although we do not censor images of death, we are well aware that many networks will not play close-ups of gory injuries and dead bodies. So we stay wide," said Jihan Ammar, video coordinator for the region.
"Since criteria vary from country to country we try to vary our output. Most American and European media try to protect the public from the hardest scenes. Whereas Middle Eastern media are willing to show them."
But before making those choices, the editor has to watch it all. Which makes for gruelling workdays in a region where a huge share of AFP's photo and video output involves violence.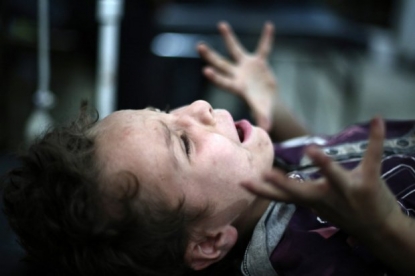 A boy screams as a doctor removes shrapnel from his leg in Douma, Syria, on July 3, 2014 (AFP Photo / Abd Doumany)
Editors face a different kind of distress than their war reporter colleagues. Field reporters have to cope with risk, with flashes of adrenaline, and with the full reality of the horrors they are covering. Editors get to go home every night -- but have to somehow reconcile family life with the terrible images they spent the day watching on screen, knowing no one understands how they feel.
"However appalling an image may be, you have to look at it in close detail, and spend time figuring out how to improve or reframe it," said Andrew Caballero. For the former logistics worker at Doctors Without Borders (MSF), who turned to photography after several years as an aid worker in Africa and Asia, this can stir painful memories.
Breaking point
"At MSF my job sometimes involved burying children," he said. "Every photo of a dead child sends me back to those days."
Every editor has their breaking point. For Jihan Ammar that point was reached with the Gaza conflict in the summer of 2014, faced with a flood of horrific images of dead and injured Palestinian children.
"Here in the video department, we were watching children being pulled out of rubble with no limbs. Parents screaming in despair," she said. "Not only were we seeing these graphic images on large screens in front of us, but they were also playing on Arab networks on the TV screens."
"As we edited more and more, we talked less and less. After finishing a voiced-report on the high number of children victims in Gaza, a colleague who watched the story (featured below) with me for a routine check could not contain her grief."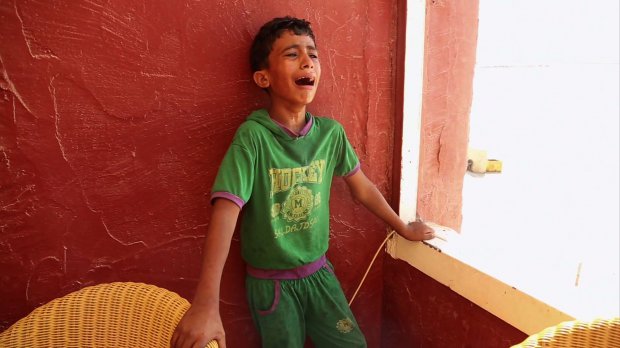 WARNING: This video broadcast in August 2014 includes images of dead and injured children. Click here to view it on a mobile device.
For Marina Passos, the most traumatic have been the images coming out of rebel zones in Syria, where AFP no longer sends reporters, relying instead on local photographers and cameramen.
From Syria, too, many of the images feature dead and wounded children. Watching them is particularly hard for editors who have young families of their own, and cannot help but identify to the victims.
"When I came back from maternity leave two years ago, it was hard to work on the photos from Syria," said Marina Passos. "For three months, I became terrified of everything. All those images of wounded children, the pain and fear in their eyes, I related them to my own life. Before becoming a mother, I could handle images like this without feeling affected. These days there are times I simply can't cope with the pictures from Syria, and have to ask colleagues without children to handle them instead."
The stress can be made worse by the fact local freelancers in Syria and elsewhere are not always familiar with agency guidelines.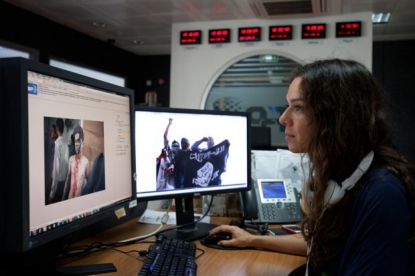 An editor at work at AFP's Middle East and North Africa photo desk in Nicosia (AFP Photo / Florian Choblet)
"Our new video correspondent in Aleppo does excellent work, but he regularly sends us close ups of shattered skulls," said Quentin Leboucher, deputy video coordinator for the region. Again, the editor has no choice: to find the images fit for publication, he has to view them all.
For the Lebanese video editor Etienne Torbey, the red line was crossed with the beheading videos broadcast by the Islamic State group. "Images of bombings, of victims in Gaza and Syria are awful, but in a sense I have grown used to them. They shock me less than these execution videos," he said. "When you see the knife draw near to the victim's throat, that oversteps the limit. I can't watch any further."
Quentin Leboucher found it particularly painful to have to watch the video of the execution of US reporter James Foley, a regular AFP contributor in Syria.
Subliminal images
AFP has not broadcast any of the recent beheading videos, sending out only a small number of still images -- one of the victim, and sometimes the executioner. But editors still have to view the video to choose the still, and crop it to make it the least degrading possible for the victim. Watching the video also, sometimes, yields information, like recently when near-subliminal images of another execution -- probably in Syria -- were inserted for an unknown reason into the video of the execution of French hostage Herve Gourdel in Algeria.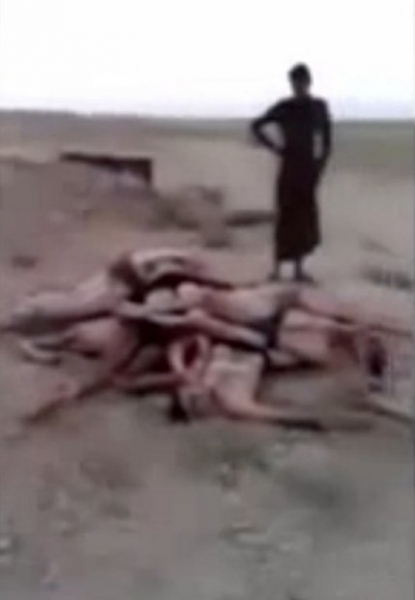 An image grab taken from a video uploaded on social networks on August 28, 2014, shows young men lying on the ground after being allegedly executed by Islamic State (IS) militants in Syria's Raqa province (AFP / HO / Khilafaa Press)
How do the editors keep going? "The Nicosia photo desk is a very close-knit team," said Andrew Caballero. "We chat and joke amongst ourselves to make our shifts less depressing. But this is our choice, at the end of the day. If you can't stand viewing shocking pictures, don't become a photo editor for the Middle East."
"I try to work like a surgeon, with a certain distance from the patient, to operate without emotion," said Hasan Mroue. "Even if these days I often feel like a city surgeon who's been parachuted into a field hospital on the front line."
Etienne Torbey says it was like a breath of fresh air when AFP's Nicosia video team helped out their Hong Kong colleagues by editing Asia's production for a period last summer. "It was fantastic," he said. "Suddenly we were watching all these images about culture, art, animals in zoos, all these real life things we would love to do in our region. But of course with four countries at war we have other priorities."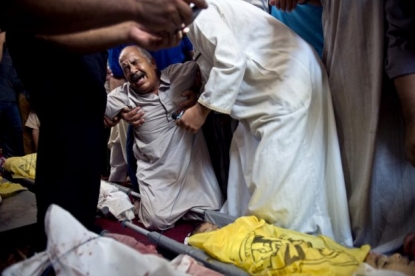 A Palestinian man reacts over the bodies of three boys killed in an Israeli military strike, during their funeral at a mosque in Gaza City on August 21, 2014 (AFP / Roberto Schmidt)
Arriving home to your family, after that kind of day at the office, is not always easy. "All of a sudden the awful pictures will flood back into your mind," said Andrew Caballero. 
"During the Gaza conflict I felt depleted every day," said Jihan Ammar. "At home, it was hard to wind down, to sleep, to stop the film playing in front of my eyes. I couldn't watch television. But I didn't talk about it to my family. It was too horrible to share."
"For those of us with roots in the region, the high level of violence we are seeing this year is especially disheartening," said Ammar, who is Egyptian-American. "All the great civilisations around us are crumbling into chaos. Reporting in the field is more and more dangerous. Conflicts come and go in vicious circles and sectarianism is strangling the region. The future looks bleak."
Roland de Courson is editor of the AFP Correspondent blog.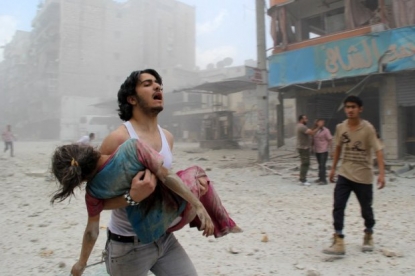 A man carries a young girl who was injured in a barrel-bomb attack by government forces on June 3, 2014 in Kallaseh district in the northern city of Aleppo (AFP Photo / Baraa al-Halabi)