Pepper sprayed in Hong Kong
HONG KONG, October 21, 2014 - On Friday night in the Mongkok district of Hong Kong it was a chaotic loud scene spread out over 4 or 5 city blocks. Thousands of pro-democracy protesters were seeking to reclaim streets they had previously occupied but lost to police.
A few hundred police were in groups of 20 to 30, variously lining the roadside to keep people off the street, charging at people to push them and their barricades back, or in a standoff about to charge, wielding batons and pepper spray, against protesters (mostly young students) holding umbrellas as a feeble but symbolic defense.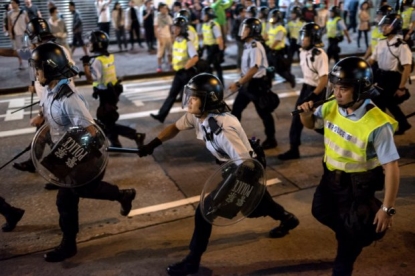 (AFP Photo / Alex Ogle)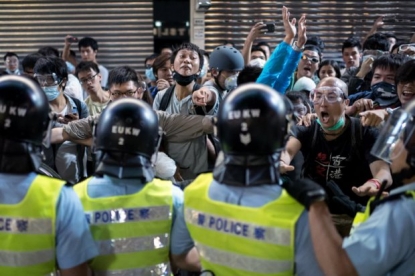 (AFP Photo / Alex Ogle)
During one push I was with police as they moved on a barricade. A guy next to me was taking pictures and trying to keep his position as a policeman was trying to move him away. He pushed back against them, and a policeman shoved him and a female reporter he was with to the floor. He came back, waving his reporter ID, accusing them of being too forceful, and he was then pepper sprayed in the face .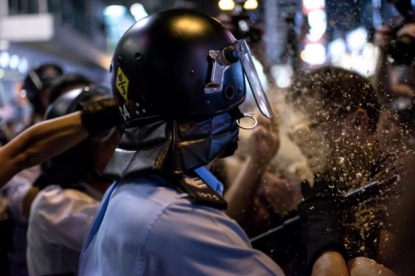 (AFP Photo / Alex Ogle)
"Both of us were pushed to the ground. There was no prior warning or signal," local journalist Ronson Chan told my AFP colleague Dennis Chong the next day. "Of course I was angry. He had a weapon and he is a man but he pushed a girl," said Chan, a news editor with a local media group.
I was standing next to him when he was pepper sprayed and moved to the ground to take his picture as he fell, banging his hands on the floor in anger or just pain, and waving his journalist credentials again as he was down.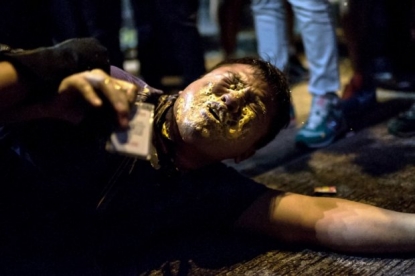 (AFP Photo / Alex Ogle)
The police quickly picked him up and washed him off with water (not an effective way to clear off the burning effects of the spray [you need milk]) and the crowd dissipated.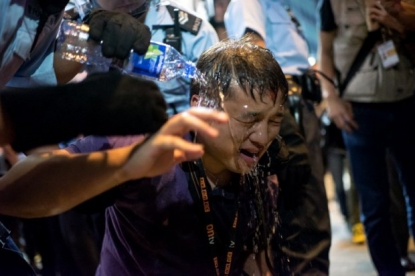 (AFP Photo / Alex Ogle)
The first picture I filed immediately stood out on my camera roll for having a strange ephemeral glow (top image), I think from catching another photographer's flash firing. The natural light image is perhaps even more disturbing.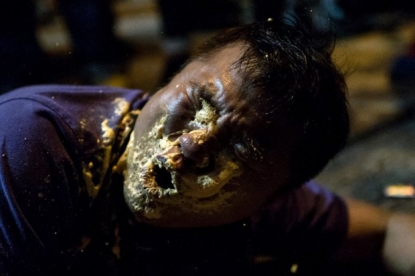 (AFP Photo / Alex Ogle)
The picture that moved me the next day when I was looking at all the frames is the image of the journalist's female colleague he was trying to protect, crying as she helplessly filmed him being picked up by the police.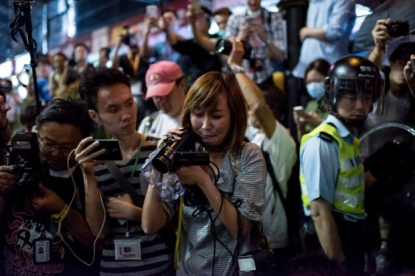 (AFP Photo / Alex Ogle)
I only originally filed 3 pictures to the wire which I thought were the strongest images. I tweeted the first photo with the strange light at the time and it got a few hundred retweets quickly. I filed more pictures as interest grew even more as it was confirmed the man in question was a journalist, apparently the victim of overzealous policing as he was doing his job reporting what is happening here.
Alex Ogle is an AFP photographer based in Hong Kong. Follow him on Instagram.
::video YouTube id='VSA7M0nR3Gg' width='520' height='428'::