Chasing North Korean phantoms
Kuala Lumpur -- For the outside world, the brazen assassination of Kim Jong-Nam, the brother of North Korea's leader, in Malaysia a month ago sparked a diplomatic standoff between Kuala Lumpur and Pyongyang and an investigation that has raised more questions than answers.
For the journalists covering the spy-novel-like killing, it has meant a monotonous, macabre and occasionally sleepless wait outside the North Korean embassy in the Malaysian capital, and the morgue where the victim's body has lain for weeks.
AFP's senior Malaysia correspondent Jegathesan Muniandy, Malaysia photo chief Manan Vatsyayana and Hong Kong-based journalists Sarah Lai and Ammu Kannampilly reflect on a tumultuous first week punctuated by overnight vigils and a scramble to keep up with unpredictable developments.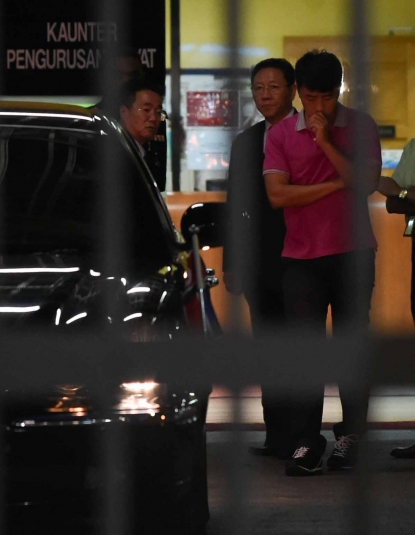 North Korean embassy officials leave the forensic department of a Kuala Lumpur hospital, February, 2017. (AFP / Mohd Rasfan)
Jegathesan Muniandy, senior correspondent
It was Valentine's Day and my wife and I were about to leave home for dinner at a nearby restaurant when my phone rang, with Simon Martin, an editor with AFP's regional headquarters in Hong-Kong, on the line.
Simon alerted me to a report that Kim Jong-Nam, the half-brother of North Korea's leader, had been assassinated in Kuala Lumpur International Airport the day before.
If we could confirm it, this would be a major story involving one of the world's more secretive states.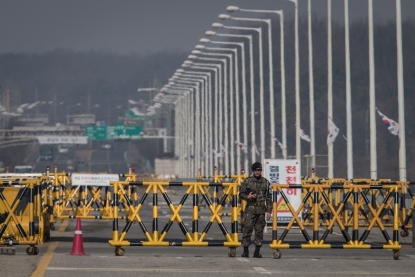 A checkpoint on the Tongil bridge, the entrance to the Panmunjom Joint Security Area (JSA), near the Demilitarized Zone (DMZ), between North and South Korea, March 17, 2017. (AFP / Ed Jones)
My plans for a romantic dinner forgotten, I called the local police chief, kicking off our coverage of one of the most dramatic stories I have reported on in nearly two decades with AFP.
The police chief wouldn't say much -- a North Korean man had suffered a "sudden death" at the airport and died in the ambulance on the way to hospital.
Frustrated, I turned to a government source whom I had cultivated through the years to see what he would say.
This is when things got interesting -- the senior government official said that the North Korean was attacked by two mysterious women who wiped his face with a chemical of some sort.
With the police reluctant to share any information about the investigation, I and AFP's Malaysia photo chief Manan Vatsyayana headed to one of the capital's two public hospitals to find out where the body of Kim was being kept for a post mortem.
At the Putrajaya hospital's forensic unit, a large group of media had already gathered. The entrance to the unit was manned by security guards and no officials were prepared to provide any details.
Confusion reigned.
Malaysian private security guards stand guard outside the forensics department at Putrajaya Hospital, February 14, 2017. (AFP / Manan Vatsyayana)
The atmosphere outside the morgue was tense in those first hours because reporters were confused as to who this mysterious North Korean man was and why there was so much interest in his story. Editors were demanding confirmation, but at that late hour, many officers were simply not answering their phones.
On top of that, it was a moonless night and the only light was at the entrance of the morgue, which was off limits to the media, so we had to huddle in the darkness of the parking lot. The air was hot and humid and we were getting attacked by mosquitoes. Since I didn't have any repellent with me, I took refuge among smoking friends. My iPhone was running out of power fast and my extra battery was of no use, so my normally cool demeanor was becoming agitated. Luckily my wife had prepared a hot flask of coffee for me, with my favourite tuna sandwich, which helped calm me down.
We finally called it quits at 3 am. But it was the first of many long nights spent in search of a story.
Spending so much time outside the morgue brought back memories of covering other deaths -- usually in massive disasters like the 2004 Asian tsunami or closer to home, in accidents including a building block collapse in 1993 where freezers containing dozens of corpses were kept outside the morgue due to lack of space.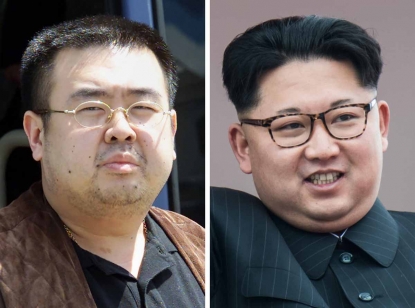 Kim Jong-Nam (l) in Tokyo in 2001 and his half-brother, current North Korean leader Kim Jong-Un (r) in Pyongyang in May, 2016. (AFP / Toshifumi Kitamura (l), Ed Jones (r))
Manan Vatsyayana, Malaysia photo chief
Since moving to Malaysia in February 2014, I covered the saga of the missing Malaysian Airlines flight MH370, which vanished into thin air three years ago, and two other plane accidents. So the first thought when I heard about the killing was that it would turn into yet another long 'phantom' story.
Let me explain what I mean.
'Phantom news' is a term coined by local photographers and video journalists after the MH370 story. Basically it's used to describe any news story that's a struggle to illustrate. It can be a missing plane, or a row over a body kept behind closed doors, or boatloads of migrants that we never managed to see from the Malaysian side.
Hours after the North Korea story first broke, Jega and I finally called it a night at 2 am after filing first images of the the Kim Jong-Nam saga from the Putrajaya hospital. Ironically it was a picture of silhouetted security guards manning the forensics department at the hospital - a first of many more pictures of security personnel standing guard at the forensics wing, or at the morgue later.
It was only the beginning.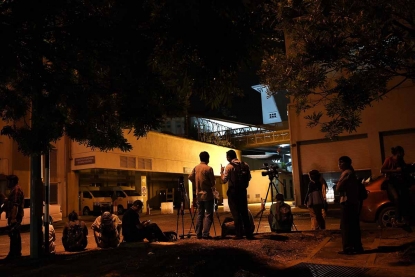 Journalists wait, and wait, and wait, outside forensics at Putrajaya Hospital. (AFP / Manan Vatsyayana)
As details of the killing trickled out to the outside world, the body was secretly transferred to another hospital in the heart of Kuala Lumpur under police escort and with that we kicked off a series of round-the clock shifts. My photographer colleague Mohd Rasfan and I took charge of the graveyard shifts, hoping to get a shot of the victim's body.
Over the next week, I began to dread the period from midnight to sunrise, because it was invariably when news broke -- from the angry North Korean ambassador staging an impromptu presser in the middle of the night, to Malaysian special forces securing the morgue compound at 2 am as rumours flew of a possible break-in. And of course a constant fear of missing the shot if the body was moved somewhere else in the middle of the night.
As a news photographer, I am used to long hours of waiting patiently for an event. But this time around, staring for hours on end at the door of the morgue, became particularly stressful. We tried to lighten up the mood by joking that our toilet breaks became super-fast, just in case the body was moved in a flash.
It was a particularly frustrating time for photographers, with no pictures of either the victim or the accused available for days on end in what was a fast-escalating news story.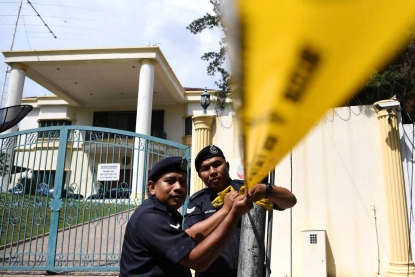 Making do with the shots you have -- Malaysian police cordon off the area outside the North Korean embassy in Kuala Lumpur ahead of a planned protest, February, 2017. (AFP / Manan Vatsyayana)
Every now and then there were leaked handphone images and CCTV footage of the victim and the two women but it was only five days later when the police held their first official news conference that we could use their handout photographs of the people at the centre of this story... an eternity in news terms. Until then, the only pictures were scenes outside of forensics and the North Korean embassy. There are only so many of those you can have…
(AFP / Manan Vatsyayana)
Sarah Lai, video journalist based in Hong Kong
When I told my friend I was going to Kuala Lumpur five days after the assassination, she asked me what I was going to cover. Hadn't the story finished? I replied that while I didn't know what awaited me in Malaysia, I didn't think the story was over. Words to live by, as it turned out.
With very little information available and wild rumours flying around, I spent most of my time waiting outside the morgue, the North Korean embassy and the airport, on standby in case something -- anything -- might happen.
One night, we heard a rumour that Kim's 21-year-old son, Han-Sol, was flying to Kuala Lumpur. He had rarely been featured in media reports until then, his family in exile and surrounded by security.
But, although we did not know if we would be able to identify him among thousands of passengers, or if he would leave through the VIP exit or indeed, if he was even on the flight, we knew that his arrival would be "the" moment to capture on camera.
Every time someone heard he was arriving, the media scrum -- me included -- ran in the same direction. After a few such episodes, no one knew where he was or he was arriving at all. I even had a bad fall because I was so focused on keeping up with the running cameramen that I didn't notice I was on a slope. I was not the only one.
The uncertainty lasted the whole night, I was woken up at 3 am by a colleague calling to say Han-Sol was at the morgue, with police special forces in attendance. I grabbed my camera bag, tripod and live equipment and ran like a crazy person to the morgue -- it was just a 10-minute walk from my hotel, but at that moment, I felt like I would never get there in time. In the end, it turned out to be another false alarm but one that summed up much of my experience covering this story.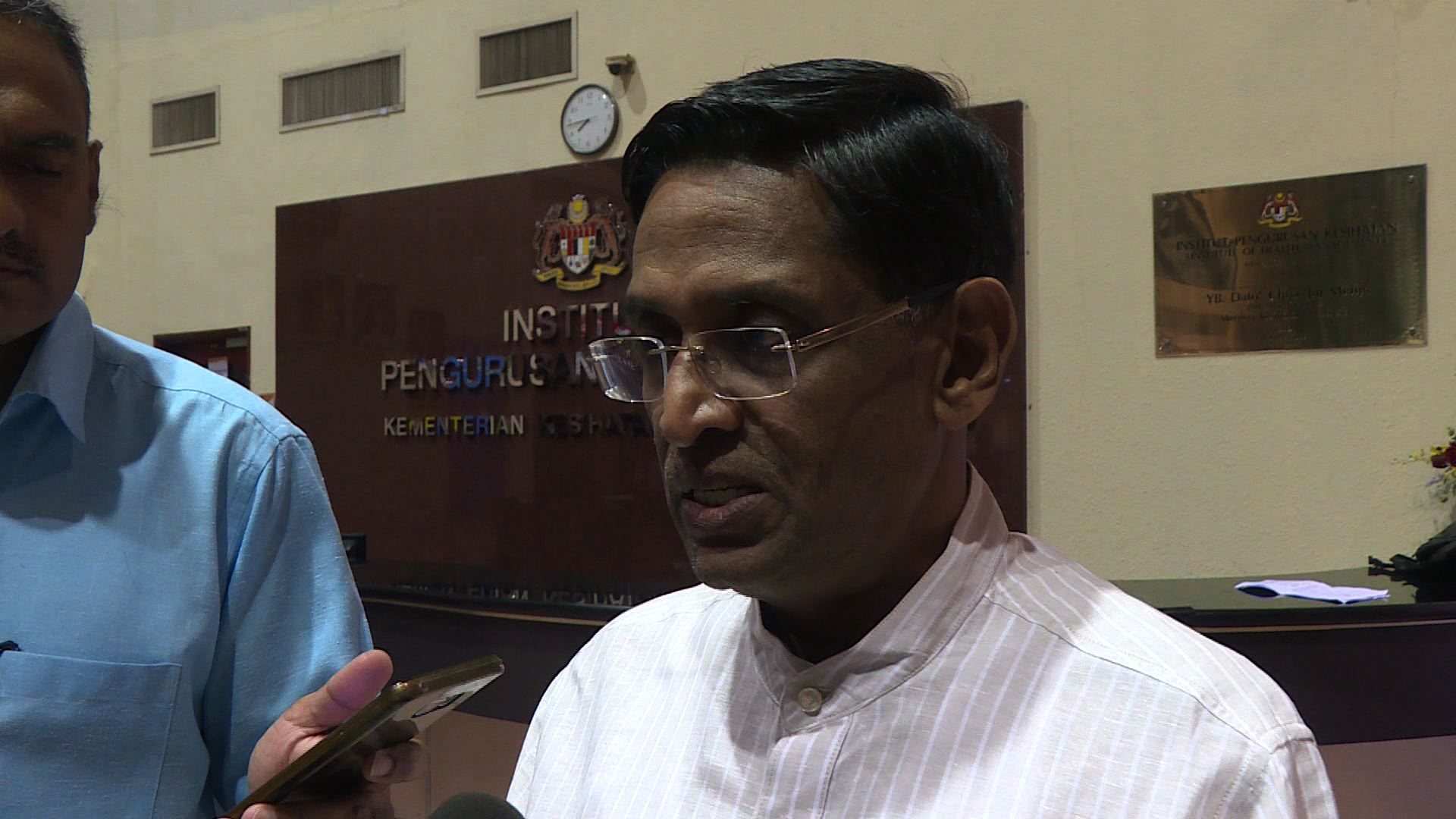 Ammu Kannampilly, Hong Kong-based editor
The story may have disappeared from the front pages, but the body is still at the morgue and so are the photographers, come rain or shine, though most of them head home after nightfall.
I arrived here at the end of last week and quickly realised how difficult it is to cover a story where so much remains unknown and where facts are in short supply, though there's no limit on speculation.
As our team spends long days chasing Malaysian officials for scraps of information, I have started to wonder if the people we are pestering are also fed up of the seemingly endless wait for answers and ready for a new story -- one that trades facts for phantoms.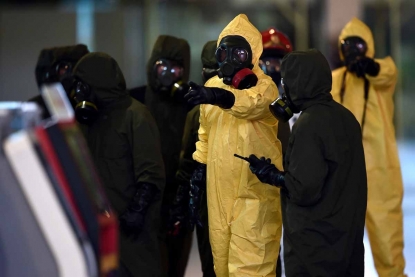 Members of Malaysia's Hazmat team conduct a decontamination operation at the departures terminal of the Kuala Lumpur International Airport 2 (KLIA 2) in Sepang on February 26, 2017. (AFP / Manan Vatsyayana)