An equine paradise
Grosbois, France -- I'm not what you would call a horse person. I'm not exactly comfortable around them and have no desire whatsoever to get on one. But when I heard about the Grosbois veterinary clinic, I was intrigued, and ended up spending six days capturing this hauntingly beautiful, unique place just south of Paris.
I first heard about Grosbois in a television documentary. What I found fascinating, aside from the fact that there was an entire hospital dedicated to horses, was how the animals were woken up after operations. The wake-up is as critical a moment as any other during the operation. It's always very fast and dangerous, both for the animal and its handlers. So I went to take a closer look.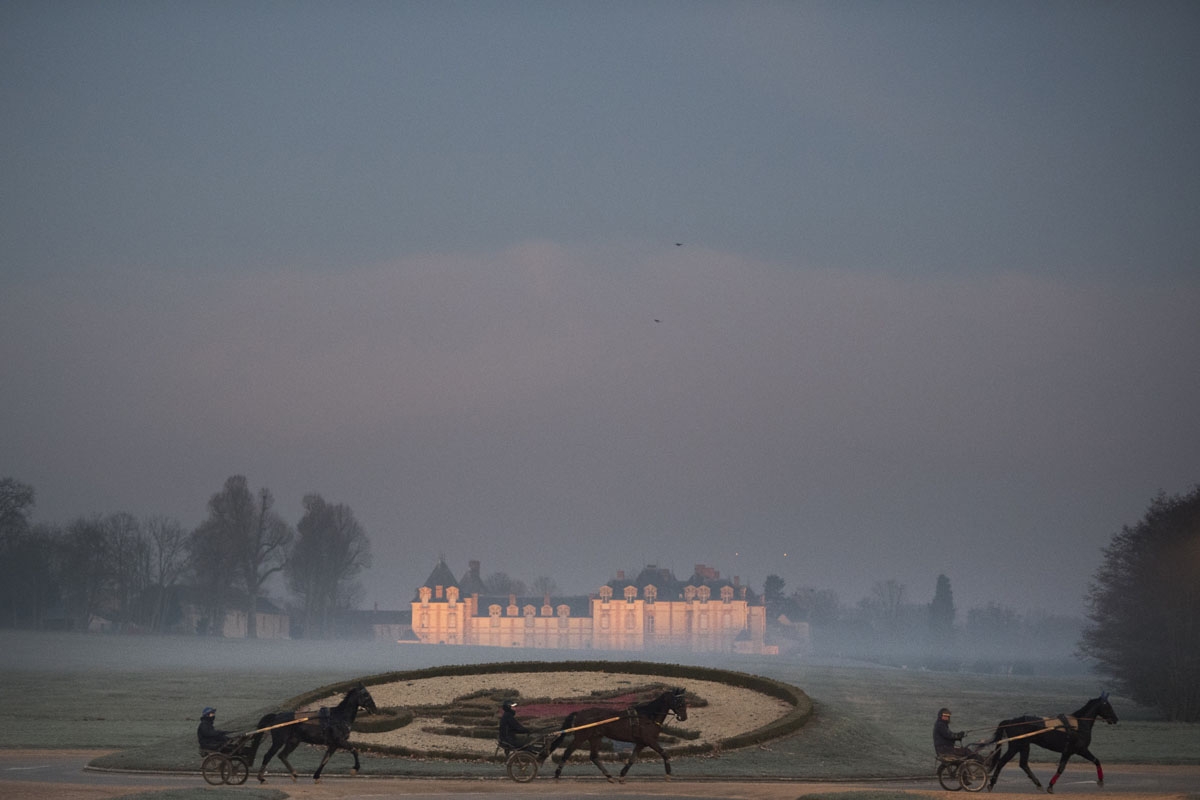 (AFP / Martin Bureau)
The first thing that strikes you about Grosbois is the sheer beauty of the place. It sits on some 400 hectares not far from the Orly airport south of Paris. In the middle is a Louix XIII-type castle, which today is a museum of all things equine. Everything on the impeccable grounds has been designed to host up to 1,500 animals -- stables for the horses, lodgings for their owners, a forge and blacksmith, a saddlery, three training tracks and the state-of-the-art veterinary hospital.
Grosbois is a major equestrian center here in France. Horses and their owners board here to participate in winter races in nearby Vincennes and the hospital has such a reputation that people come from all over the country to have their animals treated here.
The first operation that I witnessed was one on a knee. The operation went well, but the crucial wake-up period less so. Still sleeping the animal was moved, upside down, its four legs in the air, into post-op, the walls of which were completely padded, to avoid injury. When being woken up, the handlers keep a hold of the horse by its head and tail, to help it get up and to avoid any accidents.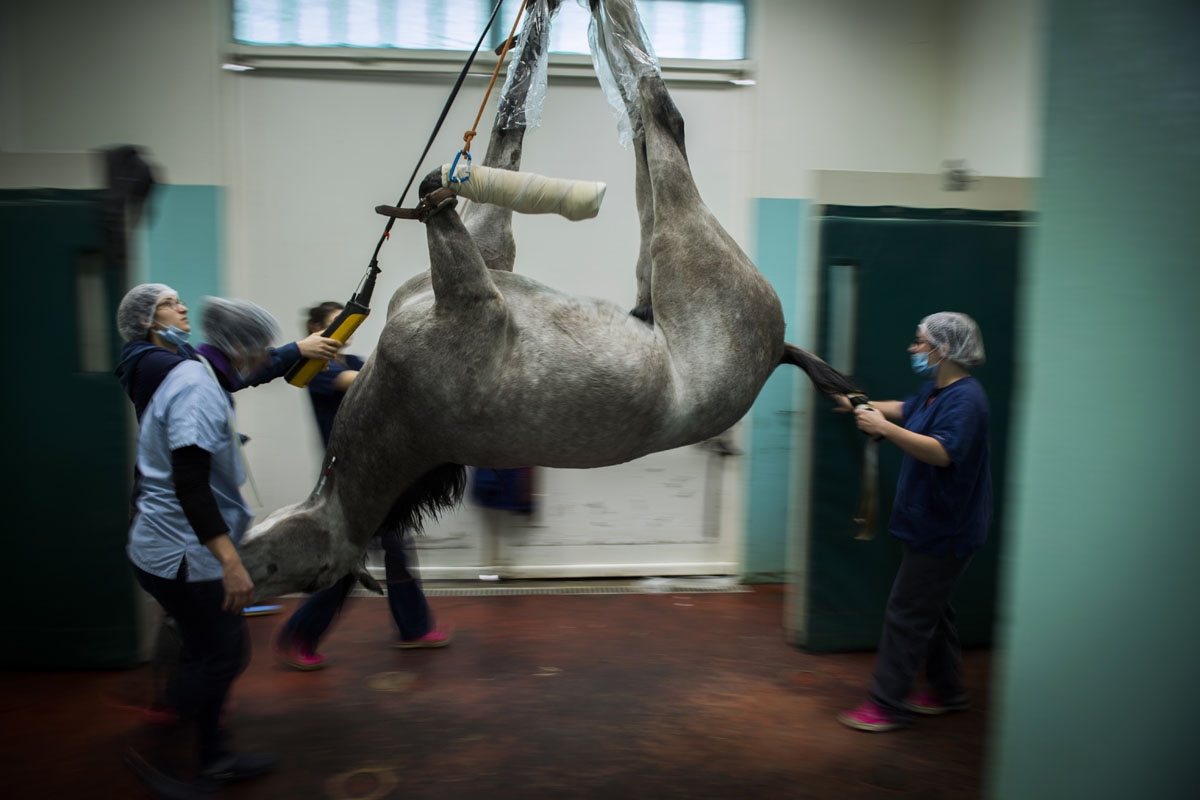 From surgery to post-op. (AFP / Martin Bureau)
As the horse was waking up, the back strap gave way. Not taking any chances, the handlers put the horse under again. Taking advantage of the situation, I went in to take some pictures. "Get out of there right away!" came the swift reaction. "You could die!" While that could seem like an exaggeration to some, in reality the risk is very real.
A few moments later the animal was awake and on his legs. Just like that, in a blink of an eye. He was also disoriented. And weighing 600-700 kilos, if he panicked, it was better not to be too near him.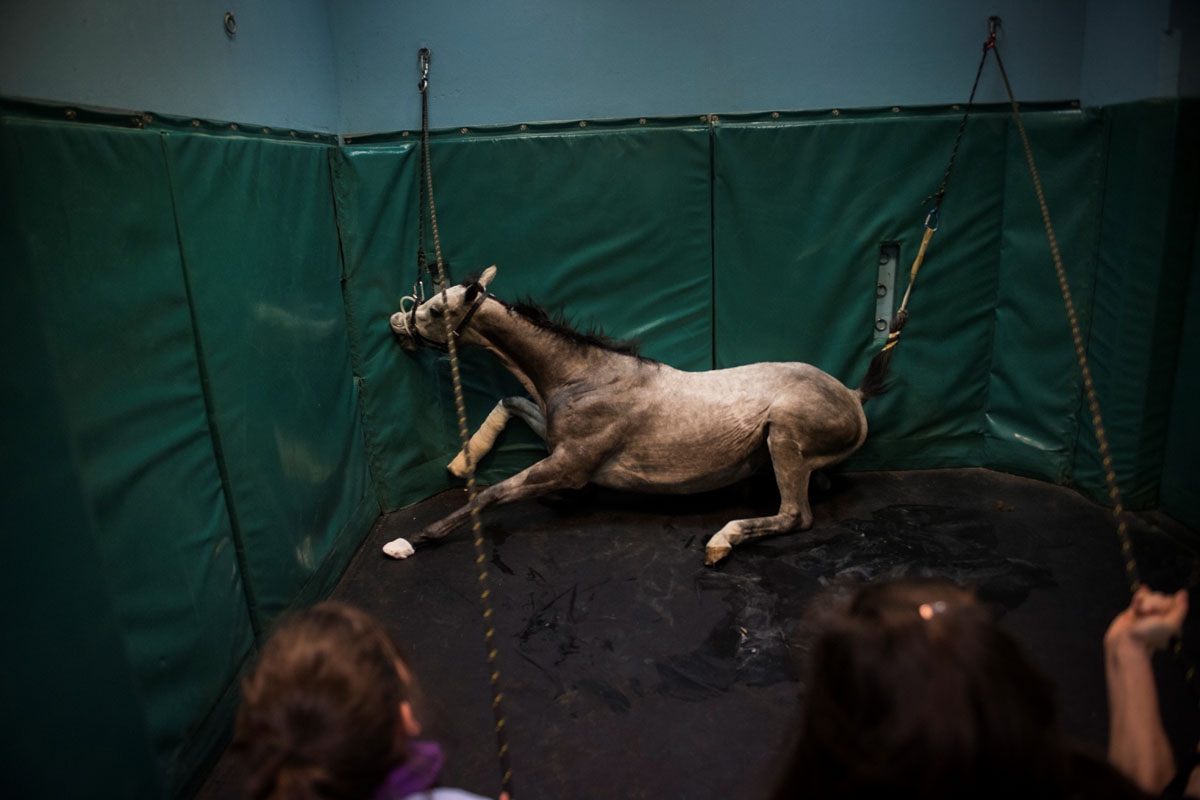 (AFP / Martin Bureau)
Sometimes surgeries are performed under local anaesthesia. In those instances, the animals remain standing, in between a structure of metal bars.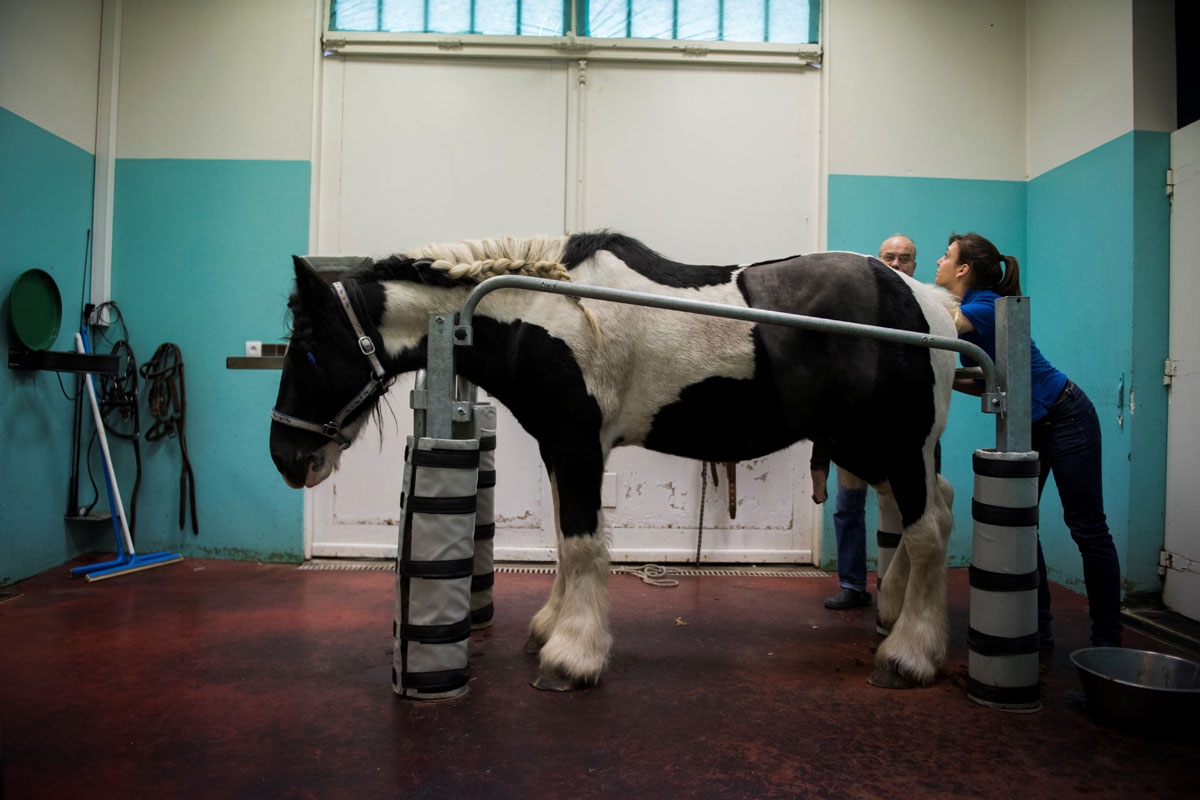 (AFP / Martin Bureau)
But just in case, the doors of the post-ops remain open, to allow the human handlers to escape if needed. A radiologist told me that there have been instances when the animal comes to, disoriented and terrorized, and he panics, breaking everything in his path, including bones of their human handlers, who end up on the floor, bleeding.
Despite the very real risk, the atmosphere here is very peaceful. The staff is experienced and doesn't panic easily. They all handle the horses with extreme care and very gingerly, softly. Everyone has a role to play.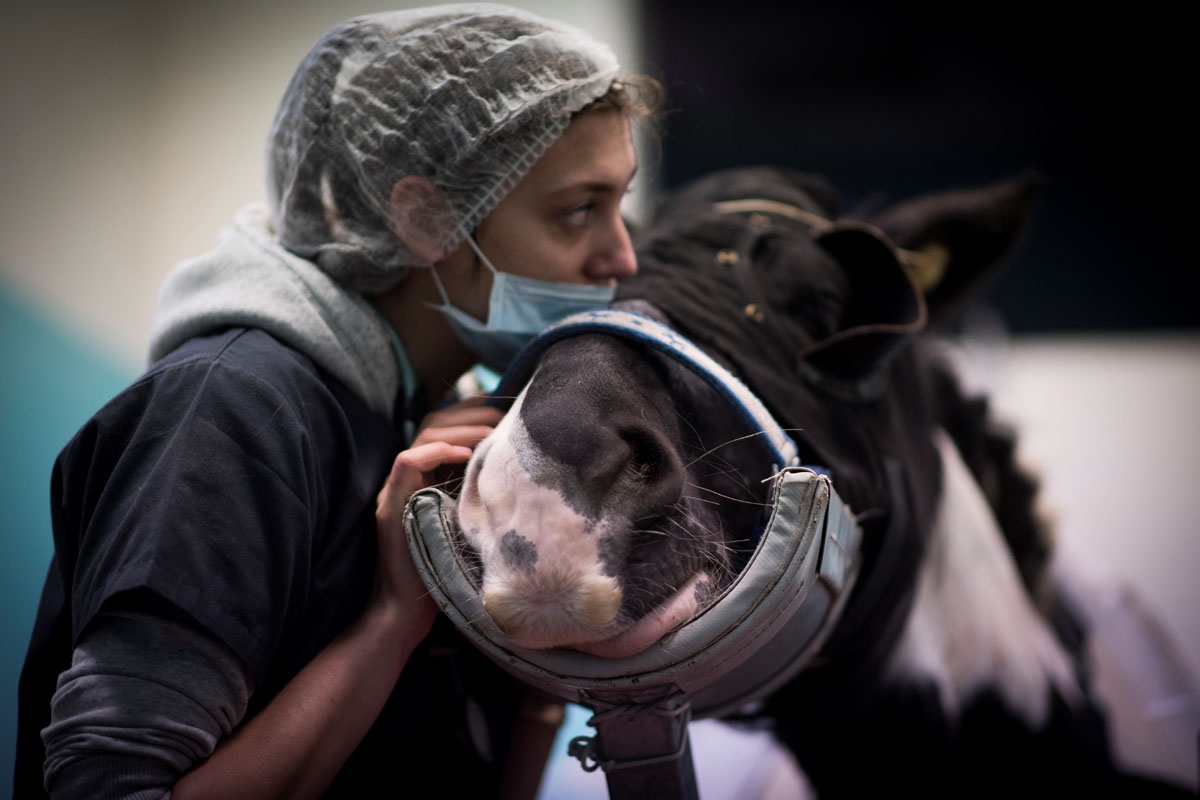 (AFP / Martin Bureau)
One time, the radiologist came in with a magnificent black thoroughbred, young and apparently with a volatile temper. A type of horse whose ears perk up when a door slams on the other side of the hospital. Since he was alone and I happened to be near, he asked me to hold the reigns for a moment. I politely suggested that perhaps I was a bit too jittery for the task. "Yes, he can feel it," the radiologist answered.
The hospital has all the amenities of its human counterparts, including a waiting room with a coffee machine and the latest glossy magazines.
Everything here is horse-sized -- exam rooms, ultrasound equipment, operating rooms.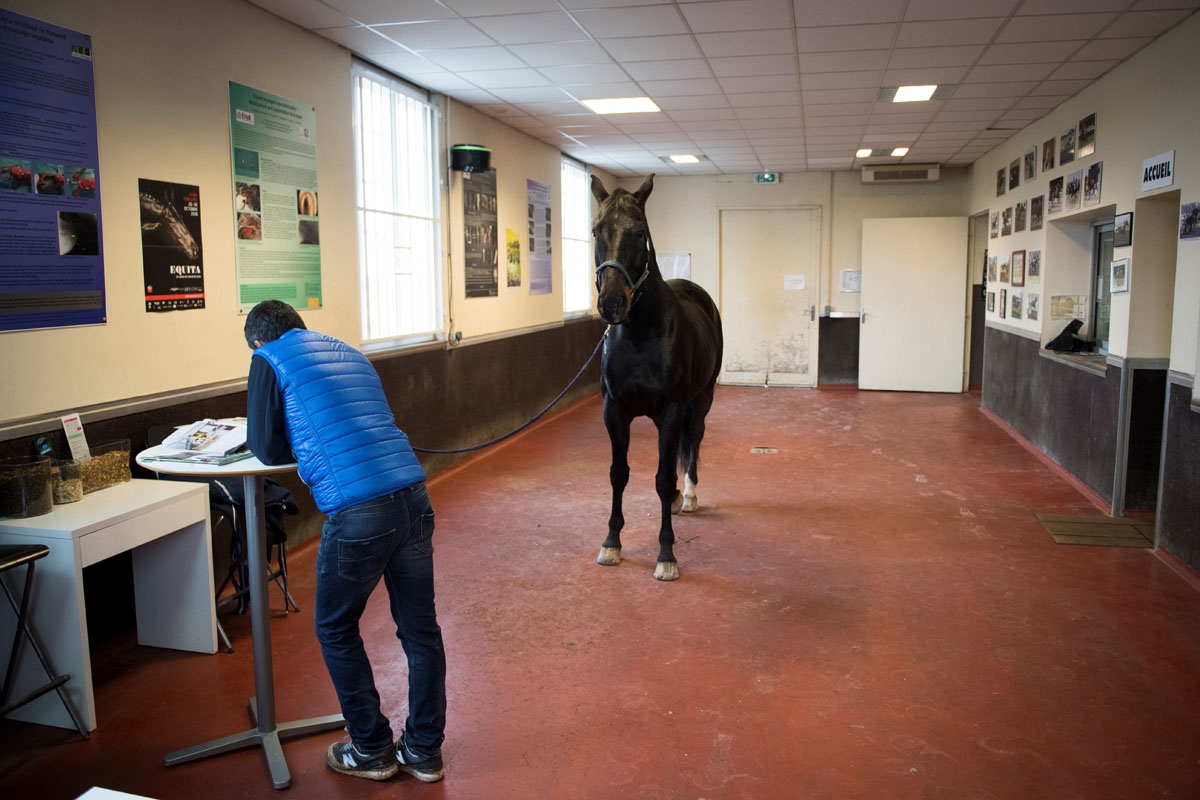 The waiting room. (AFP / Martin Bureau)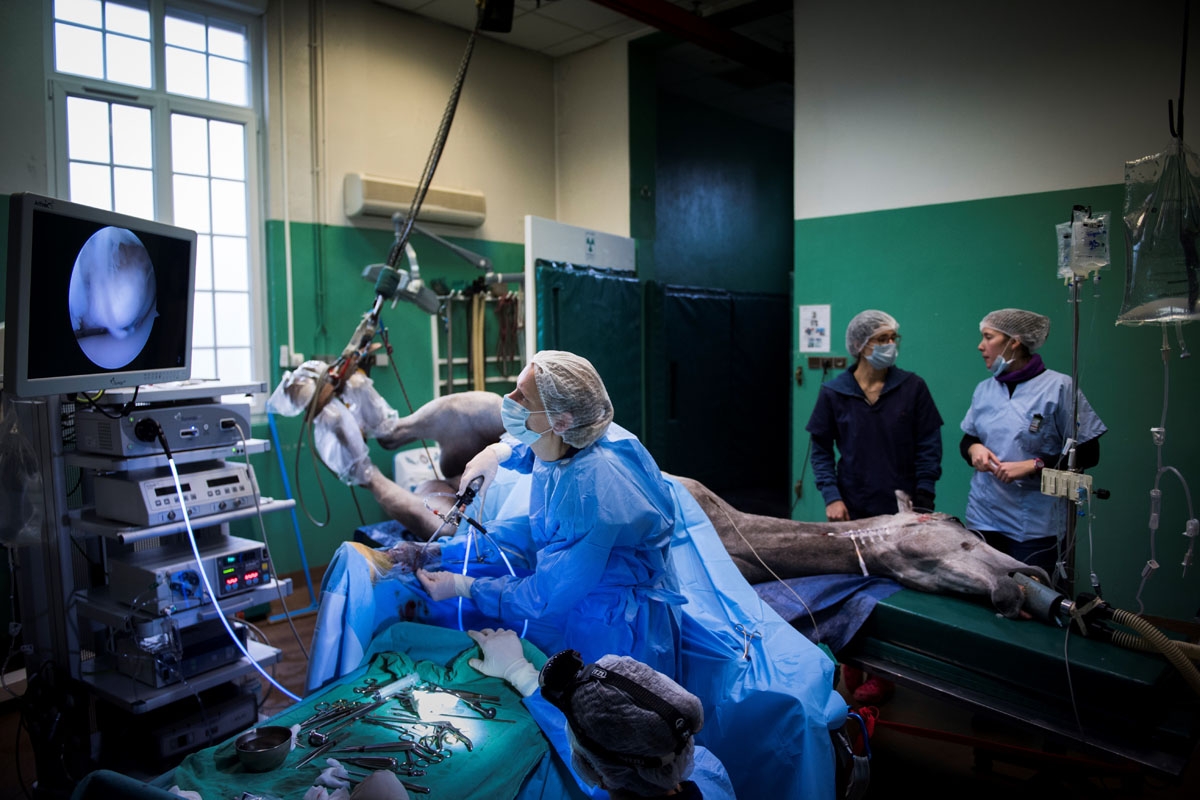 The operating room. (AFP / Martin Bureau)
There is even a horse-sized treadmill, so the animals can be examined as they are exercising, even when galloping.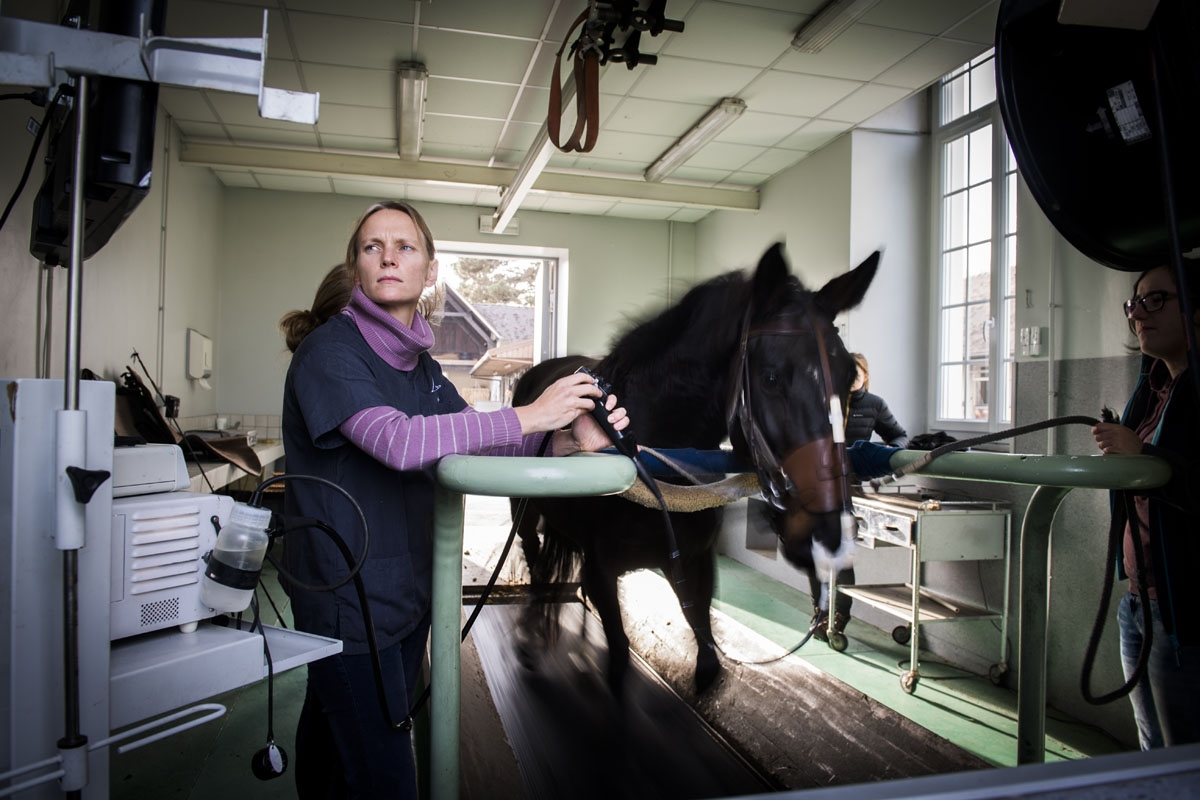 The treadmill. (AFP / Martin Bureau)
Operations take place just like they do at a people hospital -- there are nurses, anesthesiologists, a surgeon who comes in once everything is ready. Recovery times tend to be a bit shorter than those of humans though -- typically a horse comes in on Monday, undergoes an operation on Tuesday and leaves on Wednesday.
There are two operating rooms -- one for soft tissue, including digestive, respiratory or cutaneous problems, the other for bone and circulatory problems.
This place is top notch and people come here from all over the country. Like a 70-something woman whom I encountered one day, who came up from the city of Metz, more than 300 kilometers away, with her two horses and their rider.
I was photographing one of her horses when she walked up to me. "He's beautiful, no?" she said. "He's magnificent," I told her. I asked her why she came all the way up here from Metz. Surely, there are good vets in her city? She told me that she has been coming here for 25 years. "It's a question of confidence."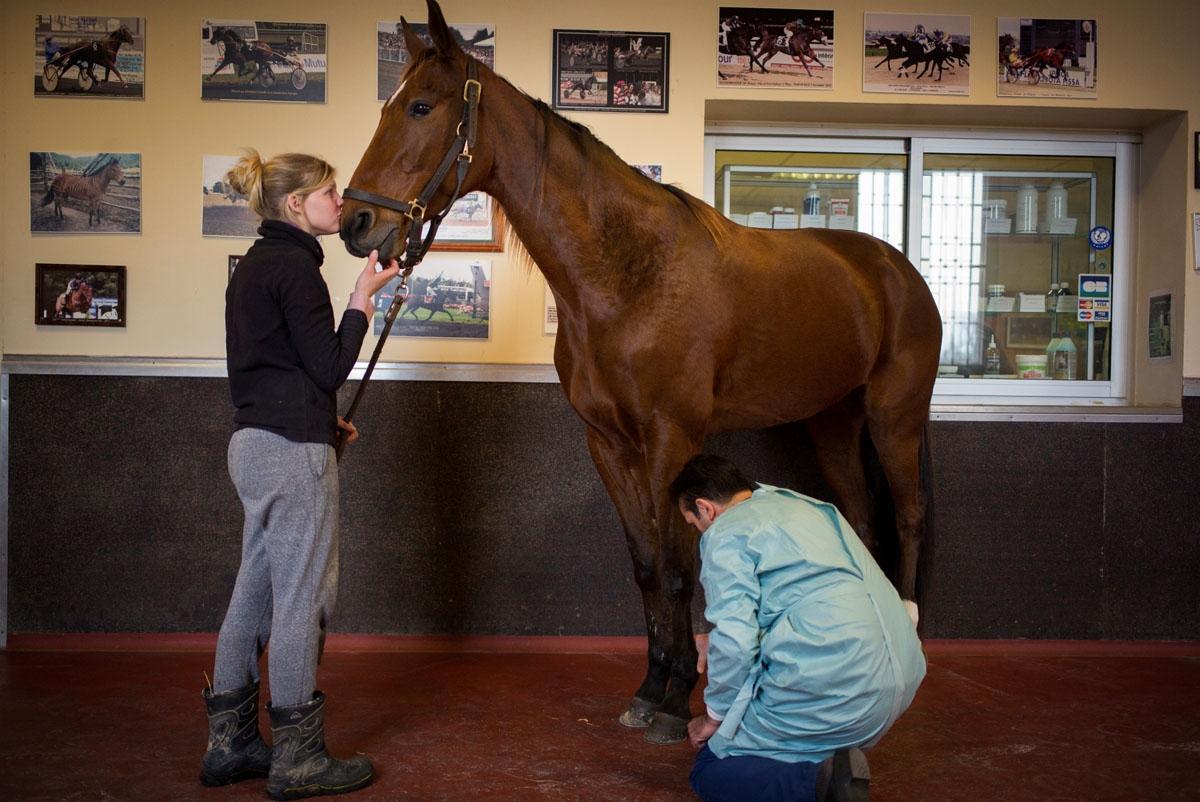 (AFP / Martin Bureau)
I was warned that some owners were likely to object if they saw me photographing their animals. But I didn't find that at all. Once, I was standing in front of the castle, waiting for a rider to pass in front. I'd seen plenty before, but on this day, none were coming. Then finally one came into view. I pressed the shutter. The rider turned around and headed toward me. I got ready for him to complain. Instead, he asked me to take a photo of him with his horse. Ok, I answered, but in that case ride again in front of the chateau. A magnificent photo with a magnificent horse.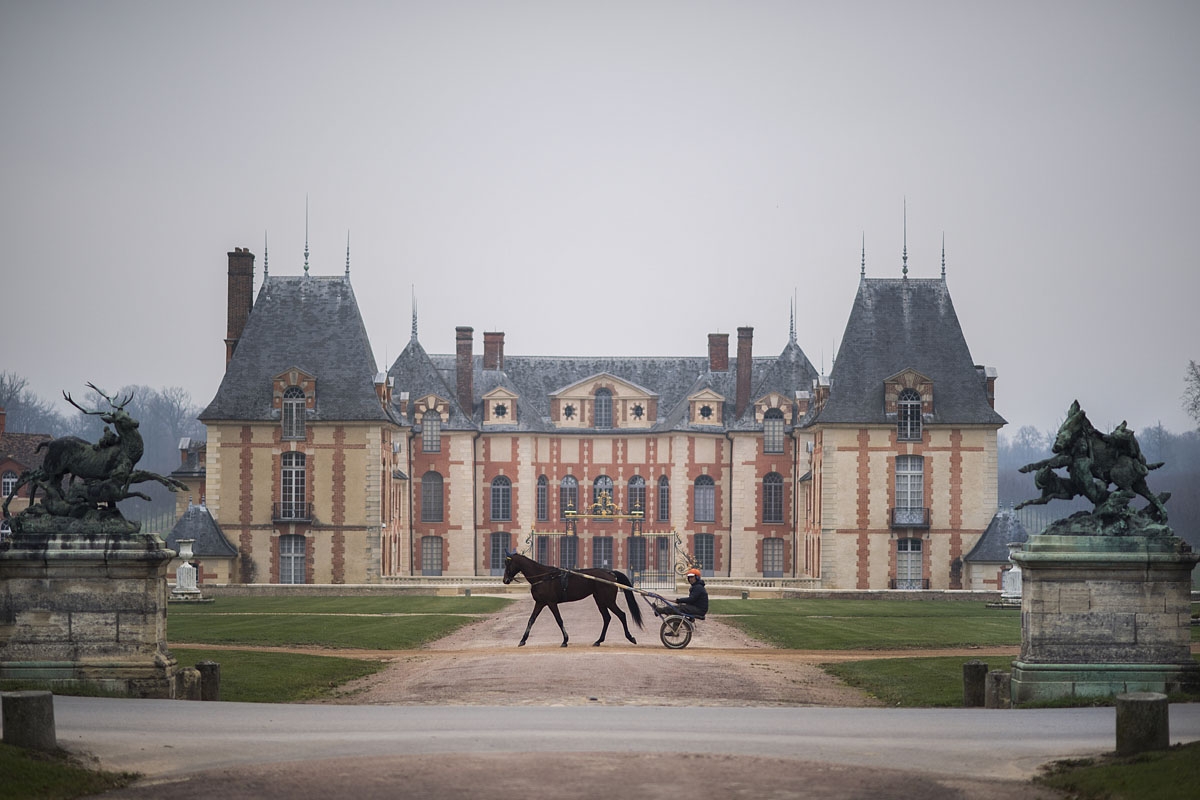 A man and his horse. (AFP / Martin Bureau)
This blog was written with Pierre Celerier and translated by Yana Dlugy in Paris.