Bulent Kilic, from Taksim to Kobane
THE HAGUE, February 12, 2015 – The Turkish AFP photographer Bulent Kilic clinched two awards at the prestigious World Press Photo photojournalism awards, whose top prize went to Denmark's Mads Nissen for an image of a gay couple in Russia.
Bulent Kilic took first prize in the "Spot news" category for his image of a young woman injured during clashes between police and demonstrators on Istanbul's Taksim Square in March 2014.
He also took third prize in the same category for his image of an airstrike against positions held by the Islamic State (IS) group, on a hill overlooking the Syrian border town of Kobane in October last year. The video reporter Mostafa Abulezz, who was with him when he took the shot, described in a blog post how the the two journalists witnessed the bombardments - almost by accident- from the Turkish side of the border. "Sometimes it's only chance," Bulent said, reacting to the award.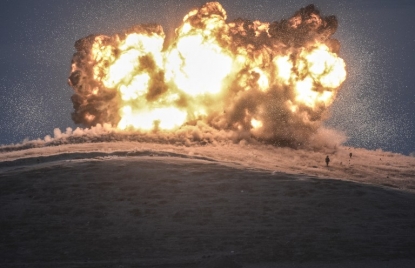 An airstrike on positions held by Islamic State (IS) militants near the Turkish border, in Sanliurfa province
on October 23, 2014 (AFP Photo / Bulent Kilic)
Bulent Kilic is a 35-year-old photojournalist based in Istanbul. He was named 2014 wire photographer of the year by both Time magazine and The Guardian for his reporting from the Syrian border, from Turkey and from Ukraine.
On January 28 he was among the first journalists to enter Kobane as Kurdish fighters liberated the town after a bloody four-month battle against IS jihadists.
"It's the biggest photography contest in the world," he said in reaction to his twin award. "It has been a dream for the last 10 years and it has finally happened."
"You know, for years, you go on assignments, on missions. You are away for weeks, months. Sometimes you have no shower, no sleep, no food. Sometimes you risk your life. It's good to know that someone recognises that, recognises the work."
The World Press Photo also rewarded Arash Khamooshi, a photographer for the Iranian agency Isna, in the spot news category for his powerful photo essay showing a woman pardoning her son's killer, as he stands in the gallows. AFP had distributed the images, whose story the photographer told in a recent blog.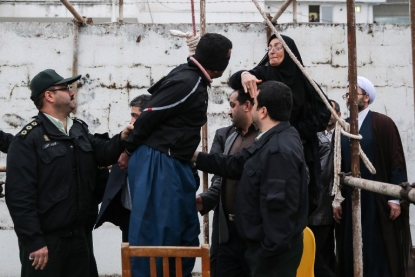 An Iranian woman slaps her son's murderer during his execution ceremony in the northern city of Noor on April 15, 2014 just 
before removing the noose from around his neck (AFP Photo / Arash Khamooshi /ISNA)
The jury awarded prizes to 42 photographers, of 17 different nationalities, across eight categories. They were chosen among work submitted by 5,692 photographers from 131 countries.
Close to one in five of the images that reached the penultimate stage of the contest, were disqualified due to excessive editing.
"This year's jury was very disappointed to discover how careless some photographers had been in post-processing their files for the contest," World Press Photo managing director Lars Boering said in a statement. "It seems some photographers can't resist the temptation to aesthetically enhance their images during post-processing either by removing small details to 'clean up' an image, or sometimes by excessive toning that constitutes a material change to the image."
Maude Brulard, AFP reporter in The Hague