The year of living desperately
Cox's Bazar, Bangladesh -- It started with one man sobbing, then another choked up, then another. Soon, the whole hillside was shuddering in a unified, haunting cry -- hundreds of Rohingya refugees, their palms upturned to the monsoon sky in prayer, wailing for their dead and mourning a homeland they may never see again.
The sudden outpouring of grief caught me completely off guard, and my eyes quickly stung.
Just moments earlier these very same refugees had been defiant, marching through their tent colonies near the Bangladesh-Myanmar border in the August heat, pumping their fists in the air, chanting "We Want Justice" as they marked one year since being forced at gunpoint to flee their villages.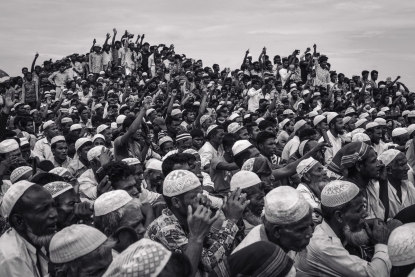 Thousands of Rohingya refugees gather in camps in Bangladesh to mark one years since they fled Myanmar. (Photo courtesy of Nick Perry)
After twelve months covering the Rohingya crisis from the refugee frontline, I couldn't help but quietly cheer along as these beleaguered people -- so hated in Myanmar, and unwanted in Bangladesh -- clawed back some dignity.
Cheering for Juhara, whom I met the day before, whose face had been cleaved in half by a machete as she tried to escape a pogrom in her village. She is missing an eye and a hand, and can barely talk, but at least she made it -- her husband and parents didn't.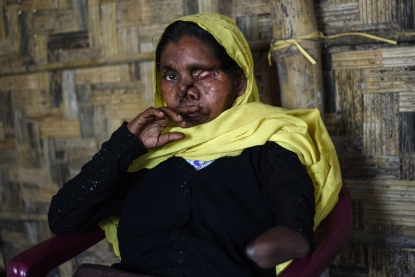 In this photo taken on August 23, 2018, Rohingya refugee Juhara, whose name has been changed to protect her identity, poses for a portrait at the Kutapalong refugee camp near Cox's Bazar in southern Bangladesh. (AFP / Nick Perry)
Cheering for Jamal, a 20-year-old expecting father who lost his right arm after being sprayed by machine gun fire, barely an adult and disabled for life.
Cheering for a woman I met in a dark hut a few weeks earlier who described to a human rights investigator, in excruciating detail, how four soldiers gang raped her after executing her husband and one-year-old child.
It has been difficult at times to remain a neutral observer while reporting this story.
I have made five trips to the border region since September 2017, when smoke from burning villages smeared the horizon.
Smoke billows above what is believed to be a burning village in Myanmar's Rakhine state as members of the Rohingya Muslim minority take shelter in a no-man's land between Bangladesh and Myanmar in Ukhia on September 4, 2017. (AFP / K.m. Asad)
I have never covered a war, but I could think of nothing else as waves of shell-shocked civilians staggered past us into Bangladesh, some half-dead in stretchers and nursing open wounds, bearing tales of almost unbelievable violence over the border.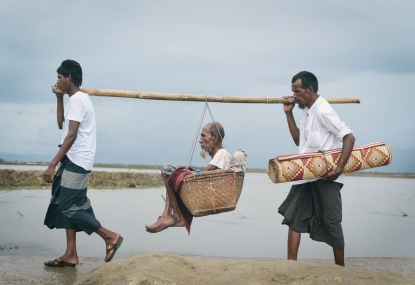 An elderly Rohingya man is carried after crossing into Bangladesh by boat. (Photo courtesy of Nick Perry)
Myanmar said the Rohingya were burning their own homes and inventing stories of astonishing brutality to garner sympathy from the international community.
It was difficult to believe this. On my first day at the border, as refugees banged on our car windows begging for food and water, a man rushed past with a toddler blackened and pink from burns.
"Who would do that to their own child?" I thought as he slipped into the chaos.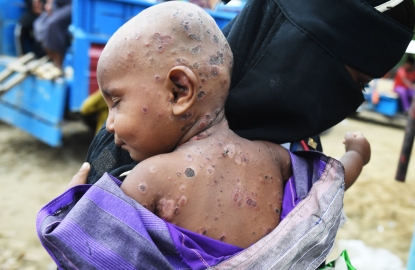 A Rohingya refugee holds her child after crossing into Bangladesh from Myanmar at Shah Porir Dwip Island near Teknaf on October 30, 2017. (AFP / Dibyangshu Sarkar)
But it played on my mind. In the early days of the crisis, details were sketchy and misinformation swirled about. Rakhine state was off-limits to foreign reporters, except on stage-managed government visits, so independent verification was next to impossible.
How did we know if what we were hearing was eyewitness testimony or embellished hearsay?
An interview in the camps starts with one person but often turns into a public debate, input shouted from every direction, sometimes contradictory facts obscuring the narrative.  
But up and down the border, day after day, whether crossing by land, river or sea, horrifying consistencies emerged in those early accounts.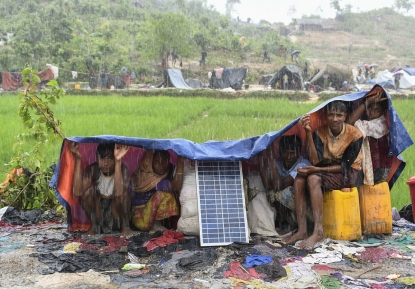 Rohingya refugees protect themself from the rain in Bangladesh's Balukhali refugee camp on September 17, 2017. (AFP / Dominique Faget)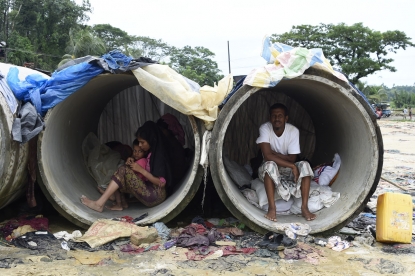 Rohingya Muslim refugees shelter in cement pipes at Kutupalong refugee camp in the Bangladeshi district of Ukhia on September 20, 2017. (AFP / Dominique Faget)
Rampant, violent rape. Arson. Buddhist mobs armed with machetes alongside Myanmar troops stalking the Rohingya as they fled into jungles. And always the indiscriminate slaughter of men, women and children.
It seemed unlikely then, as it does now, that all this was a well coordinated ruse pulled off by a largely illiterate and oppressed minority group.
Over the months on return visits, I slowly numbed as people broke down in tears, reliving nightmarish acts of savagery and loss. I worried about compassion fatigue, and the impact on my colleagues. I was insulated in a way, whereas our dedicated Bangladeshi colleagues, especially the indefatigable Redwan Ahmed, had to listen to it all, translating whatever grim testimony was hacked out beneath sobs.
It is easy to get angry, and I have over time. Angry at the impunity. At those who post comments beneath our stories saying the Rohingya are liars, terrorists and Muslim intruders in a Buddhist land. At a million people being constantly on the run but going nowhere, growing old and dying in an open-air prison they can't leave.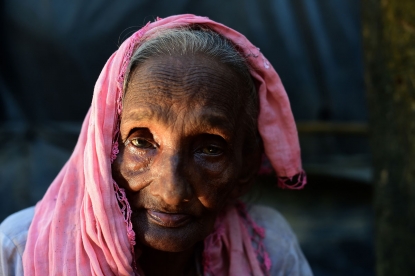 Rohingya refugee Hakim Zamal poses for a photo at the Kutupalong refugee camp in Bangladesh, October 14, 2017. (AFP / Munir Uz Zaman)
At conditions so bad that people would risk sending their families on rickety boats into the Bay of Bengal at the height of the monsoon. At the cruel twist of fate that smashed that boat on rocks just metres from the shore in the middle of the night, dumping terrified young children into the churning surf.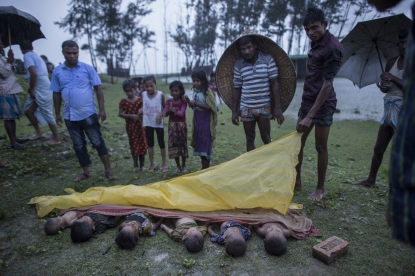 People gather around the bodies of Rohingya refugee children on Inani beach, who died after their boat capsized, September 28, 2017. (AFP / Fred Dufour)
At the loss of Shona Miah, a devastated father I met the next day near Inani beach, who howled as he closed the eyes on his three young daughters after their lifeless bodies washed ashore.
At least they were buried in Islamic tradition, their bodies washed and wrapped in white shrouds by Bangladeshis whose quiet Friday was upended by tragedy. They wept as an imam blessed their bodies and hundreds of mourners, mostly dirt-poor local sailors and fishermen, stood in respectful silent rows, their heads bowed. It was the most moving thing I have ever witnessed.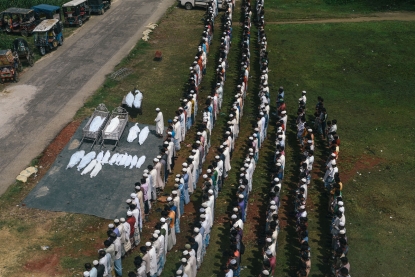 Bangladeshis offer funeral prayers for Rohingya refugees who died trying to cross from Myanmar by boat. Twelve children were among the 20 dead. September, 2017. (Photo courtesy of Nick Perry)
Life in the camps has steadily improved each time I've gone back but it remains one of the most crowded places on earth, prone to floods, stifling heat and foul odours. Lawlessness is a real problem, one that I've reported on, and I wonder what reporters don't see after dark, when we're prohibited from being in the camps.
But the once-ravaged earth now teems with markets, mosques, and even a football pitch or two, improving life at the margins.
Gone are the malnourished babies with distorted bellies screaming in overstretched clinics; the open defecation befouling the water; the sickness, the maimed and injured moaning for help on roadsides, the degrading stampedes at food trucks that I'll never, ever forget.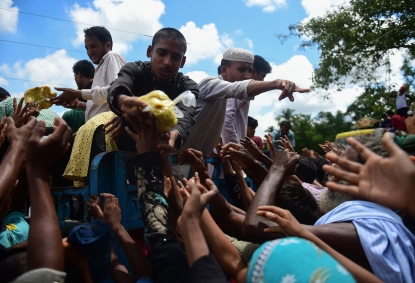 Rohingya refugees from Myanmar gather around a truck delivering food aid in Ukhia on September 14, 2017. (AFP / Munir Uz Zaman)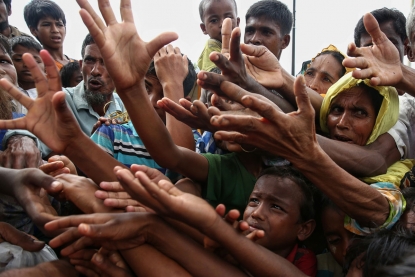 Rohingya refugees reach for food aid at the Kutupalong refugee camp in Ukhiya near the Bangladesh-Myanmar border. (AFP / Str)
But trauma remains an open wound.
The day I returned from my latest Bangladesh trip in late August, an alert flashed across the AFP newswire -- UN investigators had said Myanmar's top generals should be prosecuted for genocide, vindicating what the Rohingya had been saying all along.
But it's unlikely the generals will ever see the inside of a courtroom. Even if they do, a judgement could be a decade or more away.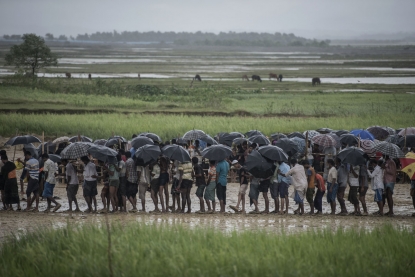 Rohingya Muslim refugees wait in line under the rain during a food distribution under at Nayapara refugee camp in Bangladesh's Ukhia district on October 6, 2017. (AFP / Fred Dufour)
"We are telling the world we want justice," Mohammad Hossain had eagerly told me two days earlier at the anniversary protests, beaming in a white bandana emblazoned with "Save the Rohingya".
I hope for his sake the world is listening.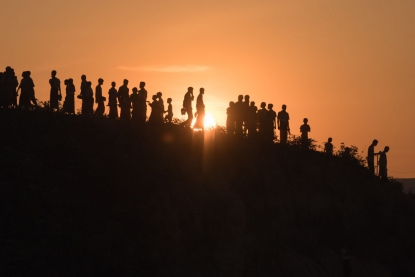 Rohingya Muslim refugees walk down a hillside in the Kutupalong refugee camp in Cox's Bazar on November 26, 2017. (AFP / Ed Jones)