A sign of worse to come?
Pacaraima, Brazil -- It was like we were living a crime thriller. We were at the northernmost extreme end of Brazil (it felt like the end of the world) finding out what happened in attacks against Venezuelan migrants.
Tensions boiled over on August 25, when residents of this border town destroyed makeshift camps, burned tents and possessions, and chased migrants back over the border. Over the next few days we slowly discovered the chain of misunderstandings, prejudices and frustration that led to those attacks.
Why report on a story of an attack in a remote part of the world, an Amazon town of 10,000 residents, in which no-one died? Because it may be a sign of what's to come as tens of thousands of Venezuelans spill across Latin America, fleeing their country's crumbling economy.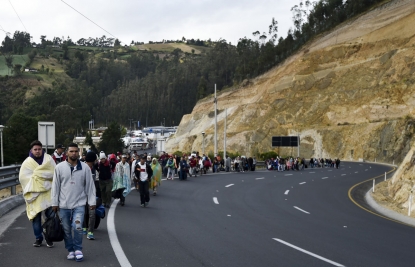 Venezuelans heading to Peru walk along the Panamerican highway in Tulcan, Ecuador, after crossing from Colombia, on August 21, 2018. (AFP / Luis Robayo)
The Pacaraima incidents were the first violent attacks against Venezuelans since their exodus started a few years ago. Our editors decided we had to go.
Photographer Mauro Pimentel flew from Rio, I traveled from Sao Paulo. We joined text journalist Eugenia Logiuratto in Brasilia for another flight to Roraima state, so remote, it is at the end of the line for domestic airline services. Our plane touched down after midnight.
The UN estimates that some 1.6 million Venezuelans have left their country since 2015. Most have gone to Spanish-speaking neighbours like Colombia, Ecuador and Peru.
Some 50,000 have come to Portuguese-speaking Brazil. For those who arrive by road, the entry point is one of the country's poorest states… and of the least prepared for a mass influx.
Ironically, the place where the first violence against Venezuelan migrants erupted has for years had a very close relationship with its Venezuelan sister town, Santa Elena just across the border. Brazilians regularly drove to Santa Elena to fill up their cars (Pacaraima doesn't have a petrol station), while Venezuelans came to Pacaraima to stock up on food.
When we got to Pacaraima, we found remnants of burned mattresses and shoes on the road. No squatters in the streets. Migrants were keen to talk, but unwilling to be filmed, afraid of possible repercussions.
The Venezuelans who arrived in the town had been traveling for days. You could spot them walking, pulling a suitcase on wheels, like at an airport. Except this was the Amazon, and the suitcase contained all they could bring to start a new life in a different land.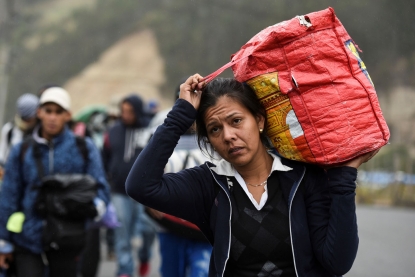 A Venezuelan migrant woman heading to Peru walks along the Panamerican highway in Tulcan, Ecuador, after crossing from Colombia, on August 21, 2018. (AFP / Luis Robayo)
Once they had entered Brazil, those who could moved on. Those who couldn't settled in makeshift camps hoping to make some money before plotting their next step. A few hundred lived on the streets, some for a few days, others for months.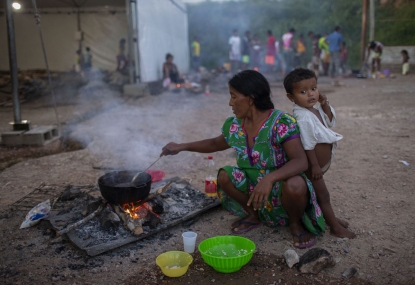 Members of the Warao tribe, Venezuela's second-largest indigenous group, prepare food at the Janokoida shelter where they have been taking refuge in the border city of Pacaraima, Roraima State, Brazil, on August 21, 2018. (AFP / Mauro Pimentel)
Like investigators following up one lead after another, through various interviews we slowly discovered what had happened.
As the makeshift migrant camps grew bigger, so did the locals' frustration. They became disgruntled at squatters in the streets, the unsanitary conditions, the pressure on their already-stretched health system. The spark that lit the fire was when thieves attacked a local trader. Rumours spread that the criminals had been Venezuelans and the man had died. Both reports turned out to be wrong.
But residents decided to chase out the Venezuelans, moving systematically through the town. Once they chased the migrants out, they set fire to their belongings. A couple of Venezuelans told us they had fled into the mountains and waited for two days without food and water before venturing back.
"It was ugly, very ugly," one young man told us, visibly shaken.
Some migrants told me the residents drove around in patrols at night to chase off any Venezuelans venturing to sleep in the streets.
I thought finding locals to speak about the attacks would be hard. Their frankness took me by surprise.
"Most of those who were there were scum, pure crooks, vagrants!" one woman said.
Later, the local trader who had been robbed told a television station that his attackers had been Brazilian, not Venezuelan. A patient with the same name had died in hospital, and the locals drew the wrong conclusions. It was easy to see how the misunderstandings grew, eventually ending up in the attacks. The local hospital was another point of anger -- it was struggling with the influx of sick migrants and locals had complained of being turned away because the Venezuelans had taken up all the beds.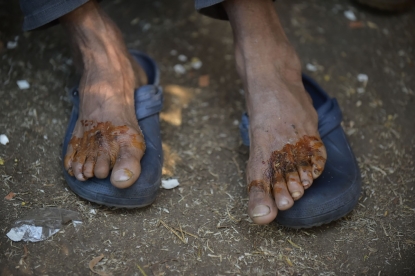 Venezuelan migrant Jose Carrizales' shows his feet at a makeshift camp near the bust terminal in northern Quito, Ecuador, August 9, 2018. (AFP / Rodrigo Buendia)
Local didn't expect their actions to draw so much interest and seemed taken aback by the media who arrived in the aftermath. They would often hang around during our interviews, interrupting when they heard something they didn't like. Once, I had a fight with a woman who kept shouting abuse at an 18-year-old Venezuelan whom I was interviewing. The boy carried people's shopping bags to their cars to earn a living. "They are crooks, drug addicts," the lady had said loudly over our conversation. "This is humiliating," he told me.
Pacaraima residents also got enraged that the attention of the media was going to the migrants. Brazil has a plethora of its own problems. People who live here were themselves struggling to earn a living and get quality public healthcare. From their point of view, it was maddening that the attention was focused on the migrants who had "invaded" their town, instead of on their years-old grievances.
After three days we realised we had overstayed our welcome. We had a heated discussion with a city official when I tried to film him clearing peddlers off the sidewalk. A few hours later we were walking down a different street when a patron at a bar recognised my microphone and pointed to us, saying we were causing trouble. We decided to drive back to the state capital Boa Vista.
Local authorities estimated 25,000 Venezuelans have come to Boa Vista, many living in one of the ten shelters set up to host them. But 2,500 were still on the street. When we stopped at a major traffic crossing, around twenty Venezuelans surrounded our car, offering to wash our windscreen for a few reais, the local currency. Just as many manned the other three corners.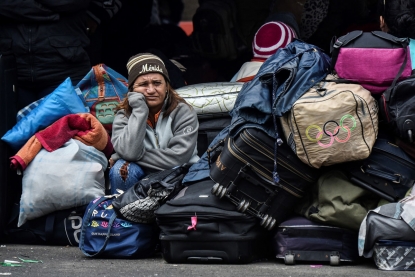 A Venezuelan woman waits outside the Colombian migration office near the Rumichaca bridge before crossing into Ecuador, August 20, 2018. (AFP / Luis Robayo)
A few dozen were camping outside a Catholic church. One man cried as he told us of fleeing his country. He didn't expect to live on the street in Brazil, he said. Yet few were willing to go back. The Venezuelan government had sent an official to try convince them to return, but they were scared of reprisals if they went back home. No one agreed to go with him.
The Venezuelans said they were worried of more attacks like the one in Pacaraima. They said that they had rocks thrown at them in Boa Vista. Once, someone drove a car onto the side of the road at night to try to scare them.
Local residents told us they sympathized with the migrants and their plight, but that their state just couldn't handle the influx. They too were very angry with politicians running to help foreigners, and not their "own" people.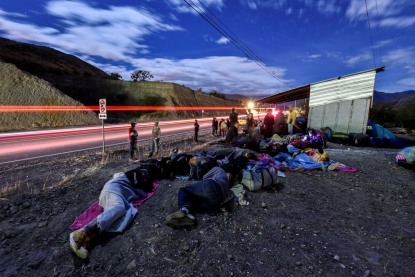 Venezuelan migrants on their way to Peru sleep along the Pan-American Highway in Ecuador, after entering the country from Colombia, August 22, 2018. (AFP / Luis Robayo)
The week left me torn. Many of my colleagues and friends are Venezuelans who left home and speak of their loved ones' suffering. It hits deep when the guy walking down the road pulling his life in a suitcase could have been your friend. But I also understand the frustration of a local person who struggles to make ends meet, and then is overwhelmed by people from another country with serious needs literally on every street corner.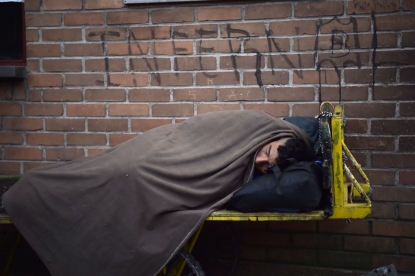 A Venezuelan citizen sleeps at the Rumichaca international bridge in Ipiales, Colombia, on the border with Ecuador, August 11, 2018. (AFP / Rodrigo Buendia)
Brazil has tried to deal with the situation by deploying its military to the border to provide "security" for both Brazilians and Venezuelans. It has also started to transfer migrants to other parts of the country -- 270 Venezuelans were flown from the area to other states this week, joining 820 who were moved earlier this year.  But 800 Venezuelans enter the country daily; the measures are a drop in the ocean and to me it's only a matter of time before violence rears its head again.