A weekend in Marseille
MARSEILLE, France -- I was feeling like a total fool as I queued in line at the hardware store, waiting to pay for my safety goggles, toughened cap and heavy duty decorator's mask. After all, I was heading to a football tournament, not a war zone. The upcoming assignment should have been more Gazza than Gaza but it wasn't to be.
My initial brief was to follow the England fans, documenting the face painting, colour and "fluff" as they travelled around France, following the England team in the UEFA Euro 2016 football tournament.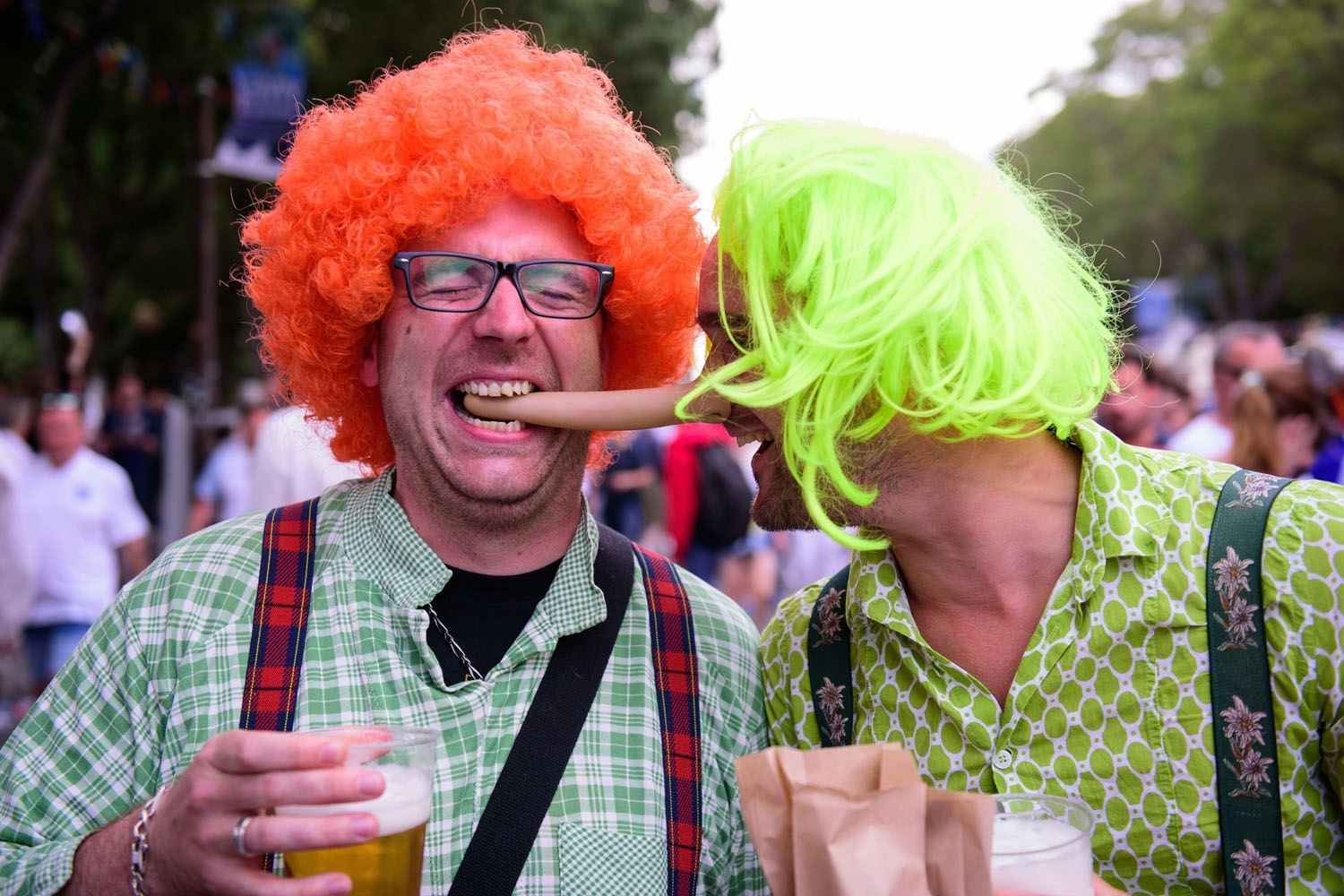 Costumed fans arrive at the Stade Velodrome in Marseille on 11 June 2016, ahead of England's match against Russia (AFP / Leon Neal)
However, early planning for my first match of England-Russia in Marseille hadn't filled me with confidence, with stories of Russian Neo-Nazi gangs vowing to take on England fans, local gangs in Marseille plotting revenge for the violence of 1998, England hooligans being, well, England hooligans and even Daesh plotting a major attack on the fan zones in my planned location. Hurray.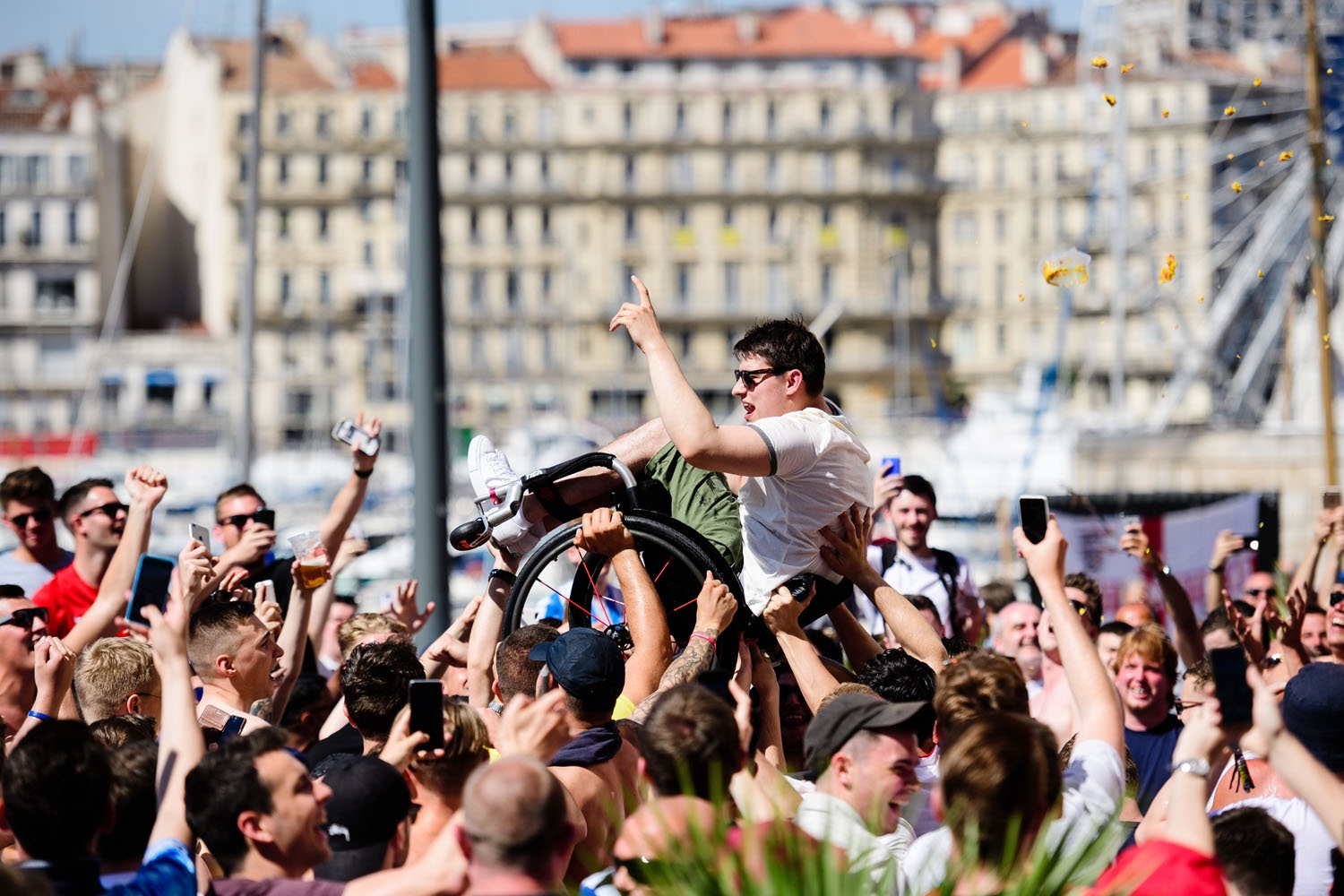 English fans party in Marseille on June 10 (AFP / Leon Neal)
It became clear very quickly that plans of strolling around the beautiful streets and alleys of Marseille, with a single camera body and a couple of prime lenses in a satchel, wouldn't come to fruition.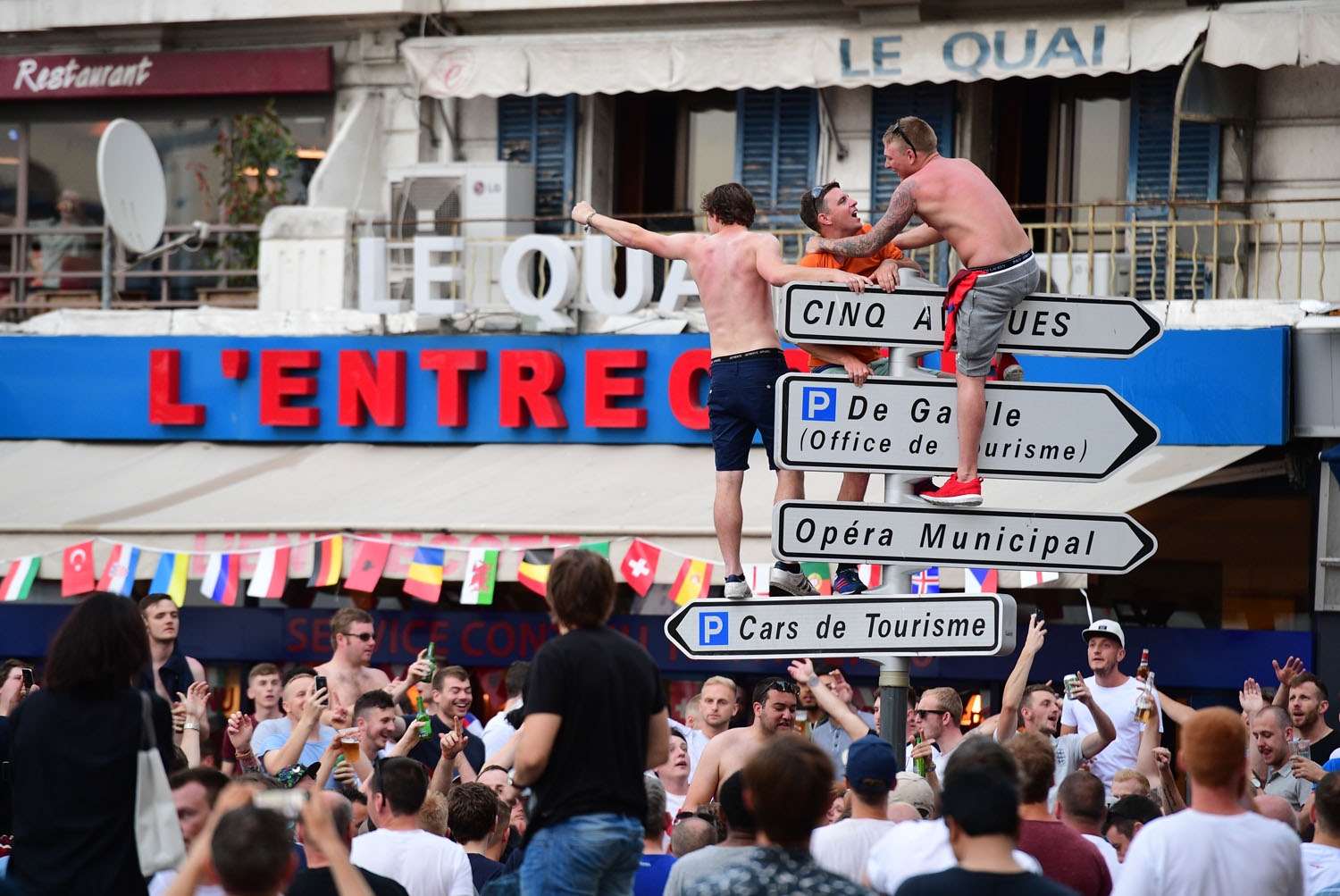 (AFP / Leon Neal)
I'm not a football fan but I know that the huge majority of fans travel to these events to simply enjoy the matches. I would have been overjoyed to spend the tournament floating between the venues, photographing painted faces, silly costumes and colourful flags as I had at the Switzerland and Austria Euro in 2008. Sadly, the small percentage of fans that make the most noise became the story.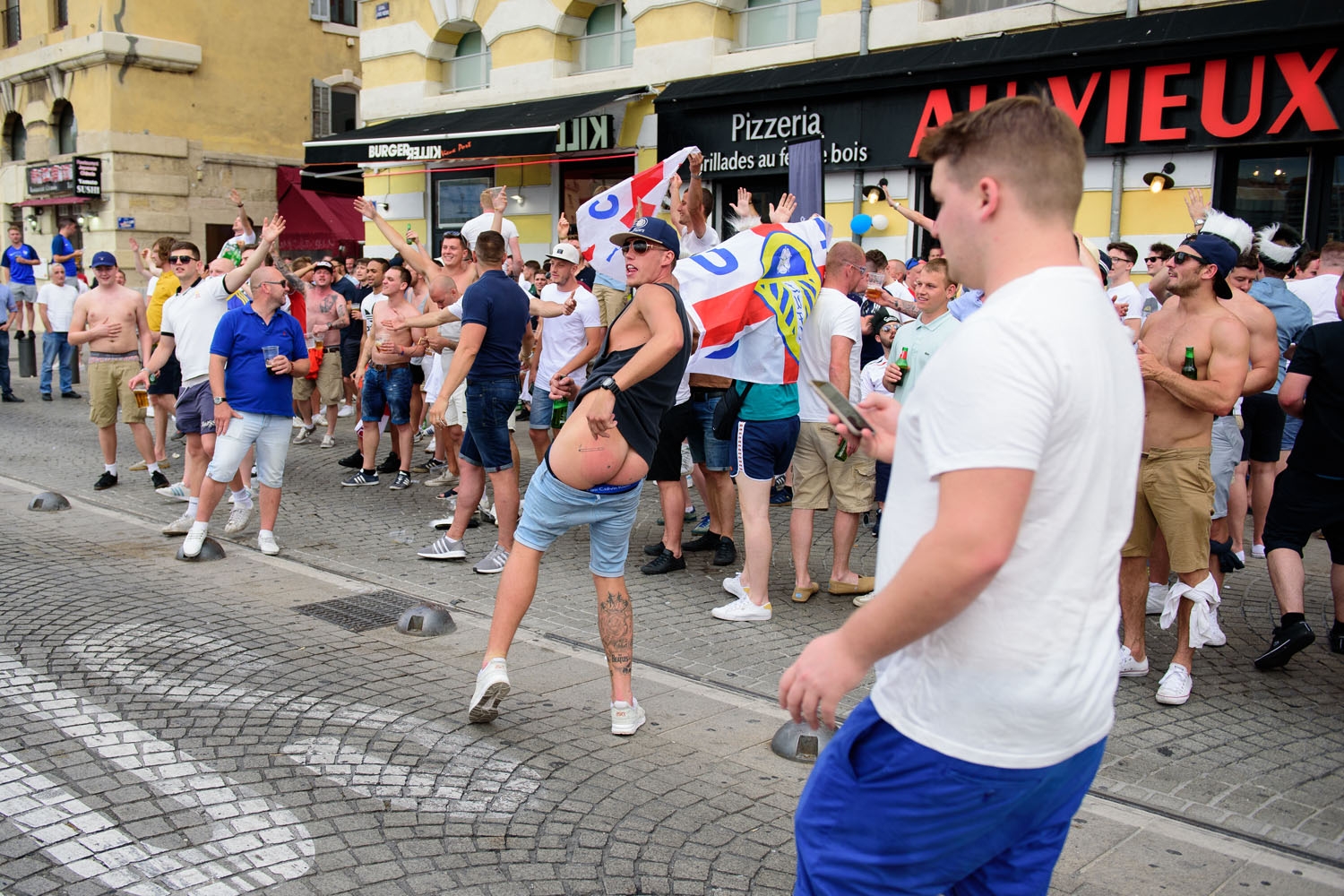 (AFP / Leon Neal)
What started out as chanting, singing and bravado soon crossed the line and by the start of my second day in France, tear gas had already been used. From that point on, the brief had changed, to become reactive to the unfolding events around the Old Port area of Marseille. French riot police were out in force while groups of young local kids were attempting to instigate violence by throwing bottles into the crowds of English fans. Mixing huge quantities of alcohol, hot sun and provocation could only ever have one result.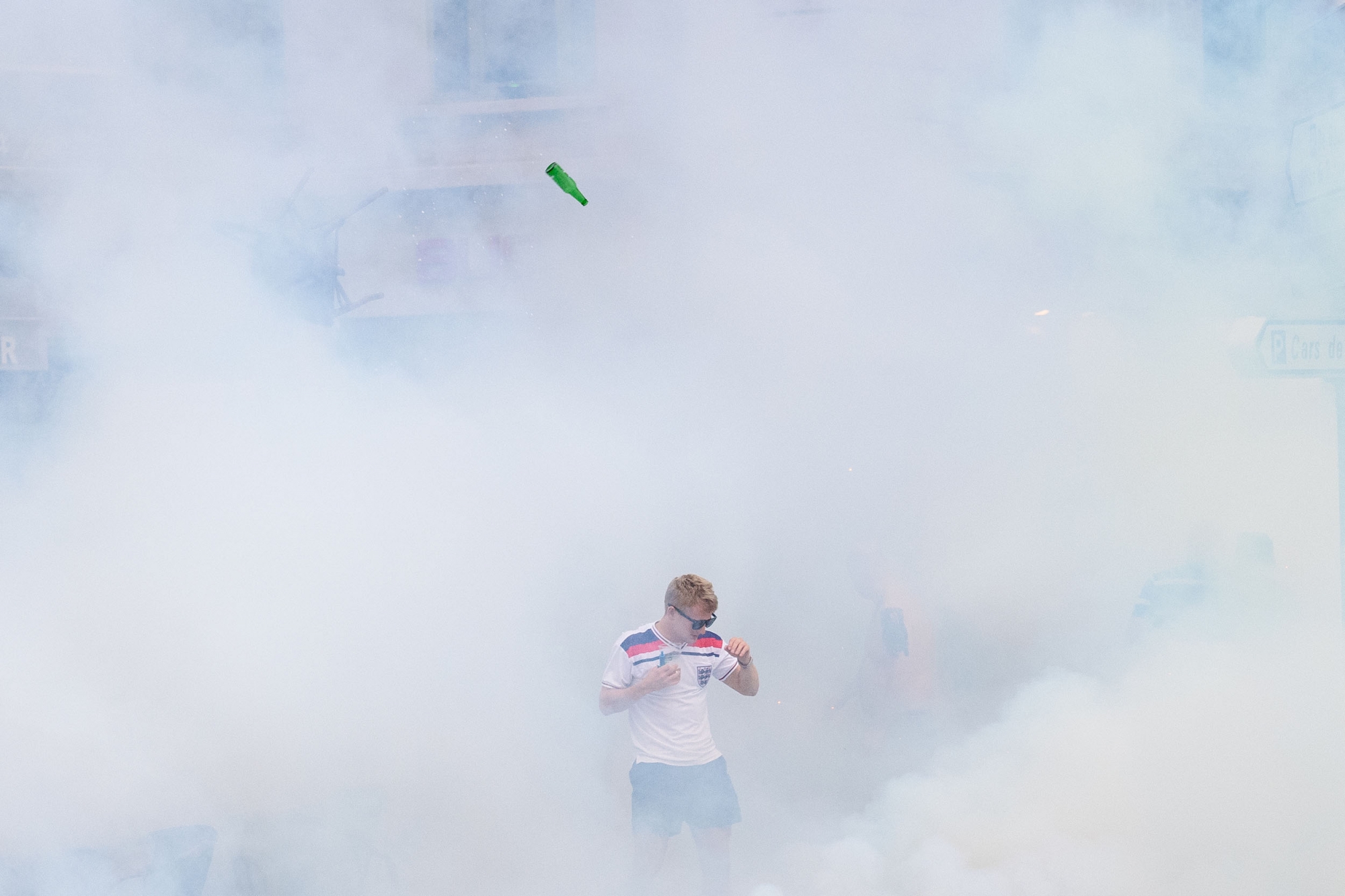 (AFP / Leon Neal)
By the time I left Marseille, it was no longer safe to carry cameras openly unless you were travelling in groups. Pickpockets and thieves were operating unchecked, Russian gangs were targeting England fans, England fans were targeting members of the media and the police were firing tear gas into any groups they didn't like the look of.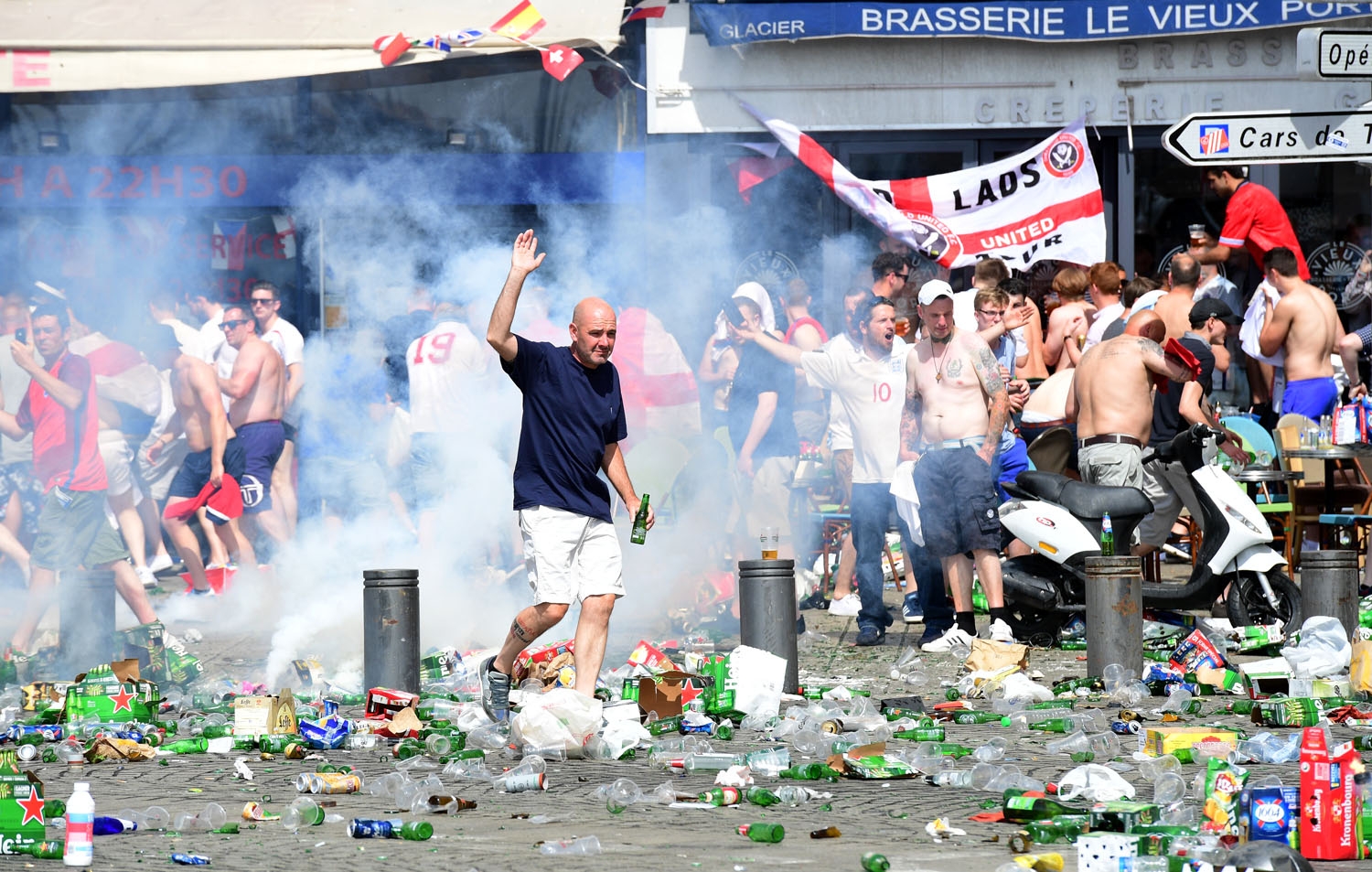 (AFP / Leon Neal)
In the evenings, the police were using attack dogs to try to control the groups. There was a heart-stopping moment when a police officer ran on one side of me with a dog on the other, causing the leash to wrap around me and the dog to spin round and jump up at me. My heart was in my mouth, having seen them previously ripping at people's arms and legs. The stars were on my side though as that dog was apparently the only one wearing a muzzle. Otherwise that would have ended very differently.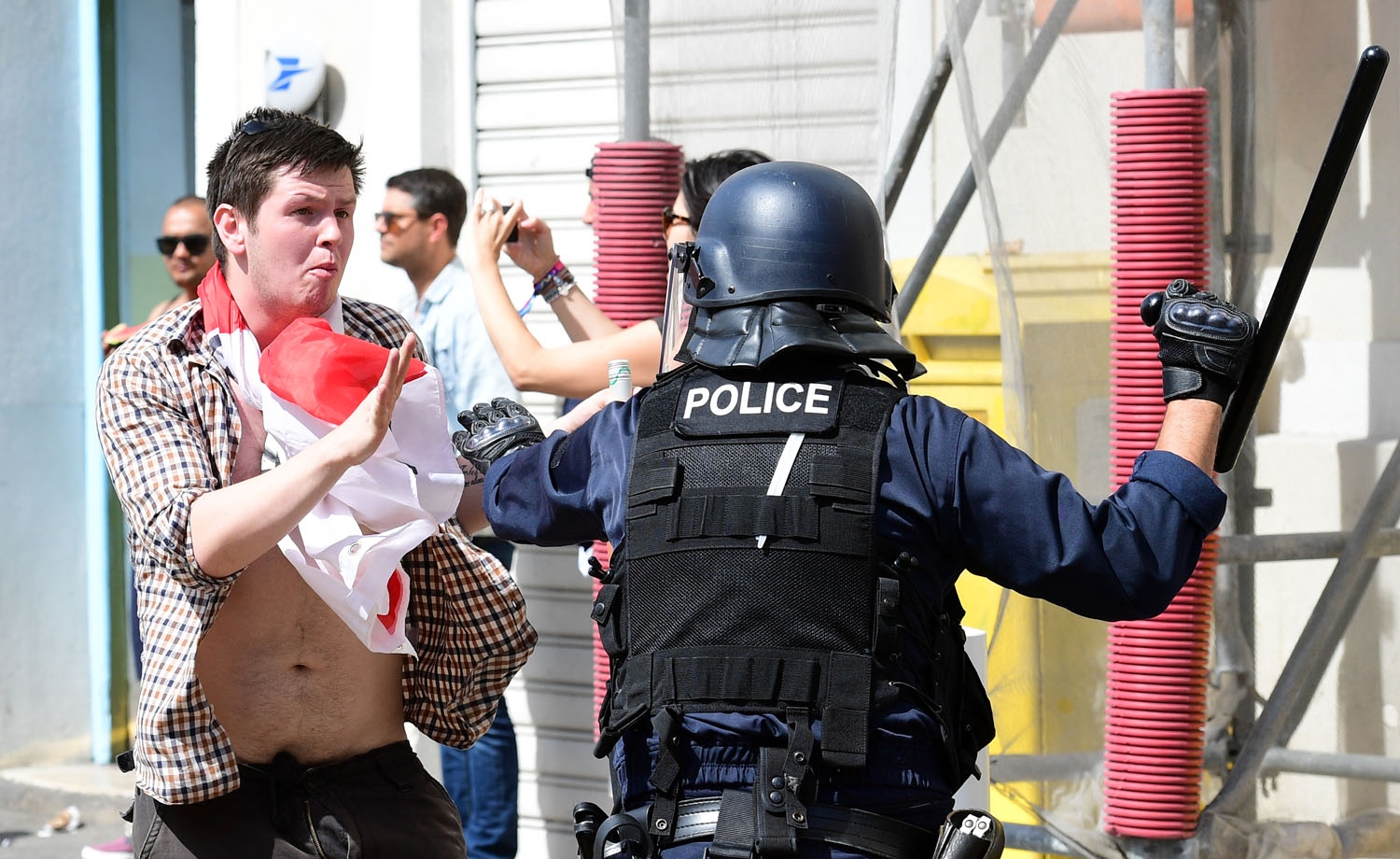 (AFP / Leon Neal)
For those who've never experienced it, tear gas is an interesting thing. While you imagine you'll be fine if you can avoid the visible smoke, the vapour and fumes are equally incapacitating. Your breathing becomes shallow and if you make the almost inevitable mistake of touching your eyes, the effects are greatly exacerbated. When you're struggling to see and the air is filled with flying glass bottles, it's a hard environment to work in. Thankfully, my £6.99 airtight builders' goggles worked perfectly and I had some sense of protection from incoming projectiles thanks to the bump cap.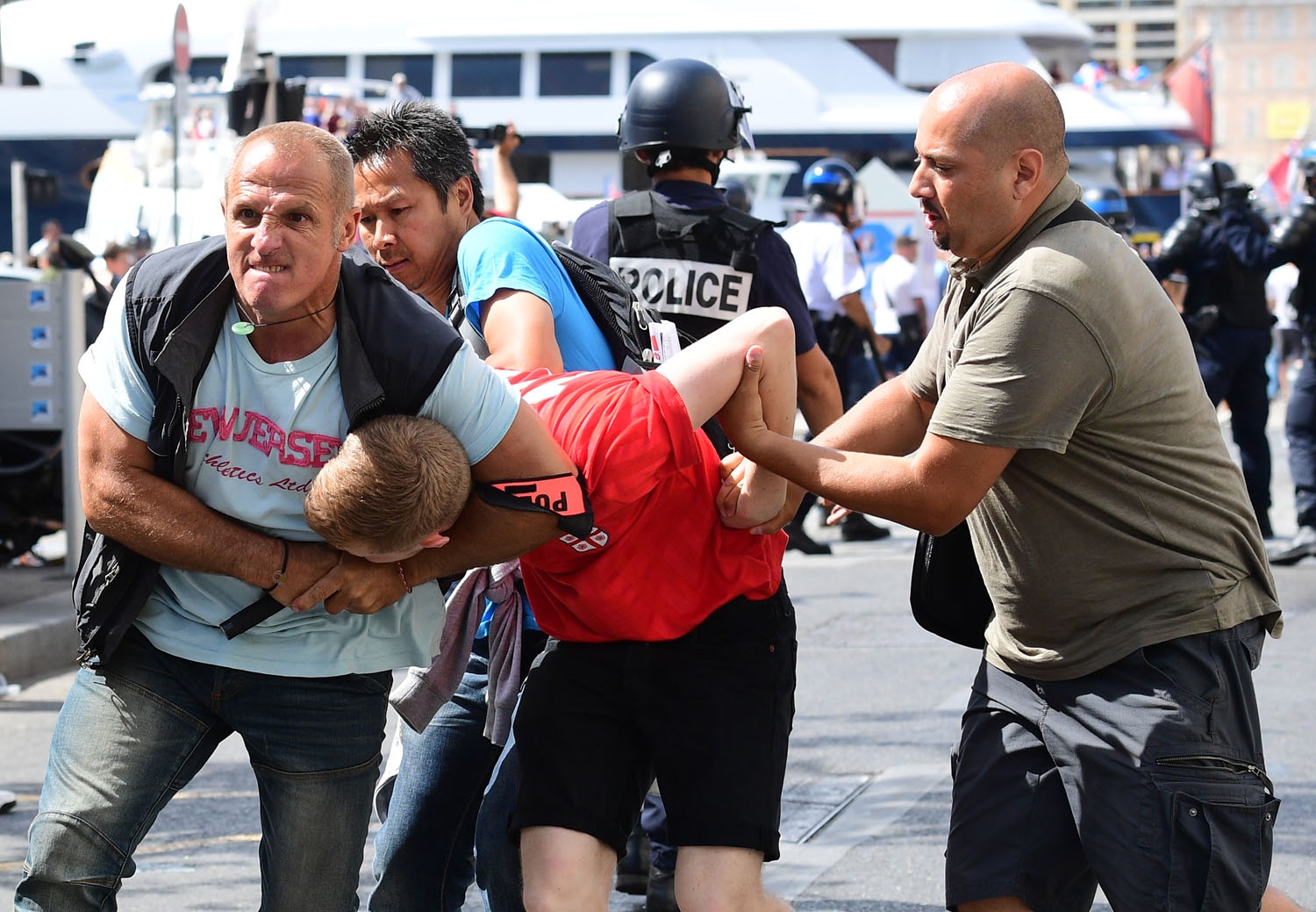 Police arrest an English fan on June 11 (AFP / Leon Neal)
On the day of the match itself, the Russian hooligans, who had remained quiet until this point, launched organised attacks on England fans in the backstreets around the port, leaving one man critically injured and needing chest compression CPR as he lay in the middle of the public square.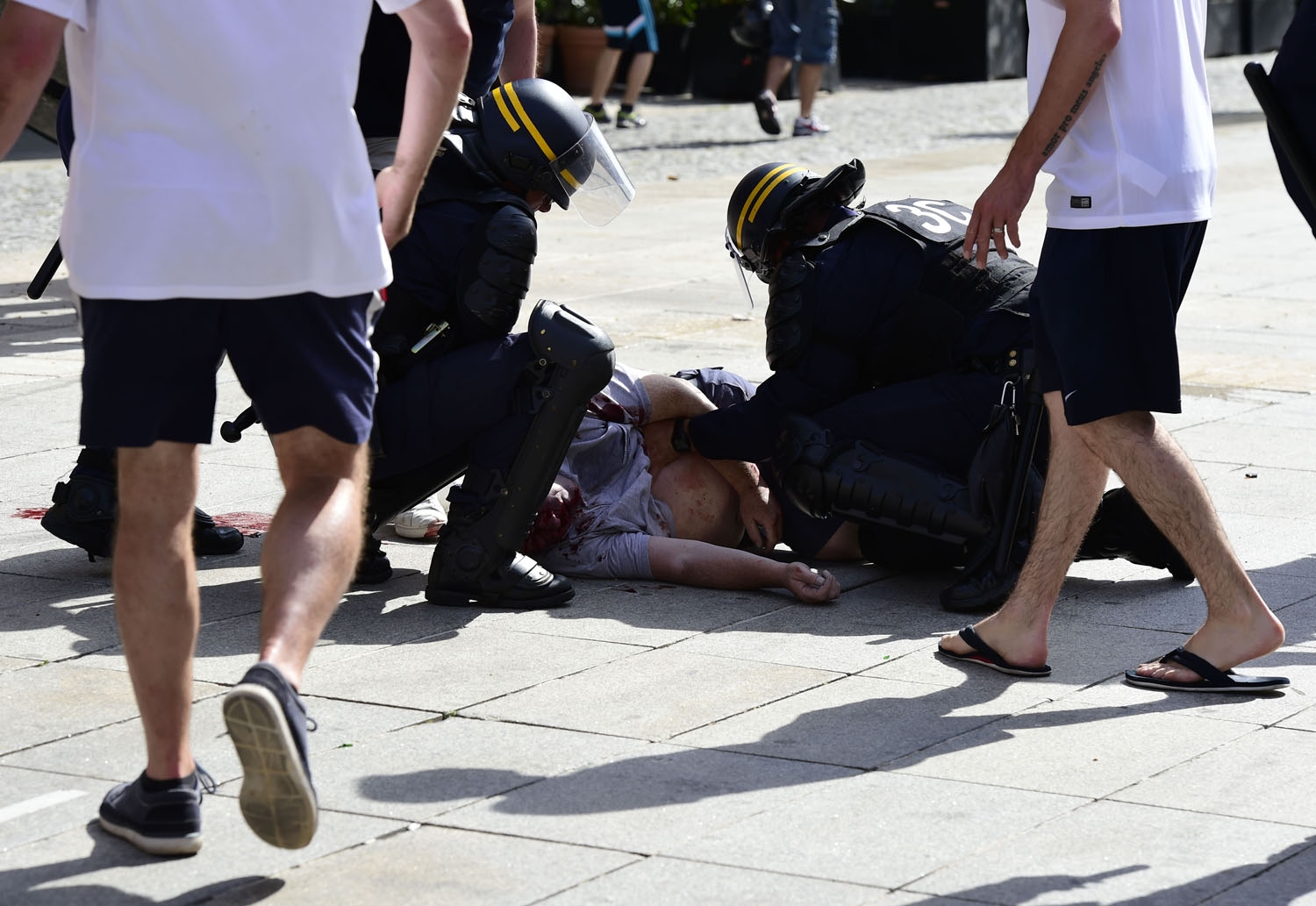 A severely injured English supporter lies on the ground after a fight, on June 11 (AFP / Tobias Schwarz)
Taking a much-needed break from work, I joined Tobias Schwartz of AFP and Carl Court from Getty in finding a cafe that offered some respite from the action.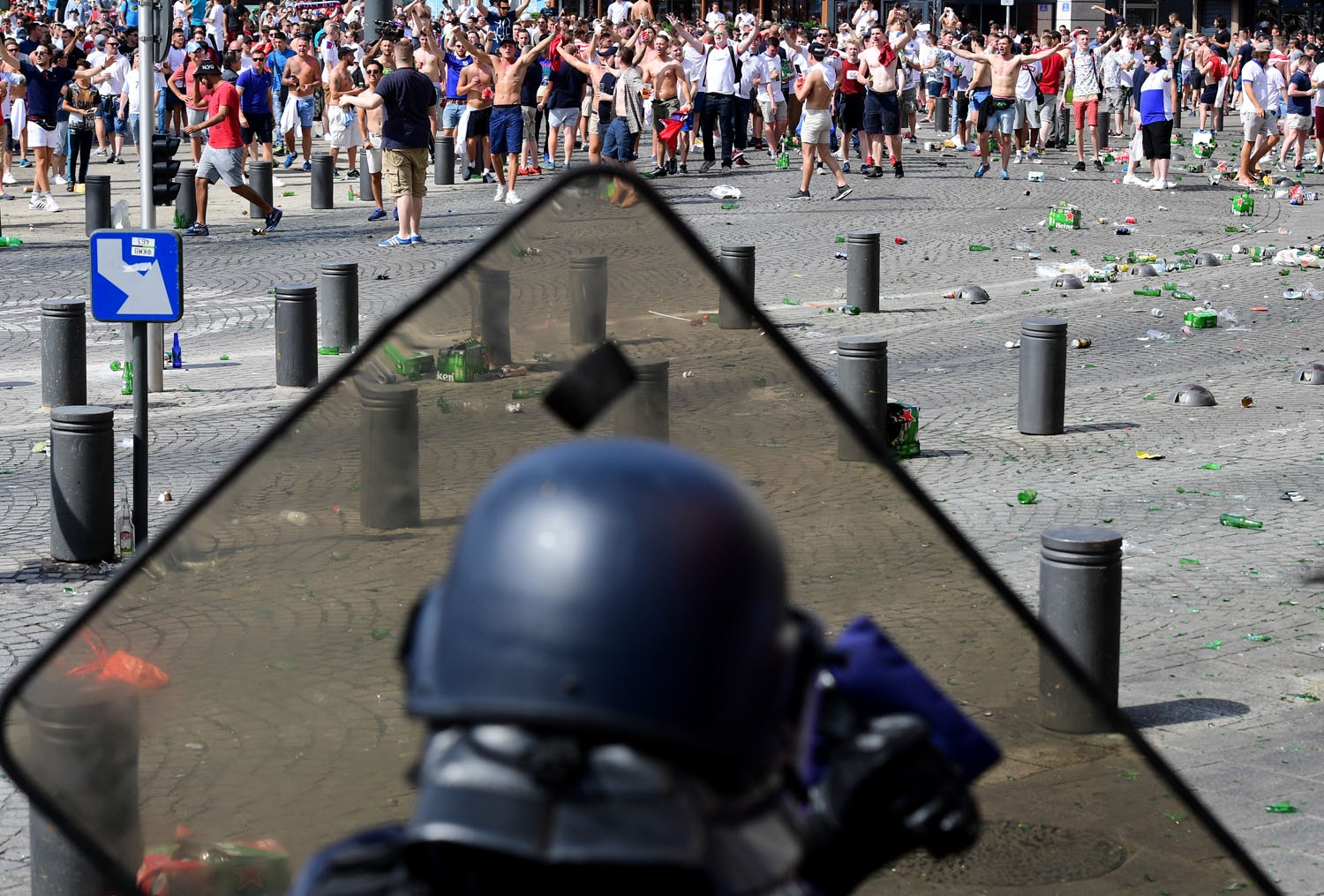 (AFP / Leon Neal)
Within a few minutes of taking a seat to edit my pictures, the staff leapt into action, dropping the steel shutters on the kiosk window and doors as trouble flared in the streets once again. It was quite surreal to be stuck in a cafe, eating pizza with the sounds of fighting coming from the alleys outside. When the shutters were finally raised, the tension on the street spread into the restaurant as knives were drawn during an argument between a local and a member of staff. "L'addition, s'il vous plait…"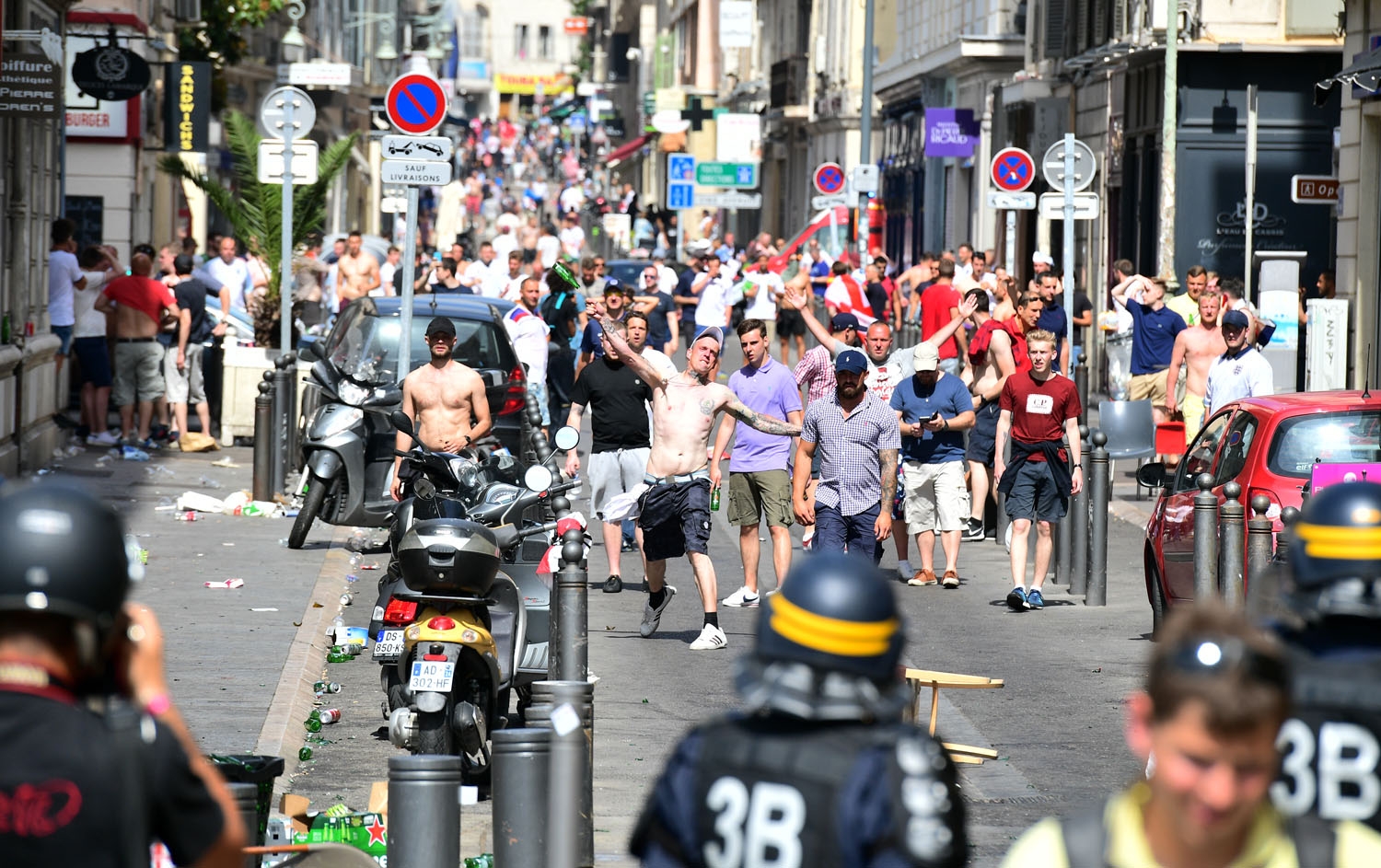 (AFP / Leon Neal)
As the match drew closer, I headed out to the stadium with another photographer and managed to finally see some genuine football fans, complete with face paints and silly hats. Sadly, even this was soon marred as a young man came sprinting through the crowds, dropping a switchblade at my feet. I don't know if he was trying to start a fight or fleeing one. Within half an hour, men were starting to snatch at our equipment and we were forced to leave.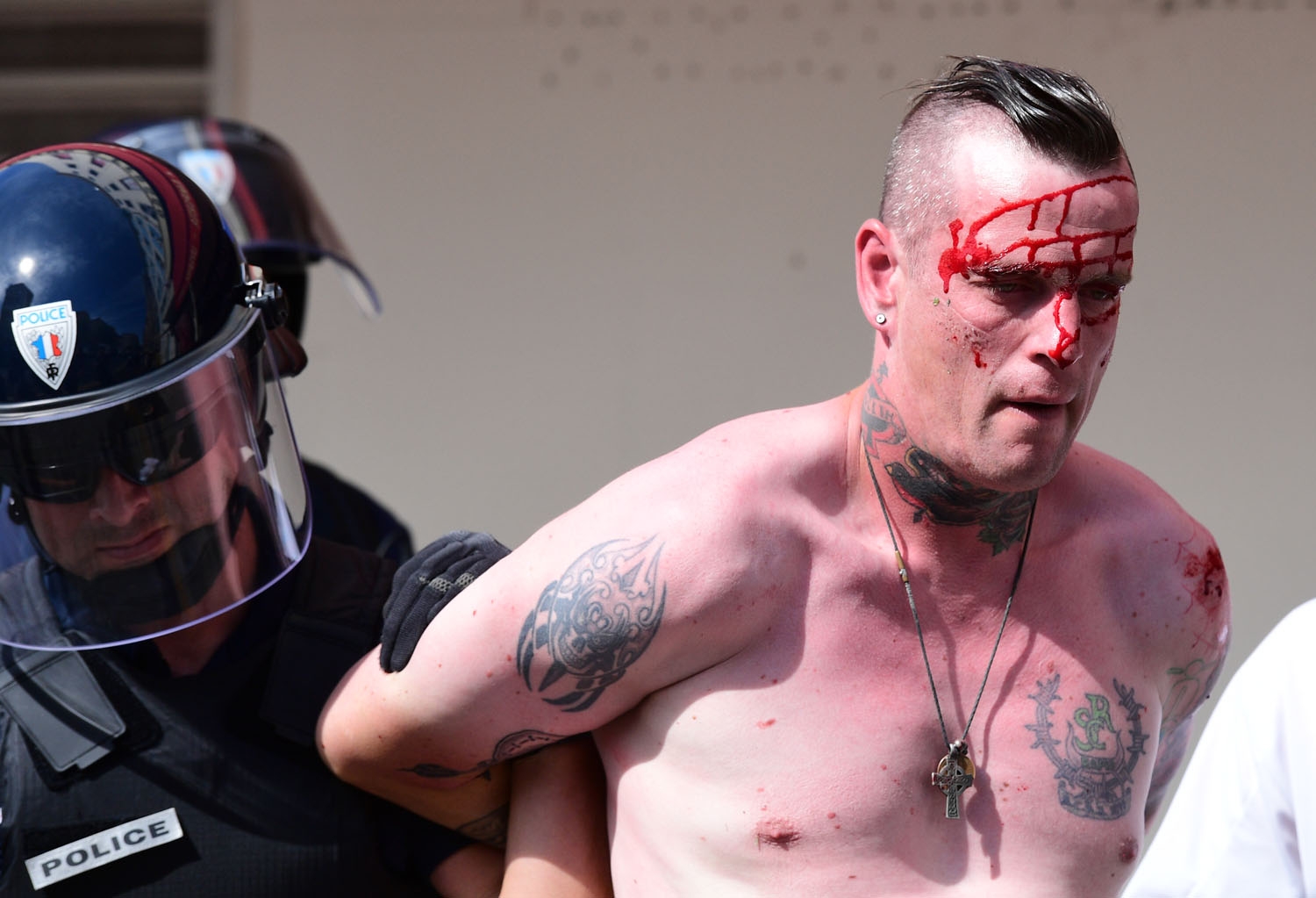 (AFP / Leon Neal)
Moving down to the official fan zone on the beach, it was a huge relief to finally be at a location where fans were simply watching the match. The setting sun and enormous screen allowed for some lovely shots in the evening light.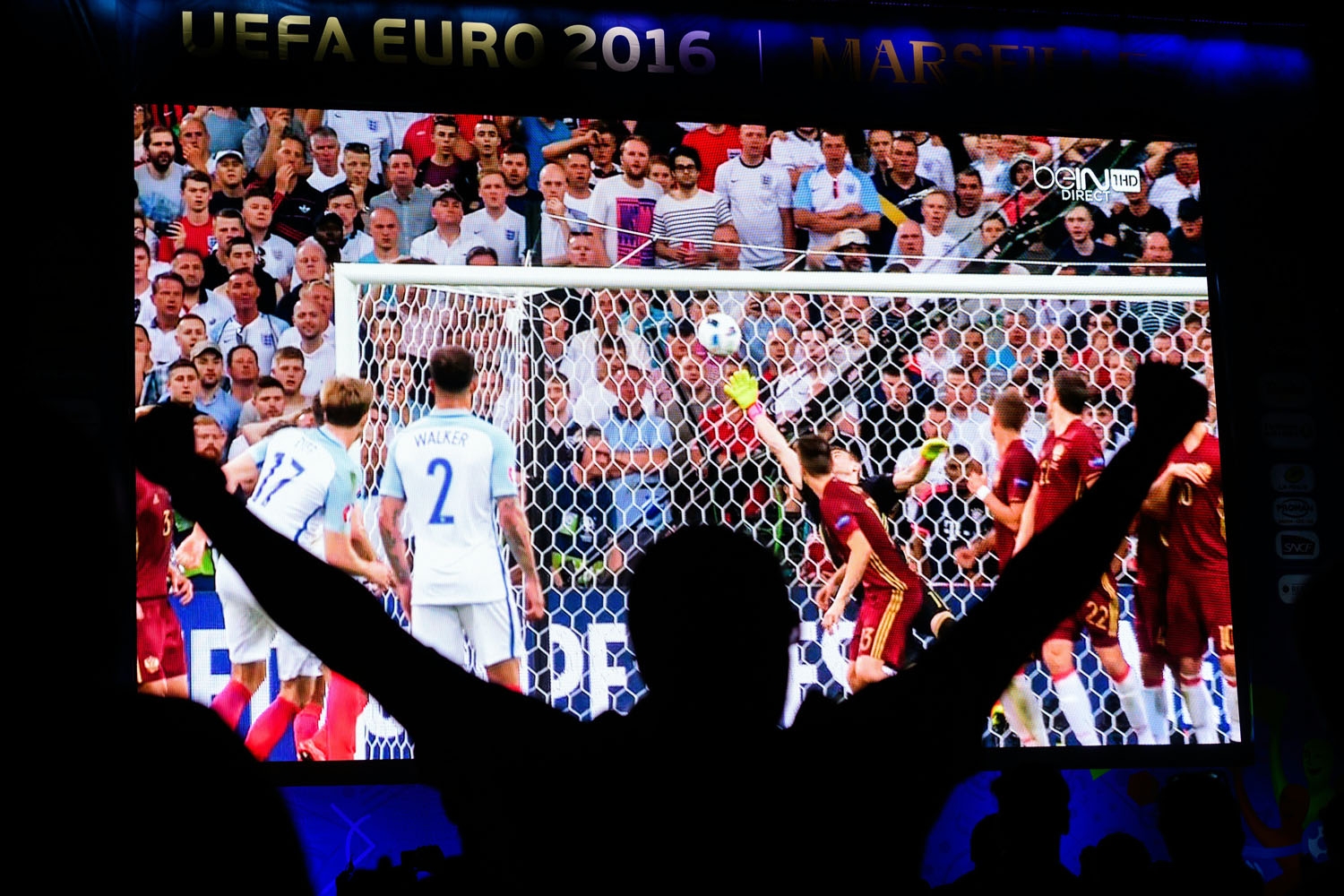 An England supporter celebrates in the fan zone after England's midfielder Eric Dier scored (AFP / Leon Neal)
With the match ending 1-1, the fans began the long trek into town but word came through of the violence inside the stadium. A total lack of police resulted in the stewards failing to contain incredibly violent attacks by Russian gangs against England fans in the stands.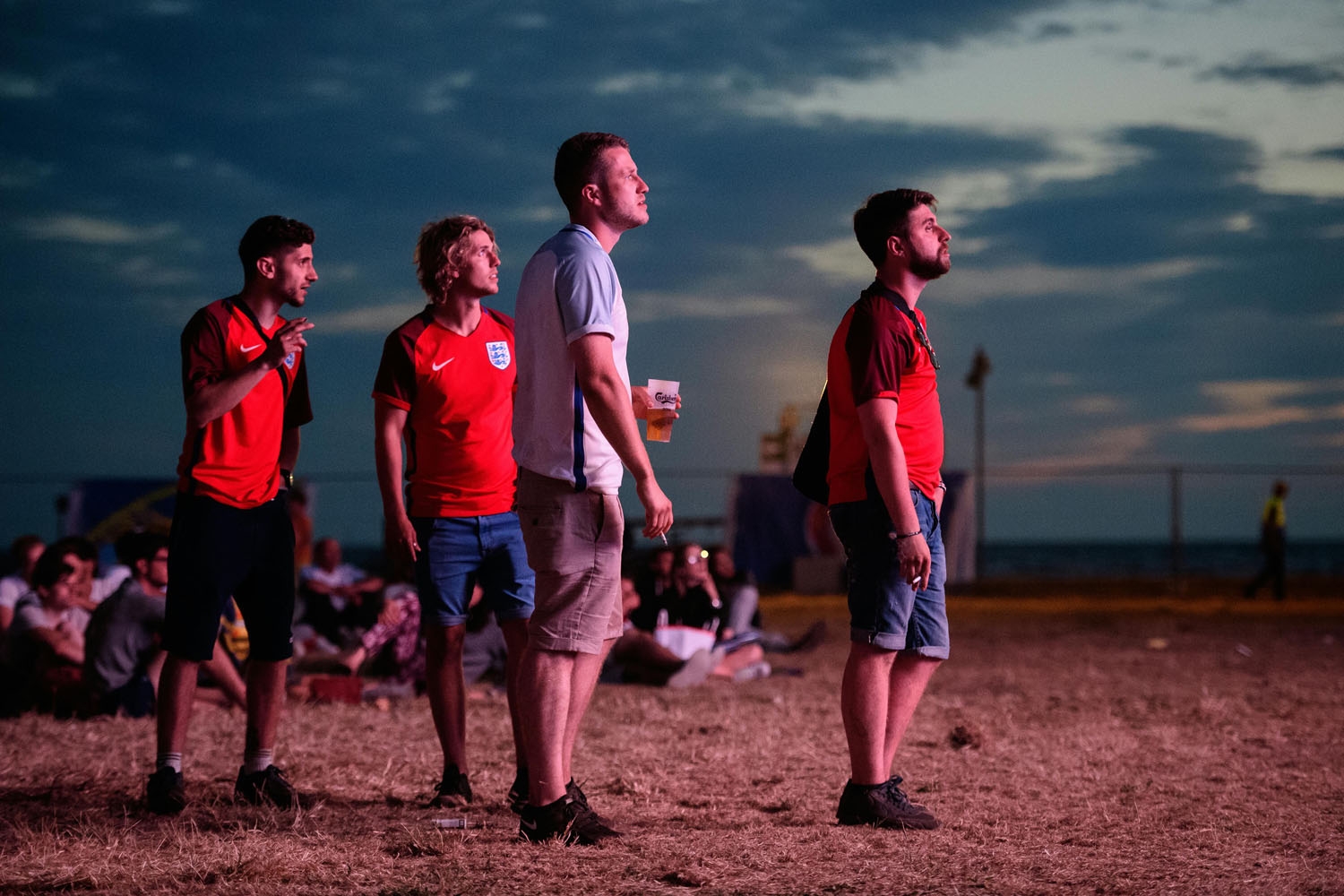 The England fan zone in Marseille, during the match (AFP / Leon Neal)
At this point, I knew it was getting too dangerous to operate anymore as whenever a photographer raised a camera, elements from all sides were threatening physical violence, or theft and destruction of equipment.
The next morning as I boarded a train to Paris, it was a massive relief to be leaving Marseilles. Fans passed the four hour journey with stories of attacks, violence and threats while vowing never to return. Remembering how incredible the city had first looked when I arrived a few days before, it's hard to equate the actions of some people with "The Beautiful Game".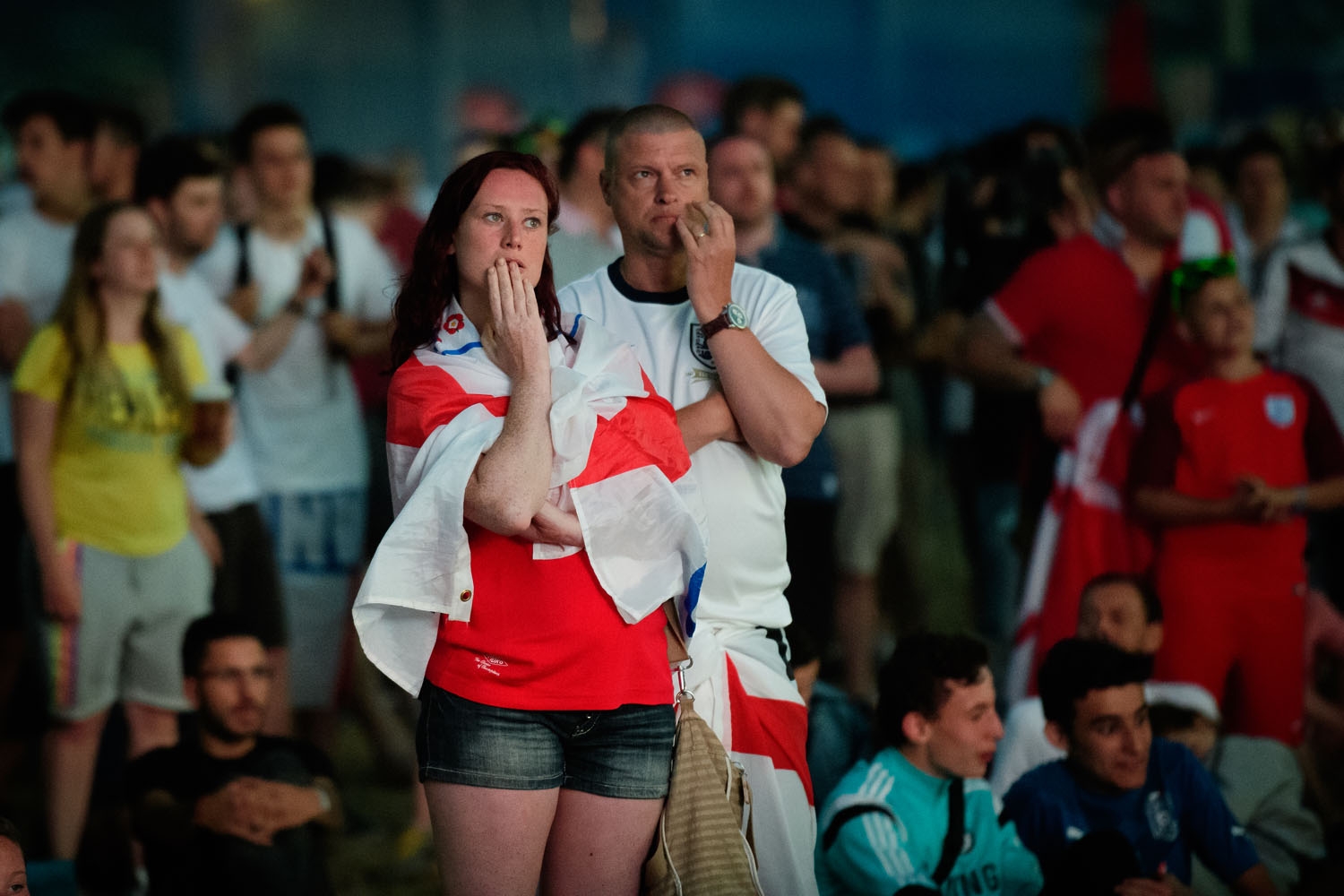 (AFP / Leon Neal)