Thief! Liar! Nazi! Kisses dear, see you next week!
RIO DE JANEIRO, October 24, 2014 - Along with 202 million Brazilians, I've spent the past weeks watching the most vitriolic election campaign in the country's recent history.
The rivals on the ballot for Sunday's presidential run-off have torn into each other in a series of televised debates, accusing one another -- explicitly or by insinuation -- of corruption, nepotism, incompetence, drunk or drugged driving, beating women, and using Nazi propaganda tactics, among other things.
They spend two hours trading attacks and staring daggers under the tight focus of the cameras that transmit their every move to tens of millions of viewers across the huge South American country.

Then, without fail, Dilma Rousseff, the leftist incumbent, and Aecio Neves, her center-right challenger, kiss each other on their sweaty, heavily made-up cheeks, smile and exchange congratulations.
After watching seven debates, between the first-round race and the run-off, I can say they are at the very least surreal, if not schizophrenic.
A recent poll found 71 percent of voters of all stripes disapprove of the no-holds-barred attacks, many of them personal, that have marked these duels -- especially in the three most recent debates, in which the candidates were battling to break a statistical dead heat between them.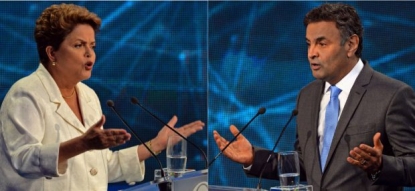 Presidential candidates Dilma Rousseff and Aecio Neves debate on TV in Sao Paulo on october 14, 2014 (AFP Photo / Nelson Almeida)
The 66-year-old incumbent, a former leftist guerrilla with a reputation for toughness, has sought to dismantle her opponent's image as a competent, well-liked former governor.
Neves, the 54-year-old scion of a famous political family, has responded in kind, pleading self-defense.
Perhaps because of the public's negative reaction, the most recent debate offered a small respite, with more discussions on key issues like health, education and security -- though the pair still attacked each other's ethics.
It was also more boring, leaving social media users to dissect aspects like the terrible lighting, which caused Neves to look badly shaven and amplified his ears and, in one Internet commentator's words, made Rousseff "go from white to black to tan."
Was it a change of strategy, or just a breather between rounds?
We'll find out at the final debate Friday night on Globo TV -- a last chance to sway the four million undecided voters and six million who cast "blank ballots" in protest in the first round.
Brazil has been deeply polarized ahead of the vote.
It is a battle between rich and poor, broadly speaking -- between the poor northeast and the wealthy urban centers of the south and southeast, between people loyal to Rousseff and her Workers' Party (PT) for lifting millions from poverty in the past 12 years and the business and financial world, which backs Neves.
But it is also about the desire for change after four years of weak economic growth -- forecast to be near zero for 2014 -- weighed against the PT's legacy of full employment and gains against the massive inequality that has long troubled Brazil.
As the clock ticks down to voting day, Rousseff has pulled ahead in the polls -- a sign, some political analysts say, that her attack strategy has worked.
Personally, I can't help feeling the attacks just muddy the field for both rivals, adding to the impression that politicians "are all the same" and further damaging political institutions in this country already exasperated by corruption scandals and government inefficiency -- as shown during massive street protests last year.
You could have cut the tension with a knife when Rousseff asked Neves in the first debate if he would respect the law against domestic violence if elected.
With this crafty question she revived -- without directly mentioning it -- a 2009 blog post by widely read columnist Juca Kfouri in which he accused Neves of pushing and hitting his female companion at a party in a Rio de Janeiro luxury hotel.
Kfouri cited just one anonymous source as a witness, and Neves vehemently denies the claim.
Then came the moment when Rousseff volunteered: "I, as a candidate, do not drive under the influence of alcohol or drugs," after bringing up an incident when Neves refused to take a breathalyzer test during a night-time traffic stop in Rio.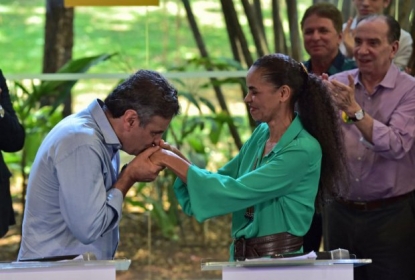 Neves and former presidential candidate Marina Silva attend a meeting in Sao Paulo on October 17, 2014 (AFP Photo / Nelson Almeida)
"I don't either!" cried Neves, who has been hard-pressed to tamp down his reputation as a party-loving playboy.
Neves, who was driving with an expired licence at the time, said he "inadvertantly" left the traffic stop without taking the sobriety test and later apologized for it.
"I didn't invent nepotism, candidate," Rousseff told him on another occasion.
"You can't have a brother, a sister, an uncle, six cousins" in your government, she said, questioning him because his sister worked in his administration when he was governor of Minas Gerais, the southeastern state both candidates hail from.
At the next debate, Neves shot back that his sister had worked as a volunteer in his administration, and accused Rousseff of helping her own brother get a job in the mayor's office of Belo Horizonte, the state capital.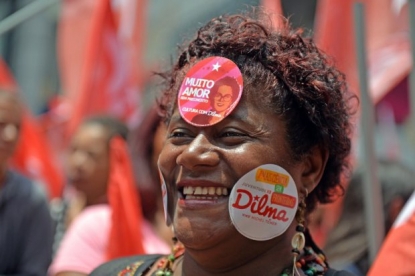 Supporters of Rousseff attend a campaign rally in Sao Paulo on October 24, 2014 (AFP Photo / Nelson Almeida)
"The difference is my sister worked a lot and didn't get paid, whereas your brother got paid and didn't work," he said.
In the last debate, Neves focused his attacks on the multi-billion-dollar kickbacks at the heart of a scandal shaking state oil giant Petrobras, where Rousseff was then chair of the board.
"There are two possibilities: either you colluded (with the corruption) or you were incompetent to manage the largest Brazilian public company," he said.
Rousseff has meanwhile accused Neves of building an airport on his uncle's land and killing off a planned $3-billion investment in public health.
She called on viewers to check out the information on the state government's website -- but the page in question disappeared without explanation.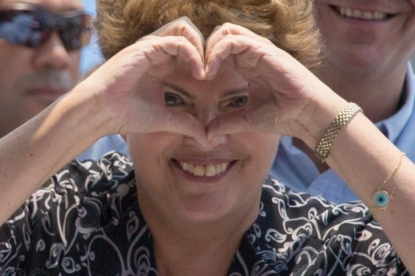 Rousseff makes a heart-shaped sign during her campaign in Rio de Janeiro on October 20, 2014 (AFP Photo / Yasuyoshi Chiba)
Election officials have forced Neves to withdraw ads featuring an old audio recording of Rousseff praising his record as "one of the best governors in Brazil."
Her party for its part has had to take down a video of popular former President Luiz Inacio Lula da Silva, her predecessor and mentor, calling Neves a "little daddy's boy" and asking where he was when Rousseff was fighting the military regime (he was 10 at the time).
The PT has also sought to turn the screw on the domestic violence claim, with TV spots saying: "Aecio has had trouble respecting women."
Neves has threatened to sue Rousseff over the ads.
"Her PR man honestly seems to me like a disciple of (Joseph) Goebbels, the Nazi information minister under Hitler, who said that a lie repeated 1,000 times amounts to the truth," he said, in reference to Joao Santana, Rousseff's campaign manager.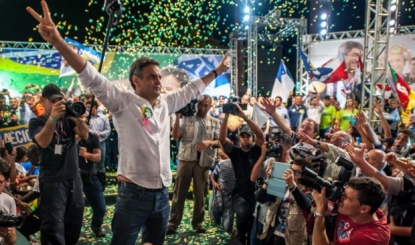 Aecio Neves gestures during a campaign rally in Belo Horizonte on October 22, 2014 (AFP / Gustavo Andrade)
A furious Lula fired back: "Sometimes it seems like they're attacking us the way the Nazis attacked in World War II. They're intolerant. The other day I told them, You're more intolerant than Herod, who ordered Jesus Christ to be killed when he was born, fearing that he would turn into the man he did. And you want to do away with the PT, with our president, you want to ridicule her, accuse her of not being serious. Only a little daddy's boy would do that."
On social networks, where more than 35 million Internet users deliver live, unfiltered commentary on the debates, the tone is sometimes orders of magnitude worse, rife with prejudice, insults and obscenities, even among friends (or soon-to-be unfriended friends).
"I feel like a foreigner in my own neighborhood," said a Brazilian friend who lives in Ipanema, one of the poshest districts in Rio.
He says he "dreams" of a Rousseff victory, and asked Facebook friends who feel otherwise to respect his views.
"I dreamt we could have a new finance minister, after four years without one. I dreamt that Petrobras would get its $10 billion back and the police would hand out a ton of electronic anklets over the 'big monthly payment' scandal" that dogged Lula's administration, an acquaintance replied on his Facebook wall.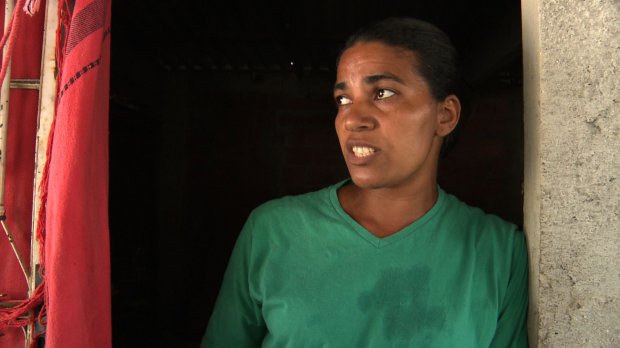 Click to watch from a mobile device.
The social networks were also the scene of one of the campaign's more bizarre mysteries: US actress Lindsay Lohan's declaration of support for Neves on Twitter.
After a flurry of online jokes, the endorsement disappeared.
Neves's Social Democracy Party (PSDB) said it was unaware of the drug-troubled actress' support.
Sometimes I feel eight debates in just over a month is too much, and the level of the discussion is often painful to watch.
The debates look more and more like a show put on by PR people, marketing experts, image advisers (with the help of plastic surgeons, dermatologists, famous designers and makeup artists) and others.
But despite their defects, it is healthy for this country that had a long military dictatorship until 1985 to see the candidates interact, explain their proposals and answer questions with only their words as weapons.
If it were just about comparing policies, Brazilians would see the candidates are more alike than different.
Maybe that's why the debates end with kisses and smiles, despite everything said.
Laura Bonilla is AFP Rio's deputy bureau chief.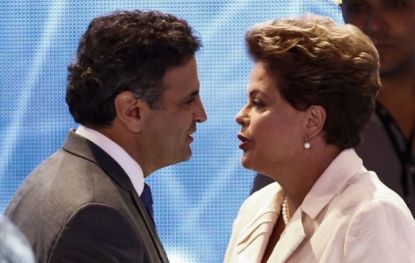 Dilma Rousseff and Aecio Neves greet before a TV debate in Sao Paulo on August 26, 2014 (AFP Photo / Miguel Schincariol)