Strength from danger
Multan, Pakistan --  A few years after I started working as a camerawoman in the region where I live in Pakistan, I got attacked by a group of men furious over my filming. They pushed and shoved me and broke my camera. My worried mother and siblings urged me to stop with the journalism and find work in an office, or a job that I could do from home. I refused.
"There is no place that is completely safe for a woman in Pakistan," I told them. "There is danger everywhere you go, there is risk everywhere. I know this job and I like this job, despite the risks. When I work amid danger, it just makes me strong. I feel more alive."
Working as a news photographer and camerawoman in Pakistan presents plenty of challenges. The country is very socially conservative to begin with and where I live -- the central city of Multan in Punjab -- is a region known for violence against women. It is rampant with stories of so-called "honour" killings, gang-rapes approved by village councils, and of young girls being given to rivals in order to settle disputes. Any woman venturing out on the street here faces hostility.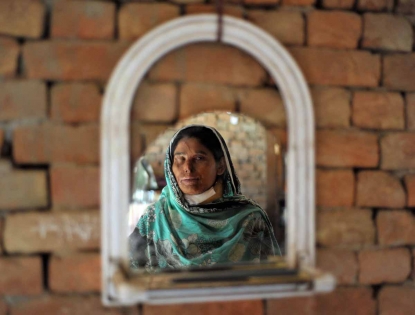 Acid attack victim Asiya Bibe, 35, is seen in a mirror at her home in Multan, March, 2012. Acid attacks are often directed against women in Pakistan. (AFP / Bay Ismoyo)
It is even more challenging when you're doing something that people aren't used to seeing women do -- filming news events. Often I have to keep one eye on the viewfinder and the other on the swarms of ogling men who invariably materialize around me. And when I venture south, into rural areas to do stories on extremist outfits, I take special precautions.
My start with the world of video began in a less-than-stellar way. I was 18 and a neighbor asked me to help him shoot a wedding -- he needed a woman to record in the women's section. I had never held a camera before, but he gave me some quick training, handed me a bulky VHS video camera and sent me on my way.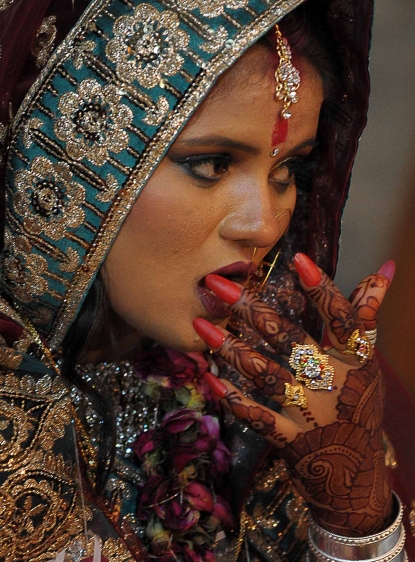 A bride in Karachi, November, 2013. (AFP / Rizwan Tabassum)
The result wasn't too bad and he offered me another job. I was thrilled -- the work would provide me with an opportunity to supplement the meager income that my family received from my father's goat-selling business.
But on that second shoot, I mixed up the camera settings and the video came out all blue. The client was so angry that he didn't pay my neighbour. I called it quits and continued with school. I intended to finish 12th grade and get the certification that you get in Pakistan with it, but had to drop out when my mother fell ill -- I had to look after my sick mother in the hospital, manage the house in her place and take care of my two younger siblings.
I contacted my neighbor, Iqbal Butt, again and asked him to teach me video filming properly. He agreed and soon I was earning 400 rupees (40 dollars) per day filming wedding videos.  I also learned video editing and started looking after the office.
My break into journalism came a year later, in 1997, when an international news organization called us, asking us to shoot a roof collapse at a wedding ceremony in the town of Dera Ghazi Khan 80 kilometres (49 miles) away, in which several people had died. I went to shoot the collapse with my boss -- the area was a deeply conservative one and my boss would not be allowed into the house, so he took me along.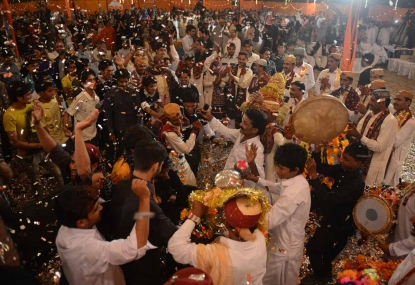 Weddings in Pakistan can be quite large affairs. Here, grooms celebrate at a mass marriage ceremony in Karachi, March, 2013. (AFP / Asif Hassan)
The roof collapsed because the family was having a wedding ceremony on it and it couldn't sustain the weight of the people. I don't remember how many people exactly had died, but nearly a dozen people including women and children were buried alive in the rubble. I shot some video and also took still photos. After that, I just started going with Iqbal and other news photographers to news events.
Covering news events came with its own set of hazards and some of the countless scenes stand out more than others.
The first time that I was in a dangerous situation was in October 2001, when I covered a protest in the town of Jacobabad, some 360 kilometers southwest of Multan. I was filming outside an airbase that was handed over to the US after the 9/11 attacks. The demonstrators were protesting the handing over of the airbase to US forces to carry out strikes inside Afghanistan. Police charged the hundreds of protesters, beating them with sticks and firing tear gas. Fourteen of them were wounded and 200 arrested.
It was one of the most violent protests that I have covered. The police were beating everyone in their way, even the reporters and cameramen who were filming. When I found myself in the middle of this violence, I didn't know what to do. Somehow, I managed to remain on the scene and continue working. People were running in all directions, police were chasing and beating them with batons. At one point I thought that I may not get home alive. I still don't know how I managed to avoid the violence all around me.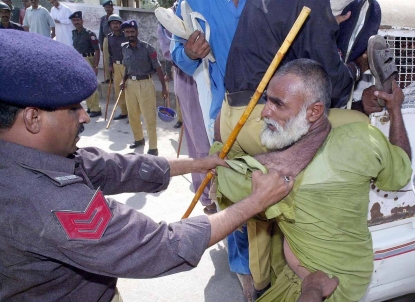 Clashes at the Jacobabad protest, October, 2001. (AFP / Aamir Qureshi)
It was the first time that I was afraid while working. It was so different from wedding parties, where everyone was happy, all dressed up, smiling, the women donning their best gold and silver jewelry and colorful flowing dresses embroidered in glittering beads, the atmosphere festive.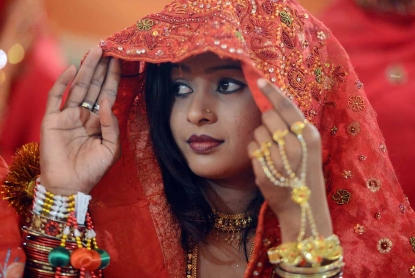 A bride at a mass marriage ceremony in Karachi, March, 2013. (AFP / Asif Hassan)
Here it was total chaos. You had the demonstrators and police pulsing with anger, mayhem all around, teargas stinging the eyes and making you choke. Danger everywhere.
But amid it all, I had to keep my head and film the chaos and the violence. And I did it. It was so rewarding to see my footage carried by international news networks. It was a huge motivational boost. Not only did I manage to do a good job, I could work in difficult situations just like the male journalists.
It's difficult to convey just how powerful that emotion is for a woman in Pakistan -- the confidence that you are an equal. It was then that I realized that I wanted to continue with news work. It was challenging and dynamic. I realized I could make a name for myself in this profession. And that I would have more respect than a female party videographer.
Like I told my family after another violent protest, when I was manhandled and my camera broken (I still managed to film) -- when I worked in dangerous situations I felt more alive. It made me stronger.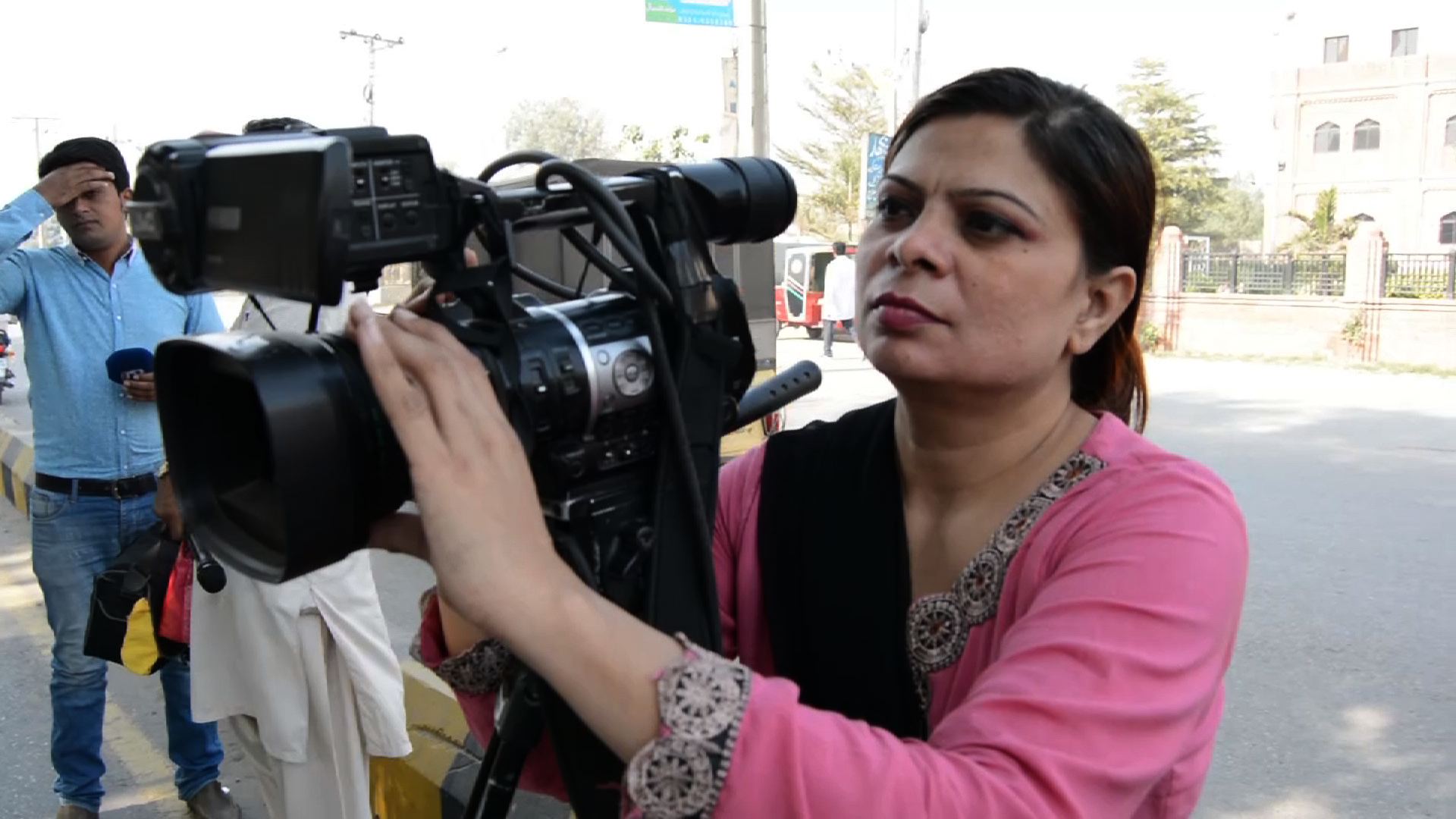 Probably the most dangerous situation that I've been in came this year in June. I went to a house of a man who had been killed in an acid attack by a woman with whom he'd had an affair. When they saw the camera, the entire family got enraged. The relatives said that they were mourning and that I had come to film them in pain for the "entertainment" of their rivals. Some of the men started pushing me away. My assistant and I found ourselves surrounded by a mob of dozens of men shouting, swearing and getting physical. We had to flee for our lives.
The personal and professional strands of my life came together in 2005, when I married my boss, Iqbal, following the death of his wife. Over the years of working together, Iqbal and I had gotten to know each other well. He always encouraged me in my work and always told me to be brave and to show others that a woman can work just as well as a man. After his wife died, he proposed, as he thought that I could take care both of the business and of his kids. My family had gradually also come to accept my work and became confident that I would manage to make my way. I was so happy.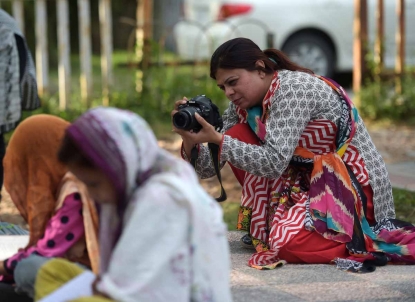 The author on assignment in Islamabad, August, 2016. (AFP / Aamir Qureshi)
But tragedy struck three years later.
My husband had high blood pressure and six years ago he died suddenly. I was devastated. I didn't know what to do. I felt so lonely and helpless. I did not have my own children, but I was looking after his kids from his first marriage. We had lived in a house adjoining his family's. But after his death, the in-laws wanted me to leave. I went back to my parents' house and started to put my life back together.
I began stringing for different news networks. Those were very busy times, when a mega flood hit Pakistan in 2010. I covered several bomb blasts, crime stories and camel and dog fights. I also covered the story of Mukhtar Mai, the woman who was gang-raped but fought back in court and became a global symbol for hope and resilience.
Mai's story has been my favorite one to cover. I saw her voice against rape spreading to all parts of the world from that tiny dusty village in central Pakistan. It was also a unique experience to see a village woman rising to become a global anti-rape icon and starting schools for girls and shelters for women facing violence at the hands of their husbands and families. She was inspiring.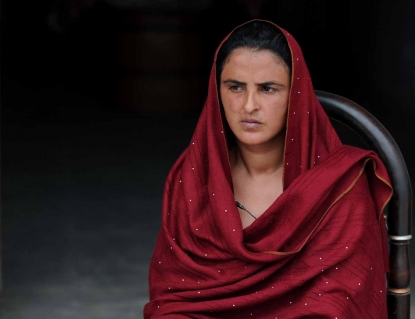 Mukhtar Mai at a women's shelter she set up in the village of Mirwala, February, 2011. (AFP / Aamir Qureshi)
Working as a woman has both advantages and disadvantages. Often, it has helped me take photos or videos at places not accessible to men. I can talk to both men and women, but I am at a distinct advantage in places where both women and their male relatives are reluctant to be filmed or photographed by male journalists.
Most of the time in Multan I can work alone. But in the towns and villages outside the city, where men are not accustomed to seeing female journalists taking pictures and videos on the streets, it is unthinkable to venture out alone.
When I work, I invariably attract a crowd. Some are just curious, but many men have tried to push or touch me when I'm trying to film in crowded places. Which makes my job harder, since I have to get the vital shots and avoid the oglers.
So to make my job easier, I have hired a male assistant, who goes with me in the field and works both as an apprentice and keeps irritating men at a distance. You can say he's my personal bodyguard.
Over the years, I have trained many of the men who today work as cameramen with leading television channels in Multan. I won't tell you who they are, because some of them will be embarrassed, or will be taunted by their male colleagues that they were taught the trade by a woman.
Once they learn to fly by themselves, they don't want to look back and acknowledge that a woman taught them what they know. It's not surprising, considering where they live -- a male-dominated society where women have to struggle on a daily basis to make their way in the world.
But it doesn't matter if they acknowledge it or not. I know.
This blog was written with Masroor Gilani in Islamabad and Yana Dlugy in Paris.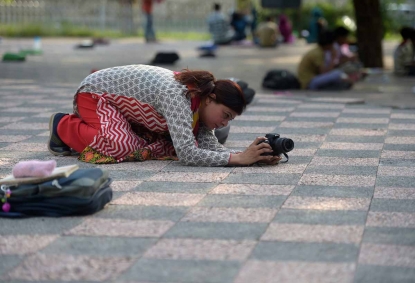 (AFP / Aamir Qureshi)