From streets of fear in Mogadishu to "paradise in Paris"
(AFP Photo / Mohamed Abdiwahab)
PARIS, September 11, 2015 - I was born and grew up in Mogadishu, and always wanted to be a photographer but never had the opportunity to study because of the situation in the country. I took my very first pictures when I was very young and got some training from friends that worked for local newspapers.  I published my first picture in a newspaper when I was 15. I took it a refugee feeding centre. It was a dream for me when I saw the picture in the local paper! I was so happy. The editor said: "You're doing a good job. Keep shooting in Mogadishu. Try not to be afraid."
That's how I found my calling. One thing led to another and I wound up at AFP, starting to work as a freelance photographer for the agency in 2011.
In Mogadishu, life is the same for everybody. You get up in the morning knowing something bad's likely to happen to you by nightfall.  I'm 28 and I've been lucky enough to survive so far and never to have been hurt. But I've lost so many colleagues, so many relatives, so many friends … I've buried more than 30 journalist friends since I started working and each time I see a friend die it's a little as if I were dying myself.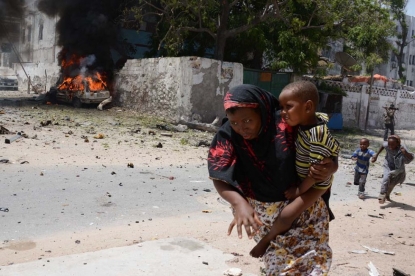 A mother runs with her child after a suicide bomber attack on April 14, 2013 in Mogadishu
(AFP Photo / Mohamed Abdiwahab)
There's danger everywhere in Somalia. In this land where the freedom of the press has so many enemies, you're even more exposed as a journalist. So you have to be careful all the time, watch your back, look around you, be sure about the person walking next to you … Sometimes I wear a helmet and bulletproof vest marked "Press" when I'm working as it can be useful. But in many situations it's wiser on the other hand to go incognito, to hide my camera, though in town nearly everyone knows me, I'm easy to find. We always work in a group, with other journalists from local and foreign media. We share information and we protect each other.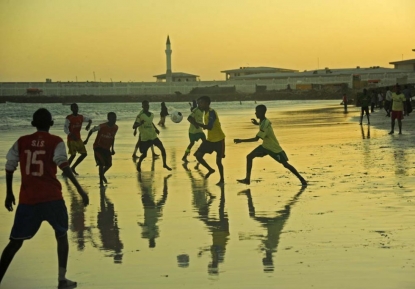 Somalis play football at Lido Beach in Mogadishu on August 11, 2015 (AFP Photo / Mohamed Abdiwahab)
Being a photographer in Somalia is a frightening job. It is impossible not to be afraid because you are a human being. But when you work in a war zone like Somalia, you need to sacrifice. You need to be a hard man. You need to know that something bad will happen to you today, tomorrow or in the next days.
I came to France for the International Festival of Photojournalism in Perpignan, one of 25 photographers whose pictures were being featured in the exhibition. Apart from a few trips to Kenya, I've never left Somalia. I've never known anything but chaos, fighting, famine, attacks, bloodbaths. So you can imagine what it felt like to walk in the streets of Paris for the first time! To see all these people peacefully walking to work or to school, relaxing at sidewalk café, rushing around everywhere…
"Relatives and fellow journalists pray over the body of Mohamed Mohamud Timacade, a reporter with London-based Somali-language Universal TV, who was shot dead in Mogadishu, on October 27, 2013 (AFP Photo / Mohamed Abdiwahab)
I can walk wherever I want, whenever I want, with my camera, take pictures of everything, including the presidential palace, without risk of being stopped or killed. Taking the subway in Paris was a real first for me, obviously nothing like that exists in Somalia. You can move around so quickly and easily. Everything is so accessible, you can get simple things done that would be a mission to do in Somalia. It's the first time I've ever experienced this. It's like 14 days of paradise.
I met hundreds of people in Perpignan and gave lots of interviews. Most of the people I spoke to didn't know much about Somalia and were very interested in my work, which was nice. My exhibition was about daily life in Mogadishu, the difference between the days of chaos and violence and the moments when life becomes almost normal again.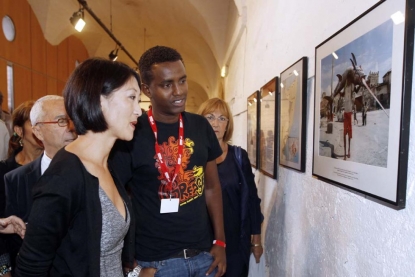 French Minister of Culture and Communication Fleur Pellerin visits Mohamed Abdiwahab's exhibition during the Visa pour l'Image photojournalism festival in Perpignan, France, on Sept. 4, 2015 (AFP Photo / Raymond Roig)
I felt very privileged to be there as a Somali photographer. The organisers told me that in 27 years of the festival they have never had a Somali photographer exhibit his work, despite Somalia being an important news story. I was surprised, so I felt it was extremely important to give my perspective and share what I know.
I gave a lecture on a big stage, in front of a huge audience. It was amazing. I felt that people were very happy and excited to be able to interact with me. I can understand that because my country is not very accessible for foreigners and I was able to give them a real insider's perspective, something that you just can't get from reading about Somalia or from a fellow foreigner's perspective. I was respected, not viewed with suspicion, I had a voice.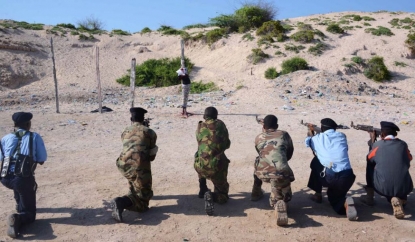 The convicted murderer of the well-known Somali journalist Hassan Yusuf Absuge in September 2012 is executed by a firing squad in Mogadishu on August 17, 2013 (AFP Photo / Mohamed Abdiwahab)
What I enjoyed most about my time in France was to be among so many colleagues that felt passionately about photography in the way I do. We are a small number of journalists in Somalia doing important work, and in our country we don't get the support and understanding for what we do, much less such a grand celebration of our work, which is what Visa pour l'Image is all about.
It was great to see the work and hear from other photographers from different countries at a huge festival like that. It's inspiring. Being in an environment like that gave me a real chance to reflect and study and discuss something that is so important to me, something that I put my life on the line for. I want to return every year now if I can. Being there for one week is like a gaining a year's worth of knowledge, you get new ideas and inspiration every day. That fuels your photography.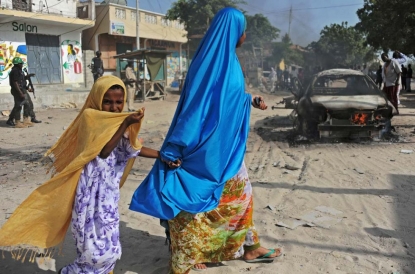 A mother and a child walk past the wreckage of a car bomb in the Wardhigley District, south of Mogadishu, on February 27, 2015 (AFP Photo / Mohamed Abdiwahab)
I don't know how Somalia's future will shape up, but my impression is that things are getting better day by day. The war continues between the different factions but ordinary Somalians are tired. They are looking for peace. They've been through too much unhappiness, they've had enough, they're trying to build a normal day-to-day life. A few migrants are coming home, some people are opening businesses…
Are there any happy moments in Somalia? I can't say there have been any ever since I started this job. But sometimes I feel happy when there's a calm moment and I can photograph people relaxing at the beach or playing football… Those are real moments of joy for me.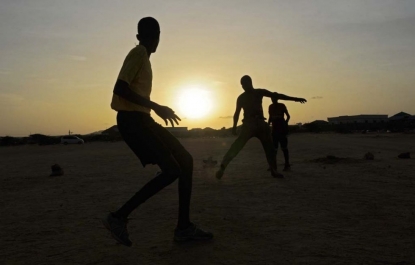 Boys play football in Hargeisa on May 15, 2015 (AFP Photo / Mohamed Abdiwahab)
But I know that the next day, or even that afternoon, the violence and the chaos will return. So I can never be 100 percent happy.
Ever since I arrived in France my family in Mogadishu has been pressuring me. My father phoned when I was in Perpignan and said : "What are you planning on doing now?" When I said I was going to return to Mogadishu in mid-September he tried to talk me out of it. "You're mad!" he said. " You're in a safe country. Don't come back, study, find a job in a restaurant, change your life!". It's understandable, as so many people have fallen around us. So many neighbours have died trying to cross the Mediterranean.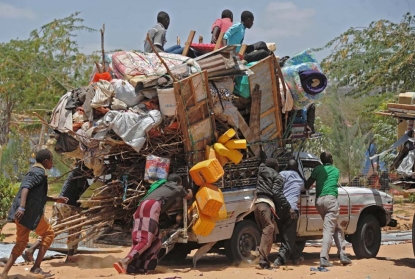 Somali refugees carry their belongings after their temporary shelters were destroyed by the army on March 4, 2015 at the Sarkusta camp in Mogadishu (AFP Photo / Mohamed Abdiwahab)
I am returning to Somalia. I told my family that even though life might be easier in Europe, I wanted to share all the bad things that happen to them. Being a photographer in Mogadishu is very risky but I love the work because it allows me to be with my people, and showing the rest of the world what is happening in Somalia is useful. In fact I see photography as a duty rather than a job.
And I want to see the day when I can take pictures of something else than misery -- sports events, economic events. I began my career in chaos. We Somali people need to live peacefully, like the rest of the world. I want to see that day.
This story was written with Roland de Courson in Paris and Carl de Souza in Nairobi, and edited by Claire Rosemberg in Paris.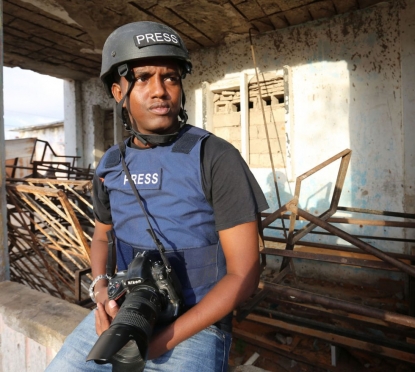 AFP photographer Mohamed Abdiwahab, in Mogadishu (AFP Photo)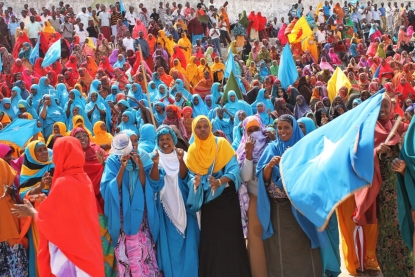 Somali women wave their national flag at Konis stadium in Mogadishu during a ceremony marking the anniversary of Somalia's independence on July 1, 2012 (AFP Photo / Mohamed Abdiwahab)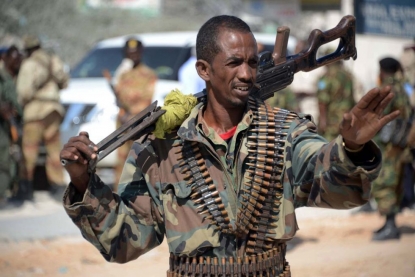 Somali soldiers patrol the streets of Mogadishu on February 22, 2014 (AFP Photo / Mohamed Abdiwahab)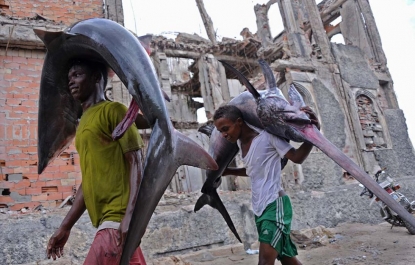 Porters carry the carcasses of a shark and a marlin to the local market near the port of Mogadishu on November 18, 2014 (AFP Photo / Mohamed Abdiwahab)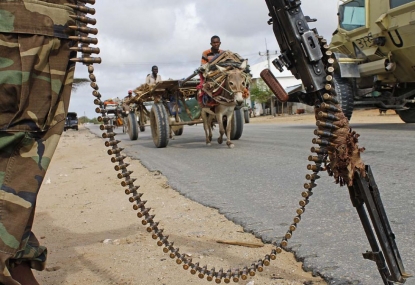 A soldier stands guard during a visit of Somalia's President to Afgoye on July 30, 2012 (AFP Photo / Mohamed Abdiwahab)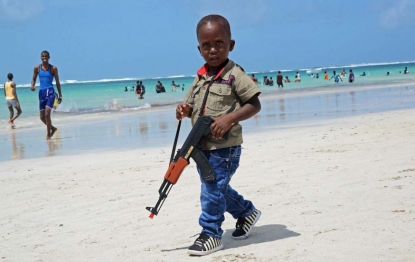 A Somali boy walks with a toy gun along the Lido Beach near Mogadishu on August 8, 2013 (AFP Photo / Mohamed Abdiwahab)