A journey to the unknown on the Balkan migrant route (2)
(AFP Photo / Attila Kisbenedek)
Since the beginning of 2015, more than 350,000 people fleeing war and misery have reached Europe in risky, sometimes deadly journeys on inflatable boats. They set sail from Turkey's shores for Greece and from chaos-ridden Libya for Italy. Most are Syrians, Iraqis and Afghans, desperate to restart their lives in safety.
But they face a journey plagued with obstacles, smugglers and hustlers, long waits in the sun and short nights in the cold before they get there. They also face many fears and exorbitant costs, which they cover with money borrowed from family or from having sold their homes.
After covering the refugees' ordeal on the Greek islands, AFP has sent a team of three journalists on the Balkan migrant route to follow the continuation of their journey to an all too uncertain future.
This is a diary with notes from the trip from Greece through Macedonia, Serbia and Hungary. Our plan is to reach Germany with the migrants.
Click here to read the previous chapters, from the Greek border to Belgrade.
Day 4 - No passport, no rights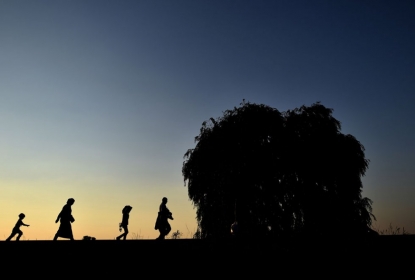 Syrian refugees and migrants along a railway line as they try to cross from Serbia into Hungary near Horgos on September 1, 2015 (AFP Photo / Aris Messinis)
BUDAPEST, Sept. 5, 2015 - The daughter of Lebanese parents who fled the 1980s civil war to build a new life, I grew up in the European Union, but until I followed a group of refugees fleeing war for the promise of a future in western Europe, I never fully realised the powers my red passport holds and the vulnerability of people without one.
For nearly a week I and my colleagues Aris Messinis and Celine Jankowiak have been following a group of Iraqi refugees fleeing their war-torn country and treading the Balkan migrant route. It is a journey fraught with danger, where the best and worst of humanity comes to the fore.
Their odyssey started in Turkey when they boarded a rickety fishing boat to Greece. Among the lucky ones to survive the trip, they waited in long queues to register with authorities in Greece, Macedonia and Serbia, suffering intense heat and and spending several cold nights out on the street or in insalubrious camps.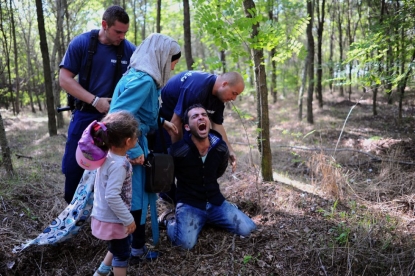 A refugee is arrested by the Hungarian police in front of his wife and daughter near the village of Roszke after crossing the Serbian border on August 28, 2015 (AFP Photo / Attila Kisbenedek)
Having survived the Balkans they decided to cross into neighbouring EU member Hungary illegally so as not to jeopardise their dream of gaining asylum in Germany or in other northern EU countries because of a bloc rule that requires refugees to register for asylum at their first point of entry.
To make the crossing, a terrified group of some 20 Iraqis followed a green-eyed Iraqi Kurdish smuggler who turned out to have a Greek girlfriend and refused money from the AFP team when he and photographer Aris exchanged a few words in Greek. The Iraqis meanwhile paid 100 euros each.
The full moon lit up the night sky and it felt like the wrong night to cross -- but the refugees' 72-hour permits in Serbia had just expired, there was no way back, and they just had to try. From northern Greece up until now, the migrant route has been plagued by moments like this -- when the refugees have no choice but to keep going and to hope for the best through less than ideal conditions.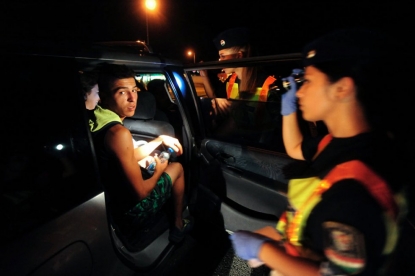 Hungarian police officers inspect the car of a suspected smuggler on a highway between the Serbian border and Budapest near Szatymaz on September 3, 2015 (AFP Photo / Csaba Segesvari)
In the darkness, as the refugees zig-zag behind the smuggler through farms and open fields, strangers appear. They are likely thieves. The refugees' friends had warned them about the possibility of being robbed or worse along the way. Some of the men in the group carry tree branches and every time they find themselves surrounded, they wave their primeval weapons at the predators and shout in English, with heavy Arabic accents: "Go! Go! Leave us!" 
They may be the ones in danger but that doesn't stop them from worrying about us. "Were you scared? Don't get scared, we are here," one of the refugees tells me. Others make sure that I, my colleague Celine and a young Iraqi woman walk in the middle of the group for protection -- a deeply moving and humane act.
But while humanity can show its best side in times of war and crisis, it is also the time when the darkest forces take over.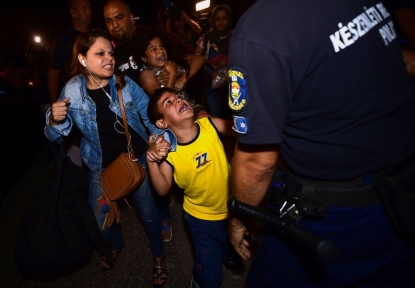 A migrant family is taken by the police to a refugee camp in Bicske, Hungary, on September 3, 2015 (AFP Photo / Attila Kisbenedek)
The Iraqis in the group, like most other refugees fleeing war-torn Syria, Iraq and Afghanistan whom we meet, are terrified of any interaction with the government authorities. 
Once they reach the petrol station that the smuggler takes them to inside Hungary, the first people to greet them appear like vultures in the aftermath of a bloodbath: a swarm of traffickers with cynical smiles, pouncing in unison on the Iraqis who are desperate to get somewhere safe and charging exorbitant prices -- 200 euros for each of the seven people to travel from the border to Budapest. The normal fare would be 200 in total.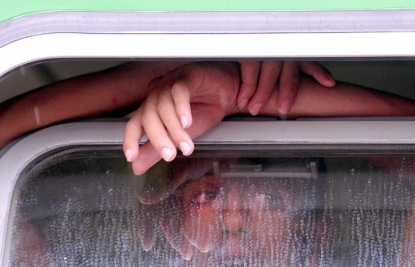 A migrant tries to get fresh air at a window of a train between Budapest and the Austrian border in Bicske station on september 3, 2015 (AFP Photo / Attila Kisbenedek)
While the smooth-talking driver who ends up winning the lottery is himself scared of police checkpoints -- if caught he will be jailed for people-trafficking -- he also relishes instilling unwarranted fear in the Iraqis, as if to justify the high cost of his services.
"Careful, that's a checkpoint there. Put your head towards the left! You, move!" he tells the young men in the back of the seven-seater as we pass the scene of a minor traffic accident where a police car is parked and officers assist.
He also forbids the refugees -- but not the journalists -- from speaking on the phone. "The light, the light!" he says as we speed along the highway at over 120 kilometres an hour.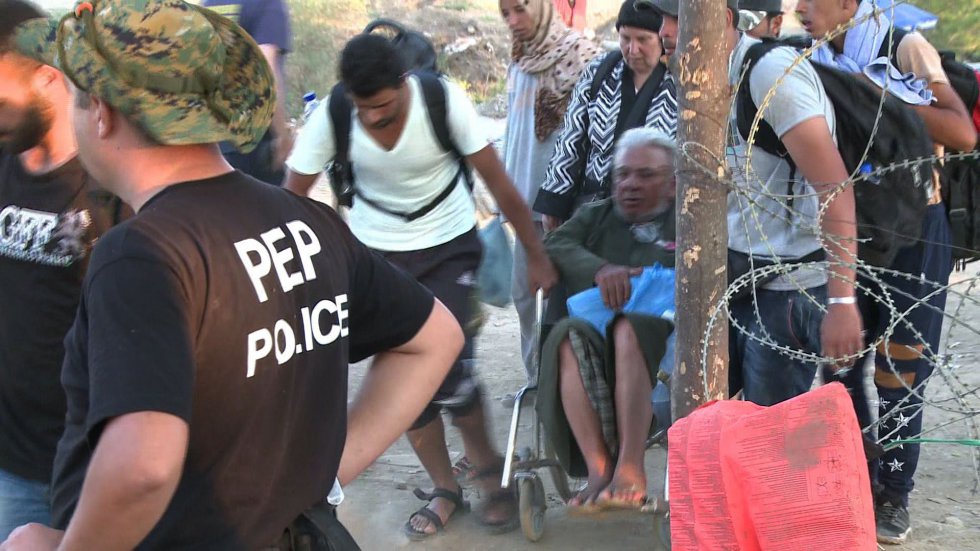 Click to watch this video on a mobile device.
When we arrive on the outskirts of Budapest, a new group of taxi drivers, this time from official companies, are lying in wait for their take.
The driver who takes the group charges 150 euros to drive them to central Budapest, to a hotel he claims will take them in. It turns out to be a brothel, with migrants sleeping in the parking lot outside.
When my colleagues and I tell another driver we have passports and will only pay a normal price he is outraged, but finally accepts to drive us to town for a third of the price.
This is the difference between having a European passport and not -- we have all made the same journey, but if we disappear someone will care, and if anyone tries to take advantage of us we have the right to defend ourselves.
Day 5: Vienna, city of dreams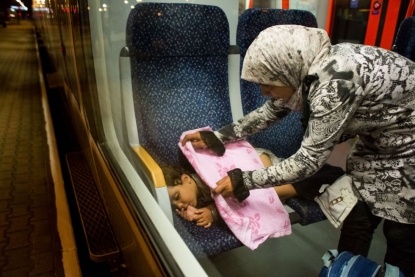 A migrant child sleeps on the train from Budapest to Vienna at the Austrian - Hungarian border in Hegyeshalom on August 31, 2015 (AFP Photo / Vladimir Simicek)
VIENNA, Sept. 7, 2015 - Vienna is very few of the refugees' final destination but it is their first breath of fresh air. After crossing Turkey, Greece, Macedonia, Serbia and Hungary at a rate of about a country a day -- with some half of those nights spent either in buses or on the street, and under pressure from authorities every step of the way -- they reach a city where they are for the first time neither being hunted nor "processed", as authorities refer to registration.
New arrivals are received by volunteers, including Arabic and Kurdish speakers, at the railway station. "Refugees welcome," reads a big flag carried by an Austrian helper. "Ahlan wa sahlan (welcome)," reads a sign in Arabic placed on a colourful table filled with offerings including bananas, apples and peaches, local and Arabic sweets, and soft toys for children.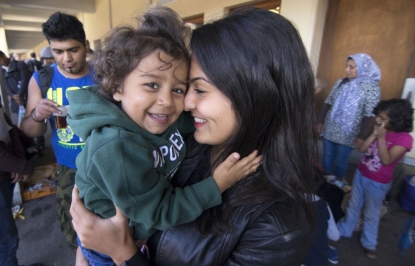 An Austrian volunteer plays with a 3-year old Afghan girl at Vienna's Westbahnhof station on September 6, 2015 (AFP Photo / Joe Klamar)
At a mosque refugees are given a reception that is significantly more humane than they got at any of the camps along the Balkan route. Earlier, they got only water and cheap biscuits if they were lucky. Here there are packets of diapers, baby milk and decent food that any breadwinner would happily purchase for his or her family. Suddenly the fear of detention so present in Hungary dissipates, too.
There is a taste of freedom and solidarity that helps restore some of the dignity that has been mercilessly worn down during the refugees' arduous journey. With their guard down, they try to think seriously about where they are headed. When leaving Syria, Iraq, Afghanistan and other conflict-torn and impoverished countries, all they could think of was fleeing. From Greece to Hungary, they were focused on overcoming the next hurdle and in rushing forward as fast as they could. Like characters in a real-life video game, they raced against time -- pumped with Red Bull to evade border police and mafia baddies while fighting exhaustion to make it through the next level, or else face going back to square one.
Austrians rally against ill-treatment of migrants in Vienna on August 31, 2015, after the bodies of 71 refugees were found in an abandoned truck near the city (AFP Photo / Patrick Domingo)
Now in Vienna the big question for the refugees we have followed from the Macedonian-Greek border is: "Where do we go?"
Germany, Holland, Sweden, Belgium, France or Finland? The lobby of a Vienna hotel where many new arrivals from Syria and Iraq rest for the night is buzzing with questions. "What do you think, is Belgium nice?" one Iraqi man asks me. "Maybe Holland is better? I hear it will be easier for me to bring my family over to Holland than Germany, is that true?"
Of course I have absolutely no idea where he or anyone else should go. Aside from the fact that I can't interfere with anyone's decisions anyway, European asylum policies are changing so quickly nowadays that what may be true one day is not the next.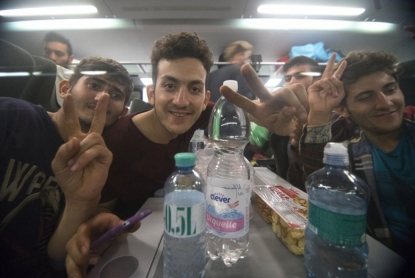 Migrants leave Vienna for Germany on September 6, 2015 (AFP Photo / Joe Klamar)
Seeing so many thousands of people on the move together with very few of them certain of where they are going, even now that they are in Vienna can only tell us one thing -- that no one is encouraging them to come to Europe, as some have suggested. They are on the move because they have no choice but to search for life far from bombs and misery at home -- where they end up is secondary so long as they are welcomed with dignity.
For most, Germany is the promised land. And the family we are following is almost there, though they are also weighing the possibility of leaving the very next day for Holland where they have relatives. After their first good night's sleep in a week, they seem unmoved by the uncertainty of their future -- they have almost made it to, well, somewhere good. So rather than abide in anxiety, they dream of the future while stocking up on supplies, some more vital than others. They buy baby milk for their four-month-old boy Adam, while his 26-year-old mother Alia gets new earrings, relishing feeling normal again. After cheating death in the sea, braving the Balkan route and narrowly escaping arrest in Hungary, no one deserves this moment of peace more.
Day 6 - Munich: the separation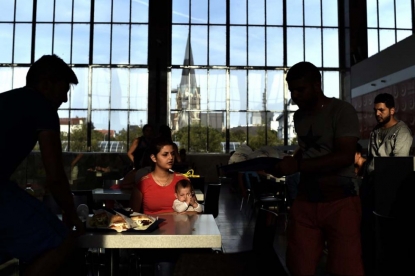 Iraqi refugees Ahmad, Alia and their four months old baby Adam, wait for their train to Germany in Vienna station on September 3, 2015 (AFP Photo / Aris Messinis)
MUNICH, Germany, Sept. 9, 2015 - In Vienna, the Iraqi family we have been following — Ahmad the optimist, beautiful Alia and sweet baby Adam — decided at the very last minute to buy tickets to Cologne, Germany. All this time they had been running and they'd barely had a moment to think about where they were going. Now they were making a life-changing decision in an instant.
Their plan was to go to visit Ahmad's sister first in the western German city and think about whether to apply for asylum there, or continue to neighbouring Holland where both he and Alia have relatives.
"Germany is very crowded right now," Ahmad said, referring to the massive recent influx of tens of thousands of refugees and migrants. "But my brother says life in Holland is tough. If we go see my sister, we'll have time to make a real decision."
So tickets to Cologne it was, a whopping 185 euros ($200) each, another fortune for a family who had already spent more than 9,000 euros on smugglers, hotels, food and transport to get this far from Turkey. After a kebab sandwich and fries, it was time to get going.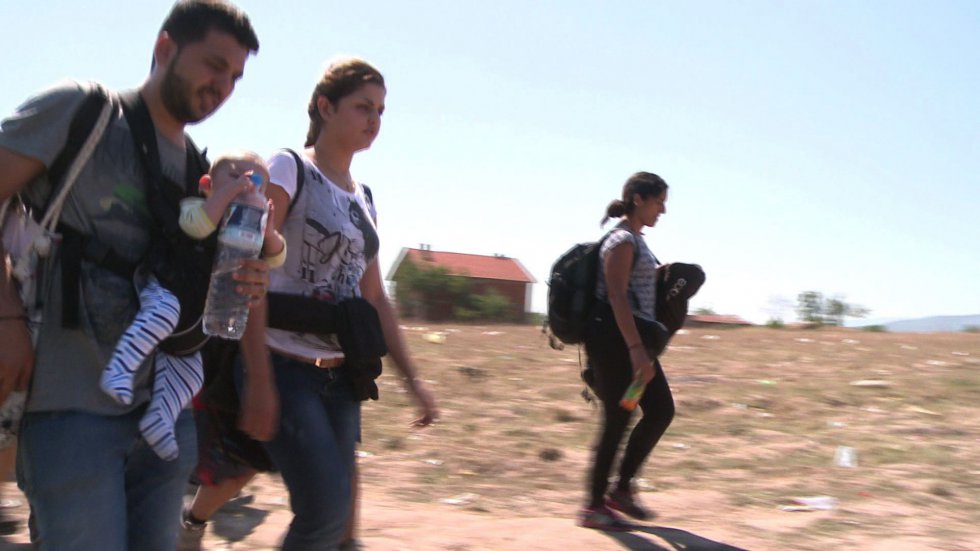 Click to watch this video on a mobile device.
There were no direct trains to Cologne so we would have to go through Munich. That was a good thing, it would give the smokers in the group a 20-minute cigarette break in the middle of the 11-hour journey.
Refugees shared the train with businessmen and tourists from Spain and France. Other refugees on board included an old man from Damascus who wore an elegant white linen Nehru shirt. "When I get to Germany, I will file for asylum for my wife and my son," he said, his eyes twinkling with excitement.
Inspectors twice checked our tickets but no one asked for passports. When the train passed Salzburg, the last city before the German border, everyone felt a rush of relief. Everyone except Aris Messinis, AFP photographer, who warned: "It's too early to celebrate. Wait."
'Welcome to Germany'
We had all seen the beautiful footage of people welcoming and cheering refugees when they arrive in Germany. We imagined the perfect ending to a journey through hell.
But as I wrote in the main AFP story about the Iraqi family, Ahmad, Alia and Adam weren't welcomed by any crowds. There was only police at the Munich station shortly after 11:00 pm last Thursday night. The family was quietly led to a makeshift facility for a medical screening and registration. The old man from Damascus walked with them too, his eyes fixed on the ground.
"Welcome to Germany," read a lonely, handwritten poster pinned outside. 
A police officer told us they would still be there in the morning, but the next day at 8:00 am they were gone. We would hear later from them via the Viber phone app that they had been taken to a temporary shelter where they were sharing a room with another family, but they had no warm clothes. They would then be transferred a few more times while their asylum application was processed.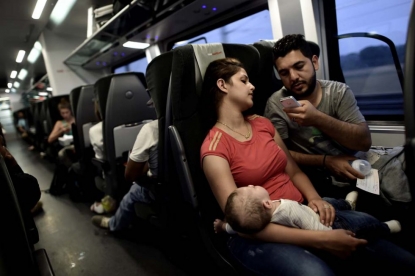 (AFP Photo / Aris Messinis)
The German authorities are overwhelmed and have done more than any other state to welcome people fleeing war and misery in the current migration wave, the worst since World War II. But seeing the journey through Ahmad and Alia's eyes made me realise just how hard it must be to be an asylum seeker anywhere, even in the best of cases.
With or without applause, asylum seekers must hand themselves in to police to be registered. They must tell their story countless times to different officials who will check whether it stands up. From a security standpoint this makes sense, but it must be painful nonetheless to recount time and again to complete strangers in uniform how one was tortured in Syria or how one survived a bomb attack in Iraq. They must then wait for months until they find out whether their claim has been accepted. The answer will depend as much on each country's asylum quota as on the validity of their claims.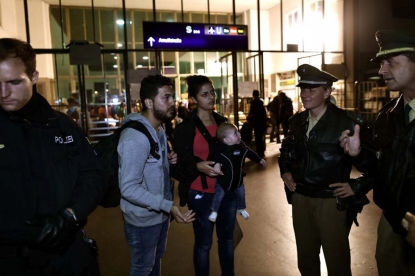 Iraqi refugees Ahmad, Alia and their four months old baby Adam, talk with German police officers after arriving in Munich on September 3, 2015 (AFP Photo / Aris Messinis)
Now for Ahmad and Alia new questions loom. How will they deal with what they have suffered? How will they keep memories of home alive for Adam, and should they tell him one day of all they risked for him? But most of all is the question of when they will have a place to call home, so they will no longer be seen as numbers in a migrant wave?
Photographer Aris Messinis, video journalist Celine Jankowiak and I plan to return to visit the family in a few months. We will keep you posted on their story as it unfolds.
- THE END
Serene Assir is an AFP reporter based in Paris. Follow her on Twitter. This post was edited by Yana Dlugy, Elizaveta Malykhina and Fiachra Gibbons in Paris.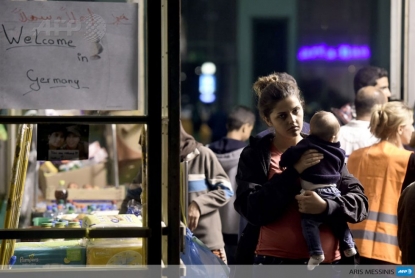 (AFP Photo / Aris Messinis)