A remarkable journalist
Culiacan -- Two large photographs immediately catch the eye in the tiny living room of his immaculately tidy house: they show a smiling Javier Valdez. But the mood quickly turns dark. Two thick red candles flank the photos, in mournful salute. Nothing will ever be the same after the murder Monday of this bold and enterprising journalist in Culiacan, the capital of Sinaloa state in northwestern Mexico. 
A ceiling fan hums softly overhead, creating a pleasant, warm breeze, and from another room comes the sound of husky-voiced Joaquin Sabina, "his favorite singer." At another time, it would be an idyllic spring morning. But the quiet sobbing of Javier's wife, daughter and son-in-law are sorrowful reminders of the void, the emptiness left by his unjust departure.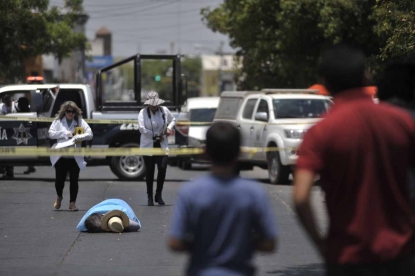 The body of Mexican journalist Javier Valdez lies on the street after he was shot dead in Culiacan, Sinaloa, Mexico, on May 15, 2017. Valdez, 50, who worked for Agence France-Presse and other media, was shot near the premises of one of the Mexican news outlets he worked for in the city of Culiacan in Mexico's violent Sinaloa state. (AFP / Fernando Brito)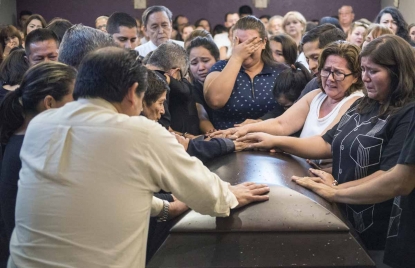 Friends and relatives of Mexican journalist Javier Valdez grieve as his coffin arrives in Culiacan, Sinaloa State, Mexico on May 16, 2017. (AFP / Hector Parra)
Javier's widow, Griselda Triana, has agreed to receive a team from AFP, after the head of the agency's office in Mexico City, Sylvain Estibal, explains that the journalists had traveled to Culiacan to write a story about her husband -- a sort of homage to the nearly three decades that Javier had dedicated to journalism and to his investigations of drug trafficking and corruption in his native state.
Javier had collaborated with AFP from Sinaloa for more than 10 years. His descriptions of the endemic violence of organized crime were full of bloody and macabre details documenting the narcotraffickers' fearsome and brutal reach. Many of his articles revolved around the legendary boss of the Sinaloa cartel, Joaquin "El Chapo" Guzman, who until last year led the world's most powerful drug ring.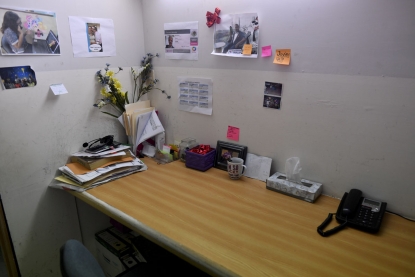 Personal belongings of murdered Mexican journalist Javier Valdez are seen at his desk in the Riodoce newspaper's offices in Culiacan, Sinaloa state, Mexico on May 17, 2017. (AFP / Yuri Cortez)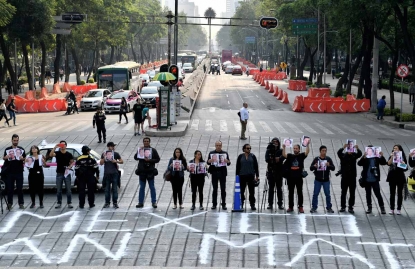 Journalists hold pictures of journalists recently murdered in different Mexican states during a protest by journalistsat at the Independence Angel square in Mexico City on May 16, 2017. Mexico ranks third in the world for the number of journalists killed, after Syria and Afghanistan, according to media rights group Reporters Without Borders (RSF). (AFP / Yuri Cortez)
Javier was also a correspondent for the newspaper La Jornada and the courageous weekly Riodoce, which he founded with several colleagues and which has set a national standard for the quality of its drug trafficking research.
Griselda invites us to sit. She is barely able to speak, but she accepts Sylvain's condolences and nods appreciatively as I express my rage and indignation upon learning that the authorities had not offered her any sort of protection and that only one official had spoken, at his wake, of economic compensation for Javier's loss.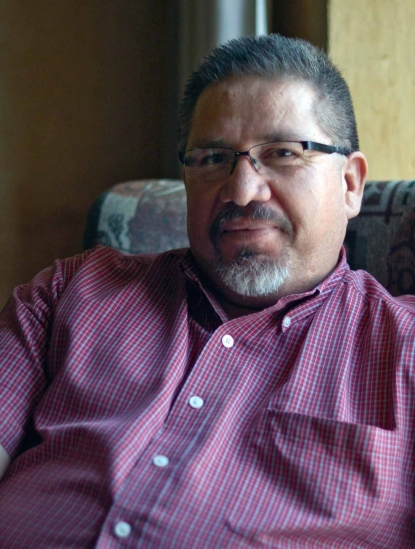 Javier Valdez, May 23, 2013. (AFP / Fernando Brito)
Her son, she recalls, asked her whether the rest of the family was in danger. "We are all in danger," she told him.
The editor of Riodoce has confirmed that Javier was on the verge of taking refuge in another state out of concern for his safety. The concern had risen after he did an interview, published in February, with Damaso Lopez, alias "The Graduate," who had climbed through the ranks to become the right-hand man of "El Chapo." Following the arrest of his boss, Lopez had faced down Guzman's sons and other factions to seize leadership of the cartel.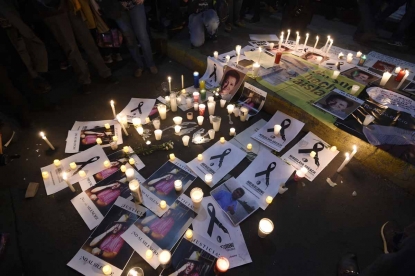 Candles and portraits of slain Mexican journalists are seen during a protest demanding the Mexican government catch the killers of Javier Valdez, the fifth and most high-profile journalist murdered this year in the country's drug-trafficking ganglands, in front of the Interior Ministry in Mexico City on May 16, 2017. (AFP / Alfredo Estrella)
I urge Griselda to let me contact some civil organization to offer protective assistance. She says she is not sure if she needs protection, or what kind she might need. I want to embrace the wife of the friend I worked with for so many years, but instead I talk to her about risk evaluations for victims' families, and I insist -- again and again -- that she let me talk "to someone." Yuri Cortez, our head photographer in Mexico, finally stops me: Griselda needs time to think.
A long, difficult silence ensues. It is finally broken by Griselda, who shares memories of Javier's last happy moments with his family: his only daughter's wedding in February, on a beach in Mazatlan -- "Javiercito, do not cry anymore," she had to tell him, as he sobbed with joy; and there was the celebration of his last birthday, April 14, at his favorite bar, "El Guayabo" -- a pencil sketch of Javier has an honored spot on its wall -- a few steps from Riodoce.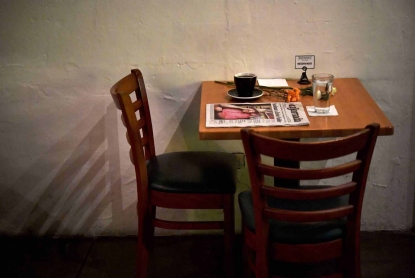 A cup of coffee, water and a newspaper with the story of his death lies on a table in a cafe frequented by Javier Valdez in Culiacan. May 16, 2017. (AFP / Yuri Cortez)
"I would have liked to kiss his lips, to wet his lips with whiskey when we were alone together just before they cremated him," Griselda says. "He did love his whiskey." Sabina, with his unmistakable, Bohemian voice, sings on in the background. "He was a bit grumpy the last few days because he couldn't have any -- he was on medication" for sinusitis, his daughter says, laughing and crying at the same time.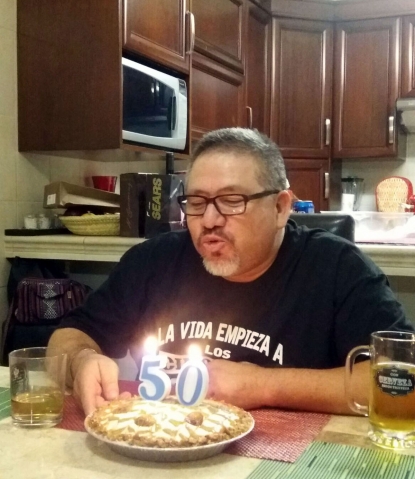 Javier Valdez, celebrating his 50th birthday, at home, on April 14 2017. (AFP/ D.R.)
Griselda does not want to do interviews, to talk about the theories surrounding her husband's murder. She says little, except to say she knows that since Monday she has become "the head of the family." But she does agree to speak by phone to AFP's regional director for Latin America, Pierre Ausseil. We do not know what he said, but can only imagine it from her last words to him: "If you guys are angry, I'm furious -- fucking furious."
In seeming disbelief, she nearly whispers: "We have become the victims that Javier always spoke of." 
Her soul, clearly, is broken.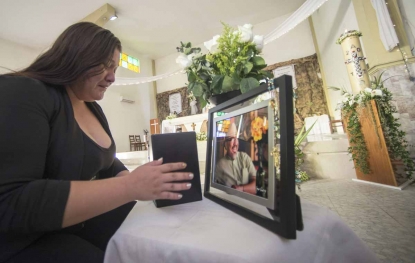 A relative of Mexican journalist Javier Valdez holds the urn with his ashes during the second day of his funeral in Culiacan, Sinaloa State, Mexico on May 17, 2017. (AFP / Hector Parra)